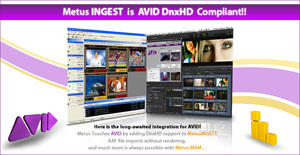 Metus, a media management software which recently became an AVID licensee, has added DnxHD support to Metus INGEST. It is now possible to capture in Avid compliant DnxHD Op-Atom MXF files with Metus INGEST. INGEST also creates an AAF file in the capture directory. If the captured MXF files are available in the Avid Media folder (directly captured, or copied into, afterwards), the AAF file imports without any rendering into Avid projects. All DnxHD profiles are supported.
Having an affordable and AVID compliant, software-based capture solution, in addition to the standard capture abilities of AVID NLEs, is a tremendous advantage for AVID users; as it frees up NLE workstations for editing tasks, additionally offering many features like scheduled capture, matrix control, auto-split, and many more advanced options developed by the talented and Avid certified team.
Metus INGEST is a desktop multimedia capture, transcoding, and streaming software. It can capture, stream or transcode from multiple sources simultaneously.