Between Two Seas, a film by Egyptian director Anas Tolba that champions women's rights, has captured international attention by bagging awards at film festivals around the world. Tolba explains the experience of shooting his first feature-length film.
Between Two Seas shot to fame at the Brooklyn Film Festival 2019, where it bagged Best Feature Film and Best Screenplay.
The film has won four other awards: Best Feature Film and Best Screenplay at the Aswan International Women's Film Festival, and Best Director and Best Script at the Cinéma De La Diversité Taza (Morocco).
The film, directed by Egyptian filmmaker Anas Tolba, is the result of a collaboration between Egypt's National Council for Women, UN Women and Axeer, a production company, as well as other development partners.
Between Two Seas follows a woman named Zahra. While on a short visit to her village, a small rural island near Cairo, her daughter is involved in an accident that leaves Zahra devastated. Following this incident, Zahra fights for her daughter's rights and insists that she continue her education. The film sheds light on different societal issues faced by women, especially in rural areas.
Tolba says the main aim of the collaboration was to produce a film for a mass audience in Egypt and the Arab world.
"We wanted our film to shed light on the major issues facing women in underprivileged societies and give them hope and direction about how to deal with these issues," he says.
"The film talks about many inter-related issues, but the most glaring problem and the cause for most of the issues facing women today is the lack of education and awareness. So the film tackles this by telling the stories of three different women and how their lives have been affected by education or the lack of it."
The title of the film has a close connection to the location.
"The feature was shot on an island which its inhabitants informally call Between Two Seas. So I saw that as an opportunity to also reflect the state of being stuck between ignorance and awareness, which is the overall theme of the project," Tolba explains.
Since Between Two Seas was his first full-length feature, he admits it wasn't all smooth sailing.
"The whole process has been very challenging. It was my first time working on the writing process, working with actors, directing a set of almost 200 people. The whole film was shot on an island, so for the period of pre-production and the 18 days of filming we would go back and forth to the island every day, which was physically and logistically very challenging."
The director adds that without the support received from Executive Producer Abdulrahman Garawany and his team, the project wouldn't have been half as successful.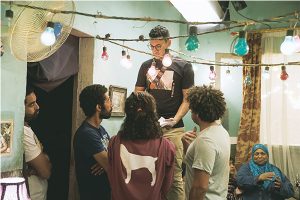 "We wanted our film to shed light on the major issues women face in underprivileged societies and give them hope and direction about how to deal with these issues," says Anas Tolba, director, Between Two Seas
Tolba wanted the film to be "visually competitive to mainstream films", so he invested in an ARRI Alexa Mini with Master Anamorphic lenses.
"The filming process was done in 18 days. We shot the whole film on an island in Cairo, and on the island we had about 25 locations.
"For editing we used Premiere Pro, for colour grading we used DaVinci Resolve. I don't remember how many hours of footage we had, but the first draft of the film was edited in about three weeks and the whole post-production process took about three months."
He explains that the most important element in the production of this film was the support of a great team.
"I was keen on having certain crew members that had a lot of experience in feature films, so the entire directing team (first, second and third assistant directors) were all experienced and had worked on many feature film sets before. The production manager as well had a lot of experience in feature films, and that helped us a lot in logistics, budgets and so on.
"The cinematographer, Fawzy Darwish, is a very skilled DP and we have worked together on so many projects before, but this was also his first feature film. Having him on board was amazing because we already have a good rapport with each other, and he understands my vision. And his fresh eye was a great addition and made the film look extremely beautiful."
Despite the project having the backing of UN Women as a main financial supporter, Tolba says, "The budget for the film is below average relative to the Egyptian film market. However, we were able to pull it off because over the past nine years we have worked on various projects of different sizes and resources, so as a production company, Axeer was able to manage that budget in a very efficient way."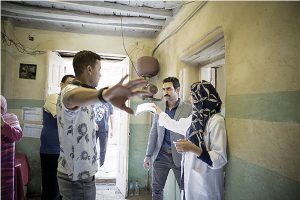 "This project gave me the drive and passion to dig deeper into narrative work. As a filmmaker, I love storytelling, and I love human-driven stories," says Anas Tolba, director, Between Two Seas.
Another key component of the film is music. Tolba chose to have a single melody throughout, "changed to fit the different moods of the film".
"The music composer for the film is a young Egyptian musician called Khaled Kammar. I've known Khaled for some years now, but I hadn't had the chance to work with him. When I started to work on the film, even in pre-production, I knew I wanted to work with Khaled because he is very passionate about his work.
"During the filming process, I would sometimes send him shots from the film or roughly edited scenes so that he could get a feel of the film. Once we had a full rough cut, we watched the film together and he started translating the scenes into music."
Tolba started his career in 2010 by co-founding media production company Axeer. He has directed music videos for singers and artists from across the Arab world, including Zap Tharwat, Hamza Namira and Cairokee.
"Some other projects that I've worked on with Axeer and UN Women included a music video called 'Nour' which went viral on social media, and a short film called Mariam and the Sun, which won several international awards. This collaboration model was the inspiration to do something on a larger scale that would reach the masses."
In 2014, he directed and produced his first 30-minute documentary, Extracurricular, which features a mother who believes in the power of travel to educate her children. In 2017, Mariam and The Sun was recognised by the Jury Selection Awards in the Accolade Film Competition and the Hollywood Film Festival.
Working on several music videos allowed the director to experiment with different techniques. He explains that he transitioned to narrative work when he shot 'Nour', which got about 10m views on YouTube and champions the cause of women's empowerment in the workplace. The music video is based on a "dramatic narrative story", says Tolba.
"This project gave me the drive and passion to dig deeper into narrative work. As a filmmaker, I love storytelling and I love human-driven stories."
Between Two Seas was more than just a feature; it was a transformational journey. "Professionally, I learned a lot from this experience. I learned about the relationship between the director and the writer and how it should be managed. I learned a lot about directing actors and the room that is given for actors to improvise and give input, which was extremely beneficial for the film. And on a personal level I saw how I could learn from every single person around me, and that there is so much yet to learn in life," he concludes.