In the weeks leading up to November 1, 2016, preparations were rife at Al Jazeera Media Network for its 20th anniversary celebrations. Vijaya Cherian goes on a tour of AJMN's Doha HQ and discovers that the network is not just all about content but is also tirelessly working to push the envelope in terms of […]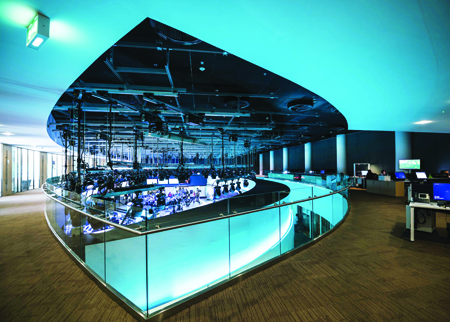 In the weeks leading up to November 1, 2016, preparations were rife at Al Jazeera Media Network for its 20th anniversary celebrations. Vijaya Cherian goes on a tour of AJMN's Doha HQ and discovers that the network is not just all about content but is also tirelessly working to push the envelope in terms of technology, human resources and best practices, putting it on the cutting edge of innovation. We talk to some of AJMN's champions of change
In the last two decades, Al Jazeera has been as much in the news as it has covered news. Although riddled with controversy and having faced much opposition at the hands of international players, the Qatar-based network has resolutely stood its ground, overcome many challenges and today, it has earned its reputation as one of the heavyweights in the TV business.
On November 1, the network is gearing up to make some technological announcements that will streamline its operations further and ensure that its workforce can maximise the potential of the repository of content available across the network. Several champions have emerged in Al Jazeera Media Network (AJMN) as each of its projects come to fruition.
Some, like Mohamed Abuagla, Executive Director and CIO/CTO of AJMN stand out for espousing a futuristic vision. Others like Ali Elhusseini, Head of Network Operations Standards; Miljenko Logozar, Director of Technology Solutions; Feras Al Suliti, Director of Network Operations and Hossam Abdel Majeed, Director of Projects, have been lauded for their teamwork and ability to see extremely challenging projects through to completion.
Al Jazeera first made headlines with its Arabic news channel. November 1 will see the relaunch of this channel from a brand new facility with workflows and technologies that will make the news and programme production cycle more efficient and user friendly across the network.
The new building, in the making for the last three years, will house all of AJA's operations including a large 1500 sqm open newsroom that is also the main studio (Studio 5) and two smaller studios. The main studio, which will house 250 journalists, is based on a 3G broadcast infrastructure, including a network wide broadcast IT project, providing unified file-based workflows for news, programme planning, production, transmission and archiving.
"This is not just about moving to Studio 5 or refreshing the technology," clarifies Mohamed Abuagla, Executive Director and CIO/CTO of AJMN.
"Al Jazeera Arabic will have a completely new look and new programmes as well."
Almost 30 new cameras have been installed across the facility, of which 25 will go on air on November 1.
One of the big reveals at the AJA facility will be Studio 5 and the first thing that catches your eye as you walk in is the large, interconnected two-piece 9×3 cubes and 7×3 cubes Eyevis video wall that curves across the front of the entire newsroom. Each cube is 65 inches. This news studio includes three types of conventional sets and has 16 Sony HDC-2500 cameras with SonyHDCU-2500 CCUs connected with single-mode fibre lines to the CAR room, which is 500m away from the studio.
"This studio and newsroom is covered with more than 30 motion analysis tracking sensors to use Vizrt immersive graphics and the usage of such technologies will be part of our daily operational routine," explains Ali Elhusseini, Head of Network Operations Standards.
"Studio 5 has been designed as a template to be used across the whole of the AJWT facility, to enable a coherent design across all the networks. This will enable ease of operations and maintenance for personnel who work cross-site," he adds.
A second circular glass studio, fitted with the latest technologies to control incoming day light, will be used to produce a daily three-hour morning show among other new flagship programmes. The design and technical fit-out in this studio is claimed to be cutting edge. It will also host the first interactive show, which will actually see the convergence between conventional TV, digital platforms and the web in two languages between Al Jazeera Arabic and Al Jazeera English.
A third studio, built for programmes, is also fitted with the latest motion tracking technologies for programme production, visual effects and promo production. The new facility is scheduled to go on air on November 1, 2016.
Feras Al Suliti, Director of Network Operations explains that "from ingest to archive, every operational workflow will change".
"Operational staff will get to grips with new ways of working, utilising state-of-the-art technology and best practices. Newsroom journalists and remote journalists will have access to video and text content across the network. Journalists will be able to edit and share video content at their desktops by using easy-to-use video editing tools. With a clever backbone fully based on software controls where all of the production backend is centralised, the network operators can now control any studio from any control room in seconds, making business continuity and shows progression seamless," he points out.
Besides the launch of the brand-new facility for AJA, several other technical upgrades will be announced at the anniversary, including the completion of large parts of the Al Jazeera Workplace Transformation Project, which has been several years in the making; the deployment of the media entity's media asset management system and a digitisation project to archive all of the media entity's assets, points out Elhusseini.
Miljenko Logozar, Director of Technology Solutions, goes further to explain that the Avid upgrade, which was supposed to be a temporary fix, worked so well that the team expanded it to full capacity and made it permanent.
"The aim was to use the transitional system as a stepping stone to a more inclusive and sophisticated Avid-based newsroom network to link Doha to Al Jazeera's other broadcast centres, with all video material and supporting information available online for correspondents around the globe.
"The team completed the project in record time. That part of the Avid base including iNews and Media Central is in place now, network wide, which means Al Jazeera English, Balkans, Mubasher, America and London are using the same solution," he explains.
The technology upgrade is in various stages of progress with significant completion milestones set between the end of this year and the next.
For instance, the broadcast upgrade at Al Jazeera Arabic is mostly complete while the one on the English channel will be completed next year.
The broadcast part of AJA has been mostly done and the next in line is the OSS (operational support services) tier. The Central MCR and Teleport unit will be completed in Q1 or Q2 of 2017.
"AJA is not moving to Central MCR just yet, as the MCR should be ready by mid next year with a brand new teleport facility," explains Elhusseini.
Work on the Central Transmission at the Doha facility is also under way and scheduled for completion in Q1 or Q2 of next year. AJA, however, will operate from this area come November 1.
In the last four years since BroadcastPro's last visit to the facility, everything has changed including buildings and workflows.
"We have started from scratch by installing new equipment, brand new technologies, new data centres, CAR rooms, laying out fresh fibre, building baseband connectivity and providing continuous training. By the end of this year, 70-75% of AJWT will be complete and mid next year to the end of 2017, we will be finalising the entire AJWT," explains Logozar.
In parallel, Al Jazeera has a team working on digitising its tapes.
"By November 1, we are going to be digitising 90% of our tapes and moving into a file-based workflow," adds Al Suliti.
"We are working with Microsoft on an AI (artificial intelligence) solution; we have a number of college graduates who have joined us as part of our Media Experience programme. We are training them on the job and ensuring they move around and undertake various functions in the organisation.
"We want to take some IT fresh graduates and give them the media experience. This enables us to get the digitisation done while also enabling us to train the next generation of talent in the country. We are, in essence, growing our next generation talent if you will," Al Suliti elaborates.
Al Jazeera is working with Microsoft to take files and use AI tools to auto summarise the tapes and add rich metadata. Facial recognition, voice recognition and speech translation for Arabic are part of the solution. Once ready, these assets will be prepped to be pushed to various OTT platforms simultaneously.
"We are working with Microsoft and Avid on an OTT platform that will allow us to push everything on to all the different companies at the same time," confides Abuagla.
AJMN's content will be launched on close to 40 new digital platforms on Nov 1. Al Jazeera will be available on most mobile devices, gaming consoles and TVs as well as connected cars and new smart homes.
"We will be out there on 99.2% of the world's platforms," Abuagla says.
"AJWT for us was always workplace transformation but for me, T stands for technology refresh and that's basically what we have done. Now, we have to get into transformation mode for next year. With all this in place, we can actually improve daily workflows and work collaboratively with the editorial teams so we can be faster and more efficient and find more integrated ways of telling stories.
"We already have budgeted other initiatives that will build on the back of this transformation. We have always talked about the cloud. We are actually moving a lot of our production assets to the cloud and we are going to be continuing to push for that, thereby, ensuring we have enough collaboration and quick access for tools and tech to shorten the production cycle as much as we can. So we can get from event to screen in the fastest possible time. We have a long road ahead of us. This is just the beginning as the baseline that we need to have for technology and solutions as well as software and services is being developed. Once we have that, we can start working with people in trying to evolve the production cycle, processes, thinking and integration with all the social media aspects and the metadata enhancement that we need to do. We have got several initiatives that we are working on at the same time."
The CAR rooms are also a big element of the upgrade.
"Al Jazeera aims to centralise all the CAR equipment within a couple of such rooms and we are building those now. Our CAR centres will look like today's data centres," says Logozar.
While the previous CAR facilities at the network are full of cables, Logozar shows a futuristic CAR that has an Azure private cloud solution and includes only fibre and power supply cables.
"This is the future," he points out, speaking about seeing a full IP solution in place at some point.
"Right now, if you want to move anything within a room, you have to get an engineer to come in and rewire everything. In an IP world, we will be able to configure everything virtually. We dream of such a time and it's not far," he says.
The last part of our tour takes us to the new central NOC for teleport.
"The complete monitoring of all our video signals around the world, all teleports, uplinks, downlinks, including our fibre lines and QC of all the signals, will happen here including also monitoring streams on the internet. It will be operational in November," Logozar confirms.
There are close to 2000 people at Al Jazeera working on various technological developments. More than a 100 contracts, including sub contracts and supporting contracts, have been awarded to ensure project completion.
The good thing is that the whole media entity is involved and engaged.
"We don't have anyone here whose job is not to work on this project," explains Elhusseini.
"Every single person on tech and ops are involved; likewise, we are working very closely with the editorial team so they are a part of this at different levels. The benefit for us that helped ease the transition into this Nov 1 deadline, was the fact that when we implemented the Avid solution last year for AJA, we trained almost 900 people by default so staff don't need to be trained again."
Abuagla seconds that, adding that staff are "now confidently moving into the next phase".
Managing all of the projects all the way from civil, MEP, electrical and technology to coordinating between the different departments is the project management team headed by Hossam Abdel Majeed, Director of Projects for the network.
"My role is to ensure that all the stakeholders in technology, operations, marketing, creative and editorial are involved in the projects and their inputs are taken into account. The challenges have been many because we have to interface with the existing framework while also upgrading the existing solutions to interface with the new equipment. As the media market does not have one integrated contractor who does everything, we have had to coordinate everything on our end.
"Three years is not a long period to execute such a large-scale project. Within three years, we have undertaken everything from scratch, right from the power supply to the UPS and feeds, redundancies, building, site interconnections with main hubs as well as the bureaus outside.
Administrating a project of this size, and dealing with different mindsets, stakeholders and people from different backgrounds has been challenging," he adds.
As we go to press, the final touches are being put to the new facility and Studio 5, as well as several other areas that are meant to go live. Al Jazeera's 20th anniversary celebrations will indeed reflect the futuristic vision of the company, and its tech heads are at the forefront of that change.