'Sikkat Safar', a Saudi comedy series that premiered on MBC 1 this Ramadan, was well received by GCC audiences. BroadcastPro ME spotlights the show and profiles the production house that uses Bollywood influences and strategies to make its programmes stand out.
MBC 1 had a very successful Ramadan calendar this year; one of its new shows, Sikkat Safar, produced by Middle East production house Aws Studios, received a lot of traction on social media and among Arab audiences. The series follows the lives of three brothers who upon their father's death inherit a motel, a petrol station and a mini market on a deserted highway in the middle of Saudi Arabia. It was helmed by some very big names such as Abdullah Al-Sadhan, Khaled Saqr, Zalham Ali, Rogina and Rashid Assaf, and sisters Shaima, Sheila and Shatha Sabt.
Spearheaded by Al Sharqi brothers Aws (CEO) and Osama (Executive Manager), Aws Studios is known for crafting award-winning drama series such as Hindistani, Wifi and Selfie. The production house works with most of the major MENA TV networks such as MBC Group, Abu Dhabi TV, Dubai TV and OSN.
While Sikkat Safar's plot is interesting, the story of its production is more remarkable. To ensure a gripping storyline, Aws brought together some prominent writers in Arabic television in a "writing workshop" to script the series.
"I wanted to benefit from the vast creative experience of these writers and didn't want to be dependent on one writer," he says. Having a pool of talented writers allowed him to stay focused on the direction and on telling stories "in a realistic, seamless and entertaining manner". And with nearly three hundred people tasked with bringing Sikkat Safar to life, his focus had to be unswerving.
"My priority was to transform the script into reality, enhance the performance of the actors without any exaggeration and create a realistic setting for the series through a balanced storyline, characters and especially the location. I opted for a real location rather than filming in a studio, to instil authenticity in the scenes. I believe this is what sets apart my work from other Arab comedies, which rely on exaggeration rather than realism."
For the location, Aws Studios collaborated with Sharjah Media City (Shams) to build a bespoke studio. Shams donated the land in return for the building erected on the site and was instrumental in getting the required permits. Under Aws' creative eye, a set comprising a motel, a grocery store and a petrol station was built in a desert area in Sharjah in eight months. He credits his ability to build massive sets to the experience he gained in Bollywood. "I learned how to develop enormous studios, paying attention to their construction details, décor and accessories from Bollywood's building approach," he explains. Sikkat Safar's massive set was built by 50 supervisors, engineers, construction workers and other professionals flown in from India.
Aws Al Sharqi's Khaleeji programmes have been popular not just because of storylines which resonate closely with Arab audiences, but also due to elements such as song-and-dance sequences and fast cuts based on Bollywood influences. The Iraqi director spent several years in Bollywood, where he directed three television series.
"Bollywood broadened my horizon," he says candidly. He has also helmed 80 music shows for OSN and other leading networks.
Directing 200 to 300 dancers for each show sharpened his skills in crafting musicals and taught him how to "effectively handle massive quantities of production".
He also has a proclivity for putting together a multinational crew, drawing Sikkat Safar's crew from all over the world, including Italy, India, the US, Egypt, Lebanon and Syria. "No one can compose a symphony alone," he quips. "It's this mix that has contributed to the success of the TV series."
The same diversity can be seen in Aws Studios' 3D animation team, made up of more than 50 people from different countries and responsible for some of the most popular idents on prominent channels, such as the Fananees idents telecast on MBC 1 for several years. Fananees is another Aws Studio production that enjoys much success when aired during Ramadan each year. The show sometimes integrates its animated characters with well-known Arab plays backed by catchy Bollywood-style music.
Aws Al Sharqi attributes the success of his productions to his "passion for developing humorous comedic ideas, both real and made-up". Over the past few years, the production house has been targeting audiences in Saudi Arabia. Productions such as Mamnou Al Tajawul, Selfie and Wifi have had multiple seasons, with new seasons in demand. Mamnou Al Tajawul, released in 2021, has had only one season so far. Spreading its reach, in 2019 Aws Studios started managing MBC Iraq, demonstrating the company's prowess. The channel has produced My Family Wins, the first Iraqi and Arab version of popular US series Family Feud.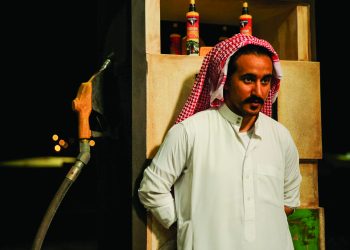 Being given the rights to produce all of the series and programmes for MBC Iraq allows Aws Studios to revive erstwhile Iraqi productions as well as create opportunities for new talent, something close to Aws Al Sharqi's heart. Hailing from a prominent artistic Iraqi family – his father was editorin-chief of the Iraqi Alif Ba magazine – his entrepreneurial and creative journey began in Baghdad, where he started an advertising firm, Kodia, which introduced digital technology in advertising to Iraq. Making over a thousand advertisements, Kodia emerged as one of the most successful businesses of the time.
From there, Al Sharqi progressed to directing Iraqi television programmes, the most significant being Anbaa Al Watan. Then came award-winning show Hindistani. Broadcast on OSN, its first and second parts marked a qualitative turning point for Arab television. "The series was very well received and earned awards for the best content and best Arabic production," he says proudly. This was followed by Wifi, which heralded the beginning of Al Sharqi's long association with MBC.
Apart from satire, Al Sharqi claims he excels at crafting gripping dramas such as Al Sadma, a reality show that depicts people's reactions to emotionally provocative situations. The show ran for four seasons, each going "viral like wildfire", in his words. His 2020 hit Kidnap also reportedly enjoyed high ratings on MBC's Shahid platform.
While there are many challenges for Al Sharqi, "the biggest challenge is to find interesting ideas and stories to produce … Now that Arab audiences have wider exposure to content from across the world, creating distinct stories is even more difficult. My 250-member team and I work hard to expand our research, see the existing works and learn from them. And when we start writing the series, I make sure to engage a content supervisor to closely observe the development of ideas, ensuring better quality in writing."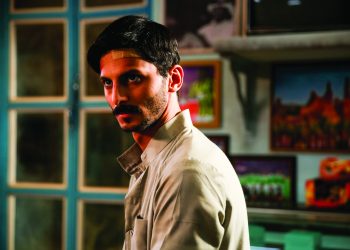 His other challenge is juggling his roles as director, producer and CEO of Aws Studios. "It can be difficult for me to decide between them, but I make every effort to avoid falling short in any area. In addition, I have a strong passion for music and spend a lot of time overseeing, producing and directing the music for my works."
Aws Al Sharqi's dedication to his craft and his discipline helped Aws Studios get through the Covid-19 pandemic. "We were in the middle of filming several projects for the Ramadan season, and the closures were expanding with each passing day. We had to finish filming as soon as possible. To complete the editing and mixing operations, my team and I committed to working from home." The team's efforts were complemented by state-of-the-art equipment that allowed them agility as well as superior results.
The company's footprint in Dubai is quite expansive, with an Armani-esque office and postproduction studios in Jumeirah Lakes Towers and two studios in Dubai Production City. It also has offices in Saudi Arabia, Lebanon and Egypt, as well as two studios in Iraq (Baghdad and Erbil) and one opening shortly in Saudi Arabia.