Lina Matta has plenty of notches to her belt, from starting as a reporter in her home country, to producing documentaries in the US, to her current role as Director of MBC 2, MBC 4, MAX and Shahid AVOD. Sarah Nathan sat down with Matta to find out more about her professional journey.
A significant chunk of Lina Matta's job is watching series and reading scripts to identify the best stories. From already having a catalogue in her brain, being exposed to TV and movies throughout her life and hearing stories from people around her, Matta has fine tuned her ability to find talent among storytellers. "There's no science to it, it's very instinctive and simply based on having been exposed to a lot of content."
Matta's affinity for good stories was fostered from a young age, and she credits her family for it. "My mom, my dad, my aunt and my sister are great storytellers, and I'm a great listener. I developed a ear for what makes a good story through being surrounded by people who were amazing storytellers when I wasn't. When Mom first started earning a salary, she would spend all her money on movie tickets. She'd be at the movies all weekend, watching two or three films in a row. We grew up exposed to storytelling in all its forms – theatre, film and television."
A second factor that propelled Matta towards storytelling was the ongoing war in her home country, Lebanon. Immersing herself in acting during her youth was a coping mechanism. "When you're in a play, you're part of that world and you're able to escape your own. A lot of how I got into media was fed by my need to escape my reality."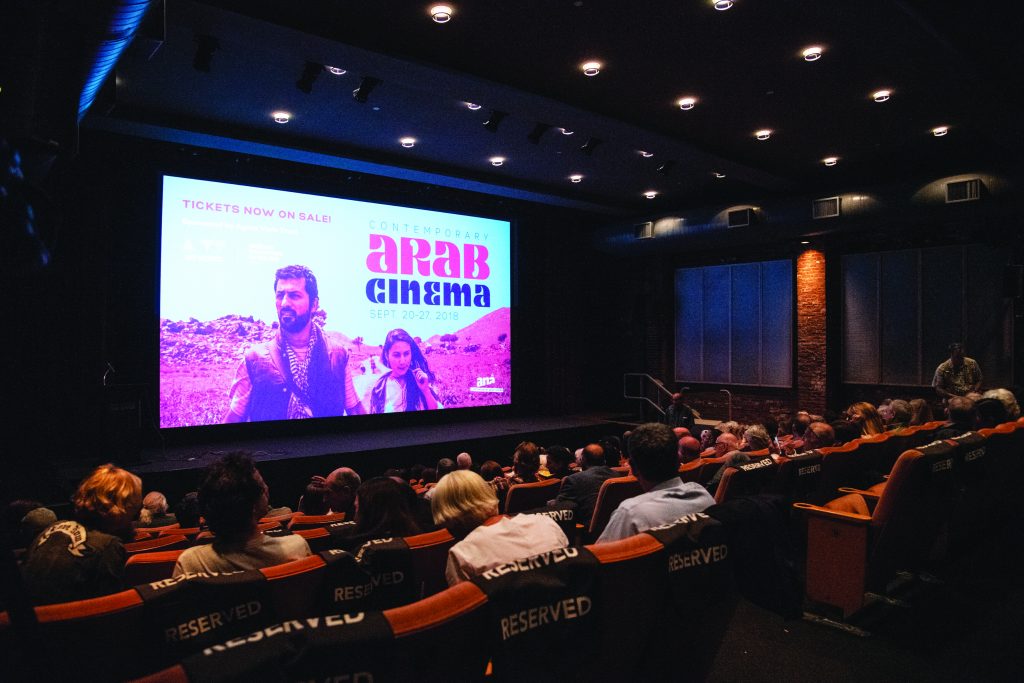 With these interests, studying Radio/TV/Film at the Lebanese American University was a no-brainer. Her introduction to professional broadcasting was as a newscaster on the English-language evening news, and eventually she worked as a translator for foreign correspondents at the Daily Star. After pursuing a master's in film in the US, she explored the world of documentaries but stuck to her journalistic roots, "transitioning into the news aspect more than the entertainment aspect" of production.
For the next few years, Matta focused on her love of reporting in Washington, DC, where she covered Middle East news. Her time as a studio-based director at the Arab Network of America was a pivotal point for industry networking, as she met many people who eventually became contacts she has maintained throughout her career. "I was doing studio work and covered news shows, town hall meetings and talk shows, all of which was very exciting. There's an adrenaline one gets from directing live shows."
However, she still felt a lingering hunger to cover stories out in the field and produced two documentaries with a partner for a production company, Brown Hats Production (BHP), that they co-founded. The first followed two women running for office in Bogotá and brought Matta to Colombia, giving her an experience and access to a world that she had never known. The second focused on women giving birth in New York prisons.
"I thought it was a fascinating topic that I'd seen nothing on at the time. That project allowed me to learn about the prison system in New York and question what happens to pregnant women and what happens to kids raised in prison. Is allowing them to stay with their incarcerated mothers a good thing or a bad thing?
"I got to explore how they were treating women and the whole debate about drug laws in the US and whether they were too strict. I knew nothing about that world until I got into it, and for the years I was working on that project I learned so much and accessed a world so parallel yet so different from my own."
Soon after came her Dubai opportunity. Ali Jaber, Group TV Director of MBC, was assembling a team to relaunch Dubai Media Inc (DMI) channels and Matta scored an invitation. "The Dubai government wanted their TV channels to reflect what the city was becoming. I was hired to relaunch Channel 33 into One TV, which eventually became Dubai One, the city's English-language general entertainment channel."
"One of the challenges we face is global streamers coming into our region and going after the same talent. The talent pool needs to be enriched" – Lina Matta, Director, MBC 2, MBC 4, MAX and Shahid AVOD
Matta then found herself in the US yet again, where she collaborated with her BHP partner to produce a talk show centred around books. "My colleague comes from Europe, where literature and culture are popular topics on national television talk shows. We felt that American programming did not cover cultural topics in any real depth, so we partnered up with a previous editor from Random House and produced the first online talk show about books. It was at the infancy of online content. We were kind of pioneers. Unfortunately, we were looking for funding around the time of the 2008 financial crash. The lack of money put the project on indefinite hold."
As luck would have it, MBC Group came forward with another opportunity, this time with MBC4. "Working at MBC is a feather in the cap of anyone in the Middle East media industry. It was flattering to be considered." Since then, Matta has taken on responsibility for MBC2, MBC Max, MBC Variety and, more recently, Shahid AVOD, MBC's advertising-supported video-on-demand streaming service.
Matta is enthusiastic about the shift from linear TV to streaming. "It's been very exciting to be part of the Shahid world. I was an early adopter of digital viewing from when I was still living in the US about 20 years ago. The plus is obvious – you don't have to be imprisoned at home at a certain time to watch a programme you're interested in; you can tune in whenever, wherever. And then there's the binge element. You can scroll through Shahid and there are series from Latin America, Korea, the US, Saudi Arabia, Morocco, Egypt, Lebanon, Iraq, Syria … What a luxury!
"I still believe in curating as a programmer on live TV. But it comes at a price of freedom. OTT platforms open up the world to you, they are basically our global library. We can walk in, stroll through the shelves, pick up a book, read it, put it down and pick up another."
OTT also removes all the limitations of working with a linear grid. Streaming content on Shahid allows creators' pitches to be greenlit more regularly. With viewers having such extensive choice, keeping up with their needs and wants can also be challenging.
"Shahid is a hungry beast – it needs to eat all the time. These libraries can be very full, and you can deep dive into tons and tons of material if you have the energy, but sometimes too much choice can be overwhelming. A lot of people just want to watch what's new and trending, or what friends are talking about. Unless you're keeping a list of what you want to watch, you just watch what pops up and what's new."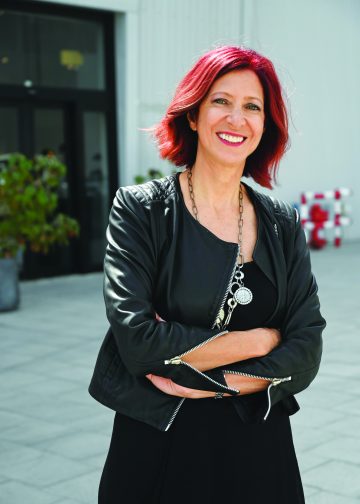 The extensive Shahid library offers the perfect opportunity to stream a wide range of international content. For instance, viewers expressed the desire to watch Korean dramas in Korean, subtitled rather than dubbed. They appreciate the authenticity of international content in its true form.
"Streaming broke preconceptions that many programmers had that people don't like reading subtitles, especially in the States. Narcos was the first example of a series in which the characters spoke in more than one language. It was a blockbuster. And when Netflix went global, and foreign shows started trending all around the world, we realised people don't care about language, what they care about are stories they can relate to.
"Keeping up with such changes in audiences' preferences is the key to maintaining viewership and success. You need to act on it quickly; otherwise, you're left behind. That's also what makes it very exciting, because we're constantly learning."
The increasing interest in international content has Matta on the lookout for more global content. Asked what the next 'hot country' might be, she says, "It's a bountiful basket! It used to be very US-centric or British-centric. Now we look everywhere. Turkish formats were easy ones to start with, because we know that they do very well based on how they've served our audiences in the past. But now we are looking to adapt Italian, Spanish, Portuguese, Japanese, Chinese and, of course, Korean content."
The converse benefit of streaming more international content is that Arab content gains an opportunity to be appreciated. The concept of world libraries on streaming sites means Arab storytelling reaches international audiences.
"Keeping up with such changes in audiences' preferences is the key to maintaining viewership and success. You need to act on it quickly; otherwise, you're left behind. That's also what makes it very exciting, because we're constantly learning" – Lina Matta, Director, MBC 2, MBC 4, MAX and Shahid AVOD
"At MBC, we're trying to produce Arabic dramas for international audiences. We feel we have tons of amazing stories that we would like to tell; we just don't always have the right tools. A lot of what MBC has been investing in over the last eight years is education, whether it be through workshops or partnerships with Hollywood producers or writers, British writers or regional writers. We're learning techniques of storytelling from those who've excelled at it."
MBC recently created the CCU, a committee of stakeholders who screen, review and agree on pitches, then decide on the channel or platform that best suits a series. MBC commissioners then take responsibility for bringing these decisions to fruition. Both collaborate on scripts, actors and episode feedback. "All programming on the channels ends up on Shahid, either before or concurrently with channels. It's a windowing exercise that we agree on early in the game."
Matta notes that an ongoing issue is the increasing demand in a limited talent pool. "One of the challenges we face is global streamers coming into our region and going after the same talent. The talent pool needs to be enriched. Everyone going after the same people is bringing prices up, so MBC Academy is training people in every aspect to develop a larger talent pool. We need to have a wider net for casting and a bigger pool of new writers, directors, camera-men, editors, light designers, sound designers and music composers. Now is the perfect time for anybody who has ever dreamed of getting into film or TV – platforms are blossoming and there's fierce competition across the board."
Among Matta's proudest accomplishments during her tenure is that MBC now produces far more dramas and commissions. "Arous Beirut was a successful example of a scripted format, and that was MBC 4's entrée into producing our own content. We also produced an original series called Boxing Girls about young Saudi girls that hit around the time Saudi was in the beginnings of its change wave; that was a good zeitgeist. It was very much a young female empowerment series."
The series centred around a young Saudi girl, a talented boxer who moves to the US to pursue boxing professionally but is forced to return in shame after an incident during a fight that goes viral and must deal with the repercussions on her family and friends. She eventually starts a gym in her basement to bring young women together through sports, giving them a space to discuss the issues they face and empower themselves. "It was a great message and the timing of it was perfect."
Matta is also enthused by the role of MBC 2 in the region. "The young generation of Saudi filmmakers grew up on films shown on MBC2 and MBC Max. That's where they gained their love and appreciation of cinema and started recognising directors and joining the journey. I'm thrilled that I played a mini role in that. There's exciting talent coming out of Saudi. It's heartening to see the region's talent blossom."
Asked about her experiences working as a woman in the industry, Matta comments that she has never faced gender discrimination.
"I've found myself in rooms where I was part of the minority, but it's never been an issue as much as an imbalance. MBC is very progressive in putting us women at the forefront and trusting us with their content. Many in our acquisitions team are women, and we have at least five women in leading positions at the organisation."
While most of her mentors have been men, Matta has partnered with excellent female storytellers who know how to pitch an idea. Her role is to bring these ideas to fruition by commissioning them. "They talked the talk, and I walked the walk."
Although Matta works full-time for MBC now, she has long been involved in ANA Contemporary Arab Cinema, an annual curated film series that highlights Arab directors covering topics and stories in the Middle East. Its success continues, with two theatres in NY carrying the series – the Jacob Burns Film Center in Westchester and BAM in Brooklyn.
"It's completely non-profit. Every year, I handpick 12 films from the last 18 months – 12 stories that I believe are the best. And every year around mid-September, I go to New York for about three weeks, and I screen them there. We do a Q&A, we bring in the directors and have discussions about the films and their topics. It's a community that I've built to introduce people to Arab films in, for now, New York."
Matta is also a guest lecturer and guest jury member at AUD, judging students' end-of-year projects, and a voting member of BAFTA. Asked what advice she has for the next generation of filmmakers and media freshmen; her top tip is networking. "Find a mentor. Meet people and grow with your industry."
She also pushes for the next generation to stay curious by stepping out of their comfort zone: "The only way to grow is to expand, and the only way to expand is to say yes to things that scare you."