The multi-million-dollar Firdaus Studio by AR Rahman at the Expo 2020 site, now called Expo City Dubai, boasts many firsts. It is the region's only music studio to be mentored by Grammy- and Oscar-winning music composer AR Rahman, and Dubai's only certified Dolby Atmos HE studio. In an interview with Vijaya Cherian and N Nomani, studio designer Aditya Modi shares details.
Firdaus Studio's concept is part of the Expo 2020 legacy, which continues to showcase Dubai as a cultural hotspot. The studio is part of a greater vision – as Dubai aimed to become a melting pot for the arts, culture and movies, it was conceived as a hub for the region's music industry. In addition to creating a world-class recording studio, Dubai would also debut an all-women's orchestra, the first of its kind, at Expo City Dubai. Thus began the journey of sister entities Firdaus Studio and Firdaus Orchestra.
Firdaus Studio was designed by Aditya Modi, founder of Modi Digital and a sound engineer for more than two decades. A long-time associate of AR Rahman, he was the chief designer of his studios in Mumbai and his home studio in Dubai. According to Modi, Rahman visualised Firdaus Studio as a place where "international artists and different kinds of music and cultures" could come together in an "inspirational space that is beautiful to work in and has excellent equipment and people to work with … Firdaus Studio has been essentially designed to cultivate and promote music in the region."
The studio is Dubai's first certified Dolby Atmos HE (home entertainment) music studio. "We have to be futurecapable and deliver to what the industry demands right now. Dolby Atmos is a huge part of that demand," says Modi.
Firdaus Studio extends far beyond this, however. One selling point is that "it's an excellent orchestral recording facility with superlative equipment including top-of-therange microphones, preamps and consoles", Modi elaborates. Catering to an international audience, the location at Expo City Dubai is its other main selling point. Modi calls it a "destination recording facility". Away from the city, he claims it is the ideal spot for creatives and musicians.
"All the audio, video and networking are interwoven. The building is almost alive in a creative way" – Aditya Modi, founder, Modi Digital
"Musicians like to cut away from the hustle and bustle to focus and do their work. This studio has a space of its own so artists can focus and get creative. They can stay nearby at the Rove Hotel, Expo City, which is just a five-minute walk from the studio, work when they like (the studio is open 24/7), and then get back to the hotel. There are also multiple restaurants around catering to different tastes, and that's a big advantage."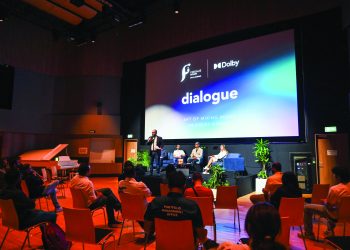 The only challenge Modi faced with bringing Firdaus Studio to fruition was the pandemic. As supply chains around the world came to a standstill, the studio had lead times of one to two years for a lot of the equipment it needed, and the company had to juggle quite a bit. "Eventually we did manage to get top-of-the-line equipment within the timeframe, but the logistics were challenging," says Modi.
Being fully owned by Expo 2020 Dubai, the planning and execution of the studio building was facilitated by the expo team, which spared no effort and offered a whole team of contractors and subcontractors to undertake the design and construction of the building. "My input was in the building, its usage, the acoustics and AV installation, partial design of the air conditioning, the whole workflow of the space, and other related aspects," explains Modi.
Steering away from the tradition of dark, dimly-lit studios, Firdaus Studio is a well-lit large space with glass panels that looks out onto manicured green spaces, based on Rahman's desire to ensure a oneness with nature. "The mandate from AR was that it should look good, feel good, sound good, it should be large and technologically advanced, and host multiple modes – we have three modes in this studio."
The 12,000sqft space comprises a Live Room, a Control Room, an Auxiliary Control Room, four large isolation booths, and multiple green rooms and lounges where guests can relax, prepare and re-focus. Two performances can be recorded simultaneously.
"We have to be futurecapable and deliver to what the industry demands right now. Dolby Atmos is a huge part of that demand" – Aditya Modi, founder, Modi Digital
Firdaus Studio's infrastructure is matched to the three 'modes' it offers in its double deck facility, with the Live Room the main focus on the ground floor. This is primarily designed to record music, whether from a larger orchestra, a small band or a single vocalist. This space is the 'home' of Firdaus Orchestra, where it practises and does most of its work. Mentored by Rahman, the 50-woman-strong orchestra is made up of 23 nationalities from across the Arab world and aims to be at a par with institutions such as the London Symphony Orchestra, Budapest Symphony Orchestra and Prague Philharmonic Orchestra.
Both Firdaus Studio and Firdaus Orchestra are available for commercial hire. The studio can record up to 80 musicians at once (a full orchestra) and boasts best-in-class audio equipment, in-house instruments and microphones from Aston, AKG, Neumann, Sennheiser and Shure.
Next is the studio's performance mode. The Live Room's Inhouse Ayrton lighting sets the stage for live performances, from private showcases to ticketed events. Hosting the likes of Coldplay and Lindsay Lohan in the past, the Live Room can facilitate all audio requirements including PA, wireless systems and FOH engineering.
Firdaus Studio also boasts a complete broadcast environment with a fixed 4k video multi-camera set-up for live streaming needs. Movable acoustic panels on the ceiling and four motorised curtains at the windows allow reverb and liveness to be modulated.
"Depending on the number of people performing, we can open or close the panels to create the specific sound signature that we are looking for," explains Modi. "The curtains perform a similar function as the movable panels that we have on the truss on the roof on the ceiling. It's basically to change the reverb time and change the acoustics. In different modes, we require different configurations for the panels and the curtains. In the cinema mode, for instance, we draw them closed to reduce the liveness of the room and make the space more dead. And during the recording mode we want it relatively more live, or during the performance mode we would open up all the curtains. When you open them up, it becomes more live, more reverberant, and adds to the reflections. It's what we call adaptive acoustics. The curtains are a part of that, as are the panels that move on the tracks."
Featuring a complete playback environment with a Christie 4K Projector, a 25ft x 14ft SeymourScreen Excellence cinema screen, a Dolby Atmos immersive sound system and collapsible step-style seats that can be wheeled in and built up when required, the Live Room transforms into a cinema. Apart from film screenings, this is great for musicians recording film soundtracks, as it enables them to hear their music in a real-world environment. In this mode, the movable panels are opened up, making the room more 'dead'.
The music performed in the Live Room is recorded in the state-of-the-art Control Room on the first floor. Featuring an analogue-digital hybrid workflow set-up, it consists of a Neve 5088 console and Avid S6 digital control surface and is certified for Dolby Atmos HE 7.1.4 mixing. Dubbed a "sonic paradise" by Neve, it is ideal for advanced production and mixing sessions. It has multiple ATC, Genelec, Eve Audio and Kii3 monitors available and is equipped for all playback monitoring formats – 9.1.4 immersive, 7.1, 5.1 and stereo. The 40-channel 5088 is fully loaded with Shelford 5052 mic preamp and inductor EQ, and 5051 inductor EQ and compressor modules.
The hybrid mixing console, another feature of Firdaus Studio, allows artists to combine the superior sound quality of the analogue workflow with the ease and flexibility of use of the digital workflow. With the latter non-negotiable for a future-forward studio with Dolby Atmos capability, the studio's desk frame – custom-built by Sounds Fishy – seamlessly integrates the 5088 into two sections, with the S6 in the centre for digital mixing capabilities.
In a personal aesthetic decision, Modi has hidden most of the speakers from view. "The Dolby Atmos tends to have a lot of speakers, and when you go into a room you don't want to be over-burdened by the technology, where it visually seems like too much is going on. Technology should be just a tool; it shouldn't be the main thing."
Modi is candid about fatigue. "Ear fatigue exists no matter what equipment is used. The high-end equipment at Firdaus Studio delays ear fatigue compared to other regular facilities, but it does not eliminate it. An engineer should know when to stop and when to take breaks, and manage his time, health, work and passion."
The studio's centrepiece is the ivory Steinway and Sons piano. Handpicked by Rahman, a pianist at heart, it is among his favourite pianos. The Steinway at the studio is a Spirio | r Model D concert grand that takes over a year to manufacture and is Steinway's biggest piano. Retailing at nearly $1m, it can also record and play back.
"It has this technology where musicians can feed in MIDI notes and the piano will play back those MIDI notes on its own. It's not an electronic piano, because it has real hammers and strings," Modi elaborates. It can also receive computer-generated notes, which it then plays back with a "human feel".
Given all these capabilities, the question of a fourth mode – shooting mode – has cropped up. Although Modi and his team didn't consciously plan it, Firdaus Studio has become an attractive spot for bands wanting to shoot music or other kinds of videos. "We didn't plan for a shooting flow initially. We thought it would be more of a side function rather than a full-fledged paid-for service," says Modi. In terms of usage, all of Firdaus' modes are in equal demand.
The studio's standout feature is its integration. "I haven't personally seen a studio that is so well integrated," says Modi. "All the audio, video and networking are interwoven. The building is almost alive in a creative way. However, you want to record or mix, from out-of-the-box to outright weird, any requirement can be delivered. We have used IT networking-style solutions for audio and video. Audio over IP or video over IP have blended the whole studio in a way that most people have never experienced before."
The pandemic also spurred Modi to provide a cloud solution for intercontinental recordings. "Due to the pandemic, people stopped travelling and we had to think of a way for people to sit at their home in Mumbai or Los Angeles and still record using Firdaus' facility. We figured we could use the cloud to bring all the elements together and make that happen as one real-time recording."
Data backup has three levels: on-site hardware backup, off-site hardware backup and cloud backup. AVI-SPL, expert in unified communications (UC) applications, AV devices and IT services, is the company behind all the high-tech integration.
In its current set-up, Firdaus Studio's facilities and technology are potentially unrivalled globally, claims Modi. Going forward, there are plans to introduce a strong educational chapter including workshops, sound engineering courses and collaborations with leading cultural institutions around the world. In keeping with the vision of its founders, Firdaus hopes to be at the epicentre of the music recording industry.