Shihan Shoukath, who made headlines with his directorial debut 'Deadline' at various film festivals including Cannes, talks about the making of his short film and the role that Blackmagic RAW played in helping him craft an award-winning production.
"Filmmaking is in my DNA," declares award-winning Dubai-based filmmaker Shihan Shoukath, though that may sound strange when you learn that he graduated with a degree in Engineering in 2016 and spent the following three years honing his software skills in Philadelphia.
Thanks to the family business – Dubai photography and film production company Lensman Studios – and a father who provided camera work for the South Indian film industry throughout his youth, Shoukath was rarely far from a camera. He regularly immersed himself in filmmaking during his time in the US, even if only through low-budget experiments on his phone.
But eventually home and family beckoned, and Shoukath returned to Dubai, where he believes filmmaking remains relatively untapped, and launched Guerillaman Films. Alongside this, he also launched an extension to the family business with Lensman Express, a full-fledged equipment rental house and production agency that makes corporate videos and commercial video projects.
"Guerilla filmmaking, however, is something I have always enjoyed and wanted it to go under a separate banner. I love working with minimal equipment and crew so I thought, why not call it Guerrilla-something," says the 28-year-old writer and director. The first big splash with Guerillaman Films has already sent out ripples far beyond its underground origins.
"Even with a bigger budget, bigger crew and more colour supervisors on board, we would still have chosen this camera because it can achieve pretty much whatever we want. It's a true cinema-level camera" – Shihan Shoukath, filmmaker
Deadline – shot in one night on a single camera, with a single actor (Shoukath's brother Ishan) and the writer/ director doubling up as cinematographer – is the story of a customer service agent in a rather unusual call centre who finds his shift progressing from bad to worse. It is less than eleven minutes long, but scripting, planning and post reportedly took months. The film has won awards at more than 20 film festivals so far. Its biggest win, however, was at Cannes World Film Festival's annual gala awards this year in June, where Shoukath walked the red carpet with one of the event's most coveted trophies – for Best Original Story – gleaming in his hand. And one can see why. With a rather unusual plot shrouded in mystery and fantasy, the narrative is gripping and holds your attention. You actually end up wanting more.
"Balancing fantasy and mystery with grounded storytelling is a delicate tightrope walk," says Shoukath. "In Deadline, we aimed to create a cohesive narrative that seamlessly intertwined the fantastical elements with a grounded exploration of human emotions and experiences. By rooting the film's emotional core in relatable characters and their personal journeys, we created a solid foundation that allowed the fantasy and mystery to enhance and deepen the thematic layers. It's a delicate balance that requires careful attention to pacing, tone and character development, and I believe we achieved that in Deadline."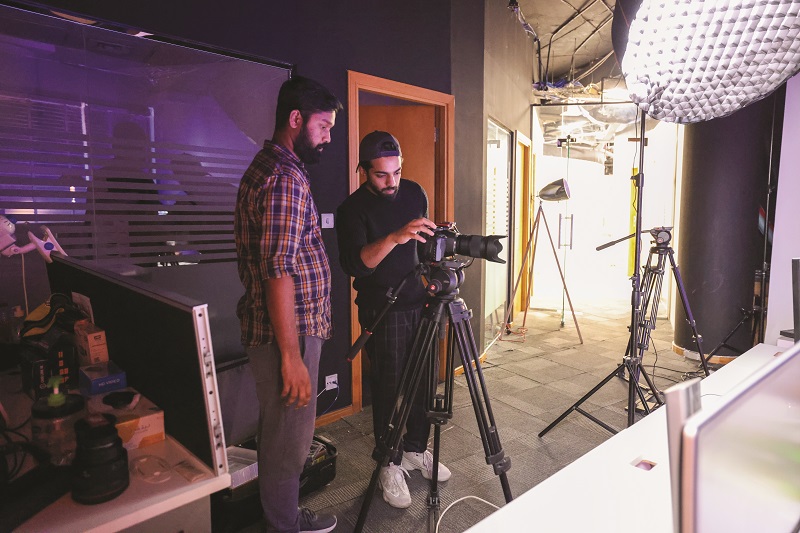 With this short, the director has sought to explore themes around grief and personal identity "through a lens of introspection and empathy … by delving into the experiences of the characters and their emotional journeys, we hoped to create a space for audiences to reflect on their own perceptions of loss, identity and the power of human connection. Ultimately, I hope viewers find solace, understanding and perhaps even a renewed sense of empathy towards others after watching Deadline."
The title is a play on words that Shoukath came up with after consulting his followers on Instagram.
"I wanted to involve my audience in the creative decision-making for the film. I conducted a poll on my Instagram account, where my followers had the opportunity to suggest and vote for potential titles. After evaluating the responses, Deadline emerged as the clear favourite. The title perfectly encapsulates the central theme of the film, reflecting the high-stakes, time-sensitive narrative that unfolds within the story."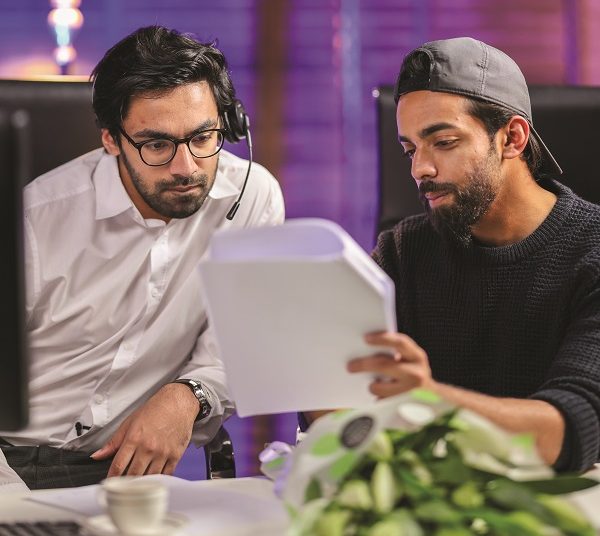 The film had a successful festival run in 2022, raking in three awards – Best Original Story, Acting Debut and Director Short Film – at the monthly Cannes World Film Festival. The success continued into 2023, with a US festival run bringing a limited cinema release in May, further festival screenings globally and a return to Cannes in June, this time to claim the Cannes World Film Festival's annual prize for Best Original Story.
Deadline started off as a small concept with a rather humble distribution plan, explains Shoukath. "I initially wanted to make this for YouTube or Instagram, where I already have quite a large following. However, as we progressed through the production and saw the results, we realised the film's potential for a broader audience. We decided to submit it to various renowned film festivals worldwide, including Cannes."
"The wide dynamic range provided by the Blackmagic gear allowed us to capture a broader range of highlight and shadow detail, resulting in visually stunning and immersive imagery which enhanced the narrative's depth and atmosphere" – Shihan Shoukath, filmmaker
Deviating from his previous shoots, Shihan invested in a Blackmagic Pocket Cinema Camera 6K for this film. "Once I saw the results, especially while doing the post-production, I realised this is much bigger. Blackmagic has an outstanding presence in the UAE, and I am a huge Blackmagic fan. They have the perfect cinema camera, with great dynamic range and colour science.
"The False Colour feature particularly allowed us to accurately monitor exposure levels and ensure consistent and appropriate lighting throughout the film. This enabled us to maintain the desired tonal range and create visual contrasts that heightened the emotional impact of each scene. Additionally, the wide dynamic range provided by the Blackmagic gear allowed us to capture a broader range of highlight and shadow detail, resulting in visually stunning and immersive imagery which enhanced the narrative's depth and atmosphere."
Choosing the right camera was crucial, given the short shoot; there was no room for error, as the lead was flying out of town the following day. "We did a lot of research before investing in the camera, because we didn't have a big budget," Shoukath says. "Given all the aspects – the camera size, the battery duration and its features – we felt this was the right one. Even with a bigger budget, bigger crew and more colour supervisors on board, we would still have chosen this camera because it can achieve pretty much whatever we want. It's a true cinema-level camera."
Shooting on Blackmagic RAW had further advantages, as post and editing could be done on DaVinci Resolve Studio.
"That's my directorial style; when I watch a movie, the first thing I notice is the colour," reveals Shoukath. "It's a personal preference; I'm sure other people look for other things. For me, I'm obsessed with colour, so that created the perfect trifecta: DaVinci Resolve, Blackmagic's camera and myself."
Deadline's shoot may have been a one-night affair, but Shoukath allowed himself a more leisurely post process – partly through necessity, as key crew were based abroad, including Italy-based colour supervisor Valerio Morini. Three to four months of video-conferenced editing, soundtracking, colour grading and post ensued, which Shoukath says was his favourite part of the whole production.
"The adaptability of Blackmagic gear, particularly the Blackmagic Pocket Cinema Camera 6K with DaVinci Resolve, greatly enhanced our post-production workflow for Deadline. The camera's ability to capture footage in Blackmagic RAW format ensured maximum flexibility and control during colour grading in DaVinci Resolve. This seamless integration allowed us to easily fine-tune the look and feel of the film, achieving the desired colour grading and overall visual aesthetic.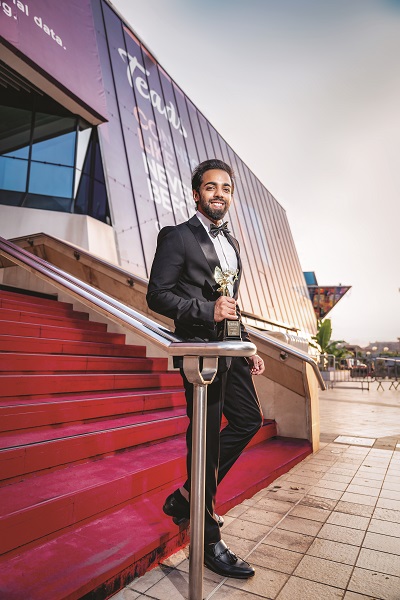 "Shooting in RAW especially allows you to change any aspect of what you did on set, and that's my favourite part. I edited it 50/50 with my editor, and that's where the story is really told. The flexibility RAW affords in DaVinci means we could change the colour and the entire look and feel of the film with one small tweak. Give it an orangish or brick-brownish look, and it's a whole different movie. We played around with that until we ended up with what we have now.
"Essentially, the powerful tools and efficient workflow within DaVinci Resolve, combined with the native support for Blackmagic RAW, facilitated a streamlined and cohesive post-production process, saving time and preserving the integrity of the imagery we captured."
Following huge success at Cannes and in the festival circuit, Shoukath has embarked on a Malayalam feature film in his hometown of Kerala under a new company called Reel World Entertainment.
"It's in pre-production right now and we are set to commence shooting by the end of the year," he confides. "Honestly, it's all because of Deadline. Its success has been a transformative experience for us, allowing us to forge invaluable connections with producers from around the world. The festival run and the publicity it's been getting got my investors on board. I didn't even have to do all the usual background work. Now, with Reel World Entertainment, we hope to push the boundaries of South Indian cinema."
Shoukath's star is undoubtedly in the ascendant, and he's in no doubt whose equipment will be joining him on the journey to the big league: "Blackmagic is what I trust now. It's what I'm used to, and I have a very good grasp of that." The magic, it seems, lives on.