Best known in Dubai as the CEO of Advanced Media for the last two decades, in recent years he has also garnered awards for some of the films he has backed. Kaveh Farnam, producer of award-winning Iranian films including 'There is no Evil, Son-Mother and Leakage', interviewed by Vijaya Cherian and the article is written and compiled by Ritika Sharma.
By Vijaya Cherian and Ritika Sharma
With a small suitcase and a dream, a young Iranian engineer boarded the flight from Iran to Dubai twenty years ago, to seek his fortune in the UAE. Although money was tight, he was armed with a great deal of knowledge and experience in film and TV technology, having worked with 35mm film and the tedious editing process of the time. That work took him from Iran to Greece, Germany, the UAE and back, giving him the opportunity to watch directors and editors work. He witnessed the roll-out of the first digital editing machines and cameras, the first MPEG and other editing standards, and so on.
In 2002, Kaveh Farnam launched Advanced Media with just $10,000. Today, the Dubai-based broadcast and photography equipment distributor represents more than 50 international brands, employs approximately 80 staff, and recently opened a branch in Saudi Arabia. Impressively, most of the top management are old friends and colleagues who have been with him for many years. With the company safely managed by the rest of his team, Farnam has returned to his old passion – film.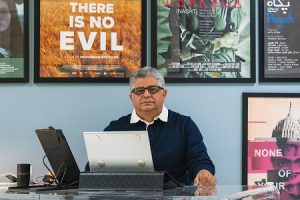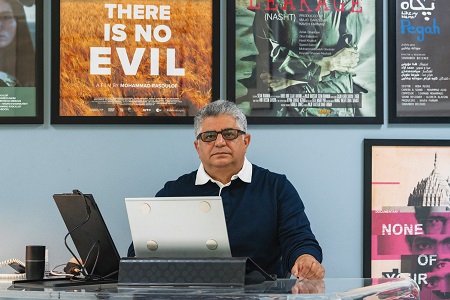 Over the years, he has bonded with well-known independent Iranian filmmakers like Mohammad Rasoulof and Mahnaz Mohammadi, and has been producer or co-producer on several Iranian films since 2015. He founded Europe Media Nest in Prague with the aim of producing features and documentaries, supporting independent filmmakers and supporting events that shed a light on Iran. "I have always been a big fan of Rasoulof's work and the candid way in which he portrays society. After watching his film Manuscripts Don't Burn, I proposed that we work on a film together. We started working together from 2015," he says.
Farnam is now an acclaimed producer, with his films having bagged more than 30 awards at film festivals across the world. His association with the likes of Rasoulof and Mohammadi has gone a long way to helping him produce good films that receive accolades and awards on several international platforms. There is No Evil, directed by Rasoulof and produced by Farnam, recently received the Golden Bear for Best Film at the 70th Berlin International Film Festival. Farnam also co-produced Leakage, Suzan Iravanian's debut feature film, which was introduced at the Karlovy Vary Film Festival in 2018 and later premiered at Berlinale 2019.
Films he produces or co-produces are screened in A-list film festivals around the world. A Man of Integrity won the Un Certain Regard award in Cannes in 2017. One of his most notable productions, Like My Name Pegah, was named Best Documentary of 2018 by Iran's Cinema House. None of Your Business premiered at DOK Leipzig in 2019, Son-Mother featured at the Toronto International Film Festival and Zurich IFF in 2019, and The Red Hatchback was screened at the Hamburg Film Festival in 2019.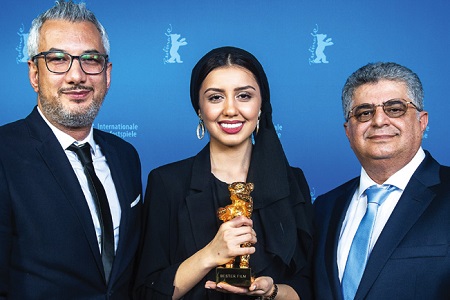 As a lover of Iranian cinema, Farnam also screened Iranian films for the community in Dubai until Covid-19 hit. The bi-weekly screening was popular among film-lovers of different nationalities and cultures, and his work and associations are testament to his love for good, impactful cinema and his commitment to promoting it.
This love for filmmaking isn't new. As a youngster, Farnam was passionate about everything related to films and the revolution in Iran.
"When we were in school, we liked to do theatre. It was part of the Iranian culture at that time. However, my passion was fuelled by my love for Iranian literature and poetry. I went to university at the time of the revolution – it was the time when we read a lot of books, followed the news, and the atmosphere was one of excitement about different social topics," he tells us.
At engineering college, Farnam met his wife, got married and distanced himself from the military – although mandatory conscription meant he eventually had to return.
"I had kids back then and didn't want to go to the war. It was compulsory for engineers back then to undergo three months of general training, followed by two months of training in controlling the radar system," he recalls.
Farnam then worked in the Iranian aircraft industry for four years. This gave him the opportunity to get up close to high-tech equipment, personal computers, CNC machines and so on, and to tinker with them.
"Our universities didn't have PCs at that time, and this presented a great learning opportunity for me – I learned a lot there. Later, I was hired as a technical guy in a private sector firm. By then, I was a specialist in digitisation and scanning and everything inside the computer – I worked with AutoCAD, taught it and earned from it. Gradually, I started focusing on multimedia because at the time it had just started."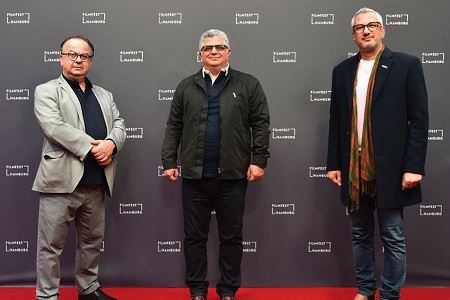 He then worked for a Greek company in Athens, which further strengthened his knowledge of technical products, equipment and processes. He credits this with helping him understand the business when establishing Advanced Media.
"We had a young team, very dynamic – and within one year, we could serve 12 systems. Soon we became a leading dealer in the Middle East," he explains.
Although the company struggled in its initial years, Advanced Media is now successful and well-known, and Farnam is able to lend equipment to filmmakers to support their efforts, as well as back initiatives that boost independent filmmakers.
Farnam has seen the transition from traditional 35mm film to digital cameras, and has worked with both.
"When I worked on the editing of my first feature film, we used to shoot either with a DVCAM or in digital format, and ultimately it was all converted into negatives – it was different and the way of thinking was different," he recalls. "Around 2005-2006, however, I slowly began following documentaries, going to film festivals, and went deeper into cinema, nurturing the initial love I had for cinema and its power to influence and impact society."
That journey got a boost in 2014 when Mohammad Rasoulof called Farnam. He needed a camera that could be hidden, so that he could shoot a feature film in Iran, where permissions were difficult to secure.
"We used the Sony VG900, which was a revolution. It was the first Sony camera with an e-mount and allowed the filmmakers to conceal it. The film shot was named Goodbye. It was later screened at the Dubai Film Festival and won a lot of accolades. This is when I got the confidence to do more."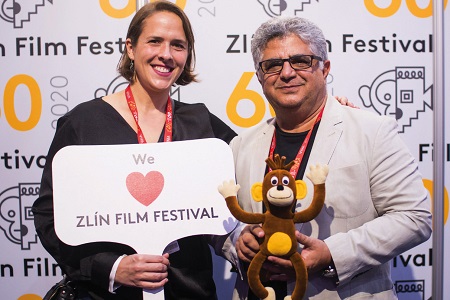 Today, Farnam is a big supporter of independent artists and likes to produce films with a social focus. "Independent films never make money. If we can survive, we are okay. We cannot compete with Hollywood or Bollywood films."
With a successful business, Farnam reiterates that he is no longer working for the money. As a filmmaker and seasoned broadcast professional, he believes he has a responsibility.
"You can look at cinema as a very serious form of art. Art is not entertainment; art does not perform if you look at only monetary gains. It is a tool that helps you to reach and teach your society … to show society what reality is and to enlighten them about the things that surround them. Without cinema, you would never pay attention to such things and it would be difficult to open people's eyes to the reality around them. Films have helped us mirror the dark side of society. The viewers and followers need to know what all is standing against you."
He especially speaks within the context of Iranian cinema.
"Like many if not most countries, the media including cinema is highly influenced by the state's regulations. Nowadays, independent filmmakers and social thinkers are also using these platforms to push the boundaries and portray the reality of life in Iran, and the younger generations have been taking it very well. We do have a lot of good talent. We are a country with a long history in cinema and now, people are coming out," he says proudly.
"Iran is a country of photographers, painters, writers and a lot of talent … no one can stop these young people from making good cinema."