BroadcastPro ME teamed up with Abu Dhabi-based media company IP Studios to host a discussion in Arabic – a first for the market – on MENA sports production. Sarah Nathan brings you the highlights.
The IP Studios Future of Sports Broadcasting Summit held its first Arabic panel discussion, exploring the progress of sports organisations in the region and the steps taken to ensure international success. Moderated by Mohammed Yehya, Founding Director of IP Studios, the panel saw Fouad Darwish, Palms Sports PJSC CEO and Managing Director; Roland Daou, Media Mania Managing Partner; and Yusuf Mohammed Buti, Twofour54 Head of Technology and Engineering, discuss the latest trends in 5G and AI technology, the future of traditional broadcast and strategies to attract future generations to sports broadcasts.
What does the newest technology bring to the table?
Broadcast companies are capitalising on the rising popularity of 5G in the region. The technology allows operations that previously generated just two hours of content to produce up to seven hours of content from multiple locations. "Content is king," said Yehya. "5G is a cost reduction method that will help us produce more content."
Daou commented that Media Mania has been investing in 5G for years and reaped the benefits after the pandemic hit the Middle East. "We're airing via 5G for both broadcasters and streamers. If the infrastructure in the UAE wasn't prepared for 5G, we would not have been able to reach that level."
Similarly, Twofour54 is seeing its partners profit from the high-speed internet connections and zero latency that accompany 5G. When hosting sporting events, partners are no longer obliged to spend time preparing lighting, OBs or venues; instead, 5G cameras, with their speedy response times, allow them to broadcast directly to the studios. However, for TV stations to take full advantage of systems, they must think outside the box, Buti pointed out.
"Their production and creative teams have to come forward with creative ideas to benefit the customer, the organisations and themselves. They could sell ideas to video gaming entities, for instance, and obtain a revenue stream. They could use artificial intelligence to model future games by having the system build an online game based on a past match."
With this in mind, Twofour54 has continually invested in artificial intelligence, using it for translating and subtitling. Because the systems and cloud are available, "AI is an indispensable part of any present system," Buti said. "Whether it is related to graphics or augmented reality, capturing information or analytics, it's there."
Media Mania has also invested in AI to reduce costs and raise the bar for production. The technology allows its partners to air from multiple places without having to install large equipment that consumes resources and time.
"Technology helped companies like Media Mania offer prices that are acceptable and of a reasonable budget and produce the best content, rather than incurring immense costs that might deter sponsors and discourage producers from investing," said Daou.
What happens to traditional broadcast?
The discussion turned to whether the emergence of 5G technology and increased use of remote production is a death knell for OB. "There is no longer a need for producers, directors or sound engineers for OB, just a centralised unit," posited Yehya. "If we are able to cut half the price because of 5G, will anybody want traditional OB services anymore?"
Butti commented that although Twofour54 does "collaborate with production companies to lessen the cost they might incur with investments in OB vans", an abrupt switch from OB was unlikely. "It's an evolutionary process. If a company has invested in OB, they need to get a return on their investment and won't suddenly make the shift. Also, they are probably very comfortable with OB technology."
Daou concurred. "5G will lighten the load of two or three elements. It is replacing SNG, but it cannot replace OB."
The team also discussed, in this context, whether uptake of linear television would slow, with interest in OTT peaking. Buti said the region is unlikely to shift its trend by 50% or 60% in the coming decade, based on current figures: "98% of households in the UAE have broadband and fibre. In other countries in the Arab region, the number drops to 12%. That means many viewers from the region still rely on broadband and fibre as their primary choice. Television will persist for quite some time."
Daou predicted that a blend of the old and the new will be the way forward. "TV is going to stay around, but there will be a combination of TV, social media and new technology."
What does the future of sports promise and need?
Although the region's regulations don't permit betting, local sporting events are being capitalised on and integrated into international betting systems, said Yehya. "They're generating massive revenue." Internationally, revenues from sports betting have increased 127% over the last year, according to the American Gambling Association's latest report.
On the prevalence of betting, Darwish agreed: "Betting plays an integral part in sports organisations."
He highlighted that betting in the US is regarded as a business enterprise rather than an organisation's move. Nonetheless, it is a strategy that may benefit the region. "If the time is right and if there is a new law that might allow us to manage sports similarly to the West, it will help lawmakers of sports associations pay more for promotions and marketing."
Over recent years, Gen Z has increasingly relied on social media for immediate consumption of entertainment, which Daou considers a worthy way to appeal to them. "There is a new generation, and we need to form a link between us and them. Social media helps us do this and is bringing these two generations together."
IP Studios has already witnessed the benefits of integrating social media into events, having seen the huge impact of having influencers and celebrities anchor combat sports events. Ticket sales rose from approximately 2,000 to 50,000, and pay-per-view raked in over 100,000 customers.
Yehya suggested that social media has handed athletes the reins. "A star athlete is now an influencer in their own right – they have different channels where they can share how they live and work with many advertisers for promotions. Sports are now intertwined with entertainment, and this could generate more revenue."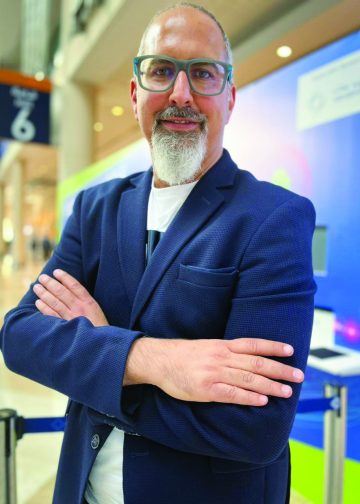 Darwish, however, remarked that such an approach could potentially stereotype generations and blind organisations from available options. "I have complete conviction that we can reach the generation we are living with now in ways outside of social media." He suggested that reliance on talent has supported previous athletes and organisations, referencing Pelé and Muhammad Ali as prime examples. While they did not live in an age of influencers and social media, their skill invited viewership – the sport was the entertainment.
However, he did not disregard social media as an effective way to advertise: "We have to think of alternative strategies to increase awareness of sports, besides social media and just a love for sports."
Instead of social media and influencers, Palms Sports is entering the realm of esports to attract Gen Z and owns a percentage of an online platform, said Darwish. Of esports and gaming, he said: "There is no doubt we're a part of it. We're looking into it and have been trying to join with companies to be partners or buy more stakes."
Twofour54 is working with Abu Dhabi Gaming and other partners to develop an infrastructure for e-gaming in the emirate, and will soon have its first virtual studio. "We can offer services for esports and e-gaming and all their features, such as graphics. E-events will be hosted through the virtual system to reinforce and integrate normal sports," said Buti.
While more people have shown interest in esports in recent decades, percentages have remained the same because the population has grown, Buti said. However, Daou was optimistic about these percentages and that over time, interest will rise even further. "We need time for people to grow accustomed, and esports are now common. Our generation would play the Atari as the electronic game of our day, and today's is e-games."
Beneath all these strategies lies an integral force of nature to which the region must surrender – time. Darwish pointed out that international entities have amassed their success over time, citing the UFC as a perfect illustration. "It took it 15 years to emerge as a recognised organisation and make its way to the TV screen."
Although the region might have the production capabilities and infrastructure, he said sports organisations must play the long game. "We have the same ambition, progression and commitment as international sports, but everything needs its fair share of time. You can't bring a sport that is foreign to the region and expect people to flock to it. They have to be assimilated, educated about and guided towards it."
Under these conditions, Darwish is confident that Palms Sports' martial arts team will prosper. "I promise you the UAE Warriors, with the support of our leaders and partners, will reach a worldwide level and see a return on both a financial and promotional level." Like Yehya, Daou believes the region's sports organisations are close to rivalling the performance of international associations. The missing puzzle piece is a sponsor. "The region needs content. If we join ventures where there is a sponsor paying money, we can take production to another level. We need sponsors to believe in us."