Power League Gaming, MENA's full-service gaming and esports activation company, has upped its game with a state-of-the-art $1.5m virtual production studio designed to give it an edge over the competition. PLG's Product and Production Director Arnor Jonsson and Tech Director Gisli Gudnason share an overview of the technologies used at the facility with BroadcastPro ME.
As one of the region's largest esports and gaming events operators, PLG has reinforced its market leadership with the opening of a sprawling 10,000sqft corporate headquarters in Dubai Production City, with offices as well as studios. Previously based in Dubai Marina, PLG used to outsource its studio requirements to various outlets around the UAE. Spurred by the pandemic and the restrictions that rental facilities presented, the agency finally decided to create its own studio. Seeing the limitations of physical sets and the huge opportunities that virtual productions presented, with more sturdy and robust technologies to back those decisions, PLG decided to go in for a virtual production studio.
Virtual production was the perfect match for the 'Arabic first' company that actively seeks to engage Arabic audiences. PLG then took a leap of faith with a $1.5m investment into its own facility, which houses a flexible virtual studio that boasts multiple green screens and presenter stages, allowing quick turnaround between productions.
"We've seen a huge increase in content creation, with brands turning to us to target the Arabic-speaking gaming market, in particular through game launches and activations, talk shows and sponsored competitions," explains Arnor Jonsson, Product and Production Director at PLG. "Content for these channels has to be fresh and engaging, so we required an agile solution that could support our growing client roster and their production needs."
But was putting in place a virtual production studio easy?
"We are still learning," explains Jonsson. "It took months of research into various aspects of virtual production just to be able to launch our first live-streamed broadcast. Even a simple thing as lighting could potentially pose a challenge when it comes down to virtual production."
This is where Technical Director Gisli Gudnason stepped in, spending countless hours researching virtual production for e-gaming just to determine the correct start point. "I don't know how many hours of YouTube videos he watched. Then there were online seminars and video tutorials on Unreal Engine by Epic Games," says Jonsson.
One of the key technology investments PLG made was in Blackmagic Design technology.
"Our entire studio is designed around Blackmagic's URSA Broadcast camera and the ATEM Constellation 8K live production switcher," Gudnason elaborates. "We typically run one-to-three camera set-ups either on a physical set or virtual. For the virtual set, we are now using Aximmetry to be able to create virtual moving shots with one static camera directed at the talent."
Multiple URSA Broadcast cameras, each equipped with an URSA Studio Viewfinder, capture the action taking place in the studio. The live signals are then fed over SDI into virtual environments created with Unreal Engine. "It's imperative that live and virtual content are stitched together seamlessly in these content packages; both the brands and the gamers watching expect the highest production values," Jonsson explains.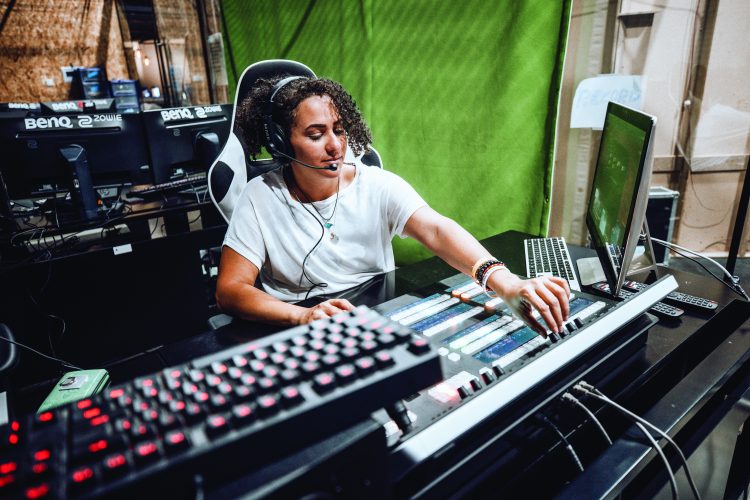 The ATEM Constellation 8K with ATEM 2 M/E Advanced Panel form the heart of the production gallery, allowing the PLG team to handle sources in multiple formats, as well as delivering multi-layered live mixes which incorporate gameplay, statistics, studio content and remote feeds from players across the region. The team also relies on the switcher's multiple M/Es to reduce latency, while the inbuilt chroma key is used to further blend the studio elements into the virtual environment.
Jonsson gives the example of a recent competition for which the company designed a dynamic environment based on the game that players were battling in. PLG placed its presenters and commentary desk at the heart of the event, all in real time.
"Footage from the studio had to be crisp, with plenty of detail to maintain the authenticity of the presenting team's segments within the game," he says. "In order to create exciting shows that give audiences the full gameplay experience, we rely on features such as SuperSource, which helps us bring lots of elements onto the screen simultaneously. Blackmagic's DeckLink I/O cards played a significant role in our content design, providing the foundation for overlays and bespoke brand components for our clients."
The studio's audio, video and graphics solution were delivered by local systems integrator UBMS, which also provided relevant product training and workflow consultancy. For audio, PLG employs a Behringer Wing with stagebox and Dante.
"The solution's modular nature has dramatically simplified how we transition from one production to the next, making it easy to reset studio acquisition for the next show, and then we can quickly upload the graphics and backdrops needed. Major brands already know that the future for their marketing lies in online and gaming content, and our facility gives us a huge advantage, not only in terms of speed but also in broadcast-grade production values," explains Jonsson.
vMix, Unreal and Aximmetry form the bulk of PLG's IT infrastructure, with 80% of its content live streamed on YouTube and Twitch (and occasionally Facebook). For esports production, on-screen assets such as leaderboards, as well as the main in-game production, are run through vMix, which is also used to create the in-game ecosystem. This includes all the observers that watch the games, to show the audience different perspectives from different players' points of view during the broadcast. Aximmetry also enables the studio to create virtual moving shots with one static camera.
"For GFX, video playout and remote callers, we use vMix on one PC, and then we have other vMix machines that run the main game observing, replay or other tasks needed for a specific project. The game-observing PC is connected with SDI into a video hub and then into the constellation," clarifies Gudnason.
PLG opted for JP Cooper media controllers for replays. All the produced content is run through vMix on specially built PCs that run at high frames per second (fps) and are then rendered out of Unreal (140fps) into Aximmetry (1080p 60fps). This is because everything is live-streamed in 1080p 60fps.
Aximmetry offers the chroma key and layout software for Unreal Engine, which does the rendering in real time. For low latency, all PCs, observer and end game production machines are run through SDI and catch cards into the constellation. The tech set-up allows augmented reality (AR) and virtual reality (VR) elements to be threaded into the production flow with ease.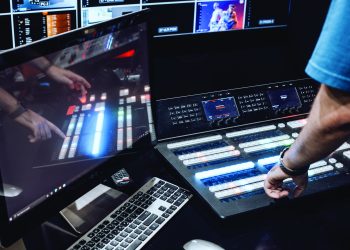 The production workflow begins with the creation of a virtual set (this could mean placing the main talent into a gaming environment or replicating a studio environment heavily themed around the brand and the game IPs). Three presenters – a host and two game analysts – are also placed into this environment. Some of PLG's productions comprise gamers physically present in the studio, while some formats consist of the gamers playing remotely. In both cases, an in-game production team (usually comprising four observers) watches the games from multiple angles while a replay operator manages the instant replay action.
Other team members include a graphic playout operator, a video playout operator, a vision director, an audio operator, a floor manager, a talent manager and the main call-out producer. For games held in the studio, LED and lighting operators and hair and makeup artists are present too, just as in a traditional set-up.
The PLG studio is also equipped with an LED screen that doubles up as a video wall. The studio hasn't yet made an investment in a customised screen and plans to collaborate with other virtual production providers such as the neighbouring Fractal Systems, which has a custom-built LED screen designed for virtual production, should the need arise.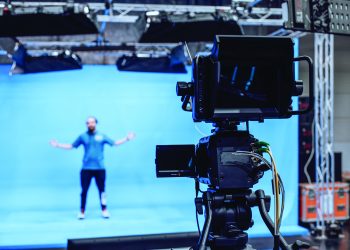 However, it does intend to invest in motion tracking systems to be able to track the camera in real time on its virtual sets. The agency is currently waiting to receive the Mo Sys motion tracking system, which will serve as the star tracker for its five-metre (expandable to eight-metre) Jimmy Jib crane. With the motion tracking system in place and gradual additions and advancements, PLG hopes to maintain its position as a leader in virtual production for gaming in the region.
Although the facilities are built primarily for the agency's own productions and shoots, it also lets them to sports brands with similar needs. Features such as a massive studio floor that allows easy construction of physical sets, a permanent infinity wall that can be used as a green screen, highly skilled crew, cameras and equipment enable the agency to offer a 360-degree solution to content creators, at economical prices.
So far, the studio has been let to some of the biggest gaming publishers in the world, including Riot, EA Games and Tencent. It is the preferred partner for EA in the region, in terms of content and live streams. PLG has successfully launched EA Sports FIFA for the past six years, while also running multiple campaigns with them in terms of content and production throughout the year. Other clients include KFC, Adidas and Michelin. Recently, PLG also partnered with Lenovo to create the Legion Africa Cup. Using Unreal Engine, the agency rebuilt the map from the Counter-Strike game, which was then used as the analyst's studio.
For the virtual sets, the concept and creative direction are led by PLG's in-house designers. For the actual design, PLG partners with external agencies or freelancers. "We start with 3D mock-ups of the game's environments, which are presented to the client. If the client agrees, then that is taken in for design by an Unreal designer," explains Jonsson. PLG offers a full suite of gaming services. From creative strategy, social media and live broadcasts to tournament operations and management, the 30-member agency, 22 in the UAE and eight in Egypt, does everything in-house. The studio's flexibility in both live and virtual components has facilitated an incredible work rate for the company, and the studio has been in almost constant use since its launch. Despite being in operation for over a year, Jonsson says: "It's still a work in progress."