Neom's media head honcho Wayne Borg is forging ahead with a raft of infrastructural investments and initiatives intended to make Saudi Arabia's newest development an integrated media hub with all facilities, talent and state-of-the-art gear under one umbrella. In an exclusive conversation with Vijaya Cherian, Borg shares how he plans to make Neom a consolidated hub that will propel the region's production industry forward.
Last month, Neom, Saudi Arabia's newest and most attractive development, announced the operational opening of two of its main sites for production, Neom Media Village and Bajdah Desert Studios, following a celebratory launch with industry professionals in August. The two sites are 35 minutes apart by car and will be home to the Kingdom's largest sound stages and film production support facilities. Three sound stages are ready, with another seven scheduled to open between now and the end of Q1 2023.
More specifically, Neom Media Village features one 2,400sqm sound stage complete with back-of-house facilities comprising makeup rooms, green rooms and production offices, with three further stages under construction. At Bajdah Desert Studios, there are two 3,000sqm sound stages with a further four scheduled to become operational by the end of 2022.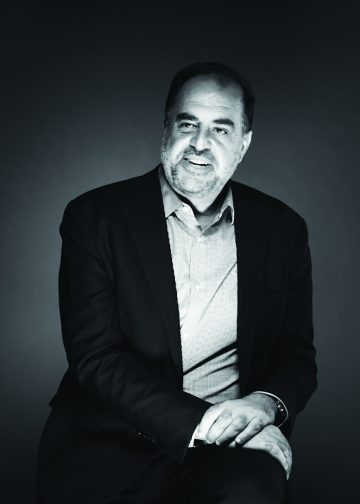 "These are our two main locations," says Wayne Borg, Managing Director for Media Industries, Entertainment and Culture at Neom. "The media village will predominantly house the sound stages, while Bajdah will have a combination. There will be a lot of backlot facilities, big set constructions, prop shops and so on. We will have a volumetric stage of 850sqm up and running by the end of Q1. Those productions that are looking to utilise some dramatic landscapes will find Bajdah truly impressive. These are all part of our interim facilities which will in time move to our end state on The Line."
The Line refers to a 200m-wide, 170km-long strip of land 500m above sea level that will eventually accommodate Neom's 9m residents on a 34sqkm footprint. It will have no roads, cars or emissions, and will run on 100% renewable energy with 95% of the land preserved for nature. All media facilities at Neom will eventually be on The Line, with a spine underneath holding the transport and utilities infrastructure for all production logistics. All of this will be automated and powered by renewable energy, as Neom claims to be 100% carbon-neutral.
All studios are being built to be world-class production facilities with set production offices, construction warehouses, prop shops, wardrobe, SFX facilities, backlot space and so on to support complex set builds. Film and ancillary equipment including cameras, grip and lighting, shotover, heavy-lift drones, telehandlers, boom lifts, scissor lifts and trackway are available on both sites. If plans go according to schedule, Neom will have a full-fledged ecosystem in place by the end of 2026.
"We're talking of a media hub of about 1m sqm by then and about 37 sound stages, studios, gaming studios, industry learning spaces, incubation startup facilities and so on. Our aim is to create a true regional hub and consolidate the infrastructure but also create a true focal point for the industry, the creatives and the talent, because this industry thrives best in a collaborative environment. So far we have witnessed a lot of fragmentation, and that holds the region's industry back from performing at its optimum."
Prior to last month's announcement, Neom had already put in place several of the elements required to boost producer confidence in the region. For one, it has supported 25-plus productions over the last 18 months.
"Our aim is to create a true regional hub and consolidate the infrastructure but also create a true focal point for the industry, the creatives and the talent, because this industry thrives best in a collaborative environment" – Wayne Borg, Managing Director for Media Industries, Entertainment and Culture at Neom
"We're starting to see that momentum with so many productions coming to the region. Cast and crew are moving from one production to the next. It is vital for us to keep that pipeline and that continuity going so that they can roll over from one production to the next. At present, we can handle between three and four productions at any given time and are starting to build our crew depth.
"We've got the facilities and we have announced a 40% cash rebate production incentive scheme for feature films, TV and commercials, with producers able to secure a higher percentage based on their industry development contributions. We've also got the talent and the crew depth, and we are able to support these productions with our team on the ground."
Neom manages and services 350 dedicated five-star accommodation units (200 at Bajdah and 150 at Neom Media Village), competitively priced to cater to the needs of cast and crew. In fact, guests at the August launch stayed at the accommodation units so they could get a feel of what to expect. An airport at Neom operates direct flights to and from Dubai, with London on the cards.
Neom is also working with MBC Group to bring an AAA gaming studio to the region. "That's being incubated in Los Angeles now as we speak and will migrate across to Neom hopefully in the next 12 or so months," Borg confides. "The region performs strongly when it comes to the gaming sector. Saudi Arabia within that is a huge player. Some of that value leaves and you want to repatriate some of that value, which is part of this broader industry ecosystem that needs to be developed and consolidated for the region."
Neom is ensuring that the Kingdom has "employable participants" in the industry by working closely with academic entities like the National Film and Television School in the UK for entry-level programmes and the University of Southern California for master's courses. By moving young Saudi nationals from theoretical training to production placements, Neom is also helping them carve their employment pathways.
"We've already put 200 young Saudi nationals through the National Film and Television School, which is very focused on getting young people who aspire to have a career in the industry to be well-versed across the key areas of production. These are a combination of online and residential courses in the UK. And then, because we have such a strong pipeline of productions across film and television, we are able to attach them to productions and help them build up their portfolios. From the very outset, we have tried to harness the productions we are servicing at Neom. In short, we are starting to provide career opportunities that may not have existed historically within the Kingdom and the broader region," Borg elaborates.
Complementing the physical sound stages and production facilities, Neom has assembled an experienced international production team with a deep understanding of what producers and crew need on stage and on location, says Borg. This team supports incoming productions to provide a smooth and cost-efficient production experience.
The interim facilities already have a few productions underway, including fantasy-adventure Rise of the Witches, the region's biggest TV show to date, and Million Dollar Island, a new reality TV survival show that wrapped in July. In addition, Neom's first local serial drama began production last month. Neom hosted 20 major international productions in 2021, from major large-scale international features such as Desert Warrior, helmed by Rupert Wyatt (director of Rise of the Planet of Apes) and starring Anthony Mackie, Ben Kingsley and Aiysha Hart.
"There has been a lot of scepticism in our ability to deliver, and we were able to develop these facilities in a relatively short period of time. I think it shows the intent and the seriousness of our ambitions here, just given the importance of the media sector to Neom both from a GDP and job creation perspective," explains Borg.
Having worked on other such media ecosystems in the region, Borg has clarity on the gaps in the market and what must be done to ensure greater success.
"The end state of a fully integrated media hub both physically and technologically doesn't exist at present, and that's what we're working to achieve. That's what is going to create huge opportunities both in how workflows happen and how we're seeing that convergence, particularly around game engine technology when it comes to production. There's also been an inability for talent and creatives to come together previously and collaborate and for the industry to sort of harness all of that. Consequently, the industry hasn't been able to really punch to the weight it should be for the size of this market.
"So we want to create an environment that not only becomes the focal point and the true content creation hub for the region, but also one of those elite global media hubs so it allows us to participate in what is now a 24-hour industry. And we are working at providing tools that creatives may have never had access to before, and that's going to provide opportunities for them to enhance their storytelling and their productions. That's what we're working for on the end state.
"We're making some significant investments in infrastructure and equipment, and that's really at the heart of our offering. We want to offer infrastructure as a service. With the rapid technological advancements that are happening, it's difficult for the industry to keep pace and keep investing. We want to de-risk industry and provide that infrastructure so they can concentrate on their core skill, which is to create content."
Borg concludes: "Red carpet, not red tape, is our mantra, and that has led to attracting a lot of productions to the region and is also shining a light on the pipeline that's shaping up going forward."