Dubai producer Kinjal Tanna took on an extreme challenge: filming wing walking at 1,500ft at 300km/h, to test the grit of Vatika Naturals styling gel. Tanna tells Rachel Dawson how he managed to overcome unforeseeable challenges and made the cut.
How do you break away from all the clichéd men's hair gel ads on television that portray the same old script? Is there a way to redefine a narrative that has been told to death in various permutations?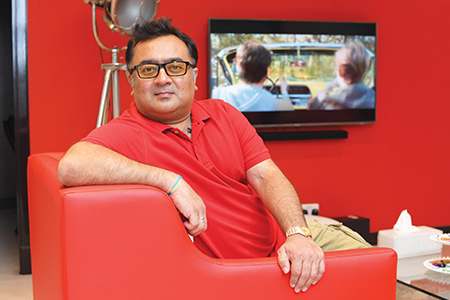 Dubai-based producer and CEO of KKDD Kinjal Tanna was recently tasked with such questions when given a brief by his client, Dabur Vatika, to create an action-packed sequence to market its Vatika Naturals styling gel.
The idea was not to add to the existing stereotypes surrounding men's hair gel; instead, the client suggested wing walking, the act of moving along the wings of an airplane during flight, sometimes transferring between planes.
It originated as a daredevil stunt in the aerial barnstorming shows of the 1920s and became the subject of several Hollywood movies.
The client was willing to put its product to the test by applying hair gel to the stuntman's locks and sending him out 1,500ft up. The idea was simple – no dialogue, just pure action.
"The key category driver of a gel category is 'hold', and Vatika gel decided to go big on that. We wanted to communicate to gel users that Vatika gel gives you the best hold ever, no matter what. We created a series of Vatika Extreme Challenges where we tested hair styled with Vatika gel under extreme conditions," says Prateek Jugran, Senior Product Manager, Dabur International.
"To test the hair gel, we began with a Ferrari at 120km/h challenge, followed by a skydive at 270km/h challenge.
"For the third edition, we wanted to surpass the 270km/h barrier and do something which has never been tried before by any hair product; hence we decided to go for wing walking and showed that with Vatika gel – your hair remains intact even when you stand on top of a plane travelling at 300km/h."
Tanna says this was one of his most challenging projects, the first of its kind, and required thorough research. After speaking to a few wing walking teams around the world, he finally zeroed in on AeroSuperBatics in the UK.
"They had a strong team with a proven safety record. Their airplanes, which we flew, were Boeing-Stearmans built in the 1940s; we actually executed stunts in a 75-year-old aircraft and we shot at Rendcomb World War 1 airfield, which was operational from 1916 to 1919."
Directing the ad demanded high energy for the extremely intense weather conditions.
A lot depended on the wind and weather on the day, Tanna says, which added to the uncertainty factor.
"We had to have a trained professional who was willing to endure the whole day being mounted on top of a plane."
He explains: "My approach was very simple, I put together a wishlist of aerial stunts and shots I wanted to see in this video. We then discussed this with Martyn Carrington, Chief Pilot from AeroSuperBatics, and we got onboard aerial shoot specialists Glenn Stanley, Billy Lipsett and Colin Norwood from YDM Aviation, who primarily work on a lot of air shows, which showcase military manoeuvres."
After finalising several shots, briefing the stuntman was crucial, and the team mounted GoPros on the aircraft to capture all the action. Tanna explains that the schedule was equally challenging in terms of capturing the right shots at the right time.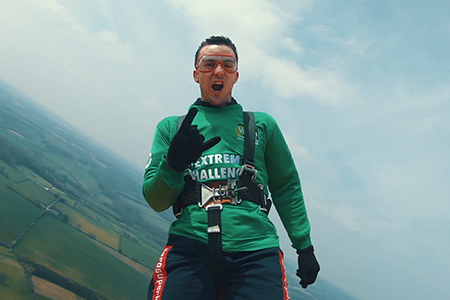 "Each flight duration lasted 15 minutes, which meant we were under a lot of pressure to deliver. After each flight, we would go through all the footage captured on the GoPro cameras as well as the on-ground cameras to get an idea of the range of shots, to determine if there was scope to improve."
In order to capture the best images possible, the shoot employed six types of cameras – two Canon 5D Mk4, fitted with a combination of Canon L series lenses 24 to 105mm, 70 to 200mm and 100 to 400mm on the ground, for the ground to air images and also some of the taxiing aircraft; three GoPro hero 7+ (4K resolution) on three different specially built mounts on the aircraft; a Panasonic GH5 Leica DG Vario-Elmarit 12-60mm f/2.8-4.0 ASP, the prime combination used in the air and for some of the ground shots; a 35mm f/1.7 manual focus Prime lens for a few morning shots; and a Canon EOS M3 with an EF-M 18-55mm lens for various extra material.
Additional equipment was locally rented in the UK.
Once the team got their GoPro shots, they had to remove the front mounts facing the stuntman, so as to not interfere with the shots of the final video, taken from a second plane.
"We then got prepared for the most exciting part, which was shooting from another plane simultaneously," says Tanna.
Norwood from YDM Aviation had the task of handling this, since it was important to coordinate with ground and air.
"We had to know at all time where the planes would be and both pilots needed to keep their distance from each other," explains Tanna.
"Once we were airborne, we had to get the shots in the best possible manner considering we had a cameraman who was strapped in with limited viewing and movement.
"It was paramount to ensure that the lens sizes didn't add weight to the camera, mainly because while shooting at those speeds it's very difficult for the camera to be in focus at all points. Eventually, we did a total of four flights, two with one aircraft and two solo flights."
Executing a simultaneous 360-degree aerial manoeuvre on two planes was one of the most challenging stunts to execute.
Equally hard was shooting the side barrel roll, says Tanna.
A barrel roll is an aerial manoeuvre in which an airplane makes a complete rotation on both its longitudinal and lateral axes, causing it to follow a helical path, approximately maintaining its original direction.
Another challenge was more technical in nature. "We discovered that although both the planes we used were the same in configurations, they had slightly different engine configurations. The fact that our Hero plane had a man on top with a pilot in the cockpit, whereas our camera plane had two people seated in the cockpit, would have an adverse effect on the weight of the plane and how the winds would affect this shot," Tanna explains.
"One of the biggest challenges was to ensure both pilots were in sync when it came to speed, since to get the shot the camera plane had to be a step ahead and know exactly which shot we were taking next, and sometimes we had to get a bit higher or lower to get our shots."
The team selected the best shots from seven hours of footage; post-production entailed the Apple FCPx for editing, Da Vinci Resolve Studio 16 for grading and Avid Pro Tools Ultimate 2018. This phase took a week.
"It was imperative that we incorporate all the shots which guaranteed the wow effect. On the editing table, we had to ensure the shots gave us a literal adrenalin rush, which was the desired effect of speed. This is what we wanted to showcase," explains Tanna.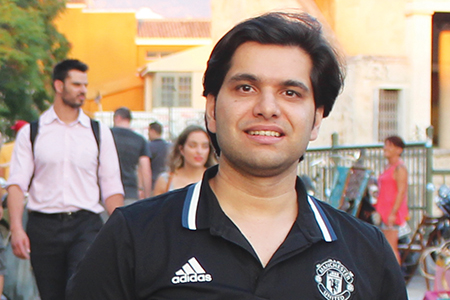 The producer credits the success of the shoot to the support of Dabur Vatika and his team.
"Our production team comprised eight members: four from AeroSuperBatics UK – Martyn Carrington, David Barrell, Kirsten Pobjoy and Jemma Craigie; Ryan, our stuntman; and the camera team from YDM Aviation – Glenn Stanley, Billy Lipsett and Colin Norwood.
"We also had a lot of support for pre-production from Sanjeev Pahwa, my Associate Producer, and both of our editors – Pinkesh Surtani on post and Ranjeet Raju on sound design and mixing."
Dabur's Senior Product Manager Jugran adds: "We shot in some extreme conditions with freezing temperature and high wind speed, but all thanks to the KKDD team and especially Kinjal Tanna for executing this ad.
"The ad has accumulated 12m views, 21m impressions, 300,000 likes, 60% VTR (industry average is 27%) and 15% SER (industry average is 1%)."
The efforts of the team did pay off in a successful shoot. The Vatika Wing Walking Challenge has garnered 1,523,898 views on YouTube in less than two months.