In an exclusive interview with BroadcastPro ME, Dubai-based production house Waves Studio and systems integrator AV Solutions talk about how they helped develop a 12-camera HD OB van to serve the Middle East production and broadcast market Dubai-based production and broadcast systems rental house Waves Studio recently took delivery of an HD OB van from […]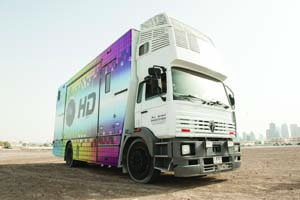 In an exclusive interview with BroadcastPro ME, Dubai-based production house Waves Studio and systems integrator AV Solutions talk about how they helped develop a 12-camera HD OB van to serve the Middle East production and broadcast market
Dubai-based production and broadcast systems rental house Waves Studio recently took delivery of an HD OB van from systems integrator AV Solutions. Waves Studio, which has fully equipped production studios in Al Quoz and Umm Al Quwain, and a full-fledged editing facility in Bur Dubai, decided to replace its existing fleet of standard definition (SD) OB vans with a High Definition (HD) fleet.
The contract was awarded to systems integrator AV Solutions, which has undertaken several OB projects for clients both in the UAE and Iraq, from its facilities in Dubai.
The owner of Waves Studio, Sheikh Majid Almualla, had already imported a readymade Renault coach truck from France for the purpose.
"We wanted a compact OB truck that was fully equipped with high-end HD broadcast systems and could cater to any production request from our clients," says Almualla.
AV Solutions' Managing Director Zaid Wattar says this has been the biggest and most challenging OB project the company has undertaken thus far.
"We have built many vans and SNG vehicles for clients at our Jebel Ali facility. This van, however, was our biggest accomplishment because it has been very uniquely designed and has immediately become a showcase project for us."
Key kit in the van include 12 Sony HXC-100 multi-format camera chain systems, its MVS-6000 multi-format 2.5ME video switcher, recorders and monitors; Vinten Vision 250 tripod systems and dollies; Harris multiviewers, test and measurement systems and glue; Nevion's 3G modular router and infrastructure; EVS' latest multi-camera six-channel HD slow-motion replay server system; Vizrt graphics; RTS intercom; and Neutrik remote stage box audio/video fibre optical transport solution and cables.
When AV Solutions was first approached to integrate the van, there were several issues that its engineering team needed to address.
For one, the team was required to design a system that could cater to any production requirement whether they be sports, live events or other programming applications, explains Wattar.
"This OB truck was always wired for twelve cameras and needed to cater to different applications, especially sport, which has a far more demanding equipment requirement than other events. It was a big challenge to integrate a twelve-camera system within such a truck size, especially when it needed to include fully featured equipment as well as other options such as slow-motion servers and sports graphics," he says.
"The client was clear that he wanted only high-end industry-standard equipment because no compromise could be made on quality or reliability as their clients are quite high-profile. What we have created has now become a benchmark for many local integrators, who have been impressed by how we deployed a 12-camera system into this truck without affecting operational comfort or internal space."
The external coach, which has been sourced from France, consists of a hydraulic expandable frame. Although an expandable frame is a standard in all European coaches as it immediately provides the production team with a spacious corridor when in operation, this is still not as common in the Middle East.
The entire interior of the coach was designed and kitted out by AV Solutions at Waves Studio's Al Quoz facility.
"Normally, we undertake OB projects for our clients in Iraq and so, we would integrate them at our Jebel Ali facility because products created in the freezone are intended to leave the country. This coach, however, belongs to a client that is registered in Dubai so we undertook the integration at their Al Quoz facility. They have a huge operation there," Wattar explains.
Joseph Touma, Technical Manager at AV Solutions explains that several designs were brought to the drawing table in compliance with Sheikh Almualla's own ideas before both teams arrived at a decision. Touma was responsible for supervising and ensuring that the project was executed well.
"We had many meetings with the client, who himself brought some fantastic ideas to the table. We studied the pros and cons of splitting the interiors in different ways and how to locate the equipment. The present layout is quite different and unique compared to the standard design of most OB vans. This design has been created to accommodate the needs of various
production requirements of Waves Studio's clients while also ensuring less power is consumed and less heat is generated," explains Touma.
Wattar adds that the client was fully involved in the technical part of the project.
"Sheikh Majid Almualla is very involved in broadcast technology. He likes to study the details himself before making a decision. He visits broadcast exhibitions and undertakes a lot of research himself. This made it easier for us as a systems integrator because we were on the same wavelength when it came to selecting systems for the van. Budget would be relegated to the back, if a more expensive solution was capable of doing the job better."
It took more than eight months to finalise all elements of the OB van and integrate the solutions, adds Wattar.
"We needed to make considerable modifications to the truck. We sourced metal, wood and decorations for the OB van from various suppliers in the local market. One of the biggest needs of this market is also a sophisticated air-conditioning system. We designed this in conjunction with an air-conditioning specialist in the market to ensure that the OB van was perfectly suited to operate in the heat and dust conditions of the desert."
The AV Solutions team undertook the core broadcast project, although, other elements such as interior finishing were sub-contracted to other specialist contractors, explains Wattar.
The broadcast systems integration was undertaken by Touma and his team.
"We sometimes outsource the non broadcast elements to other external providers depending on the timeframe for a project. However, the core element is always done by our own team. For the final tuning of configurations for our software-based systems especially, we always ensure that we have specialists from the manufacturer's side to support us. This is standard with all the projects we do as product specialists are better suited to configure their respective products," explains Wattar.
In addition to this, Wattar claims that the workflow within the truck is "highly flexible and can address any challenging production requirements".
"It has been built based on the concept of 'any possible instant changes'. The operator can easily change the patching of any signal, or change the monitoring sourcing through the router dynamically; they can change which effects they require on the monitors automatically. They can also change any recording sources to the VTRs and the video server, or have external sources that need to be mixed with existing sources. We have added so much flexibility to the workflow to ensure that it can be adapted to different requirements."
As a result, the new OB truck has enabled Waves Studio to secure more production projects in the market. It often works closely with several regional broadcasters including Rotana TV, Dubai TV, MBC and Abu Dhabi TV in the market. It has already been used to cover several high-profile events including the Sheikh Khalifa Championship for horses, the Dubai Shopping Festival, the Sheikh Hamdan Falconry Championship and other sports events.
This is the second mobile production system developed by AV Solutions for Waves Studio. The first system was a four-camera, high-end mobile flight case system.
The systems integrator has also previously supplied solutions for Waves Studio's post production facility.