Palestine TV has expanded its tiny OB fleet with the addition of a new SNG vehicle developed and integrated in-house. The vehicle was most recently used to cover President Trump's visit to the country and will continue to play a key role in covering live productions in Palestine. In an interview with Vijaya Cherian, Bassam […]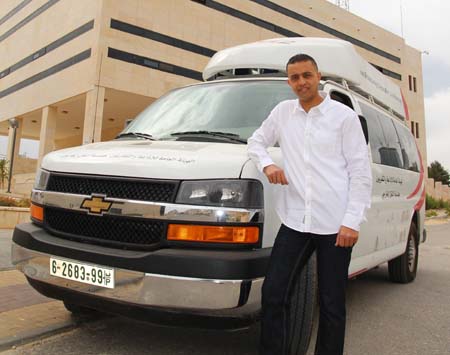 Palestine TV has expanded its tiny OB fleet with the addition of a new SNG vehicle developed and integrated in-house. The vehicle was most recently used to cover President Trump's visit to the country and will continue to play a key role in covering live productions in Palestine. In an interview with Vijaya Cherian, Bassam Alsaqqa, Broadcast Engineer at Palestine TV, who designed and developed the SNG van with his in-house team, shares more details about the vehicle
Palestine TV recently invested in its second SNG van, following a similar investment in 2015, to help the state broadcaster expand its coverage of live events in more parts of the country. The van, which was available from April, helped Palestine TV cover President Trump's historic visit to the country last month, and will be used for more live news coverage in the future.
"Our objective has been to expand Palestine TV's live coverage and we have traditionally rented an SNG monthly for this purpose," says Bassam Alsaqqa, Broadcast Engineer at Palestine TV.
"It was becoming increasingly important that we owned our own SNG to save on the monthly rentals. It will help reduce our expenses by at least $10,000 each month. This has become possible because Ahmed Assaf, the CEO of Palestine TV, has always encouraged us to push the limits. He has always been very supportive and has been able to secure the funding for the projects. Without that, this would not have been possible."
Unlike most broadcast engineers, Alsaqqa, who has previously worked at Ramattan News Agency, Gaza and Egypt, particularly on the OB and SNG side of the business, is well versed in coach building and integrating vans. Alsaqqa has previously built two SNG vans and one OB van, the most recent being the third SNG.
One of the challenges of a politically volatile country is that engineers need to be as self-sufficient as possible and integrate technologies without relying on systems integrators.
In the case of Palestine TV, Alsaqqa says the entire project was undertaken in-house under his technical leadership. The team not only procured the equipment internally, it also built the coach at a local workshop in Ramallah, under the supervision of Alsaqqa. The senior engineer says that besides satellite broadcast and OB engineering, the in-house team is also skilled in technologies related to electricity, sound, carpentry, metal work, road safety standards and even vehicle balancing.
Alsaqqa himself designed the coach using 3ds Max, AutoCAD and SketchUp, following discussions with Eng Mazen Hamarsheh, GM of the Engineering sector. Once approved, Alsaqqa then worked with a local company for the coach building.
"This is the second truck we have built, and we used the same company again as I am now aware of what their capabilities are. As a result, things moved a lot faster this time. The first time around, we built a four-camera OB van based on a 2015 Chevrolet Express, along with an SNG vehicle. That van is primarily used for small live productions. The more recent addition is presently operating as a single-camera SNG, although it can be fitted with a vision mixer and accommodate four cameras. This Chevrolet Express 2016 SNG is primarily for live news coverage, as this is a priority in our country," Alsaqqa points out, adding that Palestine TV itself served as the systems integrator.
"We bought these vans as empty shells from the manufacturer and retrofitted them," he explains. Both vans are HD vans with 1080i 50Hz as the main format.
The van includes a rackmount analogue audio mixer from Behringer (EURORACK PRO RX1202FX), a fully automated SVS SDO 120KU (1.25m) antenna with controller, a 400W TWTA CPI HPA with controller, the Harmonic Ellipse 3202 SD/HD/3G-MPEG2/4-DVBS/S2 encoder and modulator, the Harmonic Proview 7100 SD/HD/3G-MPEG2/4-DVBS/S2 IRD, the Honda eu30is generator and the Gamatronic 3KVA rackmount UPS. In addition, Palestine TV has a large collection of Sony XDCAMs and Ikegami cameras, all supporting HD.
"We chose the SVS antenna because they have a very good product line. We've been using their antenna for years now without any problem. The Harmonic solutions were an expansion of what we already have from them. We use them for fibre (stream point-to-point). We also have other encoders from Harmonic to live broadcast our channels. All Palestine TV HPAs are from CPI, starting from 2006. The Honda generator is the best in the market because of its robustness and reliability," explains Alsaqqa.
Although Alsaqqa makes it sound simple, there were several factors to keep in mind while building and integrating the van, such as the weather requirements of the country. With heat, cold and rain dominant features on the Palestinian terrain, the van was designed with heat and rain resistance in mind.
Palestine TV faces other challenges that are not technical. With live news coverage being paramount and journalists constantly operating in danger zones, clashes, tear gas and gunfire are common in the country.
"The Israeli army sometimes targets live broadcast vehicles to prevent them from covering news stories. We never have enough engineers for the live news coverage," explains Alsaqqa.
The broadcaster employs more than 500 staff, with around 15 people working on OB operations. Following the delivery of the new van, Alsaqqa was appointed Head of the SNG section in the Department of Outside Broadcast.
It took two months to import the equipment, two to build the coach and two weeks to test it. The vehicle was on the road in April.
"This vehicle was fully tested by the Transportation Authority here. We provided them with a detailed layout and design for the new vehicle. All aspects of the vehicle were tested by the authority in terms of engineering, safety and so on before we could take it out on the road."
This van, however, is just a teaser for a larger VW Crafter OB van with eight cameras (CCU HD) being designed by Alsaqqa, again to be built in-house.