Jordan's state broadcaster, JRTV, recently acquired its first high definition OB van. Built to the latest broadcast specifications, the vehicle is expected to lead the TV station into a new era of broadcasting. BroadcastPro ME takes an exclusive tour of the van Jordan Radio and Television took delivery of its first High Definition (HD), Outside […]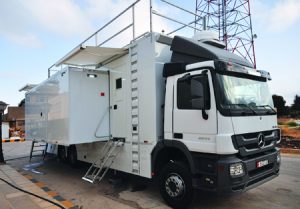 Jordan's state broadcaster, JRTV, recently acquired its first high definition OB van. Built to the latest broadcast specifications, the vehicle is expected to lead the TV station into a new era of broadcasting. BroadcastPro ME takes an exclusive tour of the van
Jordan Radio and Television took delivery of its first High Definition (HD), Outside Broadcasting (OB) van in October 2014. The OB van, which was a collaborative integration project between Sony Professional Solutions Middle East and Africa and UK-based systems integrator, VSC Broadcast Engineering, will enable JRTV to produce all of its local content in High Definition. The new addition is part of a larger mandate that JRTV has to migrate its entire chain all the way from production to transmission to HD by 2016.
"Our main requirement for the OB van was to have equipment with the latest high definition technology, professional video cameras, wireless cameras, audio mixers and so on, to help us achieve our technical objectives," explains Khalaf Al-Khawaldeh, Director of Engineering at JRTV.
The coach was built by UK-based ASGB with a Mercedes Actros rigid truck chassis. It took five months for the coachbuild and three months for the system installation and configuration, in addition to 12 weeks for chassis procurement, he adds.
The new van boasts a roof-mounted, weather-proof, dome-enclosed steerable satellite dish to enable quick set-up to downlink satellite channels. It is fitted with full HD Sony HDC series cameras with Fujinon lenses, a Sony MVS series 3M/E vision mixer, a Gigawave HD D-CAM clip-on wireless camera system as well as TSL audio monitoring and Genelec speakers.
Prior to building its own HD OB van, JRTV used to rent equipment for its outdoor productions. Escalating rental prices, however, compelled JRTV to revisit its business strategy and build its own OB van.
The availability of a new HD OB van will now enable the broadcaster to undertake more productions around Jordan including sites like Petra and the Dead Sea. It will be used primarily to cover live sports, musicals and general events for news and current affairs programmes.
JRTV, which presently broadcasts two channels within Jordan, the MENA, America and Europe, transmits its signals from Amra Satellite Earth Station, which is linked to the Eutelsat, Intelsat and Arabsat satellites. The state broadcaster caters to a mix of audiences and demographics, with a wide array of programmes covering news, economics, sports, drama and talk shows.
The state broadcaster, however, has plans to launch a third channel that focuses on news, confides Khawaldeh.
"We plan to add a third channel that is fully dedicated to news in 2015. We also aim to position ourselves more on social media networks and are looking to engage and communicate with our audience online, keeping them up-to-date on the latest news. We will also benefit from their views and comments on how we could improve and meet their expectations," says Khawaldeh.
In the meantime, the availability of a new van provides greater flexibility to JRTV to shoot more programmes. The van was designed by Sony PSMEA and kitted out with the help of UK-based systems integrator, VSC Broadcast Engineering.
"Sony PSMEA worked closely with us from the initial design stage to ensure that the OB was designed and built to the highest standards," explains Khawaldeh.
Shadi Al-Omari, OB Engineering Manager at JRTV adds that the van saves the state broadcaster "both time and money and will be beneficial in the long run rather than outsourcing, and also gives us the benefit of top-of-the-range technology".
"Sony was able to meet all the expectations in terms of quality, price and HD standards set in the official tender produced by the engineering committee for JRTV," he comments.
The workflow
The vehicle contains four key areas: including the rack room with loudness equipment; engineering room; a two-row production gallery for graphics; VTRs, vision mixing and EVS operation and the audio room. The engineering room contains camera line-up controls and space for the truck supervising technical manager.
The OB van was designed to be the next generation of OB for JRTV, moving the client into HD production for the first time, according to Sony's Project Manager Omar Abuaisha, who oversaw the project.
"The rigid chassis design has a small footprint, allowing access to some of the more difficult terrains in the country," he says.
The file-based workflow of the van is built around an EVS cluster and is designed for HD production, with a simulcast in SD to link into legacy systems. It also allows for instant replay and highlights. The van's link to Gigawave wireless cameras with full remote control adds flexibility to avoid complex cable connections, which are unsightly in certain setups.
With the help of Pixel Power graphics, the fully finished, multi-layer productions can be used direct to air alongside simultaneous clean feeds for other distribution circuits.
"Using a combination of multiviewers, feeding back SDI into the router core allows for a concatenated flexible multiscreen layout to not just be confined to dedicated multiviewer monitors but also adding an element of hot desking to a traditionally fixed environment. This also provides a degree of redundancy, should there be a failure within a specific section of a multiviewer," explains Abuaisha.
The baseband house standard for the truck is HD 1080i50, with audio referenced to -18dBFS with the file-based house standard being DVCPRO HD. Other formats, such as SD 576i, are handled by converters at the edges of the system.
The configuration offers eight record ports and six replay ports in the EVS record and live slow motion replay servers. The flexible commentary unit from Glensound, combined with the Trilogy talkback and Studer audio mixer, provide the essential on-site talent voiceover facilities.
The Sony cameras, with the collection of large Fujinon lenses ranging from wide-angle to high-zoom box lenses, allow for a wide range of events from sports to conferences to be covered. For news events, the flexible communications and combination of HD, SD and composite conversion presented on the tailboard means onward connection to SNG uplinks is available.
The van is fitted with auto voltage regulators as well as motorised triax and power reels for quick start-up.
It also features an Eaton UPS for quick deployment and sustained reliable uptime.
Challenges
The van was put together with engineering teams working across different continents. The coach design and the broadcast technical design, as well as the physical integrations of the van were completed in the UK.
   "There were four main collaborators on this project, two of which, the coach builder and the SI, are based in the UK, while the other two are in the Middle East. However, a good working relationship and trust across all parties enabled this to be done smoothly.
"We were working in different time zones and with a multilingual crew, which required a lot of coordination and planning," explains Abuaisha.
One of the requirements of the project was that the van be able to achieve 50 degrees Celsius ambient temperature when working on a full load. This made keeping the van cool proved to be a challenge.
"This is the first High Definition equipment that is in use at the client's site, so although the broadcast fundamentals remain the same, the new concepts and the new equipment created a learning curve for the client," says Sony's Abuaisha.
On handover, Sony provided two months of on-site training, which included a full package from both the vendors and the system specialists, to ensure that the OB van could be used to its full potential.
"Training is an integral part of this project. As this is the first HD OB for JRTV, PSMEA worked very closely with our team to ensure we were familiar with the new technology in order to ensure JRTV's smooth transition to HD," explains OB Manager, Shadi Al-Omari.