Saimanish Prabhakar, a recent high-school graduate from GEMS Metropole School, Dubai, whose latest film 'Metanoia' won several awards at film festivals, talks to Shifa Naseer about the success of his short films.
Saimanish Prabhakar, who hails from Chennai, India, is one of the youngest award-winning cinematographers in the industry today. Armed with several awards for his shorts even before he heads off to university, Prabhakar has already donned several hats as director, cinematographer and editor.
He has been involved in three award-winning films so far including two narrative shorts, Flicker (2019) and Metanoia (2020). He also collaborated with a friend on a third film, titled Flux. However, his most notable work to date is Metanoia, which won him multiple awards at international accredited film festivals such as Calcutta International Cult Film Festival and the Indie Short Fest at the Los Angeles International Film festival.
Like many young "creators" today, Prabhakar began a vlog. Unfortunately, this led to him being bullied by fellow students. Instead of letting the situation deter him, it made him more determined to pursue his hobby in a professional manner. Thus, began his filmmaking journey.
"I started making vlogs back in 2016 but when kids around started bullying me and teasing me, I decided to pursue it professionally and prove people wrong. That's when I began learning how to use professional software like Premiere Pro and KHDA-approved certificates."
Social issues have, thus far, dominated the theme of his films.
"I've watched many films with linear storylines with romance or action in focus. I don't have anything against that format, but I feel that if cinema has the power to be more than that, I must exploit it to reach a wider audience with a message. This is what inspired me to become a filmmaker."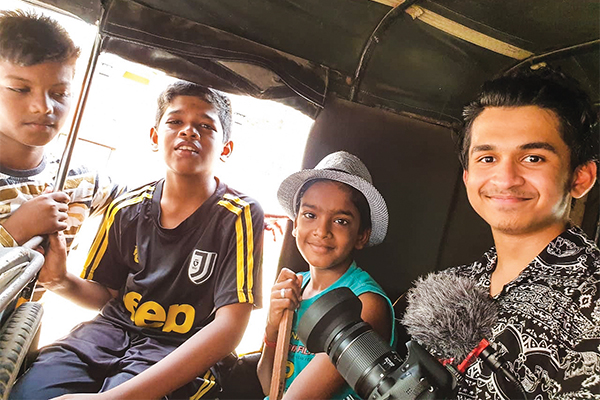 Hence, the tagline for his projects is 'Films created with purpose'. "For me, the tagline means that by the end of the film, my audience goes home with a meaningful message and applies it to their lives like in Metanoia. The film talks about how it is not necessary to donate millions of dollars to save the environment. Small steps matter like not using single-use plastic."
Metanoia follows a young boy and his journey in understanding the impact of individual actions on the environment. "The film shows a boy from a low-income family change his perspective towards protecting the environment. He changes his lifestyle by the end of the film," says Prabhakar.
Prabhakar came up with the idea for the film with his mother and the film was shot last year in July at two locations, Chennai and Dubai.
"The part in Dubai was shot with the help of my classmates who acted in the film and the rest was shot in Chennai. We went to India for just seven days with no plan of action. We did not have any cast or crew," says Prabhakar.
"There is a small residential colony near my aunt's house in Chennai. We approached the people there and talked to them about my film. We asked if we could have their kids act in the film as I wanted people with an authentic local experience to depict the issue at hand. I wanted to capture the character's innocence."
Eleven-year-old Naveen Kumar from the locality was finally cast as the protagonist in Metanoia. "He is a really happy kid and it was great working with him," says Prabhakar.
The shoot in India was concluded in August last year while the scenes in Dubai were shot much later.
Perhaps one area that was particularly challenging for Prabhakar was sound.
"Editing took really long as I had to include sound to the film and add several layers. It was also my first time doing it. We didn't record any sound and it was really important to the film. I had to add the sound of waves while showing the beach, the sound of birds if they were visible in the shot and so on. It is the small details that took time. I completed the film by January. My music teacher Lambert composed the music for the film.
"It was all very spontaneous. We were making it as we went along. Usually, I like to pre-plan my films, but this was a different experience," remarks Prabhakar.
Metanoia was released in January this year to international festivals. "The first festival that got back to me was the Calcutta International Cult Film Festival where Metanoia was screened. I also received positive feedback from the Tagore Film Festival."
Bullying is another theme Prabhakar explores in his film Flicker (2019). "I have a lot of authentic stories to share especially the ones that are not shown often like mental health. Flicker shows exactly that and is based on how people live out their lives based on the opinions of other people. I wanted to share my honest opinions and perspectives on the issue," he says.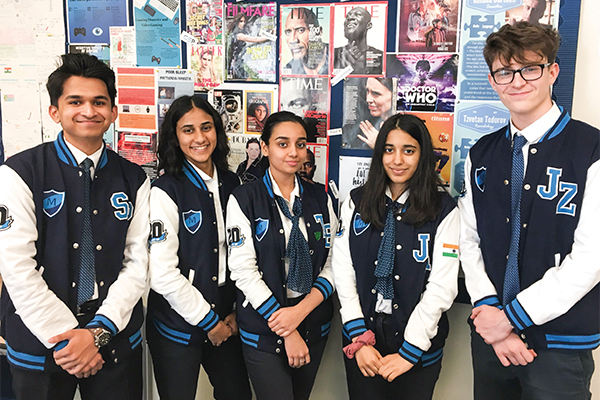 Flicker was shot around November 2018. Except for one scene, the rest of the film was shot at Gems Metropole School, where Prabhakar studied. The film is about a kid who is into acting but gets bullied by his classmates.
"My school was pretty cooperative for the project. My classmates stayed back after school hours with me and our team used the school premises for the film.
"The film shows how bullied people stop doing what they love because of the traumatic experience of being made fun of. I have experienced bullying as well. The lead character also goes through that trauma."
The team for the film included Prabhakar, two writers, actors and a few extras. Flicker was shot and ready within two months. "That was my first experience shooting a film with an actual team. As a director, it is very important to have clarity. If that is missing, then everything stops."
Explaining the process of shooting, Prabhakar says: "There were lots of days when I would wake up at 6 am, finish school by 3 pm and work on the film until 7 pm. It was very strenuous, but it was all worth it."
In 2019, the film was officially selected for a film festival in Australia and was screened at a cinema in Melbourne.
"I was over the Moon. Flicker will always be close to my heart because it opened doors for me and was a big learning curve."
Both Metanoia and Flicker are passion projects and funded by Prabhakar's parents. He does not have a fixed team in place but takes guidance from his mother, who is a teacher, in researching possible topics to depict in his projects.
Prabhakar is very fortunate to own most of the gear he uses for shooting. "My parents invested in the gear which has been accumulated over a period of three years. I have a Canon 750D. I use that to shoot my films."
He adds: "I have tested more expensive cameras, but I am not in a position to buy expensive gear myself.
However, my priority is light and sound gear for a smooth visual and audio experience. I might not have the best cinema camera, but I do want to get the details right like lighting, and audio."
Prabhakar is currently working on a TV show script with his classmates since quarantine has limited everyone to their houses with ample time at hand.
"It's a fun concept. I have a feeling that whatever genre I get into, I will somehow link it back to a social issue because that's just me. That is my forte. I am also working on a short film script."
He reiterates that "social issues are the most relatable topics".
"For now, most of my work subconsciously relates to a social issue. I target different spectrums of social issues."
But someday, the young filmmaker hopes to script a sitcom.
When asked about his experience as a filmmaker in Dubai, Prabhakar says the city offers opportunities and the freedom to realise your dreams. "There are plenty of opportunities in the UAE. Dubai, especially, is the perfect place to create good films and get recognition for it. There are many platforms and locations where you can go out and shoot. The convenience of going out, filming, lenient rules and easy permissions make it a lot easier.
"I would not be where I am if it was not for this country, giving me a platform to work towards my passion."