As part of a larger project to upgrade its legacy systems to the latest file-based workflows, Dubai's state broadcaster recently upgraded one of its last remaining production studios to function in a 3G/HD environment. BroadcastPro ME brings a report State broadcaster Dubai Media Incorporated (DMI) recently upgraded one of its smaller production studios from an […]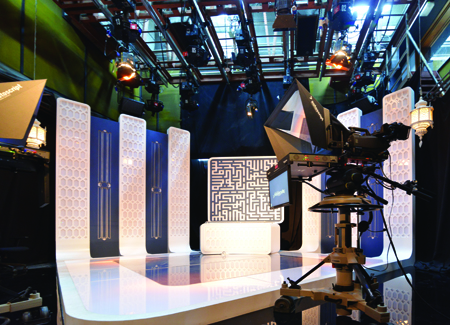 As part of a larger project to upgrade its legacy systems to the latest file-based workflows, Dubai's state broadcaster recently upgraded one of its last remaining production studios to function in a 3G/HD environment. BroadcastPro ME brings a report
State broadcaster Dubai Media Incorporated (DMI) recently upgraded one of its smaller production studios from an SD tape-based environment to a 3G/HD file-based workflow. The project is part of the state broadcaster's phased approach to achieving a complete file-based workflow on the technical side.
Saleh Lootah, previously CTO and now Deputy CEO – TV & Radio Support, Dubai Media Incorporated, says the newly unveiled Studio B is part of the final phase of studio upgrades for the broadcaster.
"With the completion of this studio, we have achieved
a complete 3G/HD file-based transformation of the technical backbone at our facility."
Studio B is used for DMI's in-house productions and was operational just in time for Ramadan this year.
"We began work on the studio in December 2016, and the studio was up and running by May 2017. The idea was to prep it for Ramadan shows," Lootah adds.
While the outer shell of the studio was retained, its technical infrastructure was completely revamped to align it with the broadcaster's other studios and networking requirements.
Afzal Lakdawala, Head of Technology Planning and Projects at Dubai Media Incorporated, explains that the entire technical backbone was refurbished to make it compatible with the broadcaster's other studios.
"This was carefully planned, executed and completed on time. We retained the lights and acoustic tiles in the studio, but the rest of the equipment was replaced with new products based on our technical roadmap. Having already implemented file-based workflows in other studios, it was easier for staff to get accustomed to this upgrade. We just needed to impart basic training to them."
Studio B is a three-camera studio equipped with the Sony HDC2400 cameras that are 3G-capable and multi-format (1080/50i, 59.94i and 720/50p, 59.94p). They can be fully updated to the HDC-2500 by adding option keys (23.97p/25p, 50p/59.94p, 100i/119.88i). The HDC-2400 also provides flexibility on transmission due to its side panel, which can be easily replaced with HD wireless (third party) or Triax transmission systems.
Omar Alzoubi, Senior Manager – Engineering Systems, says that Studio B's upgrade is part of DMI's technology roadmap: "This means the studio is fully 3G/HD/SD and is provisioned for future upgrades. The studio works in a multi-format environment offering an end-to-end file-based workflow. It is seamlessly integrated for access to centralised managed assets and a collaborative environment between all users, in order to support quick production. The system not only improves productivity but also offers flexibility in content creation."
Alzoubi adds that the content is made available almost instantaneously, for inter-department users to perform their assigned tasks in order to service the entire chain from camera input to playout. The content is simultaneously ingested into the related digital archive to meet the delivery deadline and make it ready for faster on-air transmission.
The studio is powered by two Avid AirSpeed I 5500 systems integrated with the main Avid servers. The AirSpeed I 5500 allows direct file exchange between XDCAM, XAVC Intra, XAVC-L, AVC-Intra and AVC-LongG decks, third-party servers, Media Composer and other editing systems.
The output of the camera is directly recorded on the Avid ISIS server using AirSpeed for ingest. The two AirSpeed servers are also used for any playback from the studio. The studio can perform live-to-air as well as recording for future transmission.
As soon as the shoot is over, the content is available on Avid for immediate editing. Once the edit is finalised, the media is exported to a Harmonic playout server for transmission and, simultaneously, the content is stored in a deep archive for future use, thereby enabling a complete file-based workflow.
The studio set-up, including video encoders, cameras, vision mixers, glues and multiviewers, was chosen with the aim of enhancing the production quality of programming for both live as well as recorded shows.
Ammar Fawzy, Territory Account Manager at Avid, explains that the installation at DMI "boasts a complete end-to-end Avid solution that manages its news and sports content".
"By adding two Avid multichannel video servers, the Airspeed | 5500s, to their studio B, they have extended the use of their existing solution to the new studio, allowing them to manage feeds, live acquisition, content production and play-to-air demands easily from Studio B," he adds.
Complete training was undertaken for the engineering and operations teams.
"The new workflow has increased our productivity, and the turnaround time for productions has also reduced. The design target was to implement a system which allowed for easy operations, and Studio B has achieved that," says Al Assaf.
"DMI's technology strategy is future-proofed and will lay the foundation for adopting the newest trends in broadcast, such as IP, new compression platforms, new distribution platforms and new methods of production with the related workflow," he concludes.