The FM band in the UAE may seem crowded, but newcomer Pearl FM has been quick to find a niche. Launched in October 2014, the radio station caters to children from toddlers to 12-year-olds. There are already online children's radio stations run by Disney and Nickelodeon, but Pearl FM is about giving a voice to […]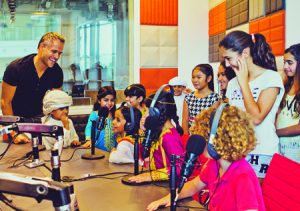 The FM band in the UAE may seem crowded, but newcomer Pearl FM has been quick to find a niche. Launched in October 2014, the radio station caters to children from toddlers to 12-year-olds. There are already online children's radio stations run by Disney and Nickelodeon, but Pearl FM is about giving a voice to the kids and supporting them, according to the station's co-founder Jeff Price. The station claims to be the first radio station dedicated to children in the Middle East.
Price, who has been associated with Channel 4 FM and Dubai's Virgin Radio, set up Pearl FM with Nick Watson, a regular guest on his radio shows. The station broadcasts on 102FM and is headquartered in Al Jalila Cultural Centre in Dubai. The channel was integrated and kitted out by Dubai-based systems integrator MGI (Media Group International). Along with the four studios, a back-up studio was also built. The fifth studio doubles as a production facility when not in use for live broadcasts.
The station broadcasts in English but will launch Arabic programming this year as well. The Arabic channel will be called Lulu and will present a fair amount of speech in Arabic.
Built around the Clyde radio infrastructure as the backbone, the radio project was put together in three months. The objective was to build a simple and easy-to-use studio that could be handled by young children.
As for the equipment and workflows, the project required simple systems, according to Janez Zigon, General Manager of MGI, who was in-charge of the integration of the station.
"As this is a children's radio station, easy operation was the key word in this installation, so the equipment had to be as uncomplicated and child-friendly as possible," he explains.
The main equipment in the studios is built around Clyde Broadcast Synergy Master Control systems. These are complemented by RCS playout systems; microphones from Clyde Broadcast, Shure and Beyerdynamic; Sonifex delay units; and a range of production and control software from RCS.
"Rather than selecting individual hardware and software studio components and then going through the difficult process of making them work together, Synergy combines the hardware functionality of a state-of-the-art mixer with a complete suite of integrated broadcasting applications, which is why we chose these solutions," says Zigon.
RCS' GSelector offers a multi-station scheduling system with a single point of entry and flexible configuration. Aquira provides real-time access to sales and inventory data, and a vast range of scheduling, billing and reporting options. It also helps manage clients, prospects and sales team call activity.
The digital radio automation system deployed at the facility is from Zetta, which integrates with the music scheduler GSelector4, RCSnews and traffic system from Aquira.
The studios
Pearl FM has five studios that transmit two separate programme outputs. Although the Arabic channel is not launched yet, the station is provisioned to carry two parallel feeds simultaneously. Studio 1 carries the English programming and Studio 2 will be dedicated to Arabic programming as and when Lulu FM (the Arabic channel) launches.
Studios 1 and 2 are identical and feature self-operated on-air facilities. Studio 1 has a monitor feed from the service 1 off-air receiver. Studio 1 has headphone monitoring in addition to the playout and mixing equipment. Studio 2, on the other hand, will broadcast programmes associated with service 2 or the Arabic programming, and also has a monitor feed from the service 2 off-air receiver.
The feed to each transmission chain comes from two Clyde TSM2 studio switcher/monitor units, located in the central technical area equipment rack. The TSM2 is a 1U rack-mounting unit that combines the functionality of a transmission switcher and monitoring unit. Designed primarily for use with two-studio radio stations, the TSM2 incorporates distribution amplifiers; a programme fail detector and auto start switching for an external standby audio source; a tone generator; and visual and audio monitoring.
The feeds are controlled either from hard-wired studio buttons and indicators or through remote diagnostics via the internet.
Studio 4 is also equipped similarly to Studios 1 and 2, with the exception that there are two fixed phone lines and no profanity delay. Due to space limitations, this studio has only three microphones. Studio 4 can serve as a back-up on-air studio, allowing for routine maintenance in either of the English or Arabic studios, or if either of these studios don't function properly.
The TSM2 switcher receives two main inputs of programme feeds from Studio 1 and outputs it through Studio 4. While the TSM2 associated with the second programme feed has two main inputs in Studio 2 and outputs through Studio 4. In addition to the studio outputs, each TSM2 has a standby audio player, which is automatically switched to the transmission feed if a studio source fails while the studio is unattended or using broadcast automation. Each TSM2 also has an input from an off-air receiver, which is distributed to the appropriate studio and to a logger (part of the main server).
Each service shares a scheduling workstation, which runs the RCS GSelector, RCS Aquira software and GLinker software. The workstations are tier 1 PCs connected via the broadcast network to the content server and a dedicated traffic server. The facility can easily be scaled, with the option to add more studios as the station grows. The server rooms can store live broadcast material for up to 60 days.
The studios boast a back-up for on-air, and production control room core equipment based on Clyde Synergy Silver, featuring the Synergy master control surface. The Fader control surface is suited for more than eight sources and provides the studio with eight-channel strips, which are also freely assignable, using Synergy PC with 1Tb+1Tb mirrored HDD and CD player Tascam 500. Studio 5 acts primarily as a production facility and works in conjunction with two microphones in an adjoining voice booth. The highlight of Studio 5 is its Adobe audition record and editing facilities. All four main studios (1, 2, 4 and 5) have access to a shared content server via the broadcast network. Studio 3 is fitted with furniture but is not used for broadcasting yet.
Challenges
While working against a tight deadline was a challenge, the SI was also working on a site that was still under construction.
"We had to work against a very tight budget for the project, but all involved appreciated the importance of the facility and the work the foundation was doing, so accommodated everything within the financial goalposts," says MGI's Zigon.
Outlook for 2015
The response to Pearl 102FM has been very positive, with an estimated 300,000 listeners tuning in to the station per week – and that number is growing very fast, claims Price.
"These are not audited figures, as we are still very new, but are based on feedback from children, schools, parenting groups and people who are recommending Pearl to friends. It's also based on our social media organic engagement, which has been very good," Price explains.
Pearl FM's morning show Chris Birks in the Morning is now famous for its School of the Week programme every weekday and Pearl's mid-morning programme, Jeff Price and Friends, a chat show with music, has featured more than 150 interviews since the launch. Special guests including parents, medical practitioners, healthcare professionals, teachers and environmental specialists, are part of the show.
"2015 is going to be a very busy year at Pearl FM and the Children's Media Network with new programmes and partnerships. We will work closely with Dubai Healthcare City, more schools and toy companies this year," reveals Price.