Producing and distributing children's content has been their forte for the last decade. Now the founders of Jordan's PG Studios have launched a MENA streaming service for kids, aiming to provide entertainment that keeps in mind the cultural sensitivities of the Arab world.
Progressive Generation (PG) Studios founders Ahmed Al Masri and Feras Al Kiswani, who have produced and distributed children's content since the launch of their company in 2011, decided to go direct-to-consumer (D2C) with the launch of their new streaming service PG Kids on January 1. The SVOD service, available at a monthly subscription of $5, is powered entirely by Red Bee Media's managed OTT services.
"We started this company with a seed fund of $1,000 here in Jordan back in 2011," explains Al Masri. "In the last four years, we have ramped up our operations and expanded into Saudi Arabia, Kuwait and Oman. Our aim was to become the equivalent of Disney in the Arab region and produce content that inspires and educates children. We worked hard to build a strong team and produce competitive children's content, and we collaborate with all the big international names to build a global brand.
"We have been selling our IPs to more than 35 TV stations here in the MENA region since 2011. Now we have moved from a B2B business model to B2C. It's something we have been planning for the last three years. This happened because of many factors – the nature of children today and the changing technology. The pandemic helped to accelerate this decision. PG Kids is one of the biggest online platforms for children, and we provide a safe platform for them."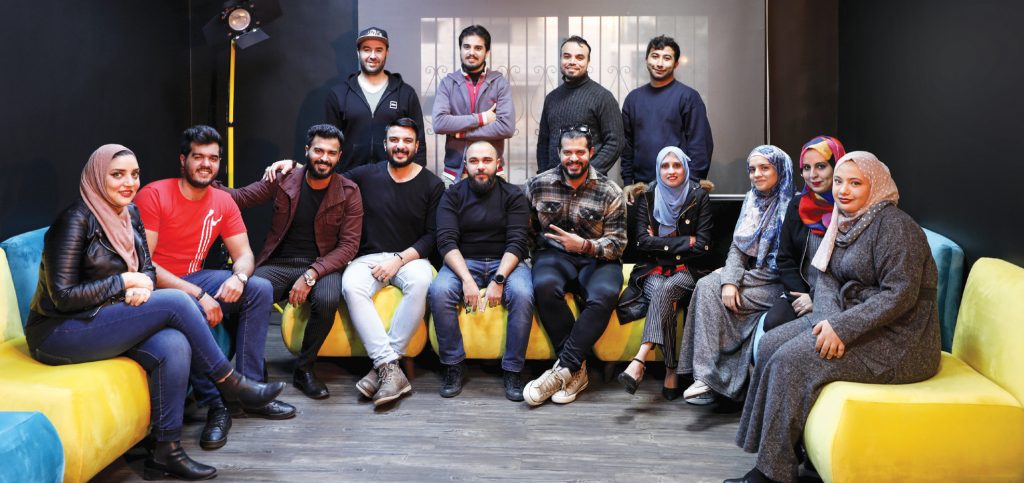 PG Studios claims to own the biggest library of original children's content in the MENA region, with a portfolio that includes full series and songs in both Arabic and English. PG Kids has content that typically caters to two age groups – between three and six, and between six and ten. Popular programmes include The Friends, Roko & Sharshoor, Mr. Labeeb, Our World and Child of the Sun. With most of its content being animated shows, PG Studios has incorporated educational messages into its entertainment.
"On the whole, our focus is on entertainment, but we do have some specific edutainment programmes. Some of our content features ethical problem-solving of issues such as sexual harassment, but in a child-friendly way."
PG Studios has been licensing its content to third parties, but it revisited its contracts three years ago when planning its streaming service, to ensure rights were only provided for linear TV.
"The total valuation of original content on PG Kids exceeds $27m and 15 years of hard work. We currently have 115,000 minutes of original content. It is almost 100 full series and 200 songs in three languages – Arabic, English and French. All our content is in Arabic, with 20% of it also currently available in English and 5% in French. The content available currently on the PG Kids streaming service is 50% of the total content we have. It's a massive library and we have enough for the next six months.
"The contracts for the content we have licensed to third parties will conclude by the end of 2023. They have been done in phases, so the rest of the content we own will also slowly move back into our platform by 2023."
In the meantime, PG Kids is ramping up its efforts to source other children's content for its platform through its own original content and collaborations with other producers. The firm has 27 employees in Jordan, with a branch in Turkey that manages the creation and animation of our shows.
"We plan most of the concepts here in Jordan but have 60 full-time employees in Turkey who are responsible for the animation. We have also trained more than 300 fresh graduates on the animation programs that we have in 2D and 3D, maintaining the syllabus that they have in the universities. In the meantime, we have also signed many partnerships with other producers in the MENA region to give us exclusive content, and revenue will be shared between us and them. We hope to sign with some international studios also in the future. Our R&D shows us that many producers are willing to put their content on our platform at this stage, and we know that the big international names will follow when they see some results on the ground," Al Kiswani explains.
As a children's content producer, PG Studios regularly consults with child psychologists and experts when creating and producing content. "We collaborate with specialists in children's upbringing and psychology. In addition to directors and producers whose expertise is children's content, we collaborate with technology providers like Adobe, Autodesk, Dolby Digital and Red Bee, of course."
"We have trained more than 300 fresh graduates on the animation programs that we have in 2D and 3D, maintaining the syllabus that they have in the universities" – Feras Al Kiswani, founder, Progressive Generation Studios
Masri explains that the rationale for founding a kids' content channel stems from the current market's lack of adequate content.
"It's a blue ocean. In total, Arabic content in the MENA region comprises less than 2.7%, and children's content is less than 1.3% of that. Also, most of the children's content that TV stations here carry are from international studios. We don't have a lot of localised content for the MENA region. We know five big names here in Jordan that have closed in the last three years.
"It seems like it's not a profitable industry, but globally it's a huge industry. In the global market in 2019, more than $7bn was spent on children's content, and with the pandemic, all the matrices have doubled regarding online content. It is a multi-billion-dollar industry, especially when linked with merchandising for the characters and original designs. Also, children spend nearly 35 hours per week watching and playing with smart devices."
But producing content is not cheap, of course, and the ROI may not be rewarding enough to stay focused on children's content for most players, says Masri.
"Here in the MENA region, if you want to produce a series the cost is exorbitant compared to, say, an IP from China. Here the copyright by itself exceeds $50k for a series, while you could get it for a tenth of that price from other markets. It depends on the type of content and on the language that you are using. So most people don't invest in IPs. This region is also still developing the expertise to produce great animation."
PG Studios is currently in the process of marketing its streaming service primarily to parents.
"We need to reach out to the parents, because we know the child will not reach the platform as a direct customer. Here, we have direct and indirect customers. The payers will be the parents, so they must see a value in our platform. We are offering a platform that is safe for children, especially here in the MENA region, and ensuring it is suitable for children of all kinds and diversities in the global market. Our findings show us that a lot of parents in the region and abroad are not comfortable with the content their children can potentially access on other services. Some have specifically said they don't want their children to engage with YouTube's and Netflix's system of entertainment."
PG Kids hopes to target this audience and is looking to attract "more than 10,000 subscribers by the end of January" and 150,000-odd subscribers by the end of the year.
No doubt, there are challenges.
"Penetrating the B2C market is not easy. We are always careful to look at cultural sensitivities before buying content. Here in the MENA region, we also face a lot of copyright issues. If you do not have strong technical support for your content, copyright can be a concern, but Red Bee has addressed this for us." PG's five-year plan is to "produce hit content and be open for other producers to collaborate with us and produce successful shows that appeal to children across the world". In keeping with these production goals, the media house hopes to have 80% of its content available in English and 30% in French by the end of 2022.
Red Bee Media powers PG Kids
When PG Studios decided it was time to gather all its original content in one place and offer it directly to audiences across the MENA region, it decided to go with Red Bee Media to make this possible efficiently.
"Three years ago, when we decided to go ahead with PG Kids, we talked with more than four solution providers like Red Bee and some other big names. We did give developing our own online platform some thought, but we realised that we would not be able to manage all the technical challenges that would appear – the updates and upgrades of the system," says Al Masri.
"Red Bee helped us set up a good SVOD service, with broadcast-quality streams and precise personalisation and recommendation functionality, allowing us to offer an excellent user experience for both parents and kids."
Houssam Al Khaled, Head of Sales and Operations at Red Bee Middle East, elaborates on what it can offer. Red Bee's managed OTT services enable brands and content owners to launch a fully-fledged streaming offering rapidly and easily. It supports all content formats, including live, linear, catch-up and on-demand, low-latency streaming, as well as a full range of monetisation options (such as ad-funded, subscription, pay-per-view and vouchers). All content is protected through Red Bee's advanced geo-blocking and digital rights management (DRM) functionality. As an add-on, Progressive Generation Studios also offers merchandise related to its original content through PG-merch.com.
Red Bee offered comprehensive support not just with the technical aspect, but with the red tape as well.
"We realised that if we wanted to go global, we needed to partner with a strong name to manage the red tape more efficiently. As a newcomer to OTT, for instance, we would face many problems regarding copyright with Apple and Android devices. They would not give us the licence that we have today for children's content," explains Al Masri.
"It's very difficult to make kids' content and put it online. Apple and Android have many restrictions regarding this, as well as Google, and although we would have gone by the book, there will still be some hurdles. Red Bee already knew how to address this with their expertise."
"The total valuation of original content on PG Kids exceeds $27m and 15 years of hard work. We currently have 115,000 minutes of original content. It is almost 100 full series and 200 songs in three languages – Arabic, English and French" – Ahmed Al Masri, founder, Progressive Generation Studios
PG Studios decided to focus on its core strength. For a monthly fee, Red Bee manages the website, the user interface and all things related to streaming.
Al Khaled says: "If you are Netflix, Amazon or Disney, it makes total sense to build core competence in creating and managing a secure, flexible, global streaming platform. But no one should underestimate the risks, costs and long-term deep-pocket commitment needed in going alone. Working with an established service platform will enable us to focus on driving market success rather than building and operating technology. You will get to market much faster. You will be able to adapt more rapidly to changing needs. You can align your costs on a usage basis with revenues to create an overall healthy investment case," adds Al Masri.
Red Bee's Al Khaled agrees, adding that the availability of such OTT services are helping content owners and creators all over the world transform their business model, reach larger audiences and monetise their assets in new ways.