As content continues to drive consumption across a panoramic OTT backdrop, a panel of experts at the ASBU BroadcastPro Summit explored strategies to entertain the diverse audiences of the MENA region. Kalyani Gopinath summarises the discussion.
By Kalyani Gopinath
Curating Content for a Diverse MENA Audience was the theme at the informative opening session of the panel discussion at the recent ASBU BroadcastPro Summit. The content panel looked at how we can reach audiences and scale, and discussed originals, adaptations, Arabic content and what formats work for the MENA region.
Sharing the stage on the specialist panel were Samar Akrouk, Group Director of Production, MBC Group; Tony Saab, VP of Content Production and Integration, Jawwy TV; Wesam Kattan, VP Content, Genomedia; and Ziad Kebbi, CEO of Blue Engine Studios.
Promising to keep the listeners "physically and spiritually" up was moderator Badih Fattouh, CEO of Creative Venture, who opened the debate by asking Samar Akrouk to talk about the status and demand for non-scripted consumption and viewership in an era of mobile consumption while navigating the production and commissioning of non-scripted content at MBC Group, the biggest network in the region.
With no drop in demand, Akrouk was emphatic about the thirst for unscripted content and maintained that budget structures have changed due to market conditions. "The actual output of my team — producing in-house and outsourcing to production companies – has been on the rise, and we are producing not just for our pan-Arab audiences but increasing production in our specialised channels as well. With regard to unscripted on our digital platforms (AVOD or SVOD), I see that trend also increasing and we believe unscripted content can help contribute or be a potential strategy to help with the churn of users on SVOD."
Akrouk also revealed how increasing the production of unscripted content has given MBC the ability to diversify into different genres, pointing to how Netflix has introduced a world of unscripted content.
"Content is content, good storytelling is good storytelling, and at the end of the day any platform will have to have a combination of both scripted and unscripted."
Fattouh then asked Kattan how the rise in VOD has affected production values and demand for scripted content since the introduction of VOD platforms to the region and the change in the content landscape.
"It's amazing how fast we have grown in such a short while with demand for shorter series and non-traditional genres. Even back in 2018, we were telling producers we were looking for eight to ten episodes; it was something that people were working around, and now it's the norm."
As the audience continues to consume more international content than ever before, production houses will be competing with each other for the time spent on VOD or TV.
"With original content, we can talk about what kind works on VOD, but as Samar said, it all comes down to good storytelling. And as producers and commissioners, our focus should be on how we take storytelling to that level," added Kebbi.
Has the momentum on VOD steered production in a different direction for OTT players, consequently widening the subscriber base?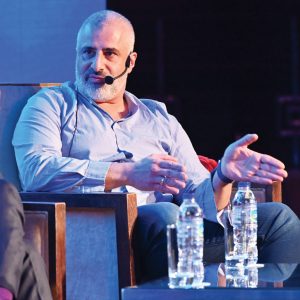 Saab noted that while growth on VODs was good, "linear platforms maintained their power too".
Having set out to produce and commission content, and then turned super aggregator in the region with Jawwy TV, Saab's team has more than 250 linear channels with a focus on getting all major international SVOD services on the platform, recently closing a deal with Discovery Plus and a large local OTT player to soon become the biggest base of users in the region.
"We want to offer our platform to everybody and not compete with anyone. Our focus will be on aggregating content from all suppliers, for linear and video on demand," Saab stated.
As far as the full impact of VODs on production companies is concerned, it is still early days as both international and local streamers are vying "to find a balance within this landscape", said Kebbi. "It is the beginning stages, and I believe it will get better in the future. When there are more clients it becomes more complicated, not less, because you have to offer different original ideas to every streamer. You have to wait for a process to happen."
Zooming out, Fattouh asked for Kebbi's perspective on free-to-air and the market in terms of challenges and opportunities.
"The Arab world is very unique and very special. We are 22 countries and we speak the same language, but we have different content requirements. What I have noted is vision-driven commissioning, vision meaning countries setting their own vision for the future and then driving content to serve that purpose, so that's an opportunity," he said.
"Free-to-air continues to struggle with the Covid impact. Less advertising means less budgets, so we have to find ways to produce at less cost. The explosion of scripted in originals for the region, with the rise of SVOD and FTA, is an opportunity; the challenge is to be able to come up with the right content with the right ideas that will work in every area. We should not cater to the actor; the story has to come first, we need to serve the story and not the actor."
Fattouh then asked why the export of content is not happening in a systematic manner in the region, despite its having the financial and creative skillset.
From a network point of view, Akrouk agreed they get asked why they cannot come up with their own ideas. "The honest answer is that we are still a developing market and so our grid is heavy with formats that come from mature, developed markets. I see these formats as structures that are tried and tested, with international expertise and international experiences; however, the content in itself is extraordinarily local in its approach."
As an independent producer, Kebbi's response was along similar lines. "A format is the structure of an idea, it is the way you execute, and unfortunately we do not have all the tools to come up with a structure that can travel. I am not saying that as individuals we cannot, but in terms of the landscape of the industry itself, we are not there yet."
Here is where risk-taking comes into play. In a challenging market such as the MENA region, commissioning something untested will always be a gamble, as production houses need to take that huge financial risk of spending money on something that may or may not work.
"Globally, risk-taking markets are very few, even the United States is a risk-averse market. It is Holland and the United Kingdom that have an output of maybe 60-70% each year of new formats that have never been tried before. They have this source of people who are willing to take risks," said Kebbi. "But it is also worth mentioning at this point that when you're initially creating a format, you are not giving it a nationality; it's just an idea that is universal, a structure that can work in any market."
It all boils down to storytelling again, said Kattan. "Good stories that are tested and proven with strong structures, as Samar was saying, just comes down to the craft and the ability of the creative team to adapt it to the region, which I think there are fine examples here of Ziad and Samar's team, in their ability to do that creatively."
A unique feature of content that travels is identity. Aside from the American and UK examples, content that travels the world today (specifically from Spain, South Korea, Turkey and the Nordic countries) is known for dominant themes.
"If you're watching a Korean series, then you are subscribing to the fashion, the style, and now of course the Squid Game. Spanish titles are known for crime and thrillers or passionate characters, Turkish content is social dramas, while Scandinavian countries introduced the Nordic noir," said Kattan. "So as much as we need to get our storytelling abilities to standards that will allow it to travel globally, we also need to figure out the identity of our content that's going to give it that travelability. What do we stand for? What are people wishing to experience when they subscribe to an hour or two of something out of the Middle East?"
Saab concurred, but also brought attention to the need to nurture homegrown talent. While bringing international expertise it is imperative that we devote more space to local writers, collaborate with workshops, and encourage and pick new talent.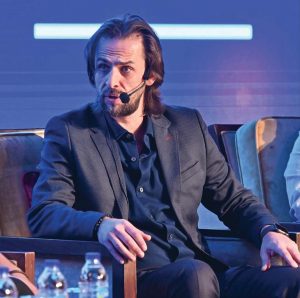 "While we rely on external creative teams to study and understand our culture, they will lack the inner feeling, and so we have to foster talent from the region and search for ideas. There are a lot of stories from the Arab world waiting to be told, which will eventually give our scripts the ability to travel and in effect be monetised."
Akrouk agreed that while local talent is still in its infancy, gaining insight from international formats about the craft of storytelling and applying it to local writing rooms would promote and encourage local creativity that would grow and evolve organically. "When we were doing the first season of Arab Idol, everybody came from outside – the lighting director, the art director, the director – and then through the years we were able to educate and train people. And now in season six, everyone is from the local market."
The reality is that the majority of the talent pool in the Middle East is not experienced in all the formats, and so when you have a business objective of creating an original drama that's going to engage audiences, "we want them to watch from the first to the last episode and wait for the next season", said Kattan. "And so we should work towards a common objective collectively – to get Arab content to a pivoting point where it will travel. That will impact our production values and output, and only then will we have an expansion of resources to do more."
In that respect, how do we create content for such a diverse audience as the MENA, where language remains the same but dialects differ, creating a deterrent in certain regions. What determines the focus?
From MBC's perspective, Akrouk said that where there was a "thirst", "we created a stand-alone channel". "We are in the business of attracting eyeballs, and all of us in this room need to offer the right kind of content on the right kind of platform to catch as many eyeballs and to make it as easy as possible for the user to watch your content, whether you're engaging them on the phone or SVOD platform, local channel or satellite."
Fattouh asked how social media offers new opportunities for content creation.
Kebbi's verdict: If they're not engaged, they're not going to subscribe. Management of social media accounts has the same value as creating premium content, and understanding audiences is key to organic growth on social media. "We need to excavate ideas from different elements, look beyond social media, consider Google search volumes, learn what people are looking for, what are they reading about, what are they interested in, to seek new ways of content creation."
Saab and Akrouk were in complete alignment on potential growth in social media platforms lowering the cost of acquisition while driving audience engagement and awareness. As the session concluded, it was clear that in the surging content landscape, as media segments capitalise on what works and what doesn't, the story is king. Investing in the quality and strength of the story, in its emotion, originality, authenticity, relevance and character, is what will ultimately bring the audiences to entertainment platforms.