Iraq's Al Sharqiya Group, known for its news and general entertainment channels, recently built and kitted out a brand-new TV studio complex in Erbil. In an exclusive interview with BroadcastPro ME, Al Sharqiya's CTO Ahmed BinAfif and systems integrator Wave Media Solutions share the technical highlights of this project.
Al Sharqiya, Iraq's first privately owned satellite channel, widely popular among both Iraqis and the Arab diaspora, has opened a brand new 1,400sqm studio facility in Erbil. Designed with modern open spaces in mind, this facility is now home to Iraq's largest studio and is the group's seventh. The Erbil studio complex was kitted out and integrated by systems integrator Wave Media Solutions in conjunction with local partners and the media house's local engineering department, headed by CTO Ahmed Bin-Afif, who manages the group's tech operations across Dubai, Amman, London, Baghdad and now Erbil.
"The group owns and runs over 4,000sqm of broadcasting centres in London, Dubai, Amman, Erbil, Baghdad and Basra," explains Bin-Afif. "We invest millions of dollars to upgrade to the latest technology and uplift Al Sharqiya's studio sets and environment, with state-of-the-art video walls and new and advanced presentation technology that includes a mix of virtual and augmented reality solutions. We operate with the latest broadcast technologies and offer the highest image quality from production, transmission and delivery to our viewers across all our platforms including our websites, OTT, online streaming and official social media channels."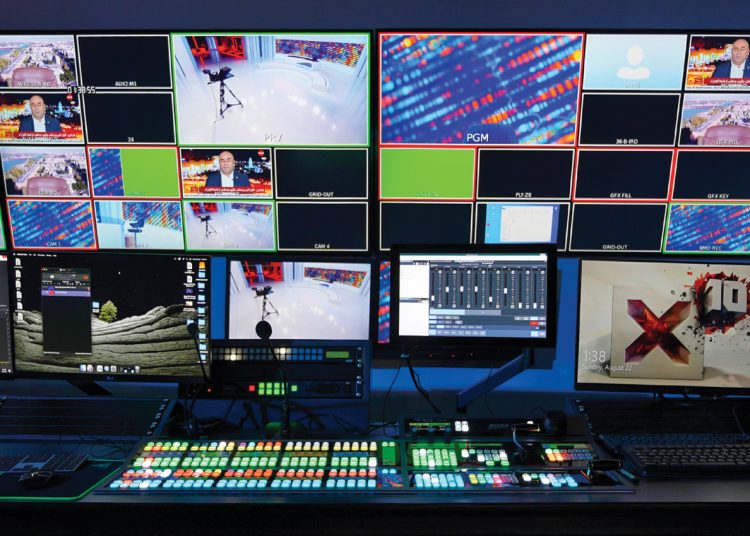 Al Sharqiya has traditionally enjoyed wide popularity in Iraq and with the Arab diaspora in Europe, the Middle East and North Africa. Al Sharqiya Television produces a lot of different content including drama, entertainment, factual, informational and educational programmes. Over the years, the group has produced over 200 Iraqi dramas with major producers and directors in the television and production field. As a result, it has continuously upgraded its facilities to retain its top position in the market.
"We have a very competent engineering department that has been closely involved in all our studios' build," explains Bin-Afif. "The Erbil studio complex is a fine example of the team being involved in the project all the way from design to complete build. Wave Media Solutions has been a long-term systems integration partner and they have worked with us on our projects in Dubai, Baghdad and now Erbil."
"It has been a pleasure working with the Al Sharqiya team on all their projects. As an integrator with deep roots in the Iraqi market, working on the Erbil project has been a matter of pride for Wave Media Solutions," explains Zaid Wattar, WMS Managing Director.
"We invest millions of dollars to upgrade to the latest technology and uplift Sharqiya's studio sets and environment, with state-of-the-art video walls and new and advanced presentation technology" – Ahmed Bin-Afif, CTO, Al Sharqiya Group
At the new Erbil facility, there are a few technical highlights that make it stand out, says Wattar. Besides being home to the largest live TV studio in Iraq with seven different studio sets featuring different themes, the facility also has the first installation of Barco XT LED screens in Iraq and the first deployment of the Ross Xpression Tessera systems in the Middle East.
"The main challenge with the Barco video walls is its curved shape. In addition, we had to integrate this with Ross' Xpression Tessera graphics seamlessly to get the cutting-edge look and feel of the video walls," he says.
The studio is equipped with six Sony HXC-FB80 camera systems, JVC 4K cameras, Fujinon lenses and a 12m crane, as well as the latest LED lighting technology. Although the camera systems are currently operational in HD, they have been chosen for their ability to support a full 4K workflow in the future.
The studio currently houses seven sets to ensure parallel production. Each is kitted out with RGB-controlled LED, which allows the entire studio to be used as a whole or for different programmes in parallel. For now, two large LED video walls, including two large Barco XT Series high-end LED screens, line the studio walls managed by Barco Infinipix NP100 LED video wall controllers. In addition, the studio has been fitted with three vertical curved video walls from INFiLED, and five more will soon be distributed inside the studio and fed by Ross Tessera Video Wall Graphics engines.
The studio is primarily controlled through a Ross Carbonite 4K UHD switcher, along with Avid Maestro Live On-air graphics. All video walls are fed by multi-engines of the Ross Xpression Tessera real-time video wall graphics systems.
While Al Sharqiya's Dubai office primarily supports Al Sharqiya TV and its London office looks after the group's news operations, the Erbil complex will cater to the production needs of both channels, producing daily shows as well as news bulletins. All studios for the group are connected through satellite uplinks and IP streaming, as well as a dedicated fibre link.
The team was fortunate to work on a greenfield project in this case, with no legacy equipment to hinder a state-of-the-art deployment. The complex includes a large production gallery, a brand-new newsroom integrated with the Avid iNews NRCS and the Avid Media Composer edit suites, a graphics department, a technical department including CAR, offices, conference and meeting rooms, and facilities for staff and guests. Some of the key suppliers are Ross Video, Barco, INFiLED, Avid, Sony, RTS, Autocue, Quicklink, TVU Networks, MediaKind and Philips Strand Lighting.
Al Sharqiya Group covers several different types of content, from current affairs and general entertainment to people and daily human interest stories.
"Because we have a dedicated news channel, news gathering is priority and we use different methods including DSNG and IP news gathering to ensure it reaches our viewers on time. For this, we have deployed a large number of TVU Networks' packs and set up its network grid to share the content between our stations instantly.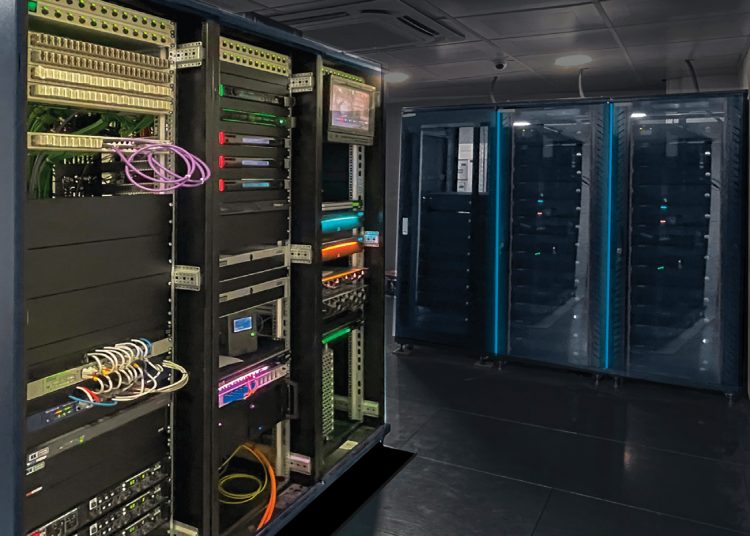 As a result, Al Sharqiya Television is usually the first to carry footage from an event. Fibre connectivity is another way we ensure connectivity between our stations. The ability to collaborate on each show between our different stations has been made possible by the reliable technology and connectivity in the market," says Bin-Afif.
Al Sharqiya reaches out to its audience in several ways to listen to their views, including through its mobile apps, with the information then gathered in the Sharqiya Centre for Polls and Statistics and distributed to its stations, explains Bin-Afif. Likewise, the Avid Newsroom with its Media Central Cloud UX plays a major role in live news production.
"News departments across our stations in different regions can share news between each other easily, and this makes the whole news production process within the group faster and more effective, with any modifications reflected instantly to everyone from the newsroom to transmission."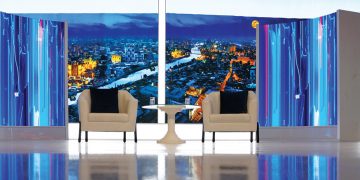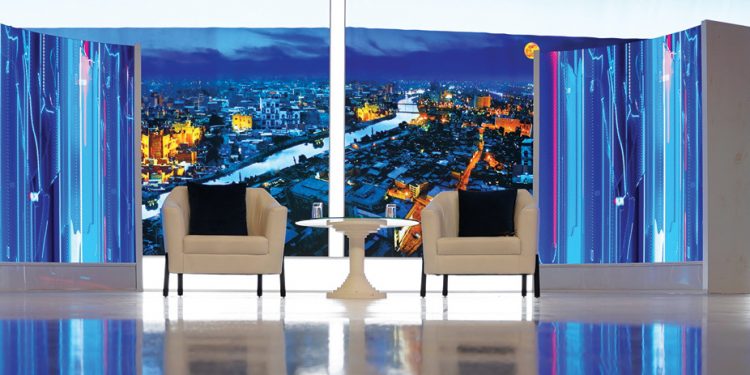 Bin-Afif adds that the graphics automation built into the Ross Tessera makes it "easy to operate complicated tasks, including hosting multiple presentations at the same time with minimal effort from operations".
Wave Media Solutions supplied the complete broadcast systems, including cameras, complete control rooms for studio, news and edit, SAT uplinks and downlinks, two Barco large LED curved video walls and INFiLED LED video walls with the Ross Xpression Tessera Video Wall Graphics system.
"Specific training was provided to staff for the Avid Maestro Video Wall Graphics, the Avid Media Central Could UX newsroom system, the Ross Xpression CG and Xpression Tessera, the Ross Carbonite Vision Mixer, the Ross router and Dashboard unified control system, as well as the Barco XT series video wall," adds Omar Hussein, Technical Manager at Wave Media Solutions. He was the project technical lead and supervisor in Erbil representing the systems integrator.
The project, which began in January 2021, was delivered five months later despite the logistical challenges posed by the ongoing Covid-19 pandemic.
"As an integrator with deep roots in the Iraqi market, working on the Erbil project has been a matter of pride for Wave Media Solutions" – Zaid Wattar, MD, Wave Media Solutions
"There were considerable delays in shipping. The lockdowns in Erbil meant the team could only work during the daytime. There were also strict health and safety measures as well as social distancing rules to follow, and this slowed down the implementation process considerably," explains Wattar.
Designed for scalability, Al Sharqiya's plan is to expand the technology at Erbil to integrate further systems and solutions. Media asset management, media archive and cloud integration for collaborative team workflow with other Al Sharqiya stations and studios in Dubai, London, Baghdad and Amman are all in the offing, concludes Bin-Afif.
Al Sharqiya upgrades Dubai operations
In parallel, Al Sharqiya also undertook a major upgrade and renovation at its Dubai operations. This included the deployment of an additional Barco LED curved video wall, Avid Maestro Graphics and new lighting sets and control from Strand Lighting. This was also supplied and integrated by Wave Media Solutions. The Dubai studio upgrade included a major set change which created more open space.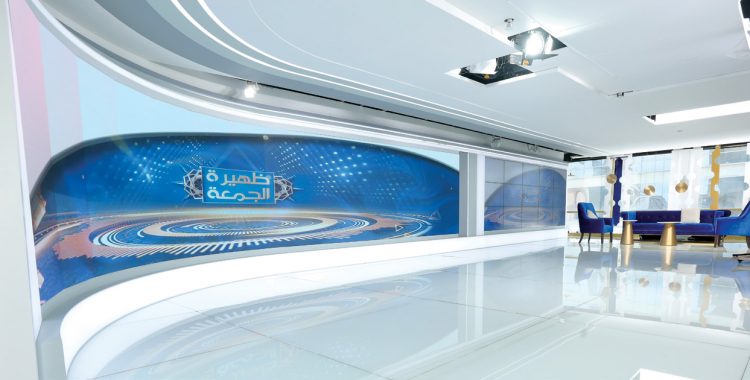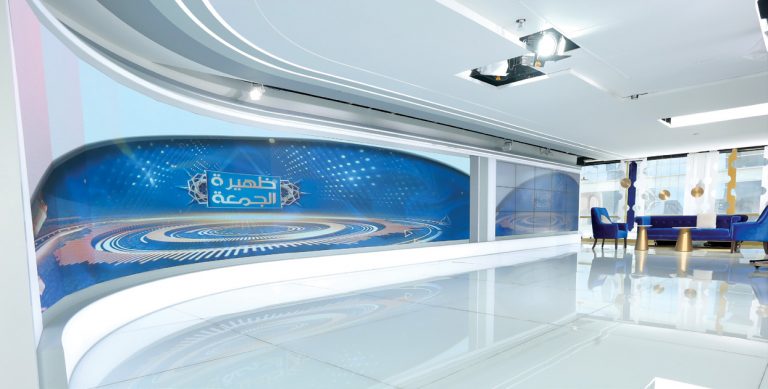 "The special set design, the refreshed studio sets with video walls and interactive touchscreen wall, have given us the opportunity to do multiple configurations for the studio production as well as the upgrade of graphic engines, including the Avid PowerWall engine that controls all video walls in a single application with enhanced 3D graphics elements and superb real-time render," explains Bin-Afif.
The studio uplift included increasing the number of camera chains from five to seven. "We added some studio cameras from Ikegami and upgraded the studio lighting system to the latest LED technology from Philips. This and the set LED lights with wide colour range and powerful LED strips are controlled centrally by DMX. The PCR saw some big improvements as well, with large monitoring screens and new control and measurement tools added. We also added new playout servers from imagine communications in the MCR area."
Al Sharqiya Group announced back in 2019 that it was going to establish Al Sharqiya Academy, a training ground for the young new generation in the television industry. The Academy was launched in 2021 despite the pandemic and several training courses have been hosted successfully. With the Academy, the group hopes to create and train new talent for the region's television market.