Six years ago, the Expo 2020 site was an empty desert wasteland. Today, it is home to some of the finest buildings, a smart IT setup and more importantly, a sophisticated broadcast infrastructure that can cater to any kind of media requirement in the market. Vijaya Cherian gets the lowdown from the Expo 2020 team.
Last month, Expo 2020 Dubai opened its doors to the public, spotlighting the emirate as it welcomes people from all parts of the world despite the ongoing pandemic. Featuring pavilions from more than 192 countries, this event – the largest ever held in the Arab world – hosts up to 60 live shows daily during its six-month run and is expected to attract more than 25m people, 70% of them from outside the UAE.
Besides Al Wasl Dome, a stunning feat of art and engineering that is thought to be the beating heart of the Expo site, the country pavilions and daily performances from world-renowned celebrities, Expo 2020 also boasts an impressive broadcast facility that includes several studios, production and editing suites, standup locations, a sophisticated media asset management system, cameras, crew and the necessary infrastructure to cater to the needs of media who want to cover the event both on-site and remotely. While state-backed Dubai Media Inc is the host broadcaster for the event and has more than 300 people to cover all areas of the operation, Expo 2020 also includes a large internal technical crew to ensure that media have access to an entire arsenal of content assets to help promote the event across the world.
Central to Expo 2020's media operations is the Expo Media Centre (EMC), which caters to the needs of all media across different distribution platforms. The facility includes a master control room and four production control rooms, from where the Expo media team sends regular live feeds on a daily basis. In addition, several items are post-produced for press around the world.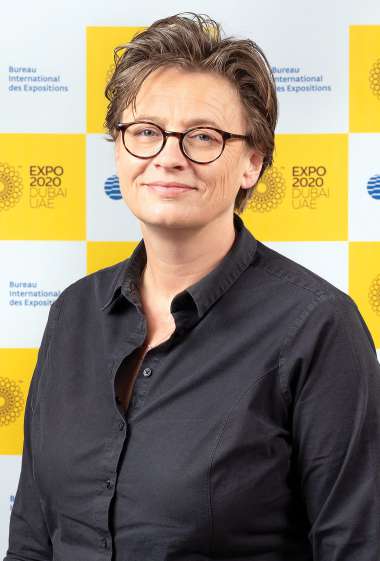 Mandy Keegan, Vice President of Expo 2020, remarks that there are several aspects to the media facilities that make the Dubai installation unique. For one, the Expo team was clear that no exclusive rights would be given to one media player, she explains.
"Giving exclusive broadcast rights to one entity does not work for an expo, because there are so many different stories to tell from the 192 participating nations and we want to show off the things in this country through different channels and partners. So while we do have official broadcasters on-site, there is no exclusivity. Everyone is welcome as long as they are a bona fide media member."
She emphasises that one of the big elements of the event is the method in which distribution is facilitated.
"We distribute in two main ways. One is a live world feed, where we work with DMI to distribute pictures through EBU and Media Source, our digital platform. That takes care of the live. And we sneak in some post-produced content including breaking news into those channels.
"The second one is offline, and this is catered for through our asset management system, which is a combination of Newsbridge and Imagine. That is a fantastic asset for us, because when we started this project we were expecting most media to join us in person. Then the pandemic hit, and we had to beef up our plans for remote coverage of the event. So while we are thrilled with our media who are on-site, we know there are a lot of media who are taking assets remotely or doing a combination of both, and we are well placed to serve both."
The Expo Media Centre uses a mix of equipment that supports both HD and 4K formats. The jewel in the crown is Al Wasl Dome. Standing at 67.5m tall and 130m in diameter, this is where major ceremonies and celebrations are hosted. Al Wasl, which means 'the connection' in Arabic, is emblematic of the theme of Expo 2020 Dubai: Connecting Minds, Creating the Future.
The dome has a state-of-the-art AV setup that offers audiences immersive experiences at different times of the day. As the centrepiece of Expo 2020, Al Wasl also includes a production room that is equipped with 12 Sony 3500 camera systems at present but is wired to take 24. The room is fully 4K 12G-equipped and includes a video server. Two 4K-capable cameras for beauty shots are installed around the site.
Most of the rest of the facilities are geared for HD, with two production galleries kitted out with a total of 24 cameras to provide remote coverage from all connected positions of the site. EMC also includes two fully-equipped studios designed to standard HD quality that can be booked free of charge by accredited media. Part of that arsenal is a Jimmy Jib, a polecam and two RF, 4K cameras. An open-air studio space in Sustainability District is also available for free booking.
In addition, Expo 2020 boasts two well-equipped radio studios that can be booked and 10 edit suites, of which three are for the media. A four-camera flyaway pack, three remote production facilities with PTZ cameras with streaming for Virtual Expo Dubai, five 5G live portable encoding solutions from TVU Networks and seven ENG crews give a good idea of the volume and scale of the gear available to media.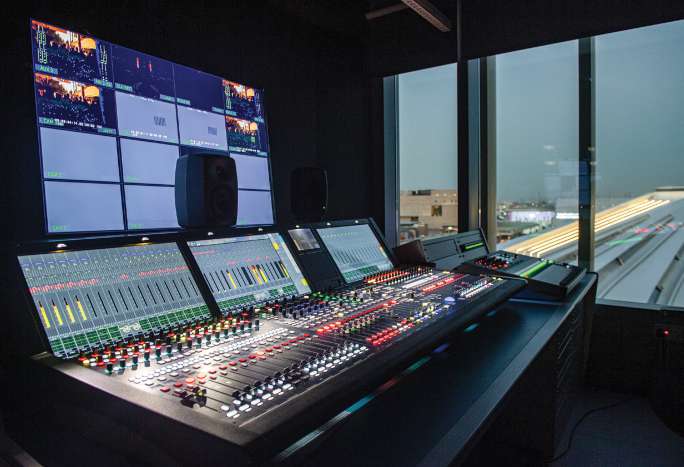 Besides the TV and radio studios, specially assigned camera, photography and standup positions, edit suites and voiceover booths, Expo also boasts two broadcast compounds, dedicated interview rooms, private workrooms, media conference rooms and a photography gallery.
"Venue booking is free. We get requests for a lot of morning shows and have to work out time zones and time differences because we are dealing with media across the world. Our aim is to give everyone access. We have also identified standup positions – connected and non-connected – across the Expo site and all connected to the dark fibre. Formally we have seven standup positions, but we have 3007 non-connected standup positions," Keegan remarks.
She clarifies that only two elements are charged for at the facility – the crew and satellite services.
"If a media organisation wishes to hire crew, our host broadcaster will provide that at a rate card but that is quite reasonably priced. Likewise, satellite. I was determined when the pandemic struck that the media industry, which took a beating in terms of budgets and personnel, was properly supported. We wanted to make sure the expo was accessible, because the biggest challenge organisations faced was the cost of travel and getting people across the world and accommodating them. So we tried to make it as easy as possible by ensuring there were as few barriers to entry as possible, so the media could come and tell those stories."
Likewise, the expo team has been flexible in welcoming OB trucks from media companies to the site. "We provide the option for our media colleagues to bring them in if they wish. We can bring anything into the media centre and out through satellite through Etisalat. So if anyone requires an uplink, they can have that as well."
All the broadcast facilities are connected through dark fibre within the expo site, with POPs and teleports supplied by Etisalat, Keegan elaborates.
"We are setting up a city of the future here, so the discussion about the dark fibre and creating facilities for the media was an easy one to have. In addition, we have two broadcast compounds that are linked with fibre and include backup generators, to ensure unilateral uplinks are available for any external broadcaster who brings in their own DSNG van."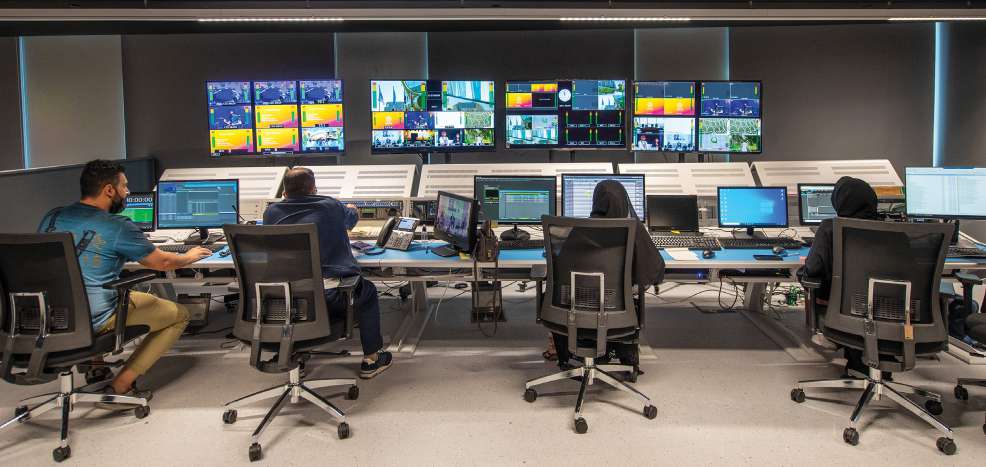 If one thinks that these facilities are already quite comprehensive, Expo 2020 Dubai has gone over and beyond to provide its official broadcasters – CNN, ARN, Sky News Arabia, MBC, Dubai Media Incorporated, Abu Dhabi TV and China Media Group – with fully-equipped studios that each has recreated and designed to reflect their brands.
"The difference between these broadcasters and the rest is that the former channels are collaborating with us and are located on-site permanently during the duration of Expo 2020," says Keegan. "They have dedicated studios which we provided for them. They fit out their spaces to recreate their own studios, but we have a fantastic dark fibre network that starts at Al Wasl and emanates to each of the studios, the main performance venues and our broadcast compounds. So we have a great network for all of them, and it also helps with their broadcasts and whatever they want to do with us. This broadcast fibre network gives them a lot of flexibility to get all feeds from us and connect to their headquarters."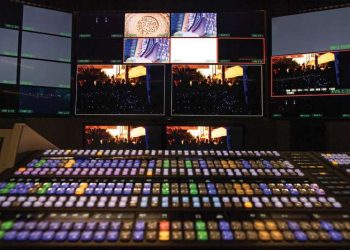 Given the scale of the broadcast operation, Expo 2020 boasts a core in-house technical team of nine dedicated to broadcast. Facilities and services are booked via the Media Bookings System, an online platform dedicated to expo-accredited media. A bookings team on-site assists with all facilities and service requests for visiting media.
An interesting part of this project is the distribution of a variety of assorted content on Expo 2020 across multiple channels. For instance, Virtual Expo provides a combination of virtual reality content, live broadcast and post-produced content. The Expo Dubai 2020 TV YouTube channel is a 24/7 channel with live and post-produced content. An Expo World feed is provided across all regions through four satellites. EBU and Media Source distribute it on Expo's behalf, in conjunction with host broadcaster DMI.
The live transmissions will be distributed using the Eurovision Services WorldFeed service, which offers free access to the live satellite transmissions for editorial use. The files will also be available for download for 30 days after each transmission – also free of charge – on the Eurovision Services WorldLink video-on-demand platform. This gives broadcasters full flexibility in planning their coverage of the first World Expo in the Middle East, Africa and South Asia region, with a programme of events covering 182 days from an Expo site that is twice the size of Monaco and where, for the first time ever, each participating nation has its own pavilion.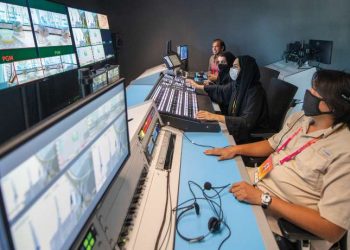 Of particular interest is the cloud-based repository, aptly named Expo MAM.
"Cloud has played a key role in our content distribution. Our MAM is cloud-based and allows all accredited media to access high-resolution footage for their editorial usage. It was two years in the making and we have had immense support with the internal technology team, Imagine and Newsbridge to make it happen," says Keegan.
"We also have a production asset management (PAM) system, which is the interface between our host broadcaster and ourselves. We are the front face of the digital download capability for Expo, and we are using all sorts of cloud-based tricks to support our photography and broadcast team."
As host broadcaster, DMI planned and designed the whole operation, in coordination with Expo. The broadcaster contracted a systems integrator to supply equipment and installation under their supervision.
One area where a lot of the gear was brought together was the grand inaugural ceremony, which included spectacular visuals and an interesting mix of augmented reality (AR) content, especially for TV viewers. A total of 24 cameras, two cable cams – a 3D spider and a 1D cable – a TrackCam, two Steadicams, two drones, six cameras for AR, two Jimmy Jibs and two helicopters helped to capture the action for TV, providing viewers with a richer and more wholesome experience from different angles than the on-site experience.
"AR required precise calibration to match the animation with the movement of the camera to achieve a realistic effect. I can genuinely say that the TV coverage was better than the in-person experience, because one was able to view different camera angles, AV and so on. Also, the spidercam was so successful that the team decided to keep it for the whole duration of the event," explains Keegan.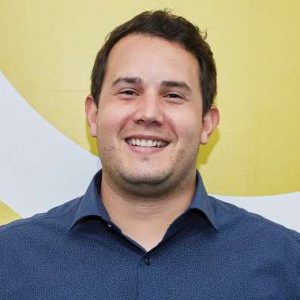 The inaugural ceremony was broadcast live via EBU, Media Source and Virtual Expo – the expo's digital platform – and through Expo TV, its YouTube channel.
"We were listed in the top five of the most viewed on CNN.com during a period of 12 hours, which I understand is pretty good. It's difficult when you are using an aggregator like EBU to get stats. Many of the international wire agencies such as Reuters, AP, etc were aggregating it for us. We had millions of viewers and we had China Media Group – so probably in the billions."
Perhaps what makes this entire operation impressive is the "scale of this event and its complexity", which calls for "exhaustive ongoing planning", according to Keegan. When the curtains are drawn on Expo 2020 on 31 March, 2022, the site will transition into District 2020, a smart and sustainable micro city-within-a-city, an innovation-driven business ecosystem and a diverse and thriving urban community that will repurpose more than 80% of Expo-built infrastructure. "Several companies, including DP World, Siemens and Terminus Group, are already confirmed as District 2020 tenants. Al Wasl Plaza will remain a strategically located multi-purpose attraction at the centre of District 2020. It will continue to serve as a versatile meeting point with a carefully created microclimate. The dome will provide shade over the public space, while the plaza will feature landscaped gardens and greenery, as well as cascading water elements and pools. The plaza will continue to serve as a venue that can host a variety of outdoor celebrations and events, capable of hosting up to 10,000 people," explains Keegan.
Building a cloud-based repository to streamline the preparation and distribution of media assets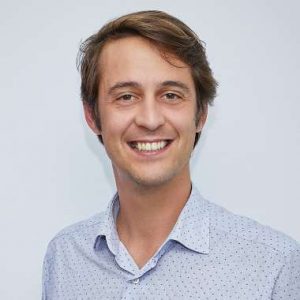 In order to facilitate the worldwide distribution and access to high-resolution content around the world in a fast and reliable way, Expo 2020 Dubai has built a cloud-based, one-stop shop to streamline the preparation and distribution of videos, audio and stills to global media organisations. This project was integrated by Broadcast Solutions and overseen by Pedro Freitas, Senior Manager Media Asset Management at Expo 2020, and Esteban Galan, Lead Manager, Broadcast Technical – Media Services.
The project sought to minimise on-premise deployment and leverage cloud-based services; build a platform that could provide the speed and scale of a global news agency; ensure uncompromised quality of distributed content, in order to appeal to broadcasters and publishers; and facilitate and ease the distribution, search, review and retrieval of all media assets available in English, Arabic and French.
The team used a combination of technologies to solve these challenges. The subsequent managed service solution is based on four key components: a set of non-linear workstations (NLEs) with shared networked attached storage (NAS), deployed at Expo 2020 Dubai Media Centre; virtual machines hosted on Microsoft Azure UAE North region to streamline the upload from NLEs by EMC managers and photo editors; a cloud-based media indexing and cataloguing platform hosted on AWS (Newsbridge), which ensures automated metadata generation using AI-based cognitive services and facilitates metadata curation and asset cataloguing; and a cloud-based content distribution portal (Imagen) that offers a web front-end to approved users of media organisations, partners and Expo internal users to access approved content.
The system was dimensioned to address the projected peak number of simultaneous users – 250 peak users connected to the content distribution platform, downloading high-resolution content at the same time. Since the solution is cloud-based, it can be dynamically scaled to meet Expo 2020's requirements. In terms of volume of content produced, the system was dimensioned to allow the upload, management and distribution of media assets based on an estimation of 15 hours of video and 500 stills per day.
With the aim of optimising the exposure and reach of Expo's content, the choice was made to provide XDCAM 50 @ 50Mbps and fine JPEGs as mezzanine distribution formats for video and stills. This affected storage and bandwidth requirements: both Newsbridge and Imagen platforms handle these formats efficiently.
Finally, artificial intelligence (AI) technologies help optimise content indexing. Newsbridge, a cloud-based contribution platform that leverages contextual recognition technologies such as face recognition, entity recognition, speech-to-text transcription and natural language processing (NLP), has been deployed. It automatically detects faces and identifies known entities; users create and edit entities which can also be imported from external sources.
The engine can be further optimised based on user input, therefore improving the Expo database. Newsbridge uses speech-to-text engines to produce a transcript of audio tracks, and also helps manage all media information and translate all descriptive metadata from English to French and Arabic.