'Eish Al Tahdi' (Live the Challenge) is a brand-new gaming championship that launched on SBC last month and aims to woo the Kingdom's youth back to traditional TV. Created by Saudi Broadcasting Authority in conjunction with industry veteran Khulud Abu Homos, founder and CEO of Dubai-based Art Format Lab (AFL), the thrilling standoff is a Middle East first and promises to take the thriving domestic gaming industry to a whole new level.
By Vijaya Cherian and Nusrat Ali 
Eish Al Tahdi is the first gameshow format attempted for the video gaming industry in the Kingdom of Saudi Arabia. It is simulcast on SBC's new Twitch account and its AlOula OTT platform every Saturday for 16 weeks, having started on December 4.
SBA's mandate under new CEO Mohammed Fahad Al-Harthi is to create a content strategy that attracts the Kingdom's young people, a large part of the population, to traditional TV. With almost 50% of Saudis considering themselves to be gamers, according to a 2021 study led by the Saudi Arabian Federation for Electronic and Intellectual Sports and Ministry of Sports, Eish Al Tahdi seems to be heading in the right direction.
"Saudi Arabia is currently the 19th biggest gaming market in the world, with more than 21.2m gamers across the country," says Al-Harthi. "In March 2021, Saudi Arabia's gaming market size was estimated at SAR 2.6bn ($700m) and is expected to reach SAR9.5bn ($2.53bn) by 2030. Its annual growth rate is 22%, which is among the highest in the world. We wanted to attract this population to our channels and ensure that we were an integral part of their entertainment."
Game on
With AFL's success in creating different programmes and formats for MENA audiences under the leadership of Khulud Abu Homos, SBA approached her. She explains: "SBA commissioned us to develop a format for competition based on video gaming for their SBC channel. I have always been intrigued by the video gaming industry, because my 12-year-old son is an avid gamer. As he connected with players from around the globe, I realised how big e-gaming is – it's almost as big as the internet transformation! The idea of bringing video gaming to television, however, is quite new to this part of the world and I was excited to be one of the first to execute such a project."
A 100-member team worked with Art Format Lab to manage every aspect from concept to execution: recruiting gamers, organising the event, producing it for TV, planning parallel programmes for online services and post-production.
Ibrahim Alfarhan, Manager of Programs and Content, elaborates. "This is the first time we are targeting the gaming community, which mostly consists of a very young crowd. Owing to the nature of the show and its unique target audience, we decided to create a dedicated destination for gaming fans under the URL LivethechallengeKSA, and we go by the same name on Twitch, Instagram, YouTube and other social media platforms, making it a trailblazing gaming event."
Format
Most video gaming championships are based on one game, but Eish Al Tahdi is based on seven of the most popular games in the Kingdom, with genres ranging from car racing and soccer to street fighting. The 16-episode championship is compered by three hosts: Rakan Al Shaye, presenter and video games expert; Mashael Mohammed, owner of the biggest girl gamer YouTube channel in the Saudi community; and Ahmed Al Kiyadi, owner of VGA4A and a video game and media content creator.
Chosen from across the Kingdom, 96 players divided into 16 teams battle it out for the grand prize of SAR 200,000 ($53,315). Twelve of the teams are composed of seasoned players, while the rest are newcomers quickly rising on the Saudi gaming scene.
During each one-hour episode, the hosts introduce two team leaders and the other team members, who compete in three stages, on three popular games. The competition starts off in a 1v1 format, then 4v4, then finally 6v6. Each episode also features a VIP guest influencer and a segment hosted by a popular gaming journalist, who presents the latest gaming news and developments.
Gaming championships are usually not televised, but rather limited to YouTube and Twitch/OTT channels, explains Abu Homos. "With Eish Al Tahdi, we successfully combined three mediums: the studio where the live audience was seated, the traditional television broadcast and OTT. Bringing video gaming stations into the studio translated into two broadcasts happening concurrently. The first was the streaming of the video games themselves between players; the other was regular studio production, where 12 cameras and 17 GoPros were used to record all the action."
This was a learning experience, since the gaming community and specific game developers have stringent rules on how games are played and on what devices, and how they are monetised and broadcast in the public domain. SBA and AFL had to keep in line with the rules of each game without compromising on quality. This necessitated a dedicated Eish Al Tahdi Twitch channel, as some games could not be televised – only highlights could be shown. The show thus required a sophisticated mix of advanced broadcast and broadband technologies, cutting-edge gaming stations and captivating dual-sense solutions, accentuated by an innovative format.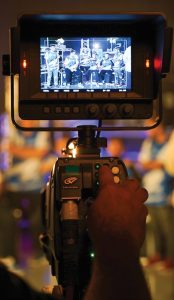 Game tech
Due to the Eish Al Tahdi target audience, the look and feel of the set had to be young and vibrant, with a charged-up vibe. "Gamers tend to play in the dark, so the studio aesthetic had to match that look and feel," says Abu Homos.
At the centre of the gaming action, therefore, is an uber-cool 1,500sqm studio, a visual spectacle of neon red and blue lights cutting through sleek black interiors. The studio in Riyadh, one of the few with an infrastructure suited to broadcast requirements, had a tech makeover and was fitted with fibre optics capable of handling two parallel transmissions (one for the games themselves and the other for traditional television streaming).
"We hired a company that was specialised in creating and customising gaming stations that complied with the rules of each of the video games," says Abu Homos. For instance, the console for the car racing games had to have wheels and some games could only be played on a mobile device. Such requirements had to be factored into the design.
While all players are fighting for the grand prize, there are no losers. At the end of each episode, participants who don't make it to the next round take home valuable gaming essentials such as consoles, gaming chairs and gaming currency cards.
Rising to the challenge
Eish Al Tahdi is an ambitious, big-budget production that pushes the boundaries for Saudi Arabia. Abu Homos admits that even for a seasoned producer like herself, some of this was virgin territory and very daunting, but she stepped into it like an adventure. Dealing with young people and discovering a parallel universe of gamers and Twitch, understanding their lingo and culture, was a huge learning experience.
Apart from the expensive set and gaming tech, the producers also had other challenges in the human element. Recruiting 96 participants from across the nation and bringing them to Riyadh for the shoot was a logistical nightmare. With contestants aged 16-22, AFL had to secure parental consent for those under 18.
Then there are the 16 VIP gaming influencer guests, with fees rumoured to be on a par with those of top actors. Keeping participants who lost in early rounds engaged and interested in the remaining episodes was equally important.
Is the programme commercially viable, one wonders?
"Despite its high production costs, revenue has not been the focus of this inaugural season," says Al Harithi. "Our aim has been to develop and execute a championship for traditional TV with the goal of attracting our younger audiences. Our extensions into Twitch have been quite new and exciting for SBA, but we are really pleased to see our youth join us on traditional television."
Giving back
The Eish Al Tahdi USP is its inclusivity, with the participation of visually impaired players. As AFL delved deeper into competitive gaming, Abu Homos says she was surprised by the technological advancements in this sphere, with Dual Sense technology for audio and visually impaired players; joysticks, controllers and consoles that give an actual feel of the gaming terrain (for instance, water or sand); and eye controllers for players with restricted mobility.
While the technology available for players with special needs is impressive, not enough video games support it. This has led SBA to create an awareness campaign, #givemeavoice, which supports the development of games for enthusiasts with limited abilities. SBA and AFL are now looking forward to creating season two of Eish Al Tahdi. "The championship is a crucial part of SBA's content transformation plan, and we plan to bring more such surprises to our audience in the coming months," says Al Harithi.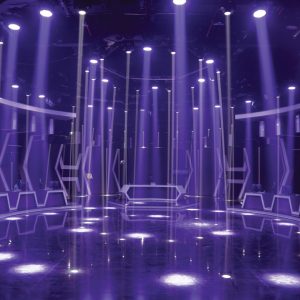 KSA's Gaming Market
With Saudi Arabia diversifying its economy away from oil, technology is one of the keystones of the country's plan, and video gaming is a significant part of that. In its Vision 2030 reform plan, Saudi Arabia aims for the gaming industry to account for close to 1% of the economy (roughly $21bn) by 2030 from both direct and indirect job creation and GDP creation through the gaming and esports industry.
Evidence of how much the video gaming industry means to Saudi Arabia is evident from recent investments. Last month, a subsidiary of the crown prince's charitable organisation – the Mohamed bin Salman Foundation – purchased a one-third stake in SNK Corp, the Japanese developer of King of Fighters and Samurai Shodown; and at the end of 2020, the Public Investment Fund acquired more than $3bn worth of stock in three US game makers: Activision Blizzard, Electronic Arts and Take-Two Interactive Software.
Under KSA's Game Mode initiative, the country's telcos are being pushed to provide the best experience for gamers, increase market transparency and give investors and the public key data and indicators on the sector's performance. There's also a quarterly award for the internet service provider with the best gaming response time.
Saudi is actively developing a robust gaming eco-system through sponsorships for professional gamers, an increase in the number of gaming cafés and more competition arenas. Last year, the Sarena SAFEIS complex in Riyadh hosted the inaugural eMBS Cup, a knock-out competition for elite teams from the Electronic Saudi Professional League (eSPL). Saudi's gaming arenas are open to female gamers, a revolutionary step in a predominantly male domain. 90% of Saudi females play mobile games, compared to 83% of males.
Apart from the financial and technological investments, Saudi is taking the human element seriously too. Mosaad 'Msdossary' Aldossary gained acclaim as the country's 2018 FIFA eWorld Cup champion, while the Saudi eSports team won the Tekken 7 competition at the 2018 IESF Esports World Championship. Last year, 23-year-old Najd Fahd became the first female winner of a FIFA competition, gaining the nickname 'Saudi Arabia's daughter'.
NEOM, Saudi's AI-run smart city, will include an esports academy and its Tuwaiq1000 initiative will upskill the country's youth in game development, cybersecurity, AI and data science. Saudi Arabia has capitalised on the potential of competitive video gaming to contribute billions of dollars to the Kingdom's business, job creation and gross domestic product.