Fadaat Media recently relocated its operations from London to Qatar, just in time for the World Cup in November. In an exclusive interview with Vijaya Cherian, Ali Husseini, Director of Broadcast Operations & Visuals at Fadaat Media, talks about the successful move to Doha and what building a full-IP facility entailed.
One of Doha's commercial luxury towers, the Burj AlFardan Lusail, a sustainable development in the business centre of Marina District, is now home to one of the most modern TV stations in the country. Qatari-owned Fadaat Media relaunched its two Alaraby TV channels from Doha last month, following a massive relocation of the station's headquarters from London over eight months, in time for the World Cup.
The IP SMPTE 2110-compliant 7,500sqm facility seats more than 550 staff across Fadaat Media's two channels – news channel Alaraby and infotainment channel Alaraby 2 – occupying the entire fifth floor. It has attracted worldwide industry attention for making bold moves in IP and pulling off remarkable collaboration between vendors, service providers and other international market players under the guidance of Ali Husseini, Director of Broadcast Operations & Visuals at Fadaat Media. Systems integration for this project was undertaken by Ideal Systems.
Once we get past the grand reception lounge, the boardrooms, the open offices, the first control room and a PCR, we enter a stunning open studio designed for the morning show. Built on an Olympic-sized pool, it has a floating set and a curved floating display and is simply breathtaking. Special professional underwater broadcast-quality lighting from ARRI laces the pool interiors, while a look up at the ceiling reveals a mix of robotic cams, ceiling cams, black cams and robotic pedestals. This studio is designed to support the TV station's augmented reality (AR) and mixed reality (MR) requirements.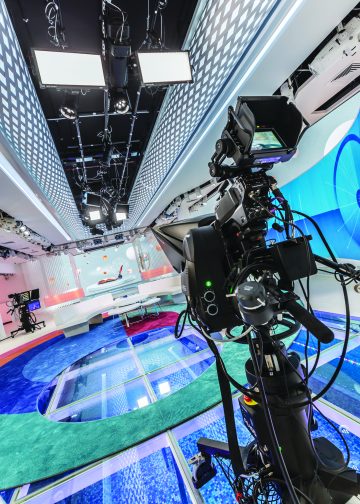 "Currently, we have three studios," explains Husseini, taking us on a tour. "There are more than 500sqm of video wall between the three studios, and the facility has two full-fledged control rooms."
The circular main news studio is 490sqm, attached to a 450sqm open newsroom which presently accommodates 92 staff. With one ceiling track, two floor track cameras, three robotic pedestals and a jimmy jib, this studio is designed for news. The 290sqm studio with the pool for the morning show has five cameras on pedestals and one ceiling track, while a third multifunctional 235sqm black box studio, with three cameras on pedestals and a jimmy jib, is for producing additional current affairs programmes and other news shows.
Robotic systems have been deployed for the cameras, with Mo-Sys tracking integrated into each of the pedestals, ensuring that all three studios are fully enabled for virtual reality (VR). The AR for the morning show studio and the VR across all three is controlled by Viz Arc, in conjunction with Vinten and EF robotics. Unreal Integration with Viz Arc and Engine 4.4.1 is also configured as per the AR/ VR needs of the facility. The entire set-up, based on SMPTE 2110, has Matrox Xmio5 Q25 installed, with capacity for 32 inputs and outputs from a single card.
There are nine structures at the news studios in total, with LianTronics displays in varying configurations. There is a set of six displays of 1.8m x 3.5m dimensions in one area, a 20m x 4.5m curved display in another, three sets of 1.8m x 3.8m dimensions that are part of another moving videowall, a set of 15 displays with 1.8m and 3.9m in a fourth area and several others. Unlike the other studios, the little Blackbox studio also features a 19m x 2.7m curved display from Unilumin.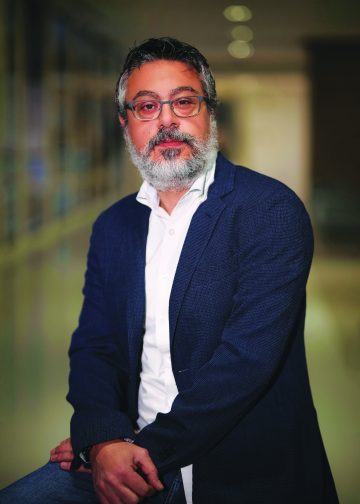 All studio windows have been replaced with video walls, with the glass structures designed in such a way that they can be dynamically recalibrated to replicate any visuals the newsroom wants to show its viewers. In fact, even the backdrop in the control room boasts a set of motorised OLED LG translucent smart screens.
"The viewer cannot tell the difference between the windows and the video walls," says Husseini, beaming with pride. "But this design offers so much flexibility in terms of visuals and what we can show on screen."
All the on-air studios, AR/VR and video wall engines are set up using 2110 with NMOS IS-05. Inputs, outputs, audio and ANC data are triggered via NMOS, with redundancy set up using SMPTE 2022-7. SMPTE 2110 provides the flexibility to choose, switch and trigger any source on the Viz Engine with a single click, with one fibre cable connected to the Matrox SFP. The video walls can all handle 16K resolution and are controlled by Viz Multiplay. In fact, multiple video walls are controlled from the same Multiplay GUI in each studio.
This project was a catalyst for industry vendors to work together, and many found that this collaboration helped enhance their own products. With an exacting IP 2110 deployment on a brown-field site, Husseini had some industry leaders put their heads together for this project. Outside-the-box solutions were called for; given the high-profile nature of the client and the scale of the project, vendors immediately obliged and collaborated, designed and revisited their configurations to help Alaraby maximise the potential of their solutions and services.
"We leased a floor that was initially intended for a gym and restaurant area," says Husseini. "We demolished the existing structure and redesigned it to suit our requirement. Most of the areas where the studios are built now were previously part of an open terrace. Now a new structure holds the ceiling loads and heights and allows for MEP services."
A look around the sets and studios makes it evident that Husseini has gone with tried-and-tested players with experience and expertise. Set and facility design was awarded to US company Clickspring, which designed most of the new, high-profile TV facilities in the GCC, including MBC Studios in Dubai Studio City and Asharq News at Dubai International Financial Centre. Lighting design was delivered by ELD, while GET SET was the set manufacturer, building them remotely at its factory and shipping them to Doha in June.
On our grand tour, we see the open newsroom, the two galleries, an MCR, transmission rooms, an archive area, a viewing room, 20 creative seats, eight news edits, four promo edit suites, four voice-over rooms, a programme open area, an NOC room and a main CAR room associated with three sub CAR with a total of 100 racks.
Husseini lists some other tech highlights: "This facility is full-IP end-to-end with redundancy built into the two networks, but to be accurate it is perhaps best to say that more than 90% of this TV station is built to be IP 2110-compliant. To that end, we have Vizrt end-to-end for graphics, Avid for PAM and MAM, Vinten for camera robotics, Imagine as the broadcast core infrastructure and the MCR system, Sony LSM as the broadcast controller, Sony for cameras and vision mixers, the blackcam for the ceiling track, a floor track from Electric Friends, Cisco switches, ARRI lighting, LianTronics videowall, LundHalsey furniture, DIVA Archive, Spectralogic Library, SSL for audio mixer and routing, and a whole 2110 network."
The core networking infrastructure at the heart of the facility is Imagine Communications' Magellan Control Systems and Selenio Network Processor (SNP). It was designed to manage all connected devices across several divisions and departments, including studios, news and galleries, all the way down to the ingest and playout systems using the Versio integrated playout platform with its advanced SMPTE ST2110 features.
Having worked with an Imagine solution in London, the Fadaat team first wanted to check whether an Imagine solution would be a good fit. More importantly, they needed to know if it would also integrate well with other vendor solutions.
"They chose us eventually, as the Imagine solution focuses on an integrated and centralised architecture with zero dependency on bespoke hardware," explains Anas Hantash, Sales Director – MENA & South Asia, Imagine Communications. "The Orchestrator sits on the top and manages the entire network, because we know it's a completely different way of operating compared to an SDI set-up. Everything from the gallery, the newsroom and creative departments to the graphics and the ingest and production all feed into the core network. And Imagine with the SNP and the orchestrator try to manage this harmony and the workflow. The team was already operationally and technically familiar with Imagine at their London office, so maintaining the same operation and the team while moving to Qatar was more advantageous."
The Imagine Orchestrator forms the core network. Everything else feeds into it. It also manages the streaming, routing, ingest, audio and video processing, contribution and layout. Although it fit the TV station's needs, it still had to work with all the other pieces. And this is where Husseini shone, working well with multiple vendor partners and getting the best out of everyone.
Imagine experts worked closely with Alaraby's Technical Operations and Management team, conducting several workshops to ensure the design and deployment of the latest SMPTE ST2110 IP technologies for both networking and playout were well done. Hantash explains that they did not conduct these traditionally. Rather, depending on the workflow being trained, the vendors ran workshops either solo or in conjunction, to make sure the end users completely understood how to operate in that environment. "In many instances, the vendors got together and brainstormed and modified the scope of the work, and each went back to revisit their own solutions to ensure we could all provide the end user with the best possible outcome."
Husseini adds: "The IP network is managed by Imagine, on top of which we have the Sony LSM as a routing control application. The Imagine SDNO application plays a vital role in the IP signal flow; all the source and destinations are registered in the application and controlled."
One major part of this installation was the Vizrt set-up. Almost all Vizrt products are set up in a secure HTTPS environment. The backend servers are installed to have real-time replication and redundancy. A new licence model has been implemented, where it acts as a central hub and the customer can pull or release licences depending on requirements. This gives Alaraby easy access to use licences based on demand.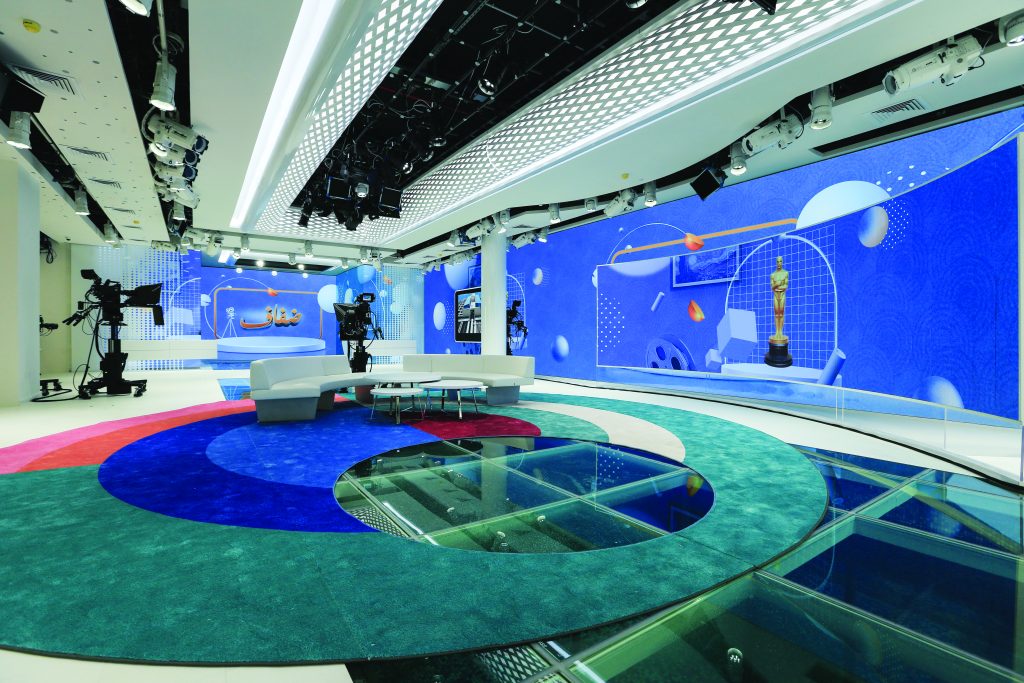 Viz One is used for images and video workflow. This enables operators, journalists and producers to easily select and change images and videos while the system is on-air. Viz World and Viz Ticker help them select and take images in a single click. The new Viz Pilot Edge template-based system empowers operators and journalists to create high-level content. It is secure HTTPS browser-based and can be open in the browser or inside all major newsroom systems. The Viz Template Builder web-based application helps designers create and build templates. An NLE workflow is also configured with Pilot Edge for burn-in graphics.
The whole IP installation was not without its challenges. In May, the tower was still under construction. With 3,000 employees working round the clock on the building, the office structure and the tower were ready by August. But the team faced numerous challenges, and some remain.
"Some of the products are still baseband and need to be converted from SDI to IP and IP to SDI, and this puts more load on the system. The other was buying switches during the pandemic. The long lead times due to the pandemic and the remote installation delayed us. The main challenge was to migrate two operational channels from London to Doha while maintaining the on-air output and handling all the migration logistics," explains Husseini.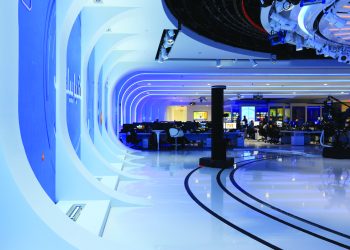 "Another challenging part was the media assets migration. When migrating from London to Doha, one key element we had to look at was seven years' worth of media assets. Thousands of hours needed to be migrated to be available for both Alaraby channels. For this, we partnered with Google Cloud through their partner Numbase and built our own unique cloud asset management system with AI capabilities. All the assets were cleaned up, indexed, classified and migrated to the cloud using the latest Google cloud offerings. This solution is connected back to the news production system and the deep archive solution, and all assets are available to all 36 bureaus as well.
"We used cloud to ingest and distribute content anywhere anytime, and understand and capitalise on audience preferences, improve retention, modernise content and deliver it at the lowest latency and highest quality possible. At the same time, we have been able to empower our contributors, journalists, reporters and correspondents deployed around the world to write their scripts, access the archives and send it back to location for final distribution."
This new media asset management platform will build and manage a data lake for Alaraby's digital archive. It delivers a cloud-native, scalable, reliable and secure platform with a web portal for archive access, management and sharing, establishing a globally accessible but highly secure platform via two-factor authentication. This is specifically accessible to Alaraby TV network users for content archiving and news and programme content sharing, providing accessibility for remote media archive, sending media to broadcast centres, sharing media with specific users within the Alaraby domain or extracting content for remote production needs; supporting metadata enrichment, timecode-related metadata and transcript of media content; and building an AI-ready infrastructure.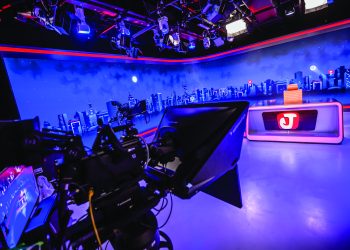 On August 30, the channels went on air from Doha after some rigorous testing before switching off operations in London. "We relocated most of our staff to Doha; only a few were recruited locally depending on the requirement," Husseini says.
Alaraby decided to carry on its ongoing partnership with Es'hailSat, with all distribution and contribution management and digital signal delivery for its OTT platforms routed through its command centre. The Alaraby HQ is connected over fibre to Es'hailSat's service centre kilometres away, where all these services are managed and delivered.
"Alaraby TV and Es'hailSat have jointly designed and implemented a disaster recovery transmission (DR) chain at Es'hailSat's HQ, where the teams in both locations can activate DR within seconds when required," explains Husseini.
While all major tasks have now been completed, there are a few implementations that do not affect on-air broadcasts. "Automation through Viz Mosart, for instance, is part of the next phase and that's in process at the moment. Full MAM workflows are also part of the plan; we are taking each work package and developing the required implementation in an agile way," Husseini concludes.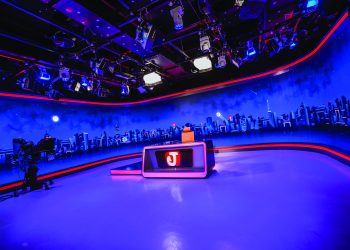 ARRI Solutions designs and engineers fully IP-based lighting network for Alaraby
Alaraby TV is the first major network in the Middle East to be equipped with IP-based lighting technology across the entirety of its headquarters. To design and engineer an advanced, IP-based lighting network for perfect production conditions within the three new studios in Doha, it called in ARRI Solutions, a dedicated team within ARRI focused on designing and delivering innovative production infrastructures. This team handled the consultation, planning and installation of the studio lighting network. The core aim was to deliver a robust and reliable workflow fully integrated into the overall broadcast infrastructure.
"By working in close collaboration with Alaraby's technical colleagues, we were able to identify a number of opportunities throughout the workflow for efficiency and reliability via IP connectivity," explains Jörg Pohl, Director ARRI Solutions. "This approach enabled us to design a cost-effective solution that fully serves the broadcaster's needs, while retaining the highest-quality lighting expected by Alaraby TV for all of its programming output."
The lighting design for the studio complex specified ARRI SkyPanels throughout the three environments, complemented by industry-leading profiler, moving head and effect lighting fixtures. This ensures optimal light distribution and quality to support broadcasting requirements into UHD and beyond. The lighting network is based on TCP-IP protocols, from control board to luminaires.
Alaraby TV will also be equipped with ARRI LightNet, a software platform that offers centralised monitoring, management and fault detection for broadcast studio lighting networks. Data from all devices on the network, from fixtures to network switches, is displayed in real time on a single interface, maximising efficiency for broadcast engineers working in busy studio environments.
"Alaraby TV has a long-standing relationship with ARRI Solutions, having worked closely on our London studios, so we were assured from the start that the team had the experience and insight to help us reach a new level of reliability and control. With a lighting control infrastructure based solely on IP, we're able to achieve system-wide increases in flexibility and reliability across our new facilities, essential elements for a busy news broadcasting environment such as ours," says Husseini.
Creating an end-to-end solution with Avid
Avid delivered an end-to-end solution for news and programme production supporting up to 250 concurrent users, from ingest and editing to playout, social media publishing and archiving for Alaraby. The solution is based on Avid's subscription licensing model for all the software, allowing flexibility for future migration to cloud-based deployment as well as upgrade and scaling.
"Under the umbrella of Avid's MediaCentral open media platform, Alaraby will benefit from a fully integrated production asset management (PAM) with MediaCentral Production Management, a newsroom computer system (NRCS) with MediaCentral Newsroom Management, and an enterprise asset management system (MAM) with MediaCentral Asset Management," explains Hicham Ismail, Solutions and PreSales Manager, Avid Middle East
For live ingest such as feeds, cameras and other video sources, Avid's FastServe ingest server will be used. Controlled using MediaCentral Capture, three servers will provide eight channels of ingest each for a total of 24 channels ingesting in XDCAMHD50 with H.264 proxy. To cope with Alaraby's video over IP infrastructure, the servers will be equipped with IP input boards supporting SMPTE ST-2110 standard and Networked Media Open Specification (NMOS) control.
File-based ingest is managed by Telestream Vantage (agencies) and Woody IN2IT card-based ingest. Both live feeds and file-based assets will be ingested into Avid's software-defined storage, Avid NEXIS, and checked in to MediaCentral Production Management with support for editing while ingesting, allowing immediate access to media while it is still being ingested.
"The NEXIS storage consists of six NEXIS E4 fully redundant engines with 280TB storage capacity, a total of 1.68PB total capacity. The NEXIS file system will provide dual disk protection in addition to dual hot spares in each engine," explains Ismail.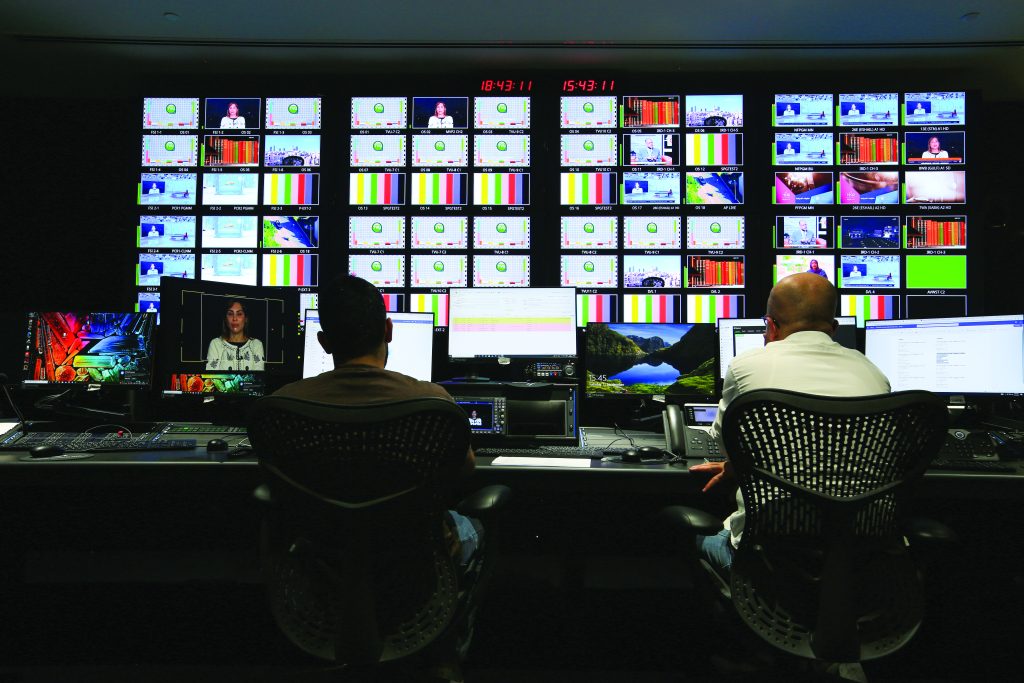 "For non-linear editing, a mix of 15x Avid Media Composer and 12x Adobe Premiere editors will be available and will allow editors from different editing backgrounds to work seamlessly under the management of MediaCentral Production Management. Avid DNxIP will be used as I/O box (high-resolution monitoring) for Media Composer with SMPTE ST-2110 support. For news production, 250 licences of MediaCentral CloudUX will be available for journalists. MediaCentral CloudUX will also include the connector for Viz Pilot, allowing users to preview Viz graphics templates within the web UI as well as overlaying graphics on the editing timeline.
"In the studios, three FastServe servers are available for playout, each delivering eight playout channels for a total of 24 playout channels available on SMPTE ST-2110 and MOS. Control of the playout servers will be managed by MediaCentral Command, which is integrated with MediaCentral Newsroom Management for publishing news rundowns. Whether from Media Composer, Adobe Premiere or MediaCentral Cloud UX, users will be able to send their edited material to the playback server. The workflow will support 'play while transfer', allowing the playout of media while media files are being transferred to the server."
For enterprise media management, Avid MediaCentral Asset management will provide a robust database and a workflow engine, allowing media and metadata management as well as integration with third-party systems. This includes integration with MediaCentral Production Management and MediaCentral Newsroom Management for archiving and restoring production media and news stories; integration with Microsoft Azure video indexer for media analysis and automated metadata enrichment; integration with Telestream DIVA HSM for long-term archive on LTO-based tape library; integration with Imagine Communications ADC automation for processing missing media lists based on Traffic system playlists; integration with BTS Traffic system for placeholder creation and metadata exchange; integration with Interra Baton for file-based QC; and integration with Telestream Vantage for media transcoding, the import/export and processing of subtitling files, and file-based import and export of workflows. A dedicated NEXIS E4 280TB will be dedicated as MAM online storage for high-resolution and proxy media. MediaCentral Publisher, a hybrid on-prem/SaaS solution, publishes media content to social media platforms and CMS. It is available as an app within MediaCentral CloudUX, for users to publish their stories fast. It also allows editing in different aspect ratios depending on the destination platform (9:16 or 1:1, for example) with the possibility of overlying graphics. The whole Avid solution is deployed in a virtualised environment using vSphere.
Vinten at Alaraby
Alaraby has traditionally used Vinten automation and Autoscript prompting hardware, and continues to do so at its new facility in Doha. Vinten FP-188+ robotic pedestals and FH-155 VR heads with integrated StarTracker have been installed, to enable one-time mapping of the entire studio floor. This avoids the ongoing operational cost of regular retargeting and delivering precise automated remote control of pre-set shots and sequences.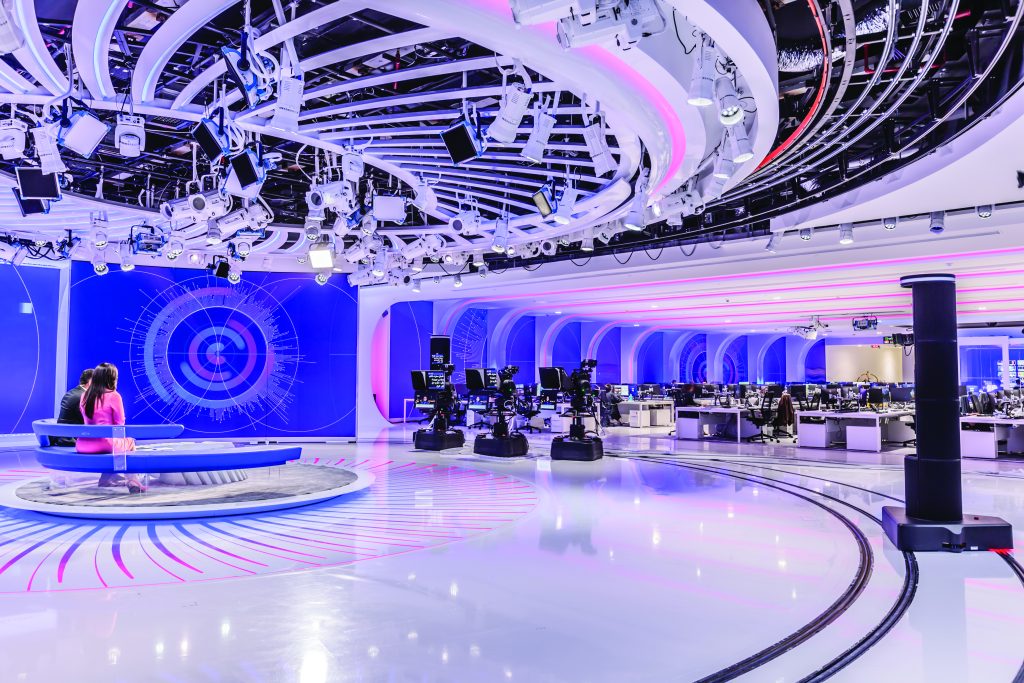 The manual mode features a continuously adjustable, servo-controlled drag powerful enough to handle even the heaviest payloads. Operators can switch between robotic and manual modes either at the head or from the Vinten HD-VRC control system. The flexibility of the IP-integrated Vinten Robotics and the Autoscript WinPlus-IP Prompting Solutions ensure a future-proof investment.