Iraqi Media Network (IMN) undertook a complete overhaul of its sports channel as part of its efforts to give sports fans a better experience. Systems integrator Wave Media Solutions was roped in to add 4K and other futuristic technologies. BroadcastPro ME brings you the details.
Iraqi Media Network (IMN) has undertaken a comprehensive transformation of its sports channel, Al Iraqiya Sports TV, available on Nilesat, Arabsat and through streaming. This project includes more than just a visual overhaul and a fresh logo; it also saw the relaunch of its sports channel from a brand-new studio, with a complete rebrand ahead of the Gulf Cup in Basrah earlier this year.
Al Iraqiya Sports TV is broadcast from a new 200sqm studio in IMN's vast compound, which dates from 1957 and has over the decades seen incremental additions in terms of studios, broadcast facilities and other prerequisites for the country's largest media network. The sports studio is housed in a new structure and includes pre-existing equipment such as Panasonic 4K studio cameras and ARRI SkyPanel LED lights.
"The whole idea was to give a fresh look to the channel, as we had the broadcast rights to the Gulf Cup and other local leagues," explains Eng Naseer Ali Radeif, Head of Studios Engineering at IMN. The new elements include the addition of 4K systems and a sophisticated 12G-SDI set-up that supports UHD 2160p. This transformation was undertaken through systems integrator Wave Media Solutions.
The new studio was completed at the end of last year, a significant milestone in IMN's journey to enhance its sports programming. It is underpinned by state-of-the-art 4K solutions and smartly integrated technologies.
Zaid Wattar, CEO of Wave Media Solutions, offers more detail: "IMN wanted state-of-the-art technologies that met current requirements but also anticipated future needs. They wanted seamless and intelligent integration, leveraging software-defined platforms for optimal integration, ease of use and future scalability. And that's what we provided to the client."
One of the chief challenges was integrating 4K technology with minimal cabling while incorporating embedded MADI audio processing, 12G-SDIs, direct audio set-up, multi-viewer monitoring and sports slow-motion servers with sports analysis platforms, and Wave Media Solutions strategically harnessed a suite of technologies from Ross.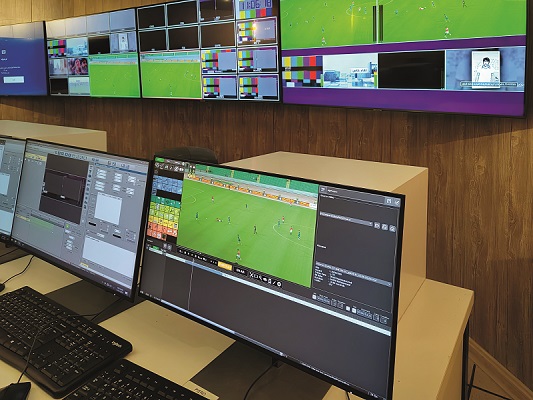 Technical highlights include the ULTRIX 4K 12G routing and multi-processing platform, the Carbonite ULTRA vision mixer with TouchDrive mixer panel, the PIERO Intelligent Sports Analysis Graphics System, the MIRA slow-motion replay server systems and the OpenGear processing systems. While the cameras and other studio equipment are pre-existing, the integration of these new technologies required meticulous planning and execution.
Ali Radeif attributes much of the success of the project to the choice of technologies: "The technical aspects of this project have contributed hugely to the success of the project, whether it be the implementation of unified multiprocessing 4K 12G-SDI routing, multi-viewer processing, audio embedding and de-embedding, or frame synchronising through the ULTRIX platform. Our use of the 12G-SDI 4K Carbonite, the PIERO Intelligent Sports Analysis Graphics system and the incorporation of OpenGear multi-processor glue cards, and having a centralised configuration and control facilitated through the Ross DashBoard unified control system, have all helped streamline our workflows and offer enhanced capabilities. As a result, the system we have now is not only highly flexible and expandable, but also cost-effective in terms of equipment, cabling and operational efficiency."
Wattar adds that it has already delivered tangible benefits such as significant cost savings, streamlined operations and a leap forward in the quality of sports analytics graphics and interactive analysis.
"This studio is now aligned with regional and international sports 4K infrastructure. By implementing multi-processing platforms, we have reduced cabling and other complications dramatically. With centralised control, we require less manpower and will see less errors. We have also helped IMN develop the look and quality of its sports analytics graphics with creative interactive and AI-based sports science analysis."
Wave Media Solutions, with a prominent presence in Iraq including offices in Baghdad and Erbil, collaborated closely with manufacturers to provide training. Wattar notes: "Given that these technologies are fairly new to the end user, extensive training was essential. We are confident that the client is proficient in using the system and equipped to scale it to meet future requirements."
Wave Media Solutions says the new tech additions at the facility will help elevate content quality and viewer experience for IMN. As the Iraqi network continues to distribute content across various platforms, this strategic upgrade will help cement its position as a key player in Iraq's broadcast landscape.