As OTT platforms continue to challenge traditional models of television viewing, more companies are producing content purely for digital platforms. This digital revolution has taken the Arab world by storm, with more players looking for a greater share of the online pie. Vibhuti Arora speaks to some of the regional trendsetters, who are contributing to […]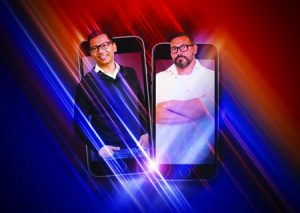 As OTT platforms continue to challenge traditional models of television viewing, more companies are producing content purely for digital platforms. This digital revolution has taken the Arab world by storm, with more players looking for a greater share of the online pie. Vibhuti Arora speaks to some of the regional trendsetters, who are contributing to the OTT ecosystem
No looking back
Kaswara Al-Khatib, Chairman and CEO, UTURN Entertainment
Launched in mid-2010 by four young professionals in Saudi Arabia, UTURN rose to fame with the YouTube comedy EyshElly. Five years down the line, the company has grown to become the largest Arabic multi-platform entertainment network. With 58 shows and a staff of 60 and growing, this online platform is making the world take notice. The company bagged awards for Corporate Achievement in Entertainment and Individual Achievement in Entrepreneurship at the Social Media Influencers Summit held in Dubai last month.
Today, UTURN is viewed as a key media player and an inherent part of Arabic pop culture, and continues to make waves beyond the online realm. Saudi TV has started using some of its content as fillers, and UTURN is in talks with major TV networks in the region to provide content for their online platforms. While YouTube continues to be its key partner, the platform has also teamed up with Yahoo and is now considering partnerships with international players such as Vice and Fullscreen to replicate their models and create new business opportunities. A UTURN app was launched last year.
The company has grown greatly since its launch five years ago.
"We knew there was a gap in the demand and supply of online content but didn't expect it to become this big," Al-Khatib comments, adding that although the idea was impressive and there was definite demand for it, finding talent to create content was a challenge to start with, and still is.
"We started looking for people who had a passion for filmmaking. For the first six months, we incubated talents, and then launched the company."
To cater to the growing demand for online content, UTURN has an in-house production team in Jeddah, comprising scriptwriters, studio producers, directors and assistants.
"Our content is high frequency, very local and insightful. By local, I mean local content from Saudi Arabia, Kuwait, Bahrain and so on; it's no longer regional Arabic content. Each of these countries has something to offer that engages with their audiences.
"We are talking to Arabic speakers worldwide, but the majority of our viewers are in the Gulf. We plan to reach out to North Africa, especially Egypt and Morocco soon, and the rest of the Arab region."
According to Google, KSA is at the top of the list in terms of YouTube video viewing in the region, with 14.5 million users each day – three times that of the US. A study published by Google revealed that YouTube video views in the Middle East have reached 310 million a day, second only to the US. YouTube has a monthly penetration rate of 88% in KSA, 83% in the UAE and 74% in Egypt.
80% of UTURN's viewership comes from mobile, showing the shift from the big screen to the small handheld device. Al-Khatib points out that UTURN caters to younger, more connected audiences who are often too busy to watch TV. Mobile gives them the freedom to watch entertainment content on the go, anywhere, anytime.
"Digital is buzzing with activity; and in online, unlike the linear TV model, we don't compete for a specific slot. You can watch online whenever, wherever and on whatever platform you like," he explains.
However, the fast turnaround of content keeps the creators constantly on their toes: if viewers don't find the content engaging enough, they are quick to go elsewhere.
"Because the consumer has so much choice, online content has a very limited window to lure the viewer lest they skip their content and move on to the next one. It's the survival of the fittest."
"What's more, the feedback comes quickly via the platform itself when you see likes and shares or through social media. This medium also gives you enough room to experiment based on the audience's feedback; you constantly try out new things," says Al-Khatib.
Scouting for talent is a challenge due to the lack of professional film schools in the region. To address that, UTURN has launched a channel called Al Furan ('In the Oven') as an open platform for people to contribute.
"We have a dedicated team that works for online platforms and scouts for content on the web. We work extensively with content creators and help them monetise, and handle the logistics and distribution for them, while they focus on the creative side of it.
"We see ourselves as the big brother of the industry, and don't see other online players as competitors but as partners to jointly promote quality Arabic content. Every minute, 300 hours of English content is being uploaded, as opposed to three hours of Arabic content. This equation is lopsided, and much more needs to be done in the creation of original, quality Arabic content that appeals to today's youth. Digital is so vast that there is room for everybody to grow, and the best way forward is to collaborate."
Al-Khatib reiterates his company's mission statement, which says UTURN is a means to 'export our civilisation to the world'. The idea, he says, is to let the world know that the Arab world is more than what is shown in Western media, which is probably why most of UTURN's shows are subtitled in English. They also reach out to non-Arabic speakers.
It is not yet a money-making platform, but the future seems bright. Since UTURN is in its growth phase, the revenue generated from its current productions is reinvested in producing more shows. Al-Khatib points out that the company is strengthening the brand right now.
"OTT platforms in the West have just started monetising, and going by their example, we should be doing that soon enough. There are different models, and there is a place for everyone. We offer a freemium model.
"The UTURN team began with four, and has now grown to 60 and is still growing, which goes to show that we are on the right track. We haven't cracked it all, but have managed to figure out ways to survive in the fleeting world of OTT. We know what the advertisers are looking for in terms of branded content, and we have the capability and know-how to create what they want."
UTURN genres include lifestyle, fashion, clothing, edutainment, cooking, drama, sports and automobiles.
"We started with comedy, which to date is the most popular genre. We are also delving into online drama series. The first season of our drama was very successful, and now we are moving on to producing the next season," Al-Khatib explains.
He adds that the company continues to learn from experience. UTURN will soon be opening a representative office in Dubai.
Al-Khatib says that he is a filmmaker at heart. An engineer by professional training, he found his true calling when he stumbled upon the creative side of advertising. He plans to make a film soon.
"UTURN is at a critical juncture, and we don't want to make mistakes. While we will continue to grow geographically, we are also adding more genres to our content," he concludes.
Appy with kids
Dinesh Lalvani, CEO, Growl Media
While the Arab region is showing a growing appetite for locally produced entertainment content catering to the young, the children's edutainment genre remains untapped. Dinesh Lalvani set up Growl Media in Dubai to cater to this demand. He founded Flip Media, the largest digital interactive agency in the Middle East and ran it for ten years before selling it and venturing into the kids' content genre.
"The idea was to create quality, culturally relevant, edutainment content for children in the Middle East, North African and South Asian regions in the form of apps, games, web, original video content and books," comments Lalvani.
So far, Growl Media has created two contemporary characters, Alfie and Zee, for the South Asian and MENA markets, respectively. The content is based on feedback from parents and teachers of nurseries to offer age-appropriate content to pre-schoolers under the age of seven. The company plans to provide content for children up to primary school in years to come.
"We wanted to make sure our characters had strong cultural identities and a solid set of moral values, in order to provide key markers for a child's own growth trajectory. We wanted to create inspiring role models that kids can both identify with and aspire to.
"In January this year, we crossed the million download mark for our apps, and in less than two months, surpassed 1.4 million views of our first season of Arabic cartoons The Adventures of Zee. Samsung chose Zee as its brand ambassador for its Galaxy Tablet for Kids, and her app is available on the Samsung Smart TV hub. Furthermore, our apps were also nominated by Apple as 'Best of 2014' in the app store."
Growl currently has 14 apps in different languages including English, French, Arabic, Hindi and Bangla. It is also set to launch its AppyKids platform offering online video content for children.
What the MENA region requires is a blend of premium and original content. The maxim that content is king still holds true, says Lalvani.
"To differentiate themselves, OTT players will need to produce and deliver quality content for their audiences. This will ensure that their platform will attract and retain an audience.Furthermore, by investing in original IP, they are free to monetise the content in many ways.
"This is how we are approaching the launch of our AppyKids platform. We are investing our time and energy in creating compelling, high-quality content for children. We're investing in our characters and stories by building a suite of content: cartoons, books, games, apps and songs which we will launch on our platform."
Lalvani feels that the OTT business is very much in its infancy in the MENA region. There is a lot of investment being pumped in by the larger players to get into the space, but only as a way of protecting their business. With connectivity and bandwidth getting better every day, opportunities are opening up to new players to come into this space and create competition.
"One of the main problems with the current offering from existing players is the lag we experience in accessing new content made, due to distribution deals and various window periods.
But the viewers in the region demand the latest content. Thanks to social networks and better connectivity, they know exactly when the latest show or episode is airing.
This makes them resort to using VPN services to access this content on more established platforms like Netflix, Hulu, etc – or worse, looking at ways of accessing pirated content through BitTorrent," he laments.