While focusing on content, MIPTV this year will pay equal attention to technology. BroadcastPro ME looks at what you can expect at the event next month and what's in store for the MENA TV industry MIPTV, the world's biggest TV and digital content market, is back this year (April 4-7) with an even bigger offering and […]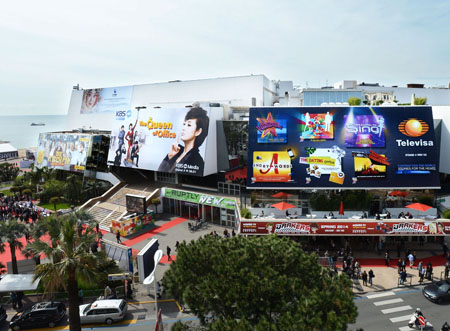 While focusing on content, MIPTV this year will pay equal attention to technology. BroadcastPro ME looks at what you can expect at the event next month and what's in store for the MENA TV industry
MIPTV, the world's biggest TV and digital content market, is back this year (April 4-7) with an even bigger offering and two brand new features. MIPDrama and the International Emmy Kids Awards are both aimed at further raising the profile of the event, says organiser Reed MIDEM.
One of the big and continuing trends across the world has been the increasing orientation towards drama, which is the number one genre globally.
"60% of production worldwide is heading towards drama," points out Ted Baracos, Director of Market Development at Reed MIDEM. Baracos adds that watching films in theatres seems to be dipping by comparison, especially in Japan and the US.
This increasing demand and the corresponding surge in the production of high-quality drama across several territories has led the organiser to launch MIPDrama Screenings this year. This is a pre-MIPTV drama showcase that will be held on Sunday, April 3, 2016, just ahead of MIPTV. Some 250 leading acquisition executives from around the world have been invited to attend the event, which is dedicated to the global scripted entertainment market and features exclusive previews of the hottest new dramas being launched at MIPTV. An opening conference session will present the State of the Drama Industry, highlighting breakout drama successes from major territories over the past six months and providing an overview of the most successful imports in major territories.
MIPDrama will then host screenings of curated fresh content, with a major focus on European screenings (UK, France, Germany, Nordics, etc) as well as other major drama-producing territories. Networking events throughout the day will allow buyers to meet with distributors and producers whose programmes are on show.
Another big win for MIPTV is that the International Academy of Television Arts & Sciences has moved its International Emmy Kids Awards from New York to Cannes from this year. This will take place on April 5 and will close the Kids@MIPTV track and include the MIPTV Future of Kids TV Summit. Interestingly, this section will witness major participation from Middle East entities such as Majid Entertainment in Abu Dhabi and partner twofour54, as well as Al Jazeera Children's Channel.
Majid Entertainment, which has a 40-year history successfully publishing children's comics in the Arab world, launched a channel last year to bring some of its popular print characters to screen. The company, which has a library of more than 400 popular characters, is producing a number of episodic programmes.
"Each of our shows centre around one character," explains Mohamed Yehya, Chairman of Al Majid Entertainment.
"We have characters for different age groups. Since our launch last September, we have produced around 200 hours of content for six different characters for six different shows. Within the first four months, we have already become the second or third most viewed children's channel regionally."
Yehya adds that this year, Majid Entertainment is also collaborating with MIPTV.
"MIPTV serves as a great platform to gather producers and buyers, and find out more about what is happening in the market, discover new talent and create more brand awareness on the international arena. This is why we are participating. We are also one of the main partners of the Emmy Kids Awards as well as the summit, where we will announce our strategy for 2016 and showcase some of our productions. This will give us a chance to meet the producers there as well," he says, adding that Majid is working on some co-productions with some international studios.
Besides the usual players from the UAE and other countries, MIPTV will also see a large contingent from Jordan.
"Arab Telemedia Group from Jordan will have a big presence at MIPTV this year," confirms Bassil Hajjar, the Arab world representative for all of the MIP events.
"We are expecting around 30 people from Jordan, while MBC also has a stand and will have around 25 people there."
This year, Dominique Delport, President of Vivendi Content and Global Managing Director for Havas Media Group; Richard Dickson, Mattel's President and COO; and bestselling author Harlan Coben will be keynote speakers at MIPTV 2016.
Each of them will explore from their own perspective how today's talent-led ecosystem is increasingly powered by communities of fans. This means the traditional content value chain is transforming dramatically, with broadcasters, platforms and creators having to connect to enthusiastic audiences – millennials, Gen Z and beyond – through attractive, innovative, sticky content.
Another well-known feature in its seventh year is the pitch competition that is part of MIPFormats, the only specialist conference for the international formats community, taking place April 2-3, ahead of the MIPTV global entertainment content market. Producers and creators from around the world will pitch their ideas for new and original, non-scripted entertainment formats to the industry's most experienced format professionals.
Also running on these dates is MIPDoc, which has a stellar line-up of speakers and sessions across two days, including a keynote from Morgan Spurlock, the international premiere screening of National Geographic's The Story of God with Morgan Freeman, and a tailor-made workshop programme designed for producers. As part of a stimulating line-up of conferences on documentary and factual content, award-winning writer, director and producer Morgan Spurlock (Super Size Me) will deliver a keynote speech at MIPDoc.
A big trend at MIPTV now is also the number of content buyers for OTT and VOD platforms.
"The OTT space is the fastest growing in the number of content buyers. People are acquiring a lot of content for OTT and VOD platforms. Now we have well over a thousand buyers just for the OTT and VOD platforms," explains Baracos.
"There is a paradigm shift, not just because the likes of Netflix are investing in a lot of content, but also because consumption habits have changed dramatically and there are studies being conducted on the value of an audience.
For example, is it better to have 80% of viewers for one programme or have 30% that watch every single episode of a series, which they can do very easily through an OTT platform. Those are the kinds of discussions that we see at MIPTV, as OTT seems to be where a lot of the young eyeballs are going now.
"This is a chance to not just meet all the top talent but see those who are investing heavily in the digital frontier. A big player this year is Maker Studios, which represents around 50,000 YouTubers. We are trying to create the international destination where both production companies, broadcasters, the talent and the industry meets, and I believe this year has a lot more to offer the market," adds Baracos.