A mix of new and established companies, as well as individuals, were feted at the 2020 ASBU BroadcastPro Awards ceremony held at the Westin Mina Seyahi, Dubai on February 2, 2021.
The ASBU BroadcastPro Awards were created to recognise excellence across a range of categories critical to the media industry, from production and post to content and technical innovation across linear and OTT platforms. 2020 was intended to be special as BroadcastPro stepped into its tenth year of success. Although Covid-19 compelled us to alter our plans briefly and move our flagship event from November 2020 to February 2021, we are delighted to have successfully hosted the event last month.
This year especially saw a special focus on categories related to streaming services, with the 2020 lockdown moving OTT into the limelight. What made this year special as well as spectacular was the courage with which BroadcastPro went ahead and held its annual conference and awards ceremony while ensuring it followed all Covid guidelines set by the Dubai government. This ensured a safe environment for all conference and awards attendees, while also inspiring others who have wanted to host events this quarter.
This year's winners are exceptional heroes as they have survived an incredibly challenging year and emerged with some great success stories. BroadcastPro ME has been privy to some of those stories on an exclusive basis, and we hope to cover them in greater detail in the coming months.
A big thank you to our judges this year: Hasan Sayed Hasan, MD, Master Media; Heba Korayem, Content Marketing Consultant, H Consult Media; Feten Fradi, Assistant to the Director-General in charge of International Cooperation, ASBU; Rochdi Nouira, Head Engineer & Deputy Director, Tunisian Radio; Yazid Mouaki Benani, CEO of MADA PR & TV Production; Amanda Turnbull, co-founder and CEO of Amanda Turnbull Associates; and Vijaya Cherian, Editorial Director, Broadcast Division at CPI Trade Media.
BEST TV PRODUCTION OF THE YEAR
Al Mirath – Twofour54/MBC/ Image Nation Abu Dhabi
This ambitious production, the world's first Arabic-language soap opera, involved a massive collaboration between MBC, Twofour54 and Image Nation Abu Dhabi. Within the last year, this project saw the production of 250 episodes over a period of 270 production days and helped generate over 200 jobs. Pictured from left are Elie Boghos, Head of Physical Production, Image Nation and Hassan Assiri, Consultant to MBC Studios, who received the award from Hashim Ossaily, Regional Sales Director – Middle East & Africa, Synamedia.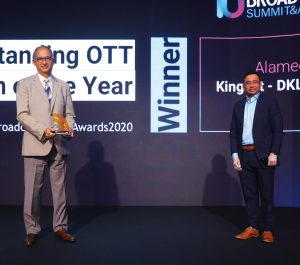 OUTSTANDING OTT PRODUCTION OF THE YEAR
Alameed – Kingset and DKL Limited
A hugely ambitious production and the first to emerge from a media startup, Alameed received a unanimous thumbs-up from the judges for a compelling script, an inspiring production and a strong cast that touches upon a topic that is close to the Arab world – the lives of Syrian refugees. Inspired by real-life events in Syria, the drama series was shot under challenging circumstances. The trailer screened at the awards gala was received with loud applause. Fadi Ismail, founder of DKL Studio, received the award from Sheeraz Adil, Sales Director, Irdeto MENA.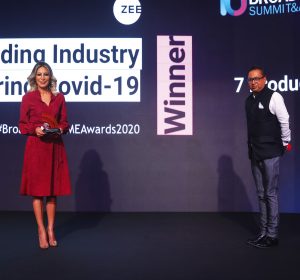 OUTSTANDING INDUSTRY CONTRIBUTION DURING COVID-19
7 Production
The King Abdulaziz Camel Festival, headed by Saudi Arabia's Crown Prince Mohammed Bin Salman, takes place annually in KSA, with 18,000 participants and more than 38,000 camels. The logistics involved in covering such an event are huge. 7 Production, which has helped shape the production of this event from its inception in 2014, brought 80 crew members and two OB vans to cover the action over 20 days for live coverage on TV channels in KSA and the UAE. With 80 people, a punishing time schedule and Covid conditions to meet, the media house pulled off a fantastic feat. Pictured is Rola Tabet, Partner and Director at 7 Production, with the award, handed over by Manoj Mathew, Territory Head – MENA, Pakistan and Turkey, Zee Entertainment Enterprises Limited.
BROADCASTPRO ME INNOVATIVE PROJECT OF THE YEAR
Asharq News
Most news organisations in the MENA region have pretty much followed the same formula, targeting a 40+ male audience. Asharq News, which went live in November 2020, stood out on several fronts with its bold content strategy that included female viewers and Arab youth, a state-of-the-art infrastructure that includes a full-IP setup, well-designed physical and virtual studios, a 360-degree social media ecosystem and an office culture that has embraced a large number of women and youth as part of its workforce. For its fresh ideas and bold innovations, we salute Asharq News channel. Asharq News CTO Omran Abdallah received the award from Khaled Jamal, GM, Irdeto MENA.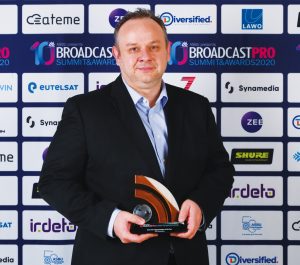 BEST TECH IMPLEMENTATION OF THE YEAR
OSN
OSN has made exceptional inroads this last year into the streaming business with its revamped OTT platform, offering content discoverability, playback capabilities and a seamless user experience. With a sophisticated recommendation engine that is regularly refreshed and AI technology that uses custom algorithms to offer a more personalised experience to subscribers, OSN has upped its game in the streaming business. For successfully releasing a well-developed app that can stand toe to toe with global streaming services, OSN Streaming deserved this award. Pictured with the award is Peter Riz, CTO of OSN.
OTT SOLUTIONS PROVIDER OF THE YEAR
Erstream
Turkish firm Erstream is an OTT solutions provider that has built end-to-end OTT applications for several customers in the MENA region, including Roya TV, AlMamlaka TV, Jordan Radio and Television, MySatGo and VF TV. Its regional references, its proven ability to build end-to-end solutions including VOD, and its SVOD platforms for MENA customers – particularly with Arabic support and integration for most standard mobile and online devices – made it an instant winner with the judges. Pictured here is Ugur Kalaba, CEO of Erstream.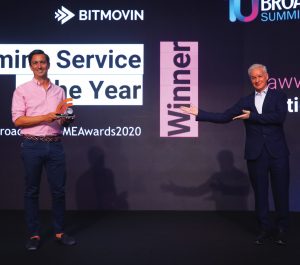 STREAMING SERVICE OF THE YEAR
Jawwy TV, Intigral
Jawwy TV holds an unusual place in the MENA OTT landscape as a super aggregator that has forged partnerships with most of the major streamers – OSN, MBC, StarzPlay – and a number of Arabic-language services. Alongside this, it has unleashed a host of regional productions over the last year. For its investment in local productions, state-of-the art technology to back up the offering and a winning strategy to reach audiences, Jawwy TV took home the Streaming Service of the Year award. James Walmsley, Director – Products, Commercial, Intigral, received the award from John Illingworth, Sales Director MEA at Bitmovin.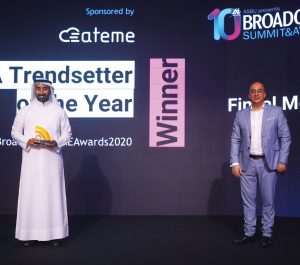 MENA TRENDSETTER OF THE YEAR
Finyal Media
Finyal Media has made waves in the Arab world with its podcasts. Since its launch in 2018, the Dubai-based company has seen an average monthly growth of 50%, hitting 4m downloads in December 2020. Finyal Media pioneered the launch of fictional podcasts in the Arab world, with modern adaptations of classic stories like 1001 Nights, Sindbad and Juha. More recently it launched The Basement, the Arab world's first original scripted drama podcast series for Arabs, which was an instant hit with listeners and was named top of Apple's Favourites of 2020 list for the Arab world. Mshari Alonaizy, co-founder and Chief Creative Officer of Finyal Media, received the award from Mohamed Razik Zaghlouli, Regional Sales Director at ATEME.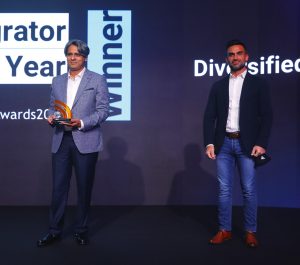 SYSTEMS INTEGRATOR OF THE YEAR
Diversified
Diversified walked away with the prize for its excellent work in delivering a very complex engineering project that included a major revamp of the Al Arabiya News Complex in Dubai during the lockdown. Working through a maze of legacy infrastructure to run fibre across four floors while remaining on-air at all times, integrating existing infrastructure with new equipment, pulling cable only at midnight to ensure zero outage – and at the same time, executing the vision of the client for a futuristic news facility with an integrated open newsroom within seven months – was an award-winning feat. Suhail Ahmed, CEO of One Diversified FZ LLC, received the award from Chant Utukian, Senior Sales Manager at Shure.
MOST INNOVATIVE MENA STREAMING PLATFORM
StarzPlay
This Editor's Choice award was given to StarzPlay for its pioneering efforts on several fronts as a homegrown streaming service. StarzPlay has competed with international and local giants and emerged as MENA's leading SVOD platform. It has ambitiously forged ties with local and global players, invested in new content and explored various monetisation avenues. More importantly, its inhouse platform has now been outsourced to Lionsgate India, which launched a streaming service in the country. In essence, we have picked an award-winning brand. Pictured with the award is Nauman Qureshi, VP of Product at StarzPlay.
OUTSTANDING ONLINE MEDIA INITIATIVE
Shashah.com
With so many innovative ideas in the market, can there be more? The launch of Shashah.com, an IMDb of sorts for the Arab world, had us really impressed. The product of a Dubai-based startup, Shashah.com offers reviews of Hollywood and Arabic content in Arabic. With over 30 OTT service providers in MENA and major global players offering thousands of hours of content and box office cinema hits targeting the Saudi market, Shashah founders Dr Riyadh Najm and Ammar Hares felt that Arab audiences also deserved reviews of Arabic and Western content – unavailable in the region until the launch of Shashah.com. Pictured with the award is Ammar Hares, CEO of LovetodoMedia.
BEST ADAPTATION OF A FOREIGN-LANGUAGE DRAMA SERIES TO ARABIC
Ser – ATL Media by Zee Entertainment Middle East
Ser is an example of how Zee Middle East cashed in on the Arab world's love for Indian productions by producing Arabic adaptations of popular Indian shows. Ser, adapted from a popular Marathi show, brought Syrian actor Bassam Koussa together with other Lebanese stars. Ser was acquired by several mainstream channels like MBC Group, OSN and LBCI, and was the most-watched series on Shahid at the time. Pictured with the award is Adil Memon, Head of Content & Marketing, Zee Entertainment MENA.
OUTSTANDING OTT INITIATIVE FROM A TELCO
Switch TV, Etisalat
Switch TV, Etisalat's digital entertainment proposition, has the distinct advantage of being a super aggregator with content from different providers available on the platform. It claims to be the only mobile streaming OTT app that allows free streaming on Etisalat's mobile network. Content can be streamed on mobiles without mobile data consumption charges. It offers free movie rentals (TVOD), with same-day releases in some cases. It also currently offers live TV and SVOD in the UAE. Mariana Ugorchuk, Head of Product at Switch TV, received the award from Muhammed Irfan, CEO of BS Broadcast.
FEMALE BROADCAST EXECUTIVE OF THE YEAR
Nadine Samra, Chief Business Officer at Weyyak
Nadine Samra, who has been heading Weyyak at Zee Entertainment since its launch in 2017, has helped the digital platform go from strength to strength. In a year when productions came to a standstill owing to the Covid-19 outbreak and the subsequent lockdown, she led her team to co-produce Chicago Street, a well-received Syrian drama. She has also helped lead multiple expansion and integration projects for Weyyak in the last couple of years, and played a key role prior to that as Head of Digital Operations at MBC Group. Nadine is an inspiration to other women in the region.
OUTSTANDING INITIATIVE FROM A SATELLITE COMPANY
Eutelsat for sat.tv
Eutelsat's sat.tv service aims to offer viewers of free-to-air TV channels in the region a better user experience. With an enhanced electronic programme guide for free-to-air (FTA) TV channels, instant channel filtering by genre, automatic updating of channel lists and an instant seven-day EPG with thumbnails and genre filters, sat.tv promises audiences an unparalleled FTA user experience – quite unheard of in the FTA space. This service also broadens content visibility and enables broadcasters to increase their ability to target specific viewers. Pictured with the award is Robert Lakos, who played a significant role in helping develop this service.
SATELLITE SOLUTIONS PROVIDER OF THE YEAR
ATEME
ATEME secured a fantastic opportunity to showcase its capability in the region when UAE telco operator du required a disaster-recovery solution for its seven main DTH headend systems, to prevent any service issues. ATEME proposed a smart solution to enable the recovery of any of the seven systems seamlessly. This offering stood out as a bespoke and complete solution, and is the first to be used by a teleport in the region. It is also part of a larger project that ATEME has undertaken for du. The software-based solution has enabled the end-user to seamlessly transition to cloud-based models, ensuring a future-proof infrastructure to support future growth. Pictured with the award is Mohamed Razik Zaghlouli, Regional Sales Director at ATEME.