Arabsat customers had a taste of the satellite operator's hospitality at the eighth annual broadcasting forum, Atheer, in Marrakech last month. The event brought together key figures from the MENA broadcast industry for two days of presentations, discussions and networking Arabsat hosted its annual customer forum in Marrakech, Morocco this year, under the name of […]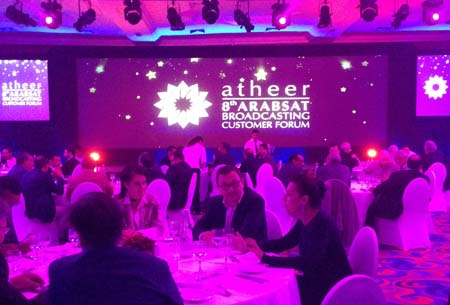 Arabsat customers had a taste of the satellite operator's hospitality at the eighth annual broadcasting forum, Atheer, in Marrakech last month. The event brought together key figures from the MENA broadcast industry for two days of presentations, discussions and networking
Arabsat hosted its annual customer forum in Marrakech, Morocco this year, under the name of Atheer. The event brought together more than 130 Arabsat customers for two days of presentations, networking and entertaining. The presentations shared customer experiences in the MENA broadcast industry and discussed the future of satellite broadcasting in the region. A key announcement during the event was about Arabsat's four new satellites, with the first, Badr 7, being launched in early November.
The programme opened on October 20 with a welcome note from Khaled Balkheyour, President and CEO of Arabsat. This was followed by a speech from Mustapha El Khalfi, Minister of Communications and Spokesperson of the government of Morocco, following which Amina Lemrini, President, Higher Council of Audiovisual Communications of Morocco, formally opened the event.
Commenting on Arabsat's position as a leading satellite operator in the region, Balkheyour said: "Arabsat has extended its satellite services throughout the MENA region as well as in large parts of Asia and Europe. We have invested more than two billion dollars in developing infrastructure and rank sixth in the world as a satellite operator.
"Arabsat's latest satellite Badr 7 will be launched on November 10. We have partnered with Es'hailsat to keep 26 degree East position offering content protection from disruption, which is why Al Jazeeera and beIN Sports chose us."
He also spoke about the company's recent partnerships with EMC to launch the world's first triple play on satellite and My-HD to reach HD quality content to 20 MENA countries at an affordable price.
The first presentation of the day was on Arabsat – Our World Now! Your World in the Future. Nabil Al Shanti, Vice President and CCO of Arabsat, spoke about Arabsat's journey so far and shared insights on how the satellite company plans to integrate the MENA broadcast market in its growth path.
"The first Arabsat satellite was launched in 1985. Since then Arabsat has launched more than 15 artificial satellites. Today, our fleet includes six cutting-edge satellites in five orbital positions. We will have launched four additional satellites by 2018.
"Arabsat's Badr satellites in 26 degrees East hotspot enable satellite channels to reach out to the Middle East, Europe, Central Asia, with focused coverage of the MENA region," added Al Shanti.
He went on to say that Arabsat's 13 access points throughout the world give easy access to viewers and cost-effective solutions to broadcasters.
The second panel discussion was on content development and protection. The panellists extensively discussed piracy in MENA broadcast and ways to combat it. Sam Barnett, CEO of MBC; Dr Nasser Refaat, TV Technical Services Executive, Rotana Media Group; Dr Riyadh Najm, media expert; Jamal Eddine Naji, Director General Audio Visual Communications, Amr El-Kahky, CEO, Al Nahar TV; Nabil Al Shanti, Vice-President and CCO of Arabsat; and Hanya Borham Atallah, Copyright Management Director, ART.
The discussion culminated in a gala dinner and awards night. The satellite operator awarded its key customers with trophies and medals for their role in supporting and growing the region's broadcast industry. Broadcasters felicitated at the awards included AlMajd TV Network, Al Nileen Sports TV, Rotana TV Network, Al Nahar TV, BBC World News HD and Télédiffusion de Mauritanie.
On day two, Samir Safir, CEO of MY-HD, spoke about a new approach to pay-TV in MENA. This was followed by a presentation by Thomas Keene of Trio about Trio's offerings for MENA homes. Media expert Dr Riyadh Najm presented an overview of the broadcast industry in the MENA region.
Dr Raed Khusheim, CEO of Selevision, spoke about how innovative solutions can improve the TV viewing experience for the regional audience. This was followed by a presentation by Giorgio Giacomini, Managing Director Middle East at Globecast, about distributing HD content globally.
An interview with Miflah Al Haftaa, Chairman and CEO of Saudi Media City, touched upon key topics that affect the regional TV industry, with a special focus on Saudi Arabia and how Saudi Media City is shaping the kingdom's broadcasting future. Al Haftaa said that Saudi Media City will provide services related to high quality broadcast from recording to storage and content management. It will provide studios and post-production facilities in addition to production equipment.