Exterity has launched the latest version of its enterprise IP video middleware platform Artio at CABSAT. On-stand demonstrations show how Artio enables proAV installers to deploy a solution, which allows users to engage more effectively with video and live TV beyond the LAN on networks such as the WAN, Wi-Fi and the internet. Visitors to the […]
Exterity has launched the latest version of its enterprise IP video middleware platform Artio at CABSAT. On-stand demonstrations show how Artio enables proAV installers to deploy a solution, which allows users to engage more effectively with video and live TV beyond the LAN on networks such as the WAN, Wi-Fi and the internet. Visitors to the Exterity stand will discover how organis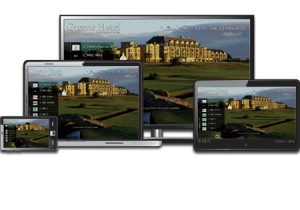 ations in any market segment can benefit from its flexible and robust professional IPTV system, which offers more freedom to staff, guests and visitors without compromising on content security.
The latest version of Artio enables IPTV system administrators to easily tailor the viewing experience across multiple device types with a customizable user interface that supports standard TVs via the AvediaPlayer receiver, desktop clients, smart TVs, mobile devices and thin clients. The system works seamlessly with the complete Exterity enterprise IP video solution to deliver content originating from all types of sources, such as cable, DTT, IP, satellite and more. This enables organizations to integrate mobile devices into their IP video system to give staff more flexible access to business content. In the hospitality sector, the additional support for Samsung Smart TV extends the range of guest room display options available.
Artio, which is delivered as an application on the AvediaServer platform, allows the customisation of welcome screens, backgrounds, logos, colors, language, fonts and icons. This feature is particularly significant for organisations where multiple viewing devices are now the norm. Organisations implementing Bring-Your-Own-Device (BYOD) strategies can utilize this latest release of Artio to offer greater flexibility to end users by allowing them to use their favorite device to watch content.
"AvediaServer and Artio have proven to be effective tools to support the internal distribution of video by organizations in the Middle East and have been deployed by some of the biggest names in the region across many different industries and business applications. However, with organizations increasingly looking to expand the reach of their video communications beyond their internal IP network to ensure that remote staff, visitors and guests can access authorized video content on their personal devices, it has become clear that Artio has a vital role to play as a platform to manage delivery of content across the diverse range of viewing devices organisations are using. The launch of the new version of Artio ensures a smooth transition to BYOD and remote working environments in the Middle East," commented Colin Farquhar, CEO, Exterity.
At CABSAT, Exterity will demonstrate some of the capabilities of Artio including:
Artio Portal for Mobile Devices: a manual channel added to Artio portal that can be selected from Artio EPG enables the feature. It includes default playback for different types of client (e.g. iPad) or manual definition by client type, user, IP, etc. The portal can handle playback of HLS/RTMP (Flash) live streams from Origin Server, Transcoder or previous versions of the AvediaStream transcoders and encoders.
Artio Portal for Samsung Hospitality Smart TV: the solution can be integrated with the Artio portal to facilitate the creation and management of live streams and provide flexibility for user engagement to go far beyond what was previously possible in professional IPTV
Artio Portal Advancements: Welcome message improvements providing increased flexibility including configurable screen positioning, increased text length, option to limit welcome display and simplification of login process. The feature is particularly suited to the hospitality market.
The latest version of Artio is the second product in the Streaming Beyond the LAN range that Exterity is releasing throughout 2015, which started with the AvediaStream transcoders t5500 and t5600 launched at ISE 2015.