Netflix is set to launch in the MENA this year. Dubai Film and TV Commission hosted a video conference during DIFF with Chief Content Officer Ted Sarandos to find out more about the company's plans Speculation around Netflix's entry into the Middle East VOD market was put to rest when Chief Content Officer Ted Sarandos […]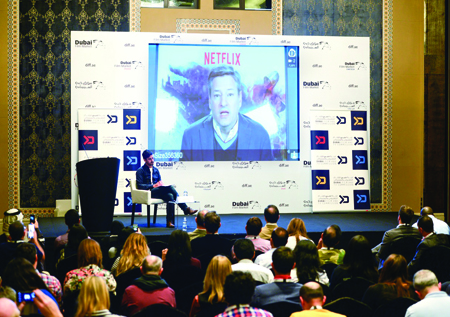 Netflix is set to launch in the MENA this year. Dubai Film and
TV Commission hosted a video conference during DIFF with Chief Content Officer Ted Sarandos to find out more about the company's plans
Speculation around Netflix's entry into the Middle East VOD market was put to rest when Chief Content Officer Ted Sarandos announced plans to launch the service in the Middle East this year. Although he did not give an exact date for when the streaming service will be available, he did say that as part of their global expansion, Netflix will be made available in the MENA region in 2016.
According to Sarandos, the service will be launched in English and Arabic, just as in other parts of the world: "We have launched Netflix in local languages with subtitled or dubbed content, depending on the availability of those language assets. I think the most interesting opportunity that Netflix brings, not just to the region but also to the rest of the world, is the ability to take very local stories and make them global. Today we are producing local programming, in their original language in Mexico, Brazil, Italy, France and Japan, and we intend to do it around the world."
He added that it's early days to speak about how the content offering for the region will pan out, but he said the focus will be on local programming to offer engaging and relatable content to the viewers.
"What's missing on the global stage is a really great scripted series about contemporary life in the Middle East. Most depictions outside of the Middle East are either historical or almost caricatures of what someone from the Middle East would be. I am very enthusiastic to find great storytellers, filmmakers and actors from the region, to tell long-form scripted stories about contemporary life in the Middle East."
He went on to say that the service will look better than it looked on the first day of the US launch, when it started with no subscribers, but may not be as good as in some of the established territories. It will gradually build, as it has in other regions.
He added that the first year of launch is the most challenging.
"We add programming every day in the first year of launch. We may know a lot about a region in terms of content preference, piracy data, box office numbers and ratings, but the real situation unravels when we start operating in a region," he said.
With regard to using the service via VPN, Sarandos mentioned that it's a violation of the terms of use of Netflix.
"I don't know how VPN is not detected, and I can't speak about that."
About censorship and offering content that adheres to local sensitivities in the region, Sarandos said: "Our intent is to be good global citizens, and we recognise local laws, which vary from region to region. I am not sure what path we will take but we will be mindful of local sensitivities. While broadcast is heavily regulated, online content is relatively free of restrictions in the region."
Sarandos was not very clear on whether regulations will impact their line-up of programmes for the region. He said that Netflix has no intentions of becoming a "second-tier censor" but didn't yet have a "hard-baked" plan for the region.
Irrespective of regional differences, viewers look for high-quality programming with great storytelling and good production value. Original, good quality local productions resonate with viewers across the world.
He also noted that viewing habits in different regions have a common core.
"Instead of obsessing on how different we are, we should celebrate how similar we are," he said.
"Our international experience has been really fascinating, because of the powerful reach of our global series, such as House of Cards and Orange is the New Black, which have positioned Netflix as a well-known global brand and have enormous audiences both in the US and around the world," he added.
On the international distribution of regional productions, he said: "The real benefit of having a big global base is that you can bring licensing and production dollars to almost every corner of the world, to produce and distribute a really good product."
He gave examples of how Spanish-language original series produced and filmed in Mexico are watched in big numbers outside Mexico too, especially in Spanish-speaking homes in North America. That's the path Netflix intends to take for the MENA region, by way of exporting high-quality Arabic content to Arabic-speaking audiences outside the region. Having said that, he reiterated that any local programme has to work in the region first.
He also commented on the increasingly blurred lines between film and TV shows.
"I like to watch movies with my wife, but we rarely watch TV shows together."
This is the trend seen in most homes. He also added that the business model that Netflix uses will continue to be the same.
"Binge-viewing works for us. People are moving away from the one-episode-per-week model as they don't like to conform to the linear model anymore."
The streaming service, according to Sarandos, will continue to invest heavily in scripted shows. The repertoire of its original productions already includes 75 seasons and brands, including 31 scripted shows.
"We will continue to localise content and service over time," he added.
Breaking into Japan was Netflix's first move into Asia. Growing subscriber numbers in Japan is a good example of the company's success, considering that it is a very strong local content territory and many other international companies couldn't penetrate it.
As every territory comes with its own set of challenges, growing competition and a very crowded free-to-air segment in the Arab region will not deter Netflix from seeing positive growth in the region.
"It's about picking the right stories. We don't do pilots but look for shows that are very well developed. Everything starts with good writing and gradually builds up. Rich characters and good stories make a good show. Our show creators have absolute creative freedom to work on their projects."
The phenomenal growth of YouTube in the region has given rise to new business models with viewers lapping up snackable content and video blogging. When asked if Netflix can use this to its advantage, Sarandos said that Netflix has always maintained a premium content model and will not do user-generated content.
He also added that every service has its own niche in the market and will only improve the quality of content for audiences. Netflix is not a threat to any existing service but should be seen as a driver to improve services and offerings, he pointed out. Pay TV will continue to be popular for live news, competition-based shows and so on.
Piracy, a major concern in the region, has dropped in territories where Netflix launched. He gave the example of Australia, where piracy dropped by 26% after the launch of Netflix.
"If you give the viewers what they want at a competitive price, there is no reason why they will resort to illegal services."