The Arab Radio and TV Festival, organised by the Arab States Broadcasting Union (ASBU), has evolved significantly in the last few years. The 17th edition reflected some interesting trends in the North African market. In an exclusive interview with BroadcastPro Middle East, Abdelrahim Suleiman, Director General of ASBU, sheds more light on the event and […]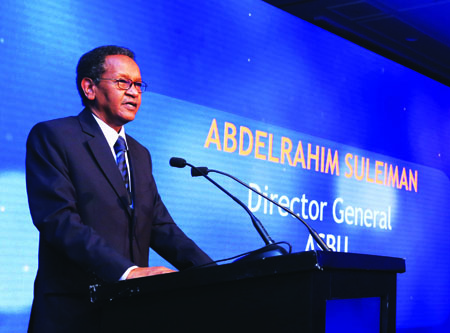 The Arab Radio and TV Festival, organised by the Arab States Broadcasting Union (ASBU), has evolved significantly in the last few years. The 17th edition reflected some interesting trends in the North African market. In an exclusive interview with BroadcastPro Middle East, Abdelrahim Suleiman, Director General of ASBU, sheds more light on the event and shares some impressive statistics that make North Africa globally appealing to broadcast suppliers
The 17th Arab Radio & TV Festival attracted a large number of visitors from North Africa and the GCC, while also serving as a key platform for broadcast technology manufacturers to reach out to the pan Arab market. Although a much smaller event than NAB, IBC and CABSAT, this event brings together a set of players whom we are not accustomed to seeing at the bigger shows.
More importantly, the event also reflected some interesting trends. For instance, there was a large Chinese pavilion at the event this year and sources there commented that China was indeed looking at North Africa as an important territory in which to sell TV content and subtitling services.
A number of manufacturers with stands at the event explained that North Africa was an important market for them and the only way to see the local players was to come to the Arab Radio and TV Festival. As it was BroadcastPro ME's first trip to the festival, as well as to Tunisia, we were pleased to be able to talk to some of the key TV and radio stations operating in that region and understand the market and its needs better. Abdelrahim Suleiman, an industry veteran and Director General of ASBU, shared some insights with us.
How has the Arab Radio and TV Fest evolved over the last 17 years?
The Arab Radio and TV Festival is one of the landmark events organised by the Arab States Broadcasting Union (ASBU) as a key regional rendezvous for the MENA broadcasting community of experts, professionals, officials and artists, along with the public at large. It dates back to 1981, but changed its periodicity from once every two years up to the 15th session to annual, starting last year. In addition, the content of the Festival and the events it includes have also changed substantially.
Since you took over as Director General, what specific changes have you brought to ASBU?
This event, in particular, has been the object of major change. Besides the fact that it is hosted annually, participation has sky-rocketed both in terms of numbers as well as the quality of the participants. Our competition has gained a lot of momentum and prominence. We have also seen the parallel rise, since last year, of a broadcasting technology exhibit, which is drawing more and more equipment manufacturers, delivery platforms, potential customers and other professionals.
Elsewhere, our effort and focus is to encourage, lead and help our member corporations to adopt new and emerging broadcasting technologies, be it in the fields of digital radio and TV, HD, ultra HD TV or beyond. In order to keep up with such major and innovative changes, ASBU is now launching a training academy at its HQ in Tunis to benefit member corporations, and other radio and TV professionals in the region.
One other field that we are keen to develop further at ASBU, along with our member corporations, is the daily exchange of radio and TV news and programming packages through our dedicated centre in Algiers. We have developed for this activity our own system, known as the Multimedia Exchange Network over Satellite (MENOS), to which all our members and several other broadcasters are connected. Our objective now is two-fold – double the flow of such exchanges and improve the quality of exchanged material in order to widen the basis of its placement on and usage by beneficiary channels.
Besides, ASBU has already connected the MENOS network with 700 POPs in 190 cities around the world, in order to maximise the MENOS global reach by integrating with other available networks through a hybrid solution that combines fibre networks with satellite-over-IP networks. Such a combination allows the exchange of news, sports, programmes or any media content for the benefit of ASBU members. ASBU is connected as well with the networks of sister unions like EBU, ABU and AUB, among others.
ASBU is also working to launch its MENOS cloud network over the internet, in order to achieve more targets and reach more users and audience.
Has ASBU managed to introduce standards and bring about some changes in the thinking of public broadcasters? I believe this was the initial goal?
Yes, standards play a major role in our business. This has always been the case in our industry, and the launch of new technologies highlights this need even more. We need to set the path for our member corporations with respect to adopting new broadcasting technologies. Through our specialised working groups, standing committees as well as technical seminars and symposia, we look at the most appropriate standards and technologies media entities must adopt, and we encourage them to work towards sticking to the same standards.
Besides, our mission is to promote public broadcasting as a free service to the public at large. No community, group or minority in the country should feel left out from such a service. All voices shall be heard.
The North African market seems to be gaining greater significance? Can you share any statistics on the TV and radio market in North Africa with regards to TV and radio stations?
The North African market has gone through the same satellite broadcasting boom as the whole Arab region (Gulf countries, Middle East countries and North Africa). As a result, the number of radio and TV channels – terrestrial, satellite and web-based – have skyrocketed in the five North African countries (Morocco, Mauritania, Algeria, Tunisia and Libya). As an indication of this phenomenal increase, public TV channels went from a handful in the nineties to 16 channels now, while private ones only started appearing two decades ago. By the end of 2015, we had 127 private channels. This is even more so for radio stations, which are public, commercial and community-oriented. All public channels are active ASBU members, while only a few private ones have become members of ASBU so far.
We try to make sure that all the three regions of the Arab world are fairly represented at ASBU and take part equally in its activities.
What are the big challenges in this market for TV and radio broadcasters?
Most of the challenges are the same as the ones facing radio and TV channels around the world and in the Arab region in particular. They relate mainly to technology, human resources, content production and competition. Some of these challenges are more acute to this particular region, though. Financial resources to invest in a new radio or TV venture are scarce and the political and social unrest, a limited advertising market and technical challenges have added to this.
Can you share specific statistics on the number of participants at this year's show?
Statistics relating to the 17th session of the Festival are quite impressive and reflect the great impetus the event is steadily gaining. 55 stands were devoted to radio and TV corporations, 56 more stands were used by manufacturers and broadcasting service providers. Overall, the ASBU convention had 170 stands, as compared with 130 during the last session and 30 to 35 ones during earlier editions.
Besides, 49 TV corporations, including 14 ASBU members, 29 radio corporations, four foreign corporations broadcasting in Arabic, 13 privately-owned channels and 18 production companies and news agencies, participated in the festival. With regards to attendees, we had at least 500 non-Tunisian and some 200 nationals visit the festival or participate in it. There were only 450 people in 2015 and 160 in 2012. In addition, our radio and TV contests attracted 233 programmes (155 TV and 78 radio) of various categories.
What are the objectives of the Arab Radio & TV Festival?
The festival aims to contribute to the development of Arab radio and TV production and to upgrade its content to meet the expectations of member corporations. It also aims to encourage Arab creative energies in the fields of radio and TV.
The festival mainly includes the opening and closing ceremonies; several contests for radio and TV; various types of news and programming; thematic workshops; a radio and TV programme exchange market; and an exhibit for radio and TV equipment brought by the latest technological developments in the industry.
Have you seen an increase in the number of people attending the show? Do you get more visitors and manufacturers from the GCC now?
This year, we certainly broke a few records with regards to participation in the Arab radio and TV Festival. More visitors, participants, manufacturers, professionals are coming over every year. The GCC countries are particularly active in the festival, since they have strong representation in all events. In addition to our strategic partnership with ARABSAT in co-organising the festival, various Gulf corporations, production companies and service providers, among our members and non-members alike, are even asking every year to be present and play a greater role in the organisation process.
What does ASBU do on a daily basis?
Our missions are so varied, but all converge in providing support to public broadcasting in the Arab region. Basic services consist mainly of organising and coordinating the exchange of information, programmes and sports coverage, technical assistance, covering major events from within and outside the Arab region, a bouquet of programmes broadcast to the world and training staff from member corporations.
ASBU strives to facilitate exchanges among member broadcasters. This service has seen significant and rapid development, allowing Arab corporations today to share three daily exchanges – two weekly packages of sports programmes, along with two other packages, one economic and one cultural.
The Arab Unified Bouquet is one of the outstanding services ASBU provides to Arab satellite channels, allowing them to achieve technical, economic and strategic benefits while providing the best services to Arab viewers in Africa, Asia, Europe and North America, South America and Australia.
In addition, one of the important functions performed by ASBU is to negotiate the broadcasting rights to major international sporting events on behalf of its member corporations. Such events include the summer and winter Olympics and various Asian football competitions. Today, Arab channels are able to broadcast these important events at a cost that would have been difficult to obtain, were they to negotiate them individually.
ASBU also gives special attention to training Arab radio and television professionals as part of its efforts to assist member organisations in developing their production. We organise training sessions for these professionals to enable them to monitor developments in their field of specialty worldwide.
What important changes has ASBU brought about in the thinking of public broadcasters?
Our activity is mainly concentrated in two major fields of action:
On the technical side, we aim to lead our member corporations on the path of keeping up with the rapid changes affecting the broadcasting industry worldwide. We organise international technical seminars, lobby specialised international organisations such as the International Telecommunications Union (ITU) to defend our members' rights, make the necessary choices among the technical innovations available, encourage our members to adopt the necessary changes, organise them into working groups and ad hoc committees and assist them in acquiring, installing and using new equipment.
On the programming side, we raise awareness among our members to develop the mission of public broadcasting from just a panoply of publicly owned broadcasters to public service-oriented corporations. As we are a public entity and receive part of our resources from public funding, we try to serve all public sections and communities fairly, no matter how small they might appear.
Where do you see ASBU heading from here and what would you like to see eventually?
Despite all of the difficulties the broadcasting industry is going through, particularly in the Arab region, we remain optimistic about its future. ASBU can play a major role in setting the agenda of future developments of the industry. Our vision and mission is mainly to promote public broadcasting and develop it to fit the requirements of a public service and not just be a part of a group of other broadcasters in a rat race.