At a recent virtual IABM event, Israel Esteban, CTO of beIN Media Group, joined international professionals from Olympic Channel, SVT, TV2 Nord and TV Globo to discuss data-driven media supply chains and review the good and the bad from the last 12 months, as well as what's in store for beIN viewers in 2022. We bring you some excerpts from his conversation.
How has 2021 been so far? What new tech developments have taken place at beIN?
2021 surpassed all our expectations. For us at beIN, it was extremely important that live sporting events came back, and we even had a joyful glimpse of pre-Covid normality with fans allowed back inside stadiums.
Kicking off with Euro 2020, that we had the exclusive rights for in MENA, we had a big responsibility to put on the best possible show for our sports and football fans across the region, with our top studios and analysts. We also broke some technology boundaries through our partnership with Dolby Atmos, where we provided our customers an immersive audio stadium experience over the Euro 2020 knockout games, as well as for Copa America and the Tokyo Olympics.
The Tokyo Olympics was another huge event we covered this summer. For that, we had a massive operation in place, dedicating 17 out of 24 beIN Sports MENA channels, which allowed us to broadcast roughly 100 events per day, 95% of them live. We had to put in place our cloud capacity, for example, to allow our operations to have 35 dedicated feeds, and with recording and distribution we were able to manage up to 200 feeds across the building, so again this was a massive set-up. On top of this, we broadcast a lot of international tournaments such as Roland-Garros, Wimbledon and W Series – so it's been a busy summer.
We also deployed a significant set of new projects across the group. We launched in MENA a new user experience and continued enhancements on our set-top boxes for our customers across the region. We invested significantly in our disaster recovery for business continuity. We invested in new tools to keep ahead of the pirates. A first for us was that we launched four channels in the cloud. So, as you can see, we have had an exciting year so far.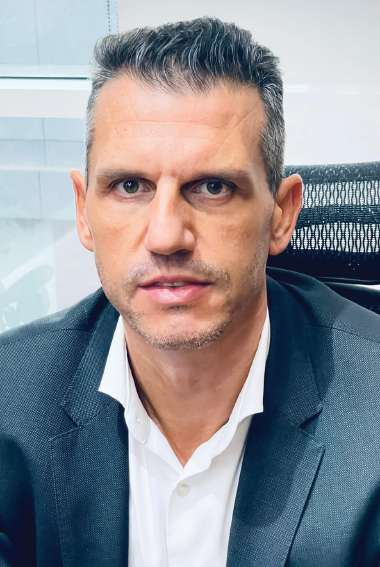 What have been the biggest challenges in the past year?
Covid-19 was a big one. The pandemic turned everything upside down, and it's not surprising that the sports and entertainment industry took a big hit. Our main focuses at beIN were being able to adapt very quickly to that evolving situation; being able for a long time to create content that was not live sports-related, to keep us close to our customers and entertain them in difficult times; and also, being ready for the day when live sports came back.
The second challenge was intellectual property theft. I think everyone knows that beIN has been very vocal on this, but it's a huge problem for all of us, with little to no accountability for these pirates. This continues to be a huge challenge that we are working very hard to combat, especially as we prepare for big events next year. It's every broadcaster's nightmare and something we collectively need to tackle.
Looking forward to 2022, where will you make the most significant investments in your technology and services to your customers?
2022 is a very, very big year for us with many international events, including the Qatar World Cup. So of course, one of our investment priorities will be around continuing to invest in our state-of-the-art production facilities and our general skills, ramping up to the World Cup.
At beIN, we also curate content and it is our mission to deliver the best content and the best user experience to our subscribers – so everything revolving around this, and our OTT platforms will stay in our priority investments, as will everything else related to anti-piracy. All these efforts, all these investments and all this content that beIN produces will need to be protected, therefore any investment related to anti-piracy, content protection tools and intelligence gathering will remain a top priority for us.
Are you looking to invest in solutions from new vendors this year?
We are always open to new technologies and vendors. But I also highlight that for me, it is very important to choose the right partner. For critical projects, I prefer to work with what I call partners rather than vendors. And for me, there is a big difference between the two. A partner is someone who has a proven record and track with us, they are willing to go that extra mile because we tend to do a lot and are very demanding. So, we need partners who will make that extra effort and bring what we really need to meet our company's and group's expectations. So, we continue to rely on those partners that we have worked very well with and who have delivered many successful projects and incentives for us over the years. But of course, we are always open to new vendors coming on board and we welcome them whenever they fit our requirements.
What challenges do you foresee in the coming months?
The pandemic and intellectual property theft. Both are not going away just yet. Regarding piracy, a lot of effort needs to be put into improving the situation, and hopefully the industry will take more awareness of it. More people are now coming on board with us on this and working with us to try to tackle this problem, but it continues to remain a challenge.