In an exclusive interview with BroadcastPro ME, Ben Kinealy, CEO of Intigral talks about his strategy, vision and the roadmap he has chalked out for the company What's the Intigral story so far? Intigral was formed in 2009 as a joint venture between STC (Saudi Telecom Company) and Astro , initially to help develop STC's […]
In an exclusive interview with BroadcastPro ME, Ben Kinealy, CEO of Intigral talks about his strategy, vision and the roadmap he has chalked out for the company
What's the Intigral story so far?
Intigral was formed in 2009 as a joint venture between STC (Saudi Telecom Company) and Astro , initially to help develop STC's first IPTV services. Intigral's mandate was to add value to STC via excellent products and content services in order to differentiate their core offering from that of their competitors.
Intigral was seen as faster, fresher and freer way of doing that within STC, or if you like we were set up to do what STC couldn't.
The idea was to mainly develop content services for IPTV to drive fibre pickup, though now the services offered by us include mobile VAS (traditional SMS), carrier billing, apps, websites and other market-led innovations.
What does your new role in the company as CEO now entail?
As CEO, I will be tackling our products and services across IPTV/OTT, mobile and web, reviewing the existing businesses, and bringing new capabilities to the team, with the objective of adding value to STC and the digital ecosystem as a whole.
I was headhunted from Telstra, the major incumbent telco in Australia, and joined Intigral in 2012 as Vice President of OTT and IPTV.
At Telstra, we introduced the T-Box, which sold about 630,000 boxes in the first three years. It was the first hybrid set-top-box to be bundled by a telco in the world with a DVB-T, OTT and DVR service that offered something similar to Apple TV and TiVo blended together.
What strategies have you introduced since stepping up to CEO?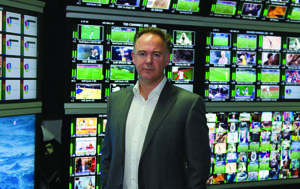 We will be changing the efforts of Intigral, which up until lately, have been one of supplying a service – we supply content, undertake content preparation, content acquisition and content services that we deliver on to STC's network. But we haven't been managing the product, how it's bundled, marketed or sold and installed. As we move forward, we will take these into account to change the whole customer experience. One key focus is to make the best IPTV/OTT product in the market.
For IPTV/OTT, the ambition is to create a service that drives broadband, particularly fibre. To that effect, we will be changing the whole look-and-feel, customer experience, capabilities and content line-up of the service.
While our approach is to move people to fibre using IPTV, we still have a product that could work over ADSL. Fibre is being rolled out aggressively in KSA but not all homes are signing up for it as they are not aware of the benefits. ADSL2 and ADSL2Plus, as is the case with STC, have got a range of limitations – it has physical and technical limitations. As a result, STC and Mobily are aggressively rolling out fibre throughout KSA.
As we move forward this year, our efforts will be to expand the reach of the service using OTT technologies, while still delivering a reliable quality experience. Although we are using this method to reach a wider audience, we will still look to fibre to drive the premium IPTV experience.
With satellite being so widespread in the region, what are the challenges ahead for you?
FTA is our biggest competition, which can be countered by offering a very good interactive product and strong marketing. Considering the hold of satellite TV in the region, the best way forward would be to combine satellite and IP for a hybrid experience.
Our new offering, an update on the existing Invision box, is a plug-and-play set-top-box with a range of companion apps, and a host of capabilities such as PVR and rewind for FTA and pay-TV, a fantastic on-demand movie and TV service and a range of apps and games.
STC's Invision offers the biggest IPTV network in the Kingdom with potential to grow further as it targets KSA's 26 million people.
Gradually, we will expand to other territories such as Kuwait, Bahrain and, maybe others. We plan to introduce a brand new customer experience with this STB and future STB, which will be interactive and intuitive and, therefore, fun to use.
What's your view of the present TV and OTT scenario in the region?
The region offers endless opportunities for the growth of fixed as well as mobile video services. But so far, none of the players have been able to tap into that. OSN is excellent but maybe too expensive for the mass market, beIN Sport is going through a number of evolutions and is about to offer its own IP box in the future but there is a need to fill the vast gap between these two and that's where Invision comes in. We are in the process of developing a product set that can fill that gap, improving the content and the value to the consumers.
In the GCC, there are more than 850 channels delivered over satellite – it's not financially viable to transcode all of those and carry them over IP. So we will combine the best of the channels, with rewind and EPG capabilities over IPTV and get the rest via the internal DVB-S receiver, so as to offer the full line up of channels to the customer.
Network PVR has not been introduced in the region yet but the technology is available, so once we have the rights we can see that being added to the service. Catch-up is a funny term. In the GCC, catchup is understood as rewind. Catchup, in other territories, is VOD of distinct programmes that they have the rights to serve after the broadcast period. We are trying to encapsulate all of these services into our IPTV offering.
Do you have plans to develop your VAS (value-added service) products?
We want to review all of the VAS products that we are currently running to streamline and focus on the ones that are financially viable.
We are looking at expanding VAS to other territories beyond the Gulf. We have Arabic content for KSA and a team that prepares and acquires that content but we have the services behind them that takes care of the delivery, reporting, billing and so on. We will take these services to other territories such as Kuwait, Bahrain, Africa and Iraq. The VAS business still holds potential and we intend to develop more services to tap into that market.
Could you shed some light on your Dawri Plus app?
Dawri Plus is a sports app, which we use to deliver live Saudi league over IP. It's predominantly an app but has a website also. We have exclusive rights to the Saudi Football League to deliver it over OTT. The service has been received very well with more than 400,000 customers a month.
The application sees up to 100,000 concurrent customers at peak time. A live stream delivered reliably over the internet allows you to see it live on your device and go backwards on a timeline anytime, anywhere in the game. The application also boasts interactive capabilities and we will add more capability to this application, lace it more into broadcast and expand it beyond the territory. We may also buy the rights to other leagues and develop more sports-oriented content.
Creating this app has a two-pronged approach; it not only offers quality sporting action but also helps the Saudi league to step up.
In terms of content, what new offerings can we hope to see?
Sports is a huge driver of technology and needless to say, it is a fantastic vehicle for us. Once we fine tune Dawri Plus, we will take it to other leagues across the region.
Dramas are huge in KSA with a strong female following. With sport, we target students within the country and abroad, while dramas attract the vast majority of women and movies go between the two. We are offering an impressive line-up of movies on our VOD platform. We have deals with major studios and local distributors to release the movie on the same day as the DVD release. We are expanding the library around that with more focus on HD content.
In fact, we will be moving into premium movies on demand, to buy rights to release VOD, or PVOD on the same day as the cinema release in Bahrain and Dubai. This is an exciting proposition and we are gingerly moving in that direction starting with a couple of distributors who have Western, Arabic and Bollywood content, and then expanding.
What are the main roadblocks you face as a company?
The two biggest threats to us are FTA and piracy in the region. Piracy, unfortunately, is seen as acceptable in KSA because there are no cinemas there. We intend to offer a great PVOD service to give the people of KSA a legal high-quality way to see this content.
There are limited promotions of feature films in KSA. Saudi Arabians are unaware of many films until they hit the TV screens, which takes months, or even, years. Theft is rampant during that period.
Our pitch to the studios is that we can help you capture that money and reduce theft. We can offer a legitimate, legal and secure platform to distribute their content in line with other territories.
VOD is great and so is pay-TV but there is a huge potential that movies can offer and we hope to be a major player in this field.
What's next for Intigral?
We are looking at a range of services – mobile advertising, e-health and e-learning – while focusing on improving STC's mobile VAS services. Mobile is definitely larger than fixed and that's where the money is, so we will be directing at least half our efforts towards that. In essence, we want to add value at every stage of the digital value chain, but how? By acting as a bridge between content and service providers and telecom operators through product integration, inception and go-to-market solutions across multiple channels and platforms.