In November last year, the world's sailing elite descended on Dubai for a leg of the third season of SailGP. In an interview with SailGP CTO Warren Jones and the Riedel tech team, Vijaya Cherian learns that bringing that sailing experience to TV and streaming fans across the world required a potent combination of technical strategy, out-of-the-box thinking and a raft of technologies modified for the sea.
SailGP may be a new entrant to the sail racing scene but it is fast attracting some of the world's best sailors. In this annual global championship, national teams compete using identical hydrofoiling F50 catamarans designed to race at speeds exceeding 100km/h. Established by Oracle co-founder Larry Ellison and champion yachtsman Sir Russell Coutts in 2018, and headquartered in London, the competition sees teams compete across a season of multiple grands prix at some of the world's most iconic harbours.
In Dubai, fans were not disappointed, with the reigning champions, Tom Slingsby's Australia team, edging past France and Great Britain to stay at the top of the leaderboard. The spectacular fan experience is available on-site, on the water, on air, through an app and year-round through digital channels.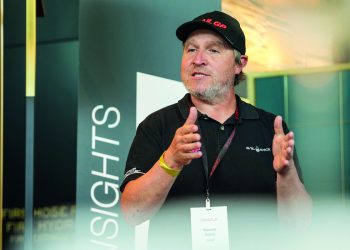 Each SailGP event has two competition days featuring all nine boats going head-to-head in fleet races. The top three then face off for the individual Grand Prix win. The season culminates in the SailGP Grand Final, where the top three boats compete in a final podium race and the overall champion walks away with $1m in prize money. This season the total bonus prize money has grown to $4.3m, with a final prize purse of $1m for the Grand Final in San Francisco.
Unlike most sailing competitions, all the SailGP teams work with the same catamarans and are given access to the same data and technologies, so they compete on an equal footing. This ensures that winning is entirely based on skill and sailing prowess.
A significant part of the competition is communication between the teams and SailGP's HQ in London, which produces and broadcasts the championship for TV and streaming audiences. This is where Riedel was called in "to provide a service solution that sets new standards and a benchmark for TV audiences with close insights of videos and audios from each yacht", according to Jonas Badura, Junior Project Manager at Riedel. Although experts on land, the sea called for a raft of revised wireless solutions, modifications to cameras and several alterations to existing solutions to make them work efficiently in water.
"Sailing was pretty new territory to us," explains Thomas Riedel, Group CEO of Riedel Communications. "The event came with requirements of very long distance and wireless connectivity, not just for video but for audio-video communications and all kinds of telemetry data. We had to customise a full system for sailing because salt water is incredibly aggressive to electronic gear. Every connector needed to be right.
"Secondly, RF on water is not easy because of the reflections you get from the water. So we were not just working on unidirectional video, but audio, video and then bi-directional communications and data. This is the second season we are working with SailGP, and they are high-tech and truly modern in their approach."
As a new entrant, SailGP has been fortunate to begin, CTO Warren Jones puts it, with "no legacy contracts, no legacy hardware and no legacy ways of doing things". As a staunch advocate for the environment, SailGP lays down ground rules for all participants. One is a limit on the number of containers each team or solutions provider can bring to an event – four for teams, two for suppliers – and SailGP itself only uses one. "Back in 2013, with another organisation, we carried 38 containers. With SailGP, we have one. I call this progress," says Jones.
Sustainability is a key part of SailGP's agenda, and Riedel's essential equipment is stored in two 40'' sea freight containers which travel with the other SailGP containers, with everything else maintained remotely.
"We start with an empty ground and two containers full of gear, and the rest is all handled remotely," explains Badura. "The only given local infrastructure is an internet connection. In three days we usually finish installing the broadcast compound, rigging the race yachts, checking the cameras on the boats, setting up the workshop and making everything fully operational for the first rehearsals. We also service and maintain the equipment on-site, because they need more attention due to the harsh environment of sailing."
Riedel has 25 wireless cameras fitted for each event – two on each of the nine team boats, four camera chase boats, one on the helicopter and two extras. They are handled remotely by operators in London. In fact, SailGP has fully embraced remote production, making the whole event more efficient, cost-effective and sustainable.
"We wanted to do remote production, because this is where the industry is going and we also wanted to be as sustainable as possible. We have events all around the world and rather than moving them around, it is more sustainable to have all the equipment sit in London," explains Jones.
"Our director, our producer, our camera operators and our umpires are all seated in London. There's nothing at the site of the event. Our umpires can monitor the race closely, as each boat has a camera installed in the front and the back. They can talk to the teams in each of the boats and issue penalties with the push of a button. The boats have TV screens on each side of the wing. If a team has been given a penalty, a red light will flash on them. The boat drivers can communicate with the umpires and everything is seamless."
Riedel Communications facilitates this both on-site and across continents, with several users logged into the system remotely through the Artist Intercom System. The solutions provider has 24 HD videos for TV production, and dedicated 4K transmitters help transmit up to four pictures at the same time using just one frequency. There are up to 45 RF carriers in use at an event.
True to SailGP's remote production format, Riedel has only 12 members onsite while the rest of the support team works remotely from its Remote Operations Centre (ROC) in Wuppertal, Germany. "They support various projects remotely on a day-to-day basis, but for SailGP events they provide dedicated services and engineering. All our learnings on-site are taken into consideration for further developments through our remote engineers," explains Badura.
Producing and broadcasting a live sailing event has been a welcome challenge for the team, which needed to go back to the drawing board and revisit each of its technologies to make them compatible and durable for water or wireless requirements. On sea, weather changes, wind, salt water and altering currents create a dynamic working environment "with no fences or fixed points, as everything is floating".
"Sailing is quite a challenging scenario; the mixture of speed, wind and open sea in combination with saltwater is challenging for our technology and staff on-site at every event," explains Badura.
Footage is captured from boats, helicopters and on-boat cameras to cover every possible angle. To ensure salt water does not get into the cameras, they are sealed. In addition, the cameras are shockproof and have a washing system so that the lenses get a clear image for the broadcast audience. Riedel is continuously working to improve the solution: "It's a harsh environment, but we are getting a lot of lessons learned for product development. We even have 3D-printed headsets for prototyping," says Badura.
This kind of housing also generates a whole set of new challenges, such as temperature management, because the gear needs to be cooled down. The team has to continuously monitor various parameters remotely from the shore and change the cooling remotely if there are temperature changes on a race boat.
Likewise, there are changing mast heights to address. "For low wind times the mast can go all the way up to 29m, while at events with high winds they go out on the water with an 18m mast. Special custom-made masthead units from PIDSO and Riedel address this," explains Badura.
The weight on the high-performance F50 race boats is a challenge, as they are designed to be as lightweight as possible to slice through the water while remaining sturdy. And there are other logistics to deal with – some on water, some technical.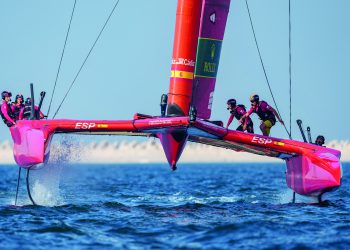 Badura explains: "The course can be changed due to the wind conditions as well as the water's current direction. It is also well accessible to spectators with their own boats. It is often very close to the seafront; you need to respect and consider harbour traffic, ferries, cruise ships, etc. And on water, everything needs to be wireless – data transfer, GPS from various assets like buoys, as well as racing yachts. Critical event communication as well as video footage needs to be transmitted reliably and constantly. The system we designed needed to be flexible in a modular way. The entire technical system had to be planned and designed for future growth of SailGP with more boats, more venues and events."
Riedel solutions were used in various parts of the workflow. At the heart of the communications operation is the Riedel Bolero, which helps with crew communications and connects radio and intercom with the official committees around the globe.
"We connect all our systems, like Bolero stand-alone on the yachts and chase boats, Tetra for all SailGP crew members, and Remote Artist intercom panels for the umpires around the globe. Our technologies are interconnected with various stakeholders such as the Oracle Cloud or the SailGP systems department," explains Badura.

"For SailGP, we're using 4K video transmitters to transmit the video from the race boat, from the camera boat and the helicopter. We even have a data mesh that helps get telemetry data for the cameras from the boat. We get very high-quality audio from the races for interviews that go live for broadcast, for example. And we're using our Riedel radio solutions for all end users here, and it's fully connected into each other."
With multiple events each season, Riedel has had to prove that efficiency is not limited to building reliable systems, but also to ensuring they work in all countries and are functional with the shortest set-up time. Fortunately, they have enjoyed great success on that front.
What makes this event truly hightech, however, is how data is processed and shared with everyone so that participants can learn from other teams and plan their own strategy. The day prior to our chat with Jones, SailGP had generated 46bn data requests.
"We know exactly what everybody does on the boat, how many times they press a button, what the road differential is, what the heart centre of the athlete is and so on. The data goes to the boats from our data logger. It goes up to the top of the wing. And when you see the boats, you'll see a little white masthead that is supplied by Riedel. From there it then goes to shoreside, and from them to the Oracle Data Centre in London," Jones elaborates.
"During season two, Oracle delivered 40bn data points to the Oracle cloud during each day of racing. 30,000 data points are processed every second from each F50 catamaran per SailGP race. From that, we create patterns like where a boat is in its distance to other boats and how fast they go. This information goes to the umpires so they can see what they're doing from their point. We send this to the teams.
"SailGP is a little bit different to other federations in that our data is open source. Each team can see what the other team is doing and learns from them. If you go to the Oracle Cloud Analytics dashboard, all the information is there for anyone who wants it. It took 120ms for the data to go from the boats to our data centre in London and back to Dubai for broadcast. We have a live leaderboard. Then we've got augmented reality graphics. All the AR graphics then work out where everything is on the racecourse, and we paint the full picture."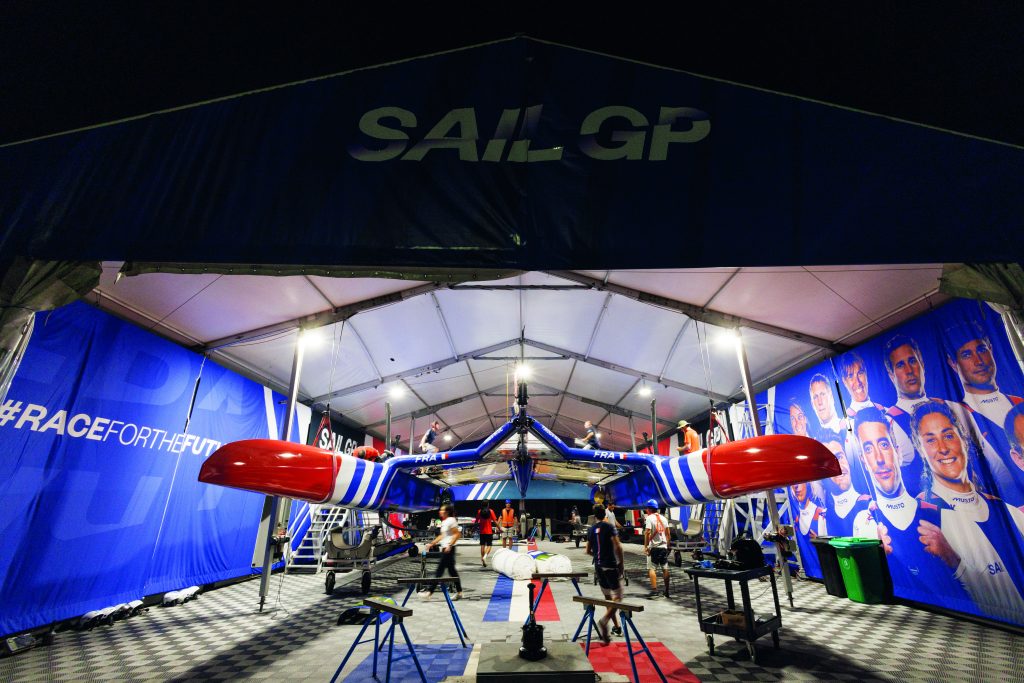 From SailGP's TV studio in London, footage is distributed to 187 broadcasters around the world, Jones goes on. "We are very proud to be working with Oracle. It has huge data centres around the world. We have our core in London, and then we build edge devices around the world. We're totally wireless. We don't use satellite trucks. We have no producers anywhere but back home in London. Everything is blended in from London, and then it is sent back here to watch the show in its full glory from that point of view and on the big screens. That round trip takes around 200ms and is the beauty of a full remote production."
With the Australian team having elbowed New Zealand out of the way to secure top position, the teams next head to Singapore, Sydney and Christchurch, before the Grand Finale in San Francisco in May.