YuppTV came quietly onto the MENA scene two years ago, and has gone from strength to strength under the leadership of Zahra Zayat, VP and Head of MENA.
BroadcastPro ME catches up with the vivacious Zayat to find out the secret of YuppTV's growing success in a crowded OTT space and her own achievements as a woman in this region.
How did you come to take on your current role as Head of MENA at YuppTV?
YuppTV was just launching in the Middle East and I had a catch-up over coffee with our CEO Uday Reddy, who was connecting on a flight through Dubai after a friend had introduced us. Having worked at OSN, I knew the gaps of the existing propositions in the market and knew exactly how to target the audience in each of the Middle East countries. We saw an opportunity here, where over 50% of the population is South Asian. I was reluctant initially to take on the role as I didn't speak any of the languages, but the thought of building something up from scratch was exciting, and I am so glad that I did. And now I have picked up a great deal of Hindi along the way.
What have been some of your achievements at YuppTV?
At YuppTV, we work in a start-up culture, so I basically do things from A to Z with the help and support of our extremely qualified teams. Since our launch in MENA, we have successfully tied up with more than 12 telcos in the UAE, KSA, Kuwait, Qatar, Bahrain and Oman, the most recent being with Batelco in Bahrain. We have also strengthened our presence in the traditional retail market with the likes of Lulu and Carrefour, and we have expanded into the dealer distribution network, selling traditional TV through our box strategy and by offering vouchers. We have also strengthened our investment in data analysis and marketing tools to target the relevant base better and achieve higher conversion.
 To what do you owe the success of YuppTV? 
People, people, people, culture, leadership, technology and localisation. We are blessed with a qualified, energetic and young team who operate with a start-up mentality, so we are all on the move, juggling different things all the time. Technology, speed and agility are our core strengths; I am truly impressed with how fast our teams can deliver on technology and products.
Being an OTT platform, we target different age groups, with the majority of our target market being in the age group between 24 and 50. As an OTT and e-commerce platform, YuppTV has made sure it is available on all possible platforms and devices around the world, from Android to Apple phones and devices, Xbox, PlayStation, Humax, Amazon, Roku, Nexus… you name it.
 What is YuppTV's objective, and how have you gone about achieving it?
Our objective is to become the only home for South Asian entertainment and to ensure that we combine the best content, technology, partnerships and marketing to reach that goal. YuppTV is a one-stop shop for subscribers who want to view everything they want on one platform. Our YuppTV offering has over 250 channels and carries premium networks such as Colors, Star, Zee, Asianet and so on in over 13 languages, in addition to our own channels running our original production. We have so many elements to this service.
Our catch-up service offers subscribers seven days of catch-up on all the linear channels. In addition, YuppFlix offers more than 8,000 hours of Bollywood and regional on-demand movies and shows in Hindi, Tamil, Malayalam, Telegu, etc. Our mini-theatre is a box office offering TVOD (transactional VOD) fresh-out-of-cinema content.
We will continue to strengthen our original production through Yupp Studios. Today, we run four of our own channels, with our latest Telugu production, Luv Story, hitting 36m views in just two weeks.
Our main plan is to produce more short-form series for the Middle East as we have seen a growing appetite for this content among South Asians and local Arabs.
All our original programming content and selective list of movies and TV shows are subtitled in English. As we launched in the MENA region, we have seen a growing appetite among the local Arabs, and for that we have subtitled some of the Bollywood content in Arabic.
In terms of technology, we continue to invest in and adopt new technologies such as our new 4K hybrid OTT box, in addition to the catch-up service on linear channels and download feature for on-demand movies that allows offline viewing. We also prioritise continuous investment in data science to refine both our product and our content.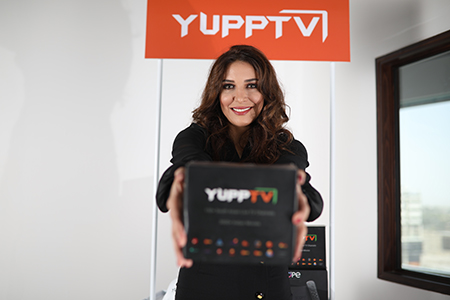 Which countries is YuppTV available in at present, and what are your expansion plans?
YuppTV's largest market is the US, while our fastest growing market is the Middle East. We also have a big presence in the UK, Australia, India, Pakistan, New Zealand and Europe. We will continue to expand into Africa, offering the South Asian channels and movies subtitled in English or local languages such as Arabic and others.
We will continue to expand into new markets while trying to localise the service as much as possible. For example, we run an ad-supported service in some markets but a subscription-based service in the Middle East and the US. Africa has great growth potential.
 Any recent deals you can talk about?
We have done a few consolidations lately, one of which was the acquisition of Lebara Play in the UK, and the other one is yet to be finalised in the Middle East.
Did the closure of Pehla help hike your subscriber numbers?
Yes, we saw an immediate spike in the numbers after July 15, and our direct new subs have been doubling every day since then. We have boosted our marketing campaigns to raise brand awareness in the region. This is the first time we have seen a significant growth during the summer season in the UAE, KSA, Kuwait and Qatar.
How do you address digital piracy?
We try to monitor our service through digital watermarking to block illegal streaming services. We also work with the regulatory bodies across different countries to educate them about the impact of content piracy in the region, which has exceeded $750m.
I believe you have shifted to Dubai Studio City?
Yes, we have just moved from Media City to Studio City. Our Dubai office runs all Middle East operations and focuses on business development, sales, marketing, strategic partnerships and content. All back-office support and technology innovation is based out of our office in Hyderabad, India. Today, YuppTV has more than 700 employees with the majority based in India.
What are your analytics showing you?
Our subscriber base has doubled every six months. Our content consumption per user has hit 4.5 hours per day, with over 40% of the engagement coming from non-premium channels. The engagement on our catch-up service is 50% higher than on the live linear channels, so we decided to give our subscribers seven days of catch-up TV.
Our app downloads in the MENA region have doubled compared to last year, hitting 1.4m downloads with the majority being on smart TV and mobile.
Digging deeper into the trend by country, we have seen that the platform engagement on the web is as strong as smart TV in the UAE, whereas mobile and smart TV remain dominant by far in KSA, Kuwait and the rest of the Middle East.
We have also seen that the choice of content (whether it's comedy, romance or action) differs significantly within the South Asian segments. Some seem to prefer exaggerated and far from reality action, as compared to others who prefer a combo of action, romance and comedy.
 I hear you also sell your technology to other operators?
That's right. Our platform is developed in-house by our team in India. YuppTV now sublicenses its platform separately, and a few telcos and operators in Sri Lanka and Singapore have bought our platform and white labelled it.
 What is the big challenge you see in the OTT industry? 
Customers will follow the content they want to watch and will not want multiple subscriptions. We can expect more churn, as people will keep moving from one service to another depending on the content. Eventually people want quality, simplicity and affordability. They want to be able to talk to us in the way they want to, and this requires robust integrations with social media networks, e-commerce platforms and telcos. We want our subs to be able to view and subscribe to their favourite content through Facebook, Instagram, Twitter, and we want to be able to build a robust e-commerce platform that sells and delivers their favourite products and services.
 Have technology and data helped you to reduce churn?
Yes. As YuppTV, we know who is watching what, where and when, we analyse the preferences of subscribers through their behavioural trends, and we recommend shows and content that best fit their preferences.
The use of adaptive bitrate has ensured a smooth viewing experience for users varying from high-end to low-end internet bandwidth. We utilise multiple CDNs around the world and have our in-house CDN as well, which helps improve the experience and prevent buffering.
On ad-supported services, we analyse the viewing behaviour of subscribers and we target them with ads that fit their location, gender, age group and preferences. What OTT can achieve is economies of scale that allow us to offer a better and richer experience at a lower price compared to traditional TV.
 How has your journey as a woman been in the world of OTT and telecommunications?
I have to say that every deal has taken a pound of flesh out of me to close, but as I grow in this industry, I see a wider acceptance of women leaders. In this industry, I had to learn to put my ego on the side, and accept waiting in meeting rooms for long hours and travelling to find out that the meeting has just been cancelled. However, on the bright side, there is a great sense of satisfaction when deals are closed and we see the company growing.
 Give us a brief overview of your career in broadcast.
I always had a passion for selling. I got motivated by my dad to start my own business when I was 10 years old, where I had simply put a blanket on the street with some groceries to sell. This evolved to selling my mom's kitchen ware, which drove her crazy!
I was studying and working at the same time in an audit firm where I was coached by a great woman leader. After graduating, I held various positions in management consulting, investment banking, mergers and acquisitions and traditional media. I had many media clients as part of my consulting role, which motivated me to move from Deloitte to OSN. It was then that I fell in love with the broadcast and media business. After OSN, I had the opportunity to work with MOBY to launch new channels in challenging markets such as Ethiopia, Afghanistan and Pakistan, and this experience was phenomenal, lovely and unique.
Now, at YuppTV, we are building the service in the market from scratch. And for that, we operate like a start-up. It is hectic but so rewarding.
 What sparked your interest in this field?
The media business is so dynamic and creative. As you get into the areas of content acquisition and production, subscriber management, retention, churn and engagement, marketing, way to market – each one of those requires so much industry knowledge and you keep on learning something new every day. I am a strong believer that OTT services are e-commerce providers, and I am looking forward to launching the next Amazon through Yupp!
 Do you see gender parity in the industry?
I believe that a woman has to be doubly qualified and very strong to be able to grow in this industry. This is the reality of the region, and I have faced this throughout my career. However, this is changing now and there is a wider acceptance of women leaders.
 What are the biggest factors that hinder women from entering the OTT and telecom industry?
This is related to culture, as women working in media is still seen as taboo in some parts of the Arab world. The other part is that these industries are demanding, and unfortunately a lot of women have had to let go of their careers after they have kids. This is a right that a woman should not be denied. I remember I attended a meeting one week after giving birth, because I wanted to reflect the image of a woman who can run a family and a business at the same time.
 What steps should firms take to decrease the gender gap in the broadcast industry?
We still see women being asked at interviews about their plans to have more kids, or their flexibility with travel, as these factors determine their eligibility. Even during layoffs, women get laid off first because of the perception that the male is the provider. In meetings, a woman sometimes needs to speak in a louder pitch or voice to be heard.
Companies should eliminate gender preferences in certain jobs. Companies in the public sector especially should start offering equal benefits to women, such as schooling, housing and insurance. The UAE government has implemented some great initiatives in recent years, where women have representation in the government.
 What message do you have for women aspiring to work in media?
There is nothing more difficult than running a house, a family and kids.
Women are born leaders and they are naturally empowered; they just need to see the opportunity better. Having women leaders is a must now, and companies have realised that.
I encourage all women to have their own identity and be proud of their achievements. Our achievements in the workspace are what make our kids future leaders. This industry is amazing, but it needs more women.