Football has attracted some of the world's most lucrative TV rights deals, with some contributing to more than 50% of a club's profits. This is also true for the UAE, where football has become a popular and lucrative sport thanks to the Pro League, which has played a strategic role in improving the local fan experience and successfully negotiating TV rights deals globally. In an exclusive interview with Vijaya Cherian, the team shares how they have raised the bar for football in the country and helped it travel globally.
The UAE Pro League is relatively young, established only in 2008. But under the leadership of a team that is passionate about football, it has thrived, its stakeholders have seen rising profits, the clubs have a good fan following and rights to the matches have been sold around the world. In fact, while the rest of the world was in lockdown, the league continued to hold matches behind closed doors sans fans, using technology to enable efficient and seamless broadcast. It is now gearing up to open the doors to fans in the upcoming season.
"Our role is to manage and regulate the professional clubs' competitions," says Waleed Ibrahim Al Hosani, CEO of the UAE Pro League. "We have four main competitions – the League, the Cup, the Super Cup and the U21 League, which is sometimes called the Reserve League. So basically, we have four main competitions. Our other mandate is to commercialise these competitions and create solid revenue streams so that professional clubs can generate more funds for the stakeholders. And like most other such leagues, our biggest revenue stream is from our broadcast deals."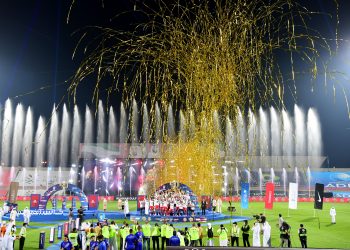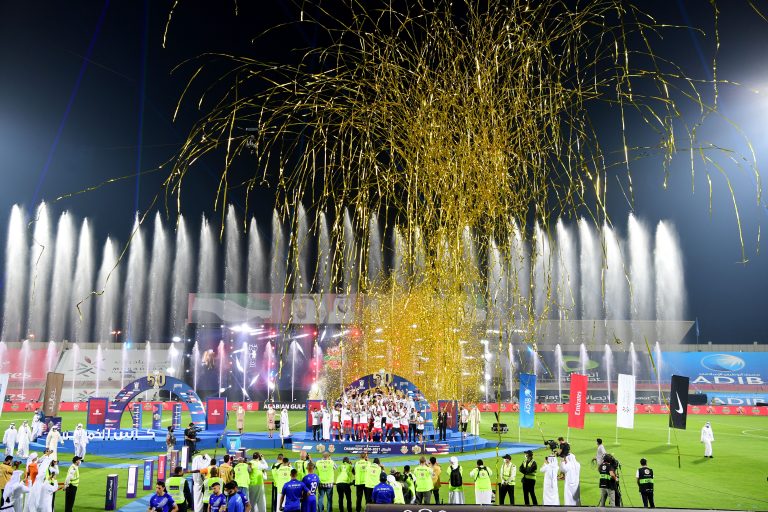 Knowing how critical broadcast is to the sport, the UAE Pro League has continuously ramped up the production of its games, while also implementing new technologies to ensure its productions are on a par with international standards and therefore marketable.
"We took over the production management in season 2015/16. Since then it hasn't been an easy journey for us, but the rewards have been great. Now we are considered to have the highest standards in the region. Any international tournament that takes place in the UAE comes to us to cooperate and coordinate, and our team helps run and manage such projects in the UAE. From the FIFA Club World Cup 2017 and 2018 to the Asian Cup that took place in 2019 in the UAE, we have helped a number of international teams and competitions," explains Al Hosani.
"In addition to that, we have increased the rights and the value of media rights of the Pro League to more than double of what it was in previous years. This was all achieved within a short time span and is quite remarkable for a market like the UAE, where the population is fairly small. We are also one of the few local entities that have sold our rights to international media houses because of the quality of the content we have produced."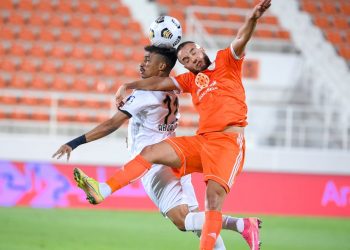 The UAE Pro League's achievements are the result of several technical and commercial initiatives. Malek Doughan, Marketing and Commercial Affairs Director at the UAE Pro League, attributes this to "a progressive approach".
"This is especially true in how we have developed the game locally and internationally," he explains. "We represent 14 clubs with a variety of fans that live in the UAE, so we needed to see how we could attract all of them. For this, we took a centralised approach to our communication so we could properly represent our product to the nation as well as to the clubs. We identified that within the UAE, there are a total of 4.1m residents, who we qualified as our personas and whom we wanted to bring to the stadium.
"So we undertook a centralised marketing campaign, the first of its kind in the region, and the directive of this campaign was to recruit fans, retain them and at the same time reward their activity, whether it is engaging with us on social media or watching us on TV, or coming physically to our stadium. We did a touring campaign and we went to young people. We went to schools, in line with the Ministry of Education and the Abu Dhabi and Dubai Education Councils, to introduce activities around football, to promote the leagues and also introduce a more healthy lifestyle that includes all members of the community in the UAE. The pandemic did bring some plans to a halt, but we used that time to generate more content for fans and started e-competitions to attract gamers."
"In the next rights cycle, we will identify additional packages and have separate offerings for linear TV, OTT, digital platforms and any other additional media" – Malek Doughan, Marketing and Commercial Affairs Director, UAE Pro League
As technology and future-trend followers, gamers are a very important target audience, explains Ammar Hina.
"According to our strategy, technology and futuristic features are important because many of those technologies are now coming to fruition. What we discussed a couple of years back as impossible has now become part of the game, like the Video Assistant Referee. No one thought we could mix augmented and virtual reality with football, but we are doing that for every match now. We have been organising virtual football competitions and online gaming in parallel with our physical matches. During the peak of the Covid-19 lockdown, our online gaming took over and we got a new fan following onboard that we have to now consider for any future plans we undertake. We also have the Arabian Gulf League Fantasy game, which keeps our fans engaged and enhances their experience by bringing more fun and competitive aspects to the sport."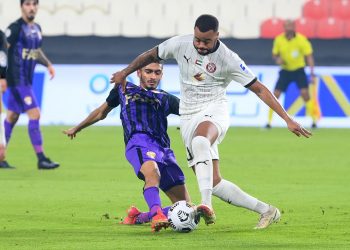 On the TV production and broadcast technology side, the team is continuously innovating and on the lookout for disruptive new solutions to enhance production. When fans could not go to the stadium owing to the lockdown, the team recreated the atmosphere for viewers by adding virtual audio crowd cheering and new VR and AR elements.
"All of this was aimed at giving our fans more value, more involvement, and also giving our sponsors and partners additional engagement and exposure to justify their sponsorship with us," says Hina.
Al Hosani elaborates: "When Covid hit us last season, we took some time to analyse and evaluate the situation. We restructured our business plan but also made two priorities to execute these plans. The first was to ensure the safety of our players and staff. The second was to ensure the consistency of the competition to make it sustainable, so we could keep our part of the deal with sponsors. Powered by the continuous support of the top management and the UAEPL's clear vision and strategy, my team worked on creating a protocol to go back and resume the competition safely, but we are also aligned with our government's requirement to ensure the games were played in a safe environment.
"I am proud to say that we have successfully completed the last season and so far we have not postponed or cancelled any matches. This is a great success; the credit goes to the team and our colleagues and partners with the clubs and their staff, who showed great discipline in applying these protocols. This has helped us a lot. We did limit our manpower, our resources and equipment to maintain safety, but we made sure the quality was not impacted. In fact, we added technical solutions to enhance the viewer's experience. We made sure that the matches ran on schedule and were not interrupted."
Perhaps the biggest success is shown in the international takers for the productions.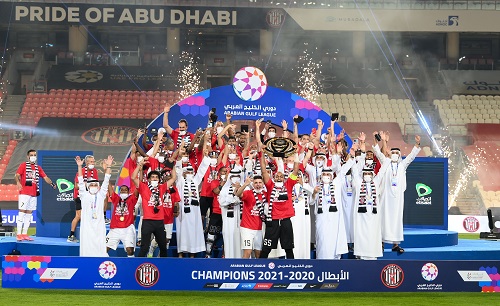 "As a league, one of our key objectives is to always ensure maximum reach, whether in the local market or abroad," says Doughan. "With that in mind, our team have been quite active in securing all these distribution deals that would allow us to get that reach. I am proud to say that the UAE Pro League is one of the few leagues in the region that has currently broadcast in different parts of the world, and in at least four languages. In addition to linear television rights in the MENA region, we are proud to have partners in Europe, Australia, Asia and North America. We are continuously working on newer packages, deals and bundles that allow us to get more potential in truly making our competition a global product.
"We don't consider ourselves a local competition anymore. We are a global product, and we are proud to keep on trying to push it across. We are an attractive league. We have interest from global players, with international coaches coming in to be part of the league. We are trying to attract these players and at the same time attract their audience, whether it's Brazilian players for South American fans or European players that could bring us European exposure."
"We took over the production management in season 2015/16. Since then it hasn't been an easy journey for us, but the rewards have been great. Now we are considered to have the highest standards in the region" – Waleed Ibrahim Al Hosani, CEO, UAE Pro League
Al Hosani elaborates: "Football, being a universal sport, has a huge audience on screen. That's why we decided to enhance the broadcast standard, because we want to create an attractive product. We didn't let the UAE's small population reduce our expectations. So we didn't just set our limits to serve local talent; we included international commentators in different languages like Portuguese and other Asian languages. That made it more attractive to international broadcasters. We are also producing and distributing weekly magazines in English and Arabic languages to enhance the league coverage and bring outstanding content to our fans. That's why we are so proud of what we have achieved. We may not have an international league but we have this appetite to do something big and we created a unique product that can attract international stakeholders."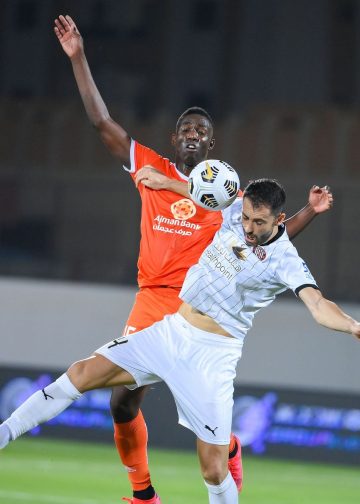 When rights deals come up for renewal, a new avenue will be the opportunity to explore separate streaming opportunities.
"We are always on the lookout to increase our rights deals, and this is the highest revenue for us as an industry. This would allow us to invest more back into the product. It would allow us to create more opportunities for our players, give back to our fans and attract commercial deals. So a lot rides on these deals. However, in the best interest of the domestic rights, we also ensure our product is always visible to our fans locally, with no constraints," explains Doughan.
"In the next rights cycle, we will identify additional packages and have separate offerings for linear TV, OTT, digital platforms and any other additional media. For this, we are continuously looking to work with new partners on the solutions and strategy side to help us in creating new avenues for revenue."
Unlike other players, however, the Pro League has no plans to go direct-to-consumer just yet.
"D2C has been on our radar for two years, but it's not the right time. Without alignment with partners on this project, I don't think we can create sustainable partnerships or projects on this front just yet. It is not in alignment with our stakeholders," Al Hosani says.
The UAE Pro League is also in charge of UAE stadia, and over the last few years has been gradually upgrading facilities to meet international criteria. When Covid-19 is fully gone, the league is preparing to welcome more fans into the stadiums.
"What we discussed a couple of years back as impossible has now become part of the game. No one thought we could mix augmented and virtual reality with football, but we are doing that for every match now" – Ammar Hina, Broadcast & TV Production Director, UAE Pro League
"Our product on TV is getting better and better," says Doughan, "and we are continuously enriching it and adding new elements to the broadcast side. We are also one of the few entities to have broadcast our finals in 4K last month. We have all these beautiful elements, like augmented reality and interactive cheering that give our players the ability to experience the ambience and the atmosphere that you would have in a stadium. At the same time, we are looking to bring our fans to the stadium and we are working towards adding a few elements that make this experience also exceptional."
Some of the details are still under wraps. "We are going to allow fans the opportunity to appear in the match through the giant screens, but we are not going to divulge more," Doughan winks.
"Experiences are getting more and more personalised and engaging. So with everything that we do, we have three main pillars that we concentrate on – there is TV, social engagement across all our platforms, and the in-stadium experience. With the in-stadium experience, we consider ourselves content creators. I need to give my audience a valuable enough experience in the stadium to get them to come and bring other friends too.
"Based on our CEO's advice, we conducted an exercise where we picked the best stadia in the UAE that are also considered among the best in Asia, and benchmarked the experience of an individual fan from the time they buy a ticket and tweet about us on social media platforms, to that journey of arriving at the stadium, arriving in the parking area, ordering their food and beverage, to the actual entertainment that takes place there. Based on this, we have made some tweaks so our fans can enjoy a seamless experience. And this is how we plan to grow our fans to the big numbers and make them bring their loved ones and their friends, to make it an actual experience that they are proud of being a part of."
Other activations that fit well within the UAE Pro League's strategic plan are also in the offing, with an e-competition that will allow UAE residents to participate in the West Asia World Cup qualifiers for the first time.
"This has not been done before," explains Al Hosani. "When we restructured our business plans, we saw that e-games offered a great opportunity to engage with the fans and link them to football. We have a strong competition in e-gaming with FIFA – that is the start of our initiatives in esport. Government entities are interested in this project as well. Hopefully we can create a very strong platform that can increase our fanbase in the region.
"And this is just one of the projects. There are many others. Of course, things are not perfect. We don't want to make it sound as if everything is smooth all the time. But we do have a mandate and some set objectives, and we are clear we want to remain pioneers in the region. What we want to do continuously is over-achieve."