Having access to thousands of hours of premium content at a monthly subscription rate that is approximately the price of a cup of coffee may sound like a remote dream, but this is exactly the value proposition that the new Zain-iflix JV brings to the MENA market. Mark Britt, co-founder and Group CEO of iflix, tells BroadcastPro ME about why the OTT service has been successful in other markets and why it serves as the perfect legal alternative to a pirate platform.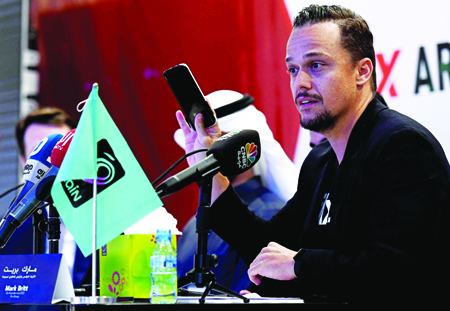 Having access to thousands of hours of premium content at a monthly subscription rate that is approximately the price of a cup of coffee may sound like a remote dream, but this is exactly the value proposition that the new Zain-iflix JV brings to the MENA market. Mark Britt, co-founder and Group CEO of iflix, tells BroadcastPro ME about why the OTT service has been successful in other markets and why it serves as the perfect legal alternative to a pirate platform
Imagine if MENA viewers could have access to thousands of hours of premium first-run content from Hollywood, Bollywood and other worldwide studios at a monthly subscription fee that was approximately the price of a pirated DVD? Would that price point and first-run content be tempting enough to attract a segment of the MENA viewers that at present watch pirated content?
Mark Britt, Group CEO of iflix, reckons that if the above conditions and more are met, many people who presently watch pirated content will migrate to a legal alternative such as iflix. That is the value proposition the Malaysian OTT platform has been offering to its customers, and says it is the reason iflix has been successful "in every single market it has entered so far".
The streaming service has four million subscribers and is the newest entrant in the MENA TV space. Last month, the Malaysian OTT platform announced a joint venture with Kuwaiti telecommunications company Zain, which boasts 47m subscribers in this region. With iflix's content and Zain's huge penetration in the MENA mobile market, both parties are confident they will be able to attract subscribers to their OTT package.
The JV, which has been called iflix Arabia, is scheduled for launch in Q2 of 2017 and is headquartered in Dubai. All of Zain's territories of operation – Kuwait, Bahrain, Iraq, Jordan, Lebanon, Saudi Arabia and Sudan – will be added to iflix's global footprint. John-Paul McKerlie, who was previously with Zain, will head the joint venture as CEO, and will be based in Dubai.
While Britt did not divulge a price or a concrete launch date at the press conference, iflix subscription rates in markets in which the service is available are somewhere in the $2.50-4 range.
"We have moved from a paid, physical piracy in the old world to free, digital piracy in the new one. Essentially, you are competing with free, particularly with the younger generation. So the product you offer has to be more convenient, better performing, offer a wider range of content, with celebrities present in the content suggesting and recommending new shows, and it has got to be a better platform from a social experience point of view. It has to be all the things that piracy cannot be at a price that is not an inhibitor and so that's the thinking that goes into setting a price in each market," Britt explains.
One of the big plus points when iflix enters any regional market is its commitment to investing in local content and local infrastructure, explains Britt.
Zain and iflix are investing heavily in local productions and almost 40% to 50% of the content will be available in Arabic, he confirms.
Some significant announcements will be made prior to Ramadan, although both teams remain tight-lipped about further details. Britt makes it clear, however, that iflix is working with high-profile directors, creatives and production teams in the region to produce high-quality Arabic content.
"In most cases, when people use the expression 'original productions', what they really mean is that they have worked with a production house and created something that is unique specifically for that format. One of the big challenges in traditional media is that it has to fit into the number of ad breaks and each has to be a specific period of time.
"The great thing about the internet is that it is entirely on demand, where you can have a very complex plot. As customers tend to watch episodes back to back, they no longer have to be of the same duration and you do not have to worry if the product appeals to advertisers. You merely have to create content that appeals to viewers. This means you have far more creative freedom in creating on-demand content than creators have ever had before, so when we commission original productions, it is always with high-profile creatives, but we are often able to remove the constraints that traditional media have placed on them."
Again, although OTT offers much greater flexibility in terms of censorship, Britt says iflix has always been very respectful of cultural sensitivities in each market.
"We believe it is the right of every sovereign country to establish its own community standards for content. I think this is very central to Asian communities, where entertainment plays a very influential role in culture. So if you want to be a part of the local community, you have to accept that in most countries, there are different forms and levels of censorship. Often, censorship for FTA will be very different to the DVD-based model. We have worked proactively with governments in each country to find the right level of censorship," he explains.
"One of the good things about OTT is that we have better parental controls than any traditional experience. Every device can be set to a different level and there are common censorship standards across Western, Arabic, kids, families and so on. A parent, therefore, can just click the little kids or teenage kids option and the device sets the control across the product – so from a kid's experience, they are still getting an on-demand product. From a parent's point of view, that device is set to a certain censorship standard so you don't have the challenge of FTA.
"Secondly, because this is a paid experience, we are catering to a slightly older demographic or parents control the experience. Thirdly, communities are managing this. In the case of piracy, it is completely uncensored, so younger viewers are at risk," he explains, adding that how each country manages the censorship issue changes constantly.
"Our commitment in it is to be part of that conversation, which most of the global players are not; and secondly, it is to proactively work with local governments to set the levels and standards that are appropriate to each country."
Dubai will serve as the hub for the joint venture, although Zain is headquartered in Kuwait. The iflix Arabia Dubai office already employs around 50 employees in various roles including general management, content management, legal and marketing functions, as well as a design team that does all the Arabic creatives, copyrighting and so on. A language centre in Jordan handles subtitling, censorship and content quality assurance for the entire region. What's missing from the Dubai office are the tech development teams, who operate from Australia, Prague, Cape Town and Kuala Lampur.
Justifying the decision to make Dubai the hub for the JV despite Zain not having a presence in the emirate, Britt says: "We tend to operate in most of the time zones and so Dubai tends to be a fantastic central hub for HQ roles. Also, a significant number of the premium media is sold out of Dubai, so you need to be where your suppliers are and be part of that ecosystem."
By the end of February, iflix Arabia will have around 72 staff across the region and by the end of March or early April, Britt reckons that number will rise to 100. Iflix Arabia is also in discussions with a number of telcos across the region to make its service available in those countries.
The market is not without its challenges. The fundamental challenge before all of the players presently operating in the MENA region is the rise of piracy.
"It is hard to be better than free. To beat free, your service must be exceptional," explains Britt.
"Secondly, internet connectivity within Zain's network is exceptional. You need to do very significant technical work to have all your content infrastructure hosted in every single country. This is what I mean when I say we are passionately committed to localisation.
"A core part of our commitment to localisation is infrastructure, and a large part of the last six months has gone into technical testing with Zain and making sure we can confidently deliver a world-class service to every part of the region."
Britt is confident that if iflix works "deeply with the content community on the one hand, the talent and the creative and the production community on the other, and the telco industry as well", it can build a world-class service at a price that everyone can afford that is better than piracy.
"That is the core vision."
iflix will not just be available to Zain subscribers; it is in talks with a number of other telco operators in the region to bundle its services and will be available independently as well.
"One thing that has made us successful is that we have been able to break many of the traditional rules that apply to media distribution. We are one of the first services in the world to have the download-and-watch-offline feature.
"When Patrick Grove [co-founder of iflix] and I went to the studios in the US three years ago, we presented the statistics and the piracy data. We told them that viewers have to be able to download because you can't stream on a 2.5GB connection in Manila. We were laughed out of the room, but over a period of 18 months, we convinced each of them to create a new set of rights, which was the ability to watch shows offline. And that is, by far, the number one feature on iflix.
"Our willingness to create a specific product for emerging markets is what has led to our success, and we have just got to keep on doing that," he concludes.