Maite Ventura is the new Managing Director – MENA of the world's top-performing football league, Spain's La Liga – but is she a woman alone in a man's world, or the avatar of a new sporting agenda?
Make no mistake: La Liga – properly known as the Campeonato Nacional de Liga de Primera División – is big business. In the 2017-18 season, its clubs posted revenue of €4.479bn, with gross profits of €945m. Broadcast revenue also surpassed the €1.5bn mark for the first time, fuelled by a spiralling new cluster of national and international agreements.
And no wonder, because La Liga's teams are some of the best in the business. In 2017-18, they were crowned champions of every official title at stake on the international stage. In fact, as La Liga President Javier Tebas Medrano commented at the time: "In the past five years, all of the finalists – except one – of the three big cups have been La Liga teams, and of the 15 titles disputed, all except one (93%) have been won by Spanish clubs."
In other words, the brand equity of La Liga is at an all-time high, and with football long acknowledged as the most-watched activity in the world, there's considerable responsibility on the league's regional executives to take centre stage as champions of brand value, integrity and appeal.
Enter Maite Ventura, La Liga's new Managing Director for the Middle East and North Africa. Based in Dubai, she takes over from Fernando Sanz and reports to La Liga's International Director, Oscar Mayo. Her role is to oversee the growth of the league's brand value, visibility and fan engagement throughout the Middle East. As jefa (boss) of the soccer juggernaut, we spoke to her about leadership, enriching the fan experience, and La Liga's take on gender opportunity.
How did you come to be at La Liga?
I joined La Liga in 2017 as part of the La Liga Global Network project, in which 50 people out of 12,000 applicants globally were selected and sent to key markets all over the world. I was selected to represent the UAE, and since then, I have been managing different projects in the region, from institutional to sport-focused, and also socio-educational projects.
Tell us about some of your past roles.
I have a background in communications, but my work experience, which has been in Latin America and then in MENA, has been focused on marketing, and particularly on the promotion of international institutions.
You mentioned that your company has a high percentage of women at various levels. How does La Liga look at inclusivity within the organisation, and what special policies does it have in place for its female workforce?
When Javier Tebas was appointed President of La Liga in 2013, he vouched for women´s talent at every level of our organisation. Back in 2013 there was only one woman on the Board of Directors, and now we have seven. I am very proud to work for a brand that strives and promotes equal opportunities for men and women not only on the pitch, but also beyond. The growth of women´s football and the fight for its professionalisation has also been one of the biggest successes of La Liga in the last few years.
As someone who has been working in the market for five years now, I have never faced any problem in my job because I'm a woman. I am very proud to be working with a brand like La Liga which stands up for women´s talent globally.
Currently, 30% of La Liga´s employees are women.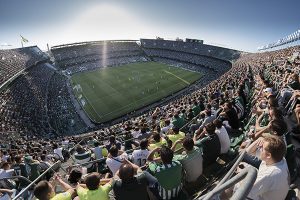 How important is the MENA region for La Liga?
Since La Liga opened its first international office in Dubai back in 2013, there has been an incredible growth in terms of audience and followers, and in general the interest in our league has greatly increased. We are about to reach the 15m followers mark on our social media channels for MENA, in which we geo-target specific content for La Liga fans in the region.
Give us a brief overview of your broadcasting rights agreements in the region.
Our official broadcaster for MENA is beIN Sports, which holds the exclusive rights not only for La Liga Santander, but also for La Liga SmartBank. Every matchday, it's possible to watch all the matches from La Liga Santander live, as well as other interesting programmes such as La Liga Chronicles, LaLiga World and other exclusive content from the best league in the world.
How would the possibility of getting a player from the Middle East onboard affect viewership?
Of course, this is something that could boost viewership. This is the case, for example, with the Chinese player Wu Lei playing for RCD Espanyol de Barcelona. Since he was signed, the official La Liga Sina Weibo account has increased by 82% and the Espanyol matches are more watched than El Clásico. There is also a big following of SD Eibar in Japan since the signing of Takashi Inui. Definitely, we would love to have someone from the Middle East playing in La Liga.
You mentioned that La Liga invests in the best TV technology, and that the viewing experience is as important as the match itself. Tell us more.
La Liga is constantly seeking out new technologies in order to best represent the spectacle on screens across the globe, and this season we'll consolidate our position as a competition which offers innovative broadcasting.
For example, we have installed goal-line cameras in all of the stadiums to support the introduction of VAR, as well as beauty cams at the highest points in Clásico and derby stadiums, providing an aesthetic view of the pitches to support the pre- and post-match programmes.
Also, since the 2017/18 season, all of the team analysts have had access to a tactical camera which offers a wide-angle view of the game, providing the ideal panorama to analyse the tactical development of the match. In the lead-up to games, broadcasting will be through DSLR cameras, which offer a cinematic aesthetic and will bring added emotion to La Liga matches. Additionally, up to thirteen La Liga stadiums will install aerial cams during this season and eight of them are already offering 360-degree replay technology.
Also, as part of our efforts to provide the best viewing experience for Spanish clubs' worldwide fans, any innovative opportunity is examined and applied in order to offer the most amazing viewer impact during the show. VR experiences are a good example.
We have also implemented Video Assistant Referee (VAR). Since its installation in the last La Liga season, this technology has ensured that better and more consistent decisions are being taken across the league. This benefits the clubs and their players. The use of VAR improved the 'correct decision rate' from 91.5% to 96.92%, and players have acknowledged that better decisions are now being taken. More than 100 mistakes from referees were corrected last season, hence the use of VAR was useful. For this 2019-20 season, VAR is also being used successfully in La Liga Smartbank.
What type of cameras and audio recording devices are being employed for La Liga Santander?
The broadcasting of all La Liga games will witness a big improvement, as the number of cameras in the stadiums has been increased. This will include more super-slow-motion cameras in all broadcasts, such as the Steadicam. Additionally, starting from this season we will implement goal-line cameras not only in La Liga Santander but also in La Liga Smartbank.
In terms of audio, and with the aim of giving the audiences the best possible sound quality, this season we'll continue to incorporate cutting-edge technology into our broadcasts, such as Dolby Atmos and LAWO. The latter uses tracking data to give viewers more realistic sound from live matches.
This season you're broadcasting two matches a day in 4K. Can we expect a transition to 8K, probably next season?
With 4K technology and the HDR system, we offer greater contrast and brightness to the colours from the broadcasts.
La Liga will keep improving all its broadcasts by adding new technology when it becomes available, so that viewers can enjoy the game in more detail and better quality, thus improving their overall entertainment experience.
Tell us about your leadership style.
Leadership is all about bravery. It's how brave you are to take on a big challenge, to do what no one else will, to embrace change, face a difficult situation, and to not give up. The finest leaders create a culture where everyone feels inspired, where diversity drives fresh thinking and innovation.
Do you believe women have equal opportunities in workplaces? If not, what must companies do to encourage women to take tough roles?
Creating a work environment that is not only diverse, but also inclusive, is an integral part of lowering the gender gap. Organisations must take bolder steps to create inclusive cultures so women, and all employees, feel supported at their workplace. A diverse and inclusive company results in higher employee engagement, creativity, financial returns and market share.
What are the most challenging aspects of your current role? How have you learned to turn your challenges into opportunities?
I believe everything in life is an opportunity. Of course, there will be challenges along the way, which is normal in every new role that you take. I'll embrace every opportunity that I can and learn from all my previous experiences to do the best job possible.
According to you, how important are women leaders in the industry? What do women bring to the dialogue?
The football industry has traditionally been managed by men, and until a few years ago it was nearly impossible to imagine that a woman could have the power to be president of a football club. However, with La Liga, it has become a reality.
Big bold steps have been made in the last years worldwide, and with hard work, effort and professionalism we can show that we are moving forward in terms of gender equality, not only in society but also in football specifically.
Tell us how this market is different from Spain.
In terms of markets there may be some differences, but it's incredible how similar Spanish people are to Arab people, especially in the way we watch football, the sheer passion of celebrating a goal, and the enthusiasm and support we give to our favourite teams.