For the first time in the history of Al Jazeera Media Network, its worldwide technology and operations teams were combined under one man. In an exclusive interview with Vijaya Cherian, Mohamed E. Abuagla, who is both CIO and CTO of Al Jazeera Media Network globally, talks about his expanded role and sheds new light on […]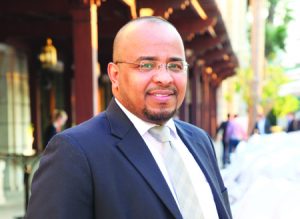 For the first time in the history of Al Jazeera Media Network, its worldwide technology and operations teams were combined under one man. In an exclusive interview with Vijaya Cherian, Mohamed E. Abuagla, who is both CIO and CTO of Al Jazeera Media Network globally, talks about his expanded role and sheds new light on the controversial Al Jazeera Workplace Transformation project and the broadcast network's partnership with Ooredoo
I hear you now have an even bigger role than the one you previously had at Al Jazeera.
That's true; it's a huge job, but an exciting one. There is a massive amount of work that needs to be done, and time is the ever-great enemy. When I first came into Al Jazeera, my primary mandate was to lead the transformation of the Technology and Operations teams into delivering world-class operations, which meant we had to not just adopt best practices but also develop new industry-leading ones. Al Jazeera, by nature, has never been in the followers' category; it has always been in the leadership category, especially on the editorial side of things – whether it is coverage, newsgathering or the quality of journalism, Al Jazeera has led the pack. We wanted to leverage that part of our business and try to step into leadership roles as far as technologies, advancements, operations and the ability to innovate are concerned, and go to the next level.
Al Jazeera seems to be working on a lot of projects. Can you put the whole thing in perspective?
Al Jazeera has embarked on an aggressive growth path and the largest of its kind broadcast infrastructure replacement, refurbishment and renovation projects. We just signed a massive deal with Ooredoo so we can implement what we call Al Jazeera's Global Media Cloud, or GMC. Once implemented, it will connect all of our 80+ global offices with the latest state-of-the-art network that allows us to transport media and data as well as serve growing corporate uses.
On top of that, we have a very large broadcast infrastructure upgrade project. When we talk of upgrades, we are changing everything from the ground up. We are replacing the fibres in the ground, building new buildings, new CAR rooms, new data centres; we are buying brand-new equipment for every single department; we are buying new software, hardware and broadcast gear. We are building everything from scratch, and we are doing it globally. We just completed London; DC is almost done and Doha is ongoing. Next on the cards is New York and most of the other broadcast bureaus. We are also retraining every single person in the organisation to leverage the new technologies and challenging them to become the best in the industry.
Does that mean that everything previously undertaken has come to nought?
Not at all. Al Jazeera, historically, has been aggregating a number of technologies because its growth has been channel-based rather than network-based. My role now is to ensure we consolidate, centralise and unify our workflows as well as optimise the investments that we make on software, hardware and technology advancements. All of the various projects that have been ongoing are basically sub-projects that come under the umbrella of the Al Jazeera Workplace Transformation (AJWT) project. We want to transform the workplace and be on the bleeding edge of technology to deliver our digital future. This project touches upon the entire lifecycle for us, and everything that enables better journalism and better storytelling.
So all of these projects come under AJWT?
Many of these are directly under AJWT, and some of them have dependencies on AJWT. For instance, Al Jazeera is rebuilding its digital, mobile and web strategy, and although this doesn't come directly under AJWT, it does leverage whatever investments we make under this umbrella project. Similarly, we are doing different projects on mobile and connected devices and that also touches upon the various upgrades that will happen across the board.
What's this project with Ooredoo about?
Currently, Al Jazeera has a large number of offices and bureaus scattered all over the world for news gathering and content production. But we also have primary broadcast centres in London and Washington, DC; and we have a few international channels like Al Jazeera Balkans, Al Jazeera Turk and Al Jazeera America. We recently launched a new digital initiative called AJ Plus out of San Francisco, USA. All these plus the existing bureaus' fabric need to connect information and share resources. Al Jazeera has so much content, and literally our content is everywhere. We want to make sure that we can have access to that content from everywhere. Therefore, it is mandatory for our organisation to collect that content, digitise it, store it and make it accessible to everyone in our broadcast ecosystem.
So along those lines, we invested in this project with Ooredoo to allow everyone to have committed fibre and complementary dedicated internet services that basically allow us to transact information and to exchange media and other data in a consistent, assured fashion. We also have to make sure that we have a secure platform for exchanging information that allows everyone to basically access all the different resources available to them within Al Jazeera Cloud globally.
Can you elaborate on Al Jazeera Global Media Cloud?
AGMC will provide the interconnectivity we need to share resources. For example, in the old set-up that Al Jazeera has, say between Doha and London, you have limited bandwidth. The new technologies that you put in on both sides will be producing things at a much higher quality, and therefore, if you want to transmit content from one side to another, it will take less time. We upgraded the links that would allow for that sharing so it would permit sharing within the same amount of time while retaining the quality of service. This project is a huge enabler for the success of AJWT and other corporate projects as a whole.
Al Jazeera will extend itself to the locations, instead of the locations having to come into Al Jazeera to get access to that content.
This is being carried out in phases?
Yes, this is being undertaken in phases. Phase 1 is already underway and will be completed before summer 2014. This is to connect the headquarters in Doha with the various broadcast centres that we have in London, Washington DC and New York. In Phases 2 and 3, we will connect the international channels as well as the remaining bureaus.
The entire project is expected to finish by mid-2016, but it's a five-year deal because it is a cloud-based service; and as such, we certainly expect that technology is going to evolve as hardware, compression, acceleration and security systems continue to improve to provide better quality and higher performance. By keeping it across five years, we ensure that we incorporate the new technologies and the latest standards in a continuous stream.
Our ultimate goal is to make sure that any user of Al Jazeera that sits in any of the 80+ global locations will feel like they are sitting at the headquarters in Doha, so they will have access to all the resources they need, be they media files, accessing the MAM and PAM systems or any other broadcast or corporate systems.
They will be truly working as a part of a very large virtual newsroom contributing content to any of the channels that we have.
The idea is to create all these ecosystems of technologies that allow all these people to share information and to allow much faster news-gathering and sharing operations for Al Jazeera.
What were some of the specific requirements you gave to Ooredoo?
We had specific requirements depending on each location, based on the analysis of the services they currently provide from that location and projection for growth. For instance, if an office is editing packages for news, the speed requirements and the QoS requirements will be very different from places where they have to do programmes or create packages from correspondents. The relationship between Doha and Berlin is not the same as the relationship between Doha and DC; so it is all dynamic. It is based on the nature of what is required in each location, but we wanted to ensure that we built a platform that could scale up to meet the demands and requirements of the time.
So does that mean there will be more change and restructuring?
Change is the new norm for us at Al Jazeera; we have to continuously evolve, adapt and adopt new paradigms of work that make us better every day. We are setting new standards and are investing in training and coaching so that everyone in the organisation can be part of this massive transformation. The biggest challenge is changing mindsets and getting people to understand and appreciate the marriage between IT and broadcast, and running a service-based organisation, and not running in the "if it breaks, we will fix it" mode. We basically want to be proactive and preemptive and less reactive; and we want to encourage everyone to be successful and perform at their peak. We are investing heavily in the processes and the people as the most important assets to our organisation.
How did you come to be running technology and operations at Al Jazeera? What's your background?
My background is in systems engineering, technology management and business consulting. Prior to joining Al Jazeera, I ran two successful companies in the US and the Middle East for over 10 years. Most of the time, we were required as consultants to identify business operational, technical and efficiency problems, whether it is optimisation, effective use of technology, change management or for an organisation to implement innovative solutions. We have had a very successful track record, achieving success in different organisations across different industry verticals spanning media, finance, healthcare and defence. I started at Al Jazeera as a consultant to identify ways to deliver world-class operations; after a few months, I was able to come up with a game plan to transform the technology organisation. With the merger and integration of Technology and Operations, the plan evolved to a larger scope. That enticed me to join permanently to lead the implementation of the plan and see it through to the completion of the transformation.
At some point, if you really break it down to its elements, it's just different flavours of the same core. Having worked in different industries, you start to appreciate the importance of problem-solving through providing value to the business, versus focusing on technology-centric approaches. I look at everything from a problem and a desired outcome perspectives, and my focus is to deliver results. We are implementing a results-oriented work environment (ROWE) at Al Jazeera. The focus is on results, which include time to market, excellence and offering a high quality of service while being competitive.
What are the changes you have wrought at Al Jazeera with AJWT? Everyone says it's a mess.
We need to focus on ROWE. We need to break projects down to smaller chunks with clear ownership of small teams so we can get timely results, rather than trying to do everything with everyone in the mix. From my perspective, it's a lot of change management and communication improvements, but also a lot of commitments, hard work and dedication. Historically, I agree that AJWT has been a challenge, but we are now making very good progress. We are implementing many great solutions and everyone in the organisation is taking this seriously and supporting it to their fullest. It's very intrusive into the daily operations of the network, but we have a very capable and committed team that is trying to deliver this and they have different groups working with them. The biggest attribute that could make the change is an involved, committed and supportive management, which has been afforded to this project now.
If you had to break AJWT down into parts, what would you say are the most important elements?
AJWT, from a technology perspective, is a game-changer – it is more massive and bigger than whatever we had before, and allows for a lot more innovation to come out of the organisation. Operations that took hours earlier can happen in minutes with this. It challenges the editorial teams to leverage the latest technologies to enhance their workflows and productions as well.
It's a complete reset for our teams from a technical perspective. We haven't had the ability to upgrade the technology with the changes in the industry. Now, it will allow us to run on the absolute latest broadcast fabric that is available and it will also unify us across the board. They will all run on the exact same system, which means we can share the same resources and our engineers can work anywhere within any of our offices, because the systems will be exactly the same.
I think one major element that has not been spotlighted is the need to focus on the change management aspects. As systems are becoming mostly software-based and IT-centric, if a change is made without proper planning and communication, it could have disastrous impact. This means ensuring that all changes are documented, communicated, measured and tested; as well, proper risk analysis needs to be carefully undertaken before actually implementing that change.