In an exclusive interview with Vijaya Cherian, Pratixa Shah, co-founder of The Plot Pictures, talks about her role in shaping the UAE's indie film scene and shares insights into her journey of fostering independent filmmaking and redefining storytelling.
In the world of storytelling, there are the dreamers who weave stories – and then there are the creators who bring them to life. Pratixa Shah, co-founder of The Plot Pictures, an independent narrative studio launched recently in the UAE, is among the latter. She is on a mission to craft compelling narratives that are also commercially viable.
With a background in filmmaking and production, Shah has spent the last 17 years navigating the dynamic landscapes of the UAE, India, Saudi Arabia and the US. Born and raised in Dubai, her love affair with advertising and film began in her teenage years. At 14 she had the opportunity in India to do small errands on set, and that put her on the filmmaking path.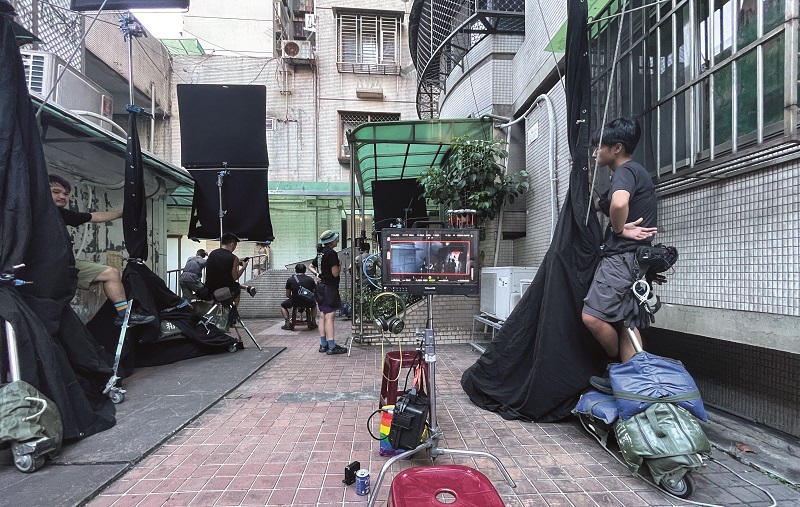 With a degree in Advertising from Sophia College, Mumbai, Shah then moved to UCLA to delve into the world of entertainment and learn about the intricacies of financing and producing films and TV series, before returning to India and working at Picture This India. Here, she had her first chance at independent feature films. She then moved to Dubai and a couple of jobs later joined Dejavu, where she spearheaded production for ten years. She then ventured into the agency world, setting up the production unit of Craft for FP7/McCann MENA over two years.
"Until 2017, we were purely doing advertising at Dejavu. But because I had a long-format background and there were a lot of scriptwriters coming to us from a production point of view, we took that leap of faith to channel our energies into something new that we wanted to sustain and build on. And that's when the script for Beneath a Sea of Lights came by. I really loved it and saw great potential in it," she explains.
That film, starring Barkhad Abdi and Jim Sarbh, and the company's next production, One of These Days, were game-changers for Shah. The former garnered significant attention thanks to Abdi's Oscar success. It piqued the interest of a major network, Showtime, paving the way for a successful distribution deal.
"Previously in the UAE, we were just servicing Hollywood films, who would often only produce one leg of their film in the UAE. So our creative input was limited. With Beneath, we got to keep the entire cycle in Dubai, from development to production and post-production. This was really refreshing for everyone involved, as the project was in pre-production for four months, with two months of principal photography and four months of post-production.
"In the first week of the shoot, I was nervous because all the elements needed to come together. The pre-production part was challenging, but I think logistically the UAE made it very easy for us. From week three, things moved extremely smoothly. We knew where it was going and even the funding through those weeks was perfectly planned."
By the end of that exercise, a plan had taken shape in Shah's mind and in March 2023, she co-founded The Plot Pictures MENA with Dejavu Media Network.
"Usually you have companies here that take up any one vertical, either development, production or distribution. We decided to take ownership of the entire chain. That way, we can cultivate intellectual property, nurture talented screenwriters and provide the necessary support to bring those stories to life," explains Shah.
A narrative studio undoubtedly comes with its own set of challenges. "Unlike advertising, it takes anything from nine months to a year to mount a development project. There is a lengthy and meticulous development process where we ensure the scripts undergo a thorough curation and are imbued with authenticity for the audience they cater to. Typically, from the time we first talk about the script to seeing it come to life on screen, we are easily talking two to three years," says Shah.
She herself plays an integral role at this stage of the process, collaborating with writers and directors to shape narratives that resonate with the audience. As the development process is long, the team works on multiple productions at a time – an environment Shah is well-accustomed to. In fact, The Plot Pictures MENA is currently involved in four productions at various stages of development. A Taiwanese production has just concluded filming; at the time of this interview, Shah had just returned from Taipei.
"That project is in postproduction and is scheduled for release next summer. It is a Taiwanese-UAE film with Mandarin, Taiwanese, Hakka and English being part of the dialogue. We are co-producing it and are confident it is going to be a festival darling; it will do the whole circuit starting from Cannes and Berlinale to Toronto, etc."
Shah says participating in film festivals ensures their "stories resonate with audiences worldwide and open up opportunities for international distribution".
Other co-productions include a UAE/ Bahraini project and a KSA/Bahraini project on which The Plot Pictures MENA is collaborating with Fable Mill Studio, a writing studio in Bahrain. Both are GCC series in the early stages of development.
"The Saudi indie film is based on a very radical subject; it has already done all the script labs in the Kingdom, whether it is the Saudi Film Commission or the Red Sea Film Lab. We are just finalising the deal in terms of who we're going to bring onboard as the script doctor, to ensure authenticity is paramount in the language and tone of the script," explains Shah.
One thing that has helped Shah in the local market is her understanding of Arabic. In fact, her keen understanding of the market has helped her identify hidden gems and under-represented stories.
"I studied in Dubai and took Arabic quite seriously, as did my family. You need to not just understand the language thoroughly but also its finer nuances, although I do have two native speakers to vet the scripts as I could perhaps miss some of the analogies and overtones. It's critical to identify the right writers and directors and have the right mix onboard for each project.
"My main attention at Plot is always development. I prefer to spend two more months doing that and making sure that we have everything watertight, so when we're on the floor, production becomes easy. Development and sourcing the right talent are very important and there are many avenues in the market to get this aspect right. So we use that and our social radar to see that the story strikes a chord with the audience."
One other critical aspect is funding. The Plot taps into a "network of investors, hedge funds and festival grants scattered across different regions, to ensure a steady flow of financial support while putting in 10-20% of the investment ourselves", says Shah. "We also actively engage in co-productions, building partnerships with entities worldwide to broaden the reach of our stories. And we are the angel investors that step in when there's a roadblock. This ensures seamless and uninterrupted progress throughout the filmmaking process."
One other way to ensure money is used wisely is to keep the team small, says Shah. "We are currently a team of six, with two development and distribution experts in the mix."
Distribution is a critical aspect, and Shah says the company has engaged two experts – one with local connections and one with international know-how – to ensure the products are well marketed and sold, for a good return on investment. The Plot's distribution strategy entails a mix of theatrical releases, festival circuits, cable, OTT, TVOD, SVOD, AVOD and internet platforms, ensuring that the stories reach diverse and engaged audiences.
"Actually, any narrative studio's bread and butter is the distribution part. With Beneath a Sea of Lights, for which we spent a modest $725,000, the financial mounting happened in the first six months of development. However, the actual sale was only done once we were ready with the post-production, and we were already having conversations with Shoreline Entertainment for the Showtime network. They took a five-year licensing deal with us and renewed it recently for another three years," she says.
Shah takes us through the process.
For independent films: "We identify sales agents for international markets during the development process, to ensure all feedback for the markets is well incorporated into the script. So sales agents know what to expect once the filming is completed, and our spending is curbed to ensure we are not over-budget for the market. Once you have your screener ready, which is the trailer plus all the key scenes from the story, we submit it to our sales agent and tell them what amount we spent and what we hope to get in return. The sales agent then has a target to get us the right distribution.
"We could have taken Beneath a Sea of Lights to the festivals, but we chose not to because Barkhad at the time had something releasing at the festivals and ours would have come second. By then Showtime came in, although that negotiation took nearly nine months. That's how long it will take if you don't take the festival route. Although we haven't yet recovered what we invested, the revenue shares and the renewal of the deal until 2025 are helping us get there."
On distribution platforms, Shah says: "You must do a mix now. You have to target a particular distribution channel and do a simultaneous release for a short window theatrically, and then take it out to whichever platform. YouTube also can help you recover your money if you were to really put it at the right time and send it to the right multi-channel networks (MCN). But that requires a lot of marketing effort. In the last four projects, we are leaving a good chunk for P&A and making sure that the distribution team gets the time and tools to maximise their efforts."
Knowing how important funding is, Shah actively seeks out grants and funding from film commissions and organisations worldwide, and does not limit herself to local capital. "These grants play a significant role in supporting hyper-local content and empowering filmmakers to bring their unique stories to the screen."
She stresses that the GCC region has been incredibly supportive of independent filmmakers. Organisations like Abu Dhabi Film Commission/Image Nation Abu Dhabi, the Doha Film Institute and the Saudi Film Commission have been instrumental in providing generous grants for development projects, extending their support to stories from the region, even if the filmmakers themselves are not from those countries.
"My vision is to bring out those smaller stories, and I have no doubt there is more than enough room for it. I've been in touch with so many GCC directors who have so many niche gender-led stories, the stuff that is culturally authentic, which they're ready to now come out with. Typically, in a month we get 15 to 20 scripts. I keep reminding every filmmaker that my goal is for them to get to their second film. So I will invest the funds, but I will also want to see the results at the end." Shah's vision for The Plot Pictures MENA goes beyond creating captivating films; it extends to empowering filmmakers and representing the cultural richness of the GCC region. She envisions her studio as a platform for emerging talent, providing the support and resources needed to bring their visions to life. By promoting these narratives, she aims to create a cultural exchange through cinema, fostering mutual understanding and appreciation between different societies.