BroadcastPro ME and Avid brought together some key sports production and broadcast specialists from the GCC to discuss the challenges of broadcasting sports events in the region and how to provide a more enriching experience to viewers. Vijaya Cherian brings you details from the roundtable.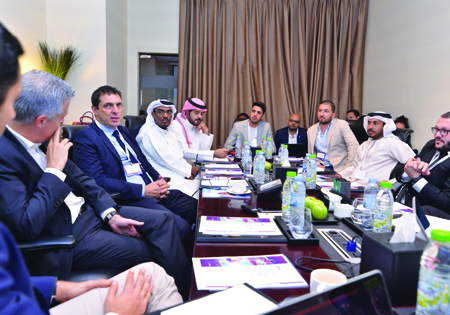 BroadcastPro ME and Avid brought together some key sports production and broadcast specialists from the GCC to discuss the challenges of broadcasting sports events in the region and how to provide a more enriching experience to viewers. Vijaya Cherian brings you details from the roundtable
In early summer, BroadcastPro Middle East worked with Avid to bring together key behind-the-scenes sports production and broadcast specialists to find out more about the state of the region's industry, identify the missing elements that could give sports a bigger boost in the region, and discuss how technology can help enhance existing services.
Joining us for the day were Ammar Hina, Senior Broadcast Services Manager, Pro League Committee; Duncan Walkinshaw, A/Director of Programmes, beIN Sports; Mario Bayarri, CEO, Mediapro Middle East; Karim Saade, Senior Director for Sports Products, Dawri Plus, Intigral; Tony Jabbour, Head of Engineering and Operation, 7 Production; Saad Jizawi, Managing Partner, Afkart.com; Hamad Abdelrazaq, Head of Broadcast Engineering, LIVE HD; AbdulKhaleq Al Khamis, Head of Sports Operations, DMI; Meshal Al Khahtani, TV presenter for Dubai Sports Channel; Samuel Westberg, Director of Sales, LiveLike; and Paul Thompson, Director Strategic Solutions and Guillaume Godet, Director of Sports Sales EMEA from Avid.
The team at the roundtable represented different parts of the sports broadcast chain. While some – like Hina from PLC, which stands for the UAE Pro League Committee and represents all professional football competitions on the UAE national level – are responsible for the production and content broadcast from PLC competitions as well as stadiums, others such as Mario Bayarri from Mediapro, Tony Jabbour from 7 Production and Hamad Abdelrazaq from LIVE represent entities responsible for producing content as per the demands of broadcasters such as DMI and beIN, also represented at the roundtable.
Then there are the likes of Afkart.com, which supply sports promo material while also undertaking the production and distribution of sports content for all of the major broadcasters in the region; and, of course, a special addition to the mix was Karim Saade from Intigral, who heads Dawri Plus, which has around 600,000 active users every month, and brought the much-needed OTT element to the roundtable. Rounding this off was Samuel Westberg from LiveLike, a VR platform company, who explained the magic that VR could bring to sports, and the team from Avid including Guillaume Godet, who leads sports development in Avid EMEA, and Paul Thompson, who moderated the discussion.
Thompson set the scene by raising two significant questions. One, are stadiums in the region geared for modern production needs; and two, are they capable of bringing fans to the venue to watch a game?
A number of attendees pointed out that most existing stadiums are in dire need of renovation to make them ready for future sports production; no other sporting event in the GCC is able to attract as many fans to the stadium as horse racing does.
On the first point, Hina explained that each season, the UAE has fourteen stadiums that can be used "and the main challenge for me and Abdelrazaq [LIVE] is to make them ready for production, because more than half of the stadiums need to be renovated so they are ready for good high-quality broadcast quality filming".
Abdelrazaq seconded that, explaining that the main problems are the TV compounds and the lack of connectivity within stadiums.
"We have to run the cables from the OB van to inside the stadium. At the moment, most people build a studio on the pitch, but it would be ideal to know the perfect location for the studio to acquire the best picture."
However, they were also quick to add that they strive to have as many cameras and technology as required to cover a game adequately by international standards.
On being asked by Avid who dictated production requirements, both said that a mix of people and partner broadcasters influence the decision, but they also agreed that the unified plan had a predominantly editorial approach.
Hina, previously a sports TV producer with Endemol and Abu Dhabi Sports Channels, gave a recent example of how the entities involved in production and broadcast of a competition pitch in and work together.
"Recently, we had the celebration match, which was the last match of the season. We had 19 cameras inside the stadium for the multilateral feed and 14 additional cameras for the unilateral coverage. Of this, six were for Dubai Sports Channel and eight from Abu Dhabi Sport. We also had a camera placed close to Burj Khalifa for Dubai Sports Channel, while Abu Dhabi Sports also got some good aerial shots. Essentially, we have mixed productions and different people but one objective, which is to get the best out of that event. We often change the camera plan without changing the running order."
Bayarri from Mediapro, however, interjected that the most important requirement for a good production is not necessarily the number of cameras and the technologies involved, but the creative element in the coverage and the ability of the director to tell a story well.
"Most of the discussions centre around the number of cameras and the technology used, but the truth is people are interested in the story to be told, not missing anything important and having someone showing the best of what is going on. How well you can tell the story around a match is what is relevant."
Duncan Walkinshaw, who was at Sky Sports for several years before joining beIN, stated that one of the best ways to ensure good coverage was to maintain a certain standard across all parts of the chain – stadium coverage, infrastructural support at the venue or even how broadcasters cover tournaments.
"How can we ensure a certain standardisation of coverage that is uniformly recognised globally so then people can follow that? It makes it easier for people who are setting up stadiums and for the broadcaster as well, because all of them then have the same expectations in terms of coverage and also how the stadiums are connected. It makes sense for the people who are in the league, and for the facilities companies working within the stadium, and for the rights holders who are going to broadcast it. These are driven by the dominant voice of the director or someone in a similar position, and this ensures standardisation in the general coverage."
Asked to clarify, Walkinshaw elaborated that there are certain expectations about the technology used to cover these events as well as the coverage itself. While some tournaments require a minimum of 13 cameras, others require 18 and a certain connectivity benchmark.
"There are standards we expect with regards to the number of cameras, the type of cameras used, the technology and how we bring the events at the stadiums to the world. If that standard is not met, we will have concerns."
A couple of experts expressed their distress at having to iron out concerns with a new stadium in the region, stating that it took two years to resolve some of the issues that had cropped up, including the rebuilding of cabling and patching to ensure the infrastructure met international standards for coverage. Another significant concern was power, which was not taken into consideration when building the stadium.
Thompson then moved the discussion to the fan experience, asking if it was as big in the region as in the US and other countries. Typically, stadiums in the GCC have not been able to attract fans. Fans either watch games at a coffee shop or at their homes, with most users also checking a second device for additional match input.
Hina commented at this point that they did do a couple of tests with the EVS C-Cast, which allows broadcasters to stream live content, such as clips or alternative angles, from their XT3 video servers to the audience's second screen or smart TV while watching the event on TV.
Abdelrazaq added that they conducted a demo twist with VIPs at two matches and received "amazing feedback". The process of making it available to the masses, however, was ridden with complications – connectivity was poor and there was a lot of scepticism about the ability to monetise the service.
Saade interjected at this stage:"Stadiums in the US are light years ahead of us in terms of technology and fan experience. We need to have the league, the telecom operator, as well as the broadcaster and the club work together to build an ecosystem to attract the entire family to an event at the stadium. The men, women and children will go to the stadium if you create an experience that attracts them from the time they leave the house to the time they return home."
He cited the example of San Francisco's Levi's Stadium, completed two years ago at a cost of $1.6bn.
"The experience you get from the moment you enter the parking, where an app guides you to an empty slot, to ordering your food and merchandise from the comfort of your seat, makes the stadium experience very appealing to fans. Of course, there is high-density Wi-Fi across the whole stadium plus there is integration with C-Cast, which brings together all of the broadcasting elements into a single user interface. You are treated to multi-camera angles and instant replays. In addition to this, you have integration with fantasy games and you can play as you are watching the match. It is a whole ecosystem where the league, the telco operator and the broadcasters have to take the decision to elevate the level of the fan experience in general. Revenue streams will follow suit."
Thompson queried if this was ideally something that one of the three above entities should begin to take the initiative to push. Hina responded that the Pro League Committee, responsible for all professional football competitions in the UAE, was already working actively to at least kick start some of these elements.
"PLC is now working towards improving the fan zones and signage boards, which is better than what we used to do before. It is, however, imperative that we also change the culture of the people to encourage them to go and see the match in the stadium rather than watching it at houses, the majlis or at cafés. This is the main challenge for us.
"From our side, we are already making greater efforts. We are working on developing the grass roots teams [11 years and below], plus the under-14s, under-15s, under-19s and under-21s. We have leagues for each category. Also, the UAE Olympics national team for the last six years has been doing very well and is one of the best teams we have in the region. This is proof of the work that the PLC does. But in the end, it takes time to change the mindset of our people."
Bayarri pointed out at this stage that the main driver to make the shift for people to come to the stadium will be the quality of the match and how it is shared with the audience.
"It is very similar to going to the cinema. You go to the cinema to watch the movie. If the movie is not good, you will not go. Of course, if the cinema has easy access, and provides additional services like good food and beverages, it will make me feel comfortable and I am likely to spend my money while I am there. It's also likely that I will come back to watch another movie at the same cinema. Having a good facility and viewing experience is good for the property, be it a cinema producer or a football league or club, but if the football match is not of interest, if there isn't an interesting story around that match, people will not come to the stadium. To increase attendance, the broadcaster is very important but also the quality of the teams, the quality of the stories and social media play an active role in bringing in the audiences."
He cautioned, therefore, that no extra element will make up for the content itself.
"I agree that VR and C-Cast can add value to a match, but they are primarily good for people outside the stadium. The only interest I would have to be in the stadium is to watch the match and see the goals as such in person. Being able to see the replay of the goal in my mobile device at the stadium would be great, and seeing it from a 360 immersive VR perspective is, for sure, an amazing experience. But when you have 60,000 people in a stadium and all of them want to see the replay at the same time, Wi-Fi access and connectivity must be really good. That kind of connectivity would cost a minimum of $1m. And that's then difficult to recoup from monetisation on its own. At the end, people go to watch the match; mobile technology and smart stadiums will enrich their visit, but will not be the reason for them to go to a stadium."
Westberg agreed that VR will not solve all problems and would mainly work as an experience outside the stadium.
"All of the discussions that we have been talking about are the marketing activations that we need to do for the whole process to be successful. A lot of the big broadcasters in Europe have had the exact same problem of cost control. They have started to think outside the traditional box to have the content adapted to the need of the viewers with investing less money but covering it the right way. That is the key to the success of it all.
"I had the chance to speak to the head of Fox Sports in the Netherlands, who I see as thinking outside the box. They only have around 17 million viewers there, so the means are much lower than other countries. Instead of having a lot of cameras and productions that might cost 100,000 euros for one production, they placed one camera between two coaches that actually enhances the experience at a low price instead of an extra Spidercam at $40,000 for one game that they can't really afford. So they keep thinking of how to lower the costs but improve the experience, and this has been key to their success. 18 to 20 cameras will not be important. How we can possibly provide the best experience to the viewer while keeping our costs down will be key."
Hina said this is what the PLC is attempting to achieve with a camera located at Burj Khalifa and an aerial camera, as well as providing additional coverage of the main multilateral feed and the teams' dressing rooms, as well as more engagement with the viewers. He justified the use of more cameras, stating that it helps to cover up half-empty stadiums and provide more reaction shots and so on, to create the feeling of a fuller stadium and keep the viewers with the small stories inside the pitch.
Saade interjected to say that viewers today are looking to control their viewing experience.
"Giving audience control is becoming an important aspect of the OTT experience. So even if you have 24 cameras, you want to give users the option to switch to the angle they want to watch and select whether to integrate social interfaces into their viewing experience."
Thompson questioned if it would be a good idea to let the audience play the role of director for themselves. While Abdelrazaq felt it would be okay to have the audience choose their angle, he was quick to agree that giving the viewer too much control could create unnecessary disputes between fans about a goal, for example.
Even from a technology point of view, it would be "tricky for the fan to do his own production", Westberg chipped in, touting VR as offering the best of both worlds.
"The kind of quality that you get from the director and head of productions, who do an amazing job at shooting sport events, will not be possible if you didn't give them control. What's good about VR though is that you get a mix of the traditional TV signal as well as the quality of the real experience, and you can let the fan choose his content but in a controlled way that ensures a good quality experience. If you start giving all the tools to the fan, he is going to get lost in it."
Bayarri agreed: "It should be controlled. The story needs to be told by the director and the experience should be guided by the director. The director has to make sure he gets the most out of what is happening on the pitch with the means he has to do this. What you can give to the fan is the option to replay a goal on a second screen after it has been scored, but fans on their own will never be able to tell the story better than a broadcasting director."
However, they also argued that different sports events require different strategies. For F1, Saade argued that a viewer might only want to follow a driver of his choice.
Walkinshaw countered: "Most people want the story told. You may be interested in a driver, but you are also interested in the bigger picture. Otherwise, you may miss an important crash. You don't want to specifically watch only one player throughout a game. You want to get as close to that experience as you would be in the arena.
"In most cases, people will watch the story if it's being told in the best way. You can have Top Gun and watch Tom Cruise all the way through, and there might be specific rushes of Tom Cruise you can watch later, but people will come mainly to watch the movie and hear the complete story. I am convinced that 25 to 30 cameras is totally unnecessary. You could get good coverage with 12 cameras and some reverse angles. I worked for Sky Sports for 19 years, and the quality of the director and the editorial telling for the story is what is key. The number of cameras is not important."
Tony Jabbour of 7 Production concurred: "Good operations and a good creative director can even do the job with six cameras. One good cameraman is better than three."
Thompson then moved on to graphics, asking if this perhaps would improve the sports experience.
This brought the panel to a discussion on augmented graphics and the importance of statistics, on-screen graphics and so on.
Jabbour pointed out that augmented reality is very attractive, while Bayarri reiterated that graphics complement the story but cannot replace the story per se.
Godet asked if the statistics of the team and players were not important to viewers as they watched the game, and if graphics could not perhaps be used extensively to display extra information on screen. He also pointed out that football offers the opportunity to have more interstitials, extensively used in the US. Bayarri agreed that graphics could be used to reinforce the story.
Jabbour stated that when a match is going on, people prefer to watch the match and the players in action. He suggested that statistics should come later on.
Hina pointed out that although they don't show statistics during the match action, as a new addition they work with commentators to fill the new FIFA cooling breaks to provide some stories from the playout server. These are mostly one-minute, well edited clips with graphic statistics about a player, reactions to and from him, etc. The director controls this because he has both the English- and Arabic-speaking commentators beside him, he argued.
Saade pointed out that the need for statistics again depends on the nature of a sport, adding that an important driver for statistics and the education of the audience towards statistics was fantasy games.
"Fantasy gaming drives the user to accept statistics as part of the homework that he needs to do, and has become an intricate part of sport. Today, North America has around 60 million fantasy gamers and it is a $6bn industry. When people begin to invest money in players, they want to have access to advanced statistics so they can make informed choices."
Khahtani, who works as a TV presenter with Dubai Sports Channel, pointed out that statistics are important, as his viewers often ask for numbers on social media. Godet also argued that statistics could be displayed without being too invasive, to which Bayarri responded that when and how one uses graphics is crucial.
"During the match, all of the attention should be on the match. Statistics should come later and can be part of the second screen," he pointed out.
The team then returned from a short break to explore the second screen experience and how graphics could enhance it, and if it makes a difference whether a production is centralised or undertaken remotely.
Bayarri commented that audiences want to see a match uninterrupted; providing additional information or features only makes sense as part of reinforcing the live broadcast.
"There is a difference between helping the audience to understand better what is going on at the pitch and creating additional content to be used or shared after the 90 minutes are over. Special stats, different viewing angles and enhanced graphics complement and enrich live broadcasting. Once the focus on the match is over, you want to create this additional content that allows people to know more about the players, the match and the surroundings of that match.
"Fantasy gaming is popular because it allows people to sense they are part of the game. After the final whistle of the match and the kick-off of the next one, there are seven days which need to be filled in with content as the audience wants to remain connected. We call this the 'second life' experience, as we should be able to allow them to get inside and behind the scenes of football."
Godet took this opportunity to share some of his experience gained over the last 35 years in the business. He explained that at a broadcast level, one can provide three or four levels of information. On the one hand, on-screen graphics provide additional dates, scores, faults or other editorial information. There are also broadcast studios that display considerable information in the background.
Then there is the story on the pitch, which is told through augmented reality. It is used by broadcasters perhaps to add distance to the goal or some kind of route map, a representation of where the team is or the players are, and so on.
"A third level now that is added on top of all this is virtual reality, where you are shooting whatever you have and then, instead of displaying this directly on the screen, you are encoding this in a certain way so it is displayed into an immersive device. The gear is actually transforming this for your eyes and would this be totally virtual or a mix between virtual and real? It's all kinds of things."
Godet pointed out that some broadcasters are now presenting 360-degree views while others are focusing on 2D shots with an augmented VIP event.
"This is all about virtual reality, which is an immersive experience."
Godet added that this concept was used 15 years ago, when he worked at a company that was into car design solutions.
"You could enter the room and all the walls had stereoscopic screens. In essence, we entered the car virtually and navigated inside to see if everything was well placed. It's the same concept, but it has been extended into broadcast. The next generation may no longer require glass or other devices.
When that becomes possible, virtual reality will be brought faster to the audience. Stereoscopic 3D was a disaster because people had to wear glasses."
He did, however, express scepticism about any of the present generation being willing to watch a match in this format for 90 minutes.
"But maybe the new generation will," he declared optimistically, touting Avid's capability to be part of any one of these domains with ease.
"Anything that we are doing here can be tied to advanced data like statistics from any vendor, and can be tied to any tracking system, like a GPS for camel racing or horse racing. All kinds of data can be added virtually or on screen and any of the social media content can also be displayed on any of these modes. The ad director of the programme can work with the editorial team to see how they can enhance the shows and monetise them," he explained.
Thompson then queried if there was any meaning to the second screen experience and whether broadcasters will be able to benefit from the data they have. Saade defended the digital medium, stating that this is the only medium that can at present accurately profile viewers, follow their consumption patterns and how long they stay watching a game, and understand their likes and dislikes.
"One of the most important elements in broadcasting and delivery today is digital. Some networks in the region are available only through pay-TV or DTH and do not have an OTT platform. The first step is to ensure you have an OTT stream that is available on any device that the user uses. The second is to take advantage of the analytics you can gather from an OTT platform. This is what can prompt you to make better business decisions and track whether the user likes what you are giving him on the second screen. You have the opportunity to test whether your investment in a particular piece of content is worth it. If you've invested in a specific game or a feature like augmented reality, you can check how many users are actually watching that piece of video content or the augmented reality feature that you are providing and make an ROI calculation. This will influence your future decision on whether to continue such an investment. Traditional TV does not give you that level of visibility," he explained.
"The ability to do a user-revenue calculation, where you can check what kind of content he is consuming and how much that item costs you versus how much revenue you get out of that customer, is significant. In fact, you are able to better target your viewers in terms of the segments that you can target and in terms of the rate card you can charge advertisers for reaching those segments. This is very important and will lead the transition to OTT," he added.
Walkinshaw said that beIN chooses whether to introduce an app for a game based on whether it is likely to enhance the experience for the viewer and whether it truly merits that investment.
"There is just not the evidence there yet that these things are commercially valid, although the arguments for advertising on an OTT platform are much more compelling. There is so much more opportunity there for revenue, but it's also a decision on how much it can drive people, as today people still mostly buy for the linear experience."
He said most people would watch a big event like the European Championship or the Champions League on a big screen, while perhaps they would watch the smaller events on their tablet.
Bayarri said that for the big matches, people use their tabs for social media apps.
"The potential of digital is that it throws open the opportunity to interact and profile each customer, and this in turn enables you to provide customised advertising. The ability to know what your customer can buy, what kind of sports he likes and what features he uses the most are major drivers to the decision-making process."
This led to a question. Do broadcasters see OTT as a major marketing tool for linear or as a revenue generator in itself?
Saade commented that it is both.
"Linear is still king at home. Linear will still be the preferred way of consuming live sporting events at home. OTT will complement the linear offering by providing the analytics, engagement interfaces and tools necessary to complement your viewing experience."
Godet questioned if this would drive changes in MENA ad spending as it has in Europe, where the split between linear and OTT is now 50:50. Bayarri commented that pay-TV is still growing in the region and that he expects the linear numbers to rise in the coming years.
"There is, however, a transfer between linear and digital."
With regards to ad spend, he added that this is concentrated heavily on the FTA market still. Others, such as Abdelrazaq, commented that this is likely to move to a 50-50 ratio in the near future.
Walkinshaw maintained that beIN has always kept its product quality clean and maintained the integrity of the event, not filling it with pop-up ads.
Saade mentioned that this cannot be ruled out, given the recent trend among social platforms to secure broadcast rights, as Twitter recently did with the NFL. Walkinshaw agreed that this would indeed be the game-changer, when platforms like Google and Facebook vie for broadcast rights with traditional channels.
On being asked by Godet if that is a concern, Walkinshaw said that it is. He cautioned that traditional players are not adapting or changing in parallel to changing consumer habits. He expressed concern that it was impossible for someone who had the rights for an event for only three years to put a lot of investment into a product with such a short shelf life.
"The way we sleeve it and cover it hasn't changed from the way we consume it. This has to change. It is not sustainable to have an army of people go from event to event."
Saade pointed out that Facebook has a significant advantage, being able to sell all kinds of analytics about viewers and advertisers to broadcasters – their favourite players, their favourite games, the books they read, etc.
Sam from Livelike said the paradigm is similar to news, where news broadcasters break a story based on content shot on someone's mobile phone. In the meantime, they also break it on all the social media platforms, and get their journalists to go on-site and bring more meat to the story.
"This is how production value increases," he said.
Thompson queried if perhaps, in the brave new world where videos were taken by consumers and delivered by the Facebooks of this world, remote production is indeed a solution and a possibility.
He asked if remote production drives greater efficiency, and perhaps more revenue as well.
Bayarri commented that Mediapro already undertakes remote productions, because Mediapro itself is the end user and it needs to test the feasibility of remote production. He commented that it can be complicated, because while remote offers greater efficiencies, one has to be careful to provide the same quality, whether it is 4K or now 8K in some cases. It's not all about cost saving. The story must be told well, and it must provide good quality as well.
Abdelrazaq commented that when you reduce one element, you need to increase another.
"You may be able to reduce the technical elements required, but you would need to have more engineers and creative crew."
Bayarri asked that it be looked at in a positive light, where the cost saving from the technology was invested in creative human resources.
"This way, I can be assured I'm paying for quality."
Jabbour commented that his team at 7 Production successfully undertook remote coverage of a camel racing event in Qatar.
"We ran a direct fibre for 40km. It wasn't 100% remote because I had a cameraman to operate on-site, but everything was through fibre and a gallery far away was connected through GPS. It worked well and we didn't have any issues. We were using the LDX cameras, which were sending the feeds through direct fibre. It was a very successful project. People here are cagey about this and insist that the director needs to be there. I know of a company that accomplished a beautiful production for a ski event on the Alps with no one from the production team being there. It is feasible and can be done, but the end user in this region is not ready for this yet."
Hina, however, expressed concern that a director who does not understand a specific sport may not be able to approach the game with the same passion.
Walkinshaw said that we need to look at producing content for a new generation: "How we sleeve, how we change the traditional way of covering a sports event in terms of an anchor talking to two or three ex-players, etc., will change. Do we just keep adding more and more content? Do we remove studio discussions? These are just anecdotal discussions. They need to be backed up with research from different regions. It is not sustainable to make programmes as we have traditionally made them."
Thompson went on to the big question of how networks actually try to make the most of their rights.
Walkinshaw pointed out that one strategy beIN adopted during the Champions League was to simultaneously broadcast in English globally, with different sponsorships running from MENA to Australia to Asia and Canada.
"The studios were simultaneously broadcasting to the different regions. We had an American sponsorship for the American market, which was very different from what we had for the MENA or for Australia."
On a parallel note, Thompson questioned how stadium advertising worked. Bayarri gave an example of the Spanish league.
"In the Spanish league, the stadium pitch perimeter advertising is being overlaid by a different and customised advertising directly on the feed. In the most important matches, LaLiga is distributing five different feeds to five different regions with customised advertising on the perimeter for each one of the regions. This allows the commercial inventory to be multiplied, but it also opens the door for specific categories of brands that are not global to be exposed during the matches. Telcos are usually very local to each region, so this new technology allows them to contract their advertising to the real reach they want to achieve."
He also added that second screen content creation was not typically offered to linear producers. This is typically given to a new generation of production specialists who cover this specifically for OTT, he said.
In the UAE, Abdelrazaq pointed out that Etisalat provided a basic streaming of the sports, though no special production was involved. Jabbour commented that in Saudi Arabia feeds were taken from MBC, who does the production along with Al Alamaiya, and their role was limited to downlinking the signal and decoding it.
Saad of Afkaart.com, well-known for its production and distribution of sports content – documentaries as well as promos – commented that his company has always aimed to do something conceptually different.
"In the Middle East, they say we have all the tools but not conceptual and creative elements. We have all the quality and equipment, but you do need some creative people to bring some interesting things out for OTT."
With time running out, Thompson brought us to the final question of the day on what the world of tomorrow will look like for the people sitting around the table.
Saade envisions a world with a lot of interactivity and a user with the power to build his own experience, he said.
"More engagement, more interactivity, more content, more social…the whole shebang," he said.
Bayarri's parting comment was that professionals need to pitch production differently for sports to keep pace with increasingly changing consumer behaviour. Walkinshaw commented that he sees the viewer having more ownership of the products within broadcasting.
The Dubai TV team commented that change is fast coming and the team needs to be ready for a quick transition.
Jabbour pointed out that the future will be good because everything "will move to IP through internet or fibre", while Abdelrazaq sees "YouTube as the future".
Hina commented that his challenge is a lot more basic.
"Most of the people in this region are using 4:3 TV sets, while we are producing high-quality HD content with Dolby that many of them are unable to experience. The challenge is to migrate people to better quality sets while at the same time convincing people on the top that this investment is for the future."
Westberg commented that the future is all about optimisation and VR.
"The next big step is VR, where a lot of investments are being made, because VR is where you will have the most information about your clients' way of consuming and the possibility of inputting all of the third-party content you receive, allowing new sources of revenue. This and augmented reality is where we are headed," he concluded.