Timeline, which provides all the TV infrastructural facilities at Dubai Race Course in Meydan for the Dubai World Cup, uses an Axon Cerebrum control system at the core of its operations.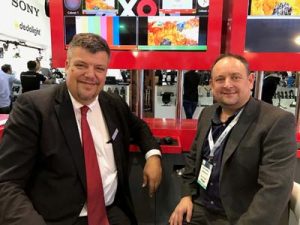 Timeline, which provides the TV infrastructural facilities at Dubai Racecourse in Meydan for the Dubai World Cup, uses an Axon Cerebrum control system at the core of its operations.
The 10-fixture Dubai World Cup Carnival starts in January and culminates with Dubai World Cup day – the world's richest raceday – on March 25, with the headline race being the US$10m Dubai World Cup. UK-based Racecourse Media Group has undertaken the production of all 20 fixtures from Meydan this season while Timeline provides all of the technical infrastructure including cameras, horseback reporter camera, the EVS systems and graphics.
Speaking on the sidelines of the CABSAT 2017 show, Daniel McDonnell, Managing Director of Timeline who was at the Axon booth told BroadcastPro ME: "We have a large central hybrid matrix from SAM, which handles all audio and video routing.  The matrix is controlled by the Axon Cerebrum server.  The operators use both touch screens and hardware panels to perform complexing routing, speeding up the operation.  Cerebrum also provides a single interface to control a variety of other broadcast equipment making the whole operation very efficient."
Timeline has installed Cerebrum in its OB trucks and flyaway kits owing to its functionality and easy-to-use interface.
"Our broadcast centre in the UK uses Cerebrum to control all of the equipment in the programme chain. In May, we will be launching a brand new IP 4K HDR uncompressed triple-expanding OB truck, fitted with 32 4K cameras and a lot of infrastructure from Axon including a Cerebrum solution. The Cerebrum control systems integrate very well with the rest of the solutions and deliver very high standards."
Jan Eveleens, CEO of Axon added: Every time Timeline launches something new, they include Axon equipment. This is primarily because our systems are easy to integrate and operate. The people who need to use it every day are happy with the functionality that it delivers."