Dubai Studio City (DSC) participated at the Broadcast Asia 2017 conference in Singapore.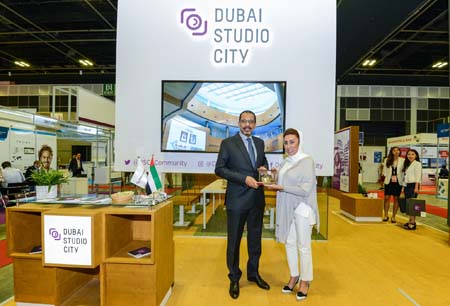 Dubai Studio City (DSC) participated at the Broadcast Asia 2017 conference in Singapore. The three-day event convened over 17,000 global experts, entrepreneurs, professionals, and practitioners from digital multimedia and entertainment technology sectors, to explore the latest trends and impacts on the future of the broadcasting industry.
Dubai Studio City featured a 360-degree virtual studio, where attendees had a chance to virtually tour one of DSC's soundstages in 3D. The exhibition showcased the type of best-in-class innovation Dubai is driving as a core part of its Vision 2021 Strategy. His Excellency Dr. Mohamed Omar Abdulla Balfaqeeh, Ambassador of the UAE to Singapore, visited the exhibition, signaling the UAE's commitment to continued collaboration and knowledge sharing with rapidly developing media-savvy markets across the Asia Pacific region. The exhibition is just one example of how DSC is adopting latest technological breakthroughs.
Majed Al Suwaidi, Managing Director of Dubai Studio City commented: "BroadcastAsia continues to grow in influence and in impact and we are thrilled to have had the opportunity to give attendees a glimpse into the state-of-the art facilities we're building in Dubai. We hope that individuals and companies alike will look to DSC to grow their footprint in what is becoming an increasingly dynamic and thriving industry across the Middle East."
Since its inception in 2005, Dubai Studio City has become a leading platform enabling companies and entrepreneurs across the diverse landscape of the media industry to set up, evolve, and thrive within a well-connected industry network.
Dubai Studio City has provided the locations for global blockbusters such as Star Trek Beyond and Mission: Impossible – Ghost Protocol.