ETL?s GPS over Fibre is provided with short circuit protected 12V 500mA antenna power, with LED indicators for module and antenna power and status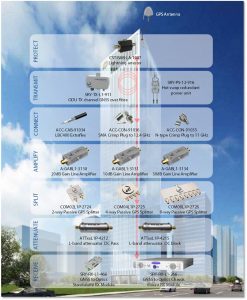 ETL Systems will be exhibiting its wide range of RF Components at the International Microwave Symposium (IMS) ? the premier annual international meeting for technologists involved in all aspects of microwave theory and practice ? in Hawaii, June 4-9.
ETL Systems RF Components were recently utilised in the building of broadcast technology and service provider, Timeline Television?s, first UHD production truck for use with major UK broadcasters. ETL components were also selected by ND SatCom to upgrade a VSAT system for an air traffic control provider in Africa.
At its stand (#605) at IMS, ETL will display its expanded portfolio of RF and microwave solutions, which now includes GPS over Fibre and other Global Positioning System (GPS) / Global Navigation Satellite System (GNSS) products such as GPS lightning arrestors, GPS line amplifiers, GPS splitters and GPS attenuators. Typical fields of application for these products include Position, Navigation & Timing (PNT).
?ETL's GPS/GNSS over Fibre can transport a GPS signal from an antenna to a GPS receiver up to 10km away and the outdoor transmit unit features an IP65 rated weatherproof housing with flexible mounting options,? said Dominic Overton, Components Sales Executive, at ETL Systems. ?With the news that Fiber-Span has gone out of business, we want to let their customers know we can support them.?
ETL?s GPS over Fibre is provided with short circuit protected 12V 500mA antenna power, with LED indicators for module and antenna power and status. Single or dual redundant external power supplies are available as an option, and the indoor receive modules feature antenna fail alarm pass through and can be provided as standalone units or housed in a 19″ rack mount chassis, which can hold up to four modules.
Rounding off ETL?s expanded portfolio are new RF and microwave custom filters, an outdoor range of components and waveguide assemblies.
ETL is able to offer custom RF and Microwave filters for 50 ohm or 75 ohm impedances and various connector types for many fields of application, including: telecom infrastructure, satellite systems, microwave links, test and instrumentation, cellular applications, military communications and radar networks. The company can supply cavity bandpass filters working within a frequency range of 100 MHz to 40 GHz and also microstrip filters, including suspended substrate technologies, for broadband performances covering frequencies within DC to 20 GHz.
?We are seeing an increasing number of customer requirements for L band components to be installed outdoors in weatherproof housings for satcom applications, which is why ETL is expanding its range of standard RF components IP65 and IP67 rated for outdoor applications to now include RF Splitters/Combiners, Couplers, Multiplexers, Bias Tees, Impedance Transformers, and Line Amplifiers,? said Overton.
ETL Systems also now offers precision made waveguide components for RF and microwave systems, which are all made to the highest quality standards and use International Flange styles and finishes to suit. Components are available in aluminium, brass or copper waveguide with aluminium or brass flanges fitted. Frequency ranges up to 40 GHz, & WR-650 to WR-28.
?We are very much looking forward to showcasing our range of components which has grown over the past twelve months to delegates and visitors at IMS 2017,? finished Esen Bayar, CTO at ETL Systems.