Al Sharqiya, a privately owned Iraqi satellite TV channel, recently deployed a large video wall at its London production centre.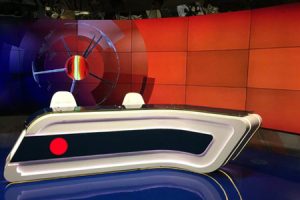 Al Sharqiya, a privately owned satellite television channel in Iraq, recently took delivery of a large Custom Consoles' MediaWall from Altered Images, a UK-based supplier of visual communications technology solutions, for its London production centre. The MediaWall is being deployed as a dynamic video background for the network's news programmes. "We operate six broadcast studios with a variety of video wall types," commented Al Sharqiya's Group CTO Ahmed Bin-Afif.
"This time, it was a special requirement to create a curved video-wall with large screens. The Custom Consoles wall design is even more effective than we expected and is being used for a variety of shows, fed by a versatile server-based graphics system."
Altered Images' Broadcast & Media Solutions Director Russell Butcher added that "the challenge was to create a very wide curving display which the studio cameras would see as a convincingly real element of the studio presentation".
"MediaWall offers a modular approach to multiscreen displays that we know from experience are configurable to practically any scale as well as being highly robust. The requirement in this instance was for a 6.7 metre wide backdrop in a concave configuration giving wide-angle production options. We designed the display based on three MediaWall support frames, each two metres wide. These support a total of 18 55-inch NEC X series monitors which are ideal for this application, including features such as an ultra-narrow edge bezel and high-contrast imaging. The display is augmented in this application by LED light-boxes with adjustable brightness and colour temperature."