Seven Korean companies showcase a range of products that employ a mix of AR, VR and MR technologies combined with AI and in some cases, holograms for education and entertainment.
The 28th edition of the DEAL 2022 (Dubai Entertainment Amusement & Leisure) show, home to 300 plus global FEC, theme parks, and amusement industry brands from 40 plus countries, brought together seven Korean companies under the Korean pavilion banner for the first time. The pavilion was organised by the Korea Creative Content Agency (KOCCA), a governmental agency that oversees and coordinates the promotion of Korean content.
One common element that made this pavilion stand out from the rest of the exhibition was the outstanding use of a mix of Augmented Reality (AR), Virtual Reality (VR), Mixed Reality (MR) and artificial intelligence (AI) technologies by each of the exhibiting companies for their products, were targeted at the education, gaming and broadcast industries.
"This year, our plan has been to introduce Korean immersive content to overseas markets through various shows. We have brought Korean creative content companies who are involved in animation, broadcasting, games, comics and use technologies like AR, VR and immersive content to achieve this to this show. This is our first time at Deals, and we hope to be able to bring more of our technically-focused content companies to this region," commented Hyun Jeon Oh, Director for KOCCA MENA.
"You will notice that what our companies bring to the show are very different from the other exhibitors here. Everything is technology-based and there is so much focus on immersive content – some addressing the educational markets and others addressing the entertainment industry. We have had so much success in recent times that KOCCA hopes to open a branch in Dubai Media City in April."
We had a quick chat with all the companies at the Korean pavilion.
Ha Dong, Kim, owner and founder of Colorpopup and developer of the technology.
Colorpopup is a company that uses AR, VR, MR and hologram technologies coupled with AI to bring colouring books to life for children. Our main target audience with these books are kindergarteners and primary school students. I developed this technology, and it has been five years in the making. We have specially designed colouring books where a child can activate the AI and sound with a "voice pen" that has a sensor. Once it is activated and they colour on the paper in front of them, they can see the same image on the screen with their colours as they colour them and the images come alive and move. We also use hologram technology so the images the children draw can also be viewed as a hologram in a prism. We have 40 different stories at present, and it is the largest variety currently available in the world as this technology is still fairly new.  Our voice pen serves as a teacher and is a first for this market. We have a huge number of clients for this in Korea and many in China as well. At present, our books support ten languages including Arabic and you can choose which of these languages you want to make primary depending on the user. We have come to this exhibition with the intention of finding a suitable reseller for our products.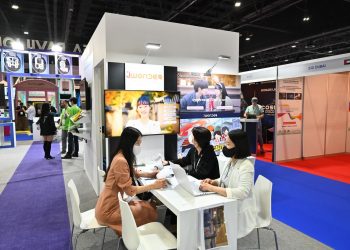 JWonder
SeJung Lee, Marketing Director
JWonder is a content creation company, and we mainly produce content for broadcasters and gaming companies. We have a variety of content ranging from documentaries and travel series to drama series and gaming content. We have just created a drama titled Cheongchunhyang Jeon that is based on a traditional Korean story, but the difference is that it is interactive, which means it has eight different endings based on how you want to go with the story. At the end of the programme, you may also browse the places within the drama, and it will provide more details about the location. Likewise, we have a lot of content about travel and many of them are linked to those places and serves as advertising for the places. Today, Korean drama is everywhere, and we are hoping to introduce this interactive format to UAE viewers. In fact, we are able to tailor-make the story for different countries and it could also serve as a way to showcase the landmarks in the country. Right now, this drama is on Steam, a gaming platform but we plan to release this on OTT platforms too. We also have VR games for schools because engagement is a better way to interact with and educate today's children than just showing them videos.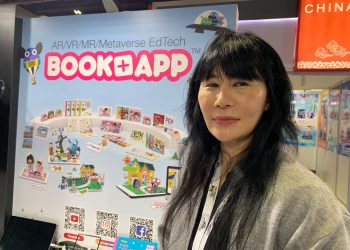 Victoria Productions Inc.
Victoria Han, CEO and Creative Director
Our product is called Book+App. We work in AR, VR and MR. We are in the business of designing and developing books and publishing, but we don't just make ordinary books. When children use their device to look at our books, the pages come alive in 3D.
I'm basically a programmer and we have been developing products like this for the last 10 years. Most kids don't want to read anymore so we felt it was important for them to see stories in action.
You can do the same with a mattress and a lot of educational theme parks and nurseries enjoy using our product.
Not only can you see characters come to life, but you can also take a character out and print them for a dress or use it as wallpaper. We have all those functionalities as part of our product.
Motion Technologies 
Kihyuk Yang Khyang, CEO
We are a game developer and we have brought a series of games that are part of the Black Badge Universe to this region. What makes our games special is that you no longer have to wear a Haptic vest or a backpack PC to play them.
Our player-to-player game called Bootcamp is quite unique because usually, most games are player versus enemy.  Performance and quality have been upgraded with a need only for lighter hardware.
We learnt in our research that people want to be able to use standard gaming equipment to play all their games. We took that suggestion on board and only sell software these days. Players typically need a server and each player requires an individual PC to play. Along with that, they require a router – we recommend Net Gear for stability – VR devices and a fan each. So essentially, in the past, you needed so much hardware. Today, you don't. You just need your standard computer, a router, VR devices and a 6mx6m space to play.
We are all about keeping it "light and simple".
Mangrove
Yongsoo Shin, President/Director 
We are a 3D content company; we have two major products – one is the equipment used underwater for underwater footage and the second is a 3D aquarium bus.
The bus is such a hit with most students as it helps them to be educated about creatures in the ocean.
We are looking for a local distributor to take our products forward In this region.
Argo
Simon Burt, Managing Director Australia
We are promoting our interactive photo booths at the show, where people can take printouts of photos on our cards. These photos typically make for good mementos while the other side of the card serves as a great place for companies to advertise. People can choose from a selection of stickers and add them to the photo before printing out the cards.
When you have a big event, companies usually keep this photo booth with a QR code on the card. So people can take a photo. In 20 seconds, it is printed out. It is instant issuance. This is our first time in Dubai, and we have had a lot of interest. We are looking for a distributor in this region.
Live K 
Danny Cho, co-founder
We have software that allows you to perform on a green screen and then allows you to transfer that onto a live performance. We work in Korea in collaboration with a telecom company that owns the ifland metaverse culture project. We are supported by the Korean government. Usually, people are able to place themselves in a 3D environment but they themselves remain in 2D. What makes us unique is that we are able to ensure that you are also in 3D and we can merge into a 3D environment, and we can do real-time rendering so everything looks realistic. We can merge it in real-time because we are using a camera motion tracking system with the Unreal game engine to achieve this.
We use big data and work with 5G so we are hoping to partner with a telco partner or a big corporate because they are the ones who can usually help make this project work in a country.