OSN has expanded its operations in Saudi Arabia with the launch of its headquarters in Al Olaya district in Riyadh.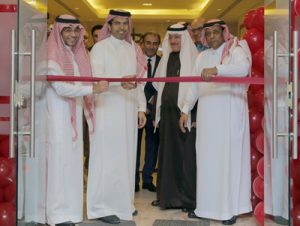 OSN has expanded its operations in Saudi Arabia with the launch of its headquarters in Riyadh in Al Olaya district. OSN already has two other offices in Saudi Arabia.
The new OSN Saudi headquarters includes an additional call centre, underlining customer service at the heart of OSN's operations. Bandar Assiri, Head of the General Commission for Audiovisual Media (GCAM), attended the ribbon cutting ceremony as guest of honour, during the official opening.
The new office supports OSN's pursuit of 'Platinum Employer' status in the local Nitaqat labour law system by placing strong emphasis on achieving the government's goal of boosting the number of Saudi nationals in employment and further encouraging women in the workplace. The headquarters complies with all state federal requirements including segregated workspaces for female employees.
Speaking about OSN's presence in KSA, Bandar Assiri said: "It's impressive to see the positive investment OSN is making in the Kingdom. The new headquarters and OSN's focus on training and development demonstrates a strong commitment to Saudisation. As a regulator, we not only focus on technical compliance, but we also support organisations in achieving compliance and we are very happy to be working closely with OSN"
Bandar Al Sunbuly, General Manager of OSN Saudi Arabia, added: "The new offices are equipped with the latest technologies which will support our core business of sales, installations and customer care – making OSN one of the most progressive companies in the Kingdom. Additional benefits include bigger office space and commitment to training and development of staff, which will help us to grow our workforce and expand our business."
Cementing its position in Saudi Arabia and highlighting OSN's dedication to empowering local women in the Kingdom, OSN recently undertook a significant recruitment drive, which resulted in the hiring of over 20 qualified female candidates following an influx of applications.
OSN has invested in expanding its retail network across the Kingdom with a footprint of 74 touch points serving residents in rural areas too. OSN has also in recent years opened new offices in Jeddah taking the total number of corporate offices in the Kingdom to three.