Palestine Today TV (PTTV) has upgraded its newsroom with a Grass Valley solution, deployed by local systems integrator Pharaon Broadcast.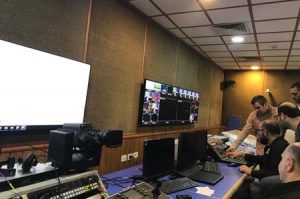 Palestine Today TV (PTTV) has deployed a complete newsroom upgrade from Grass Valley to enhance the delivery of its news production and up its game in digital media workflows. Systems integrator Pharaon Broadcast undertook the installation.
With the upgrade, PTTV hopes to have the efficiency, reliability and scalability it needs for a simple and integrated workflow with the flexibility to grow as business needs require.
The upgrade includes GV STRATUS Video Production & Content Management with nine LDX 82 Flex cameras, three RS-LDX Première Integrated Robotic Camera systems. Furthermore PTTV selected two GV Korona K-Frame V-series production switchers, a Kaleido-Modular-X Multiviewer and a 3 RU Densité 3 Frame to serve as the monitoring and master control system for ingest, live and file-based content across the facility. PTTV also opted for an NVISION 8140 Hybrid Series router, along with all related software and hardware for complete integration.
Speaking about the deal, Fadi Boustany, General Manager at Pharaon Broadcast said: "Working together with Grass Valley, we were able to offer PTTV an end-to-end newsroom solution to leverage PTTV's news production."
To get its stories to air faster, PTTV selected GV STRATUS Newsroom Bundles to bring the power of GV STRATUS to its news operations, delivering the full resources of the newsroom to the field. Designed for simplicity, efficiency and speed, GV STRATUS gives the company the opportunity to engage viewers faster with compelling reporting and fully edited ready-to-air packages.
Seifiddin El Dine Maweid, Managing Director of PTTV added: "As we are one of the main providers of news and documentaries in Palestine, where events are happening in real-time, it is pertinent to keep ahead of the competition. GV STRATUS aligned perfectly with the technical requirements, offering the production capabilities to scale for future upgrades."
For PTTV's news productions, the three RS-LDX integrated robotic cameras make full use of the small but powerful features of the LDX Compact Series, which is combined with robotics and various options. It enables a complete customisation in one easy-to-use package, right out of the box. The LDX 82 cameras offer BT.2020 wide colour gamut support, as well as optional native HDR support using SMPTE ST 2084 and HLG. These cameras provide visuals with distinctive sweeps and fast moves, promising that PTTV's news stories will have a cutting edge.
Once the images are captured, Grass Valley switchers come into play as broadcasters and directors work to efficiently build the show. With the GV Korona K-Frame V-series, PTTV has the flexible support needed for its news studio. Paired together, the 36×18 matrix supports SD, HD and 4K UHD in quad split and 2SI modes and can handle up to three licensed M/Es and two additional video processing engines (VPEs) for added keying and mixing power. At only 3RU, V-series fits in locations with limited space but requires no compromises on enterprise features and can be used with any Grass Valley switcher panel.
Jan Pieter van Welsem, Vice President of sales and marketing, EMEA at Grass Valley, commented: "We are delighted that PTTV choose Grass Valley among all other competitors to invest for the future. Grass Valley understands that as the news environment changes, broadcast equipment must change as well to adapt to mobile studios, new media platforms including digital and social, and the growing use of user-generated content.