Sennheiser Group  recorded an unprecedented 62% year-on-year (YOY) increase in gross profit in the region owing to a number of project wins in the education and hospitality sectors and a notably strong performance in the consumer electronics segment in which the company saw revenues increase by 52% in 2013. Mig Cardamone, Sales and Marketing Manager […]
Sennheiser Group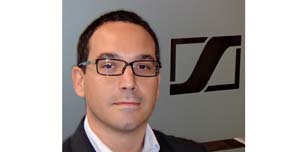 recorded an unprecedented 62% year-on-year (YOY) increase in gross profit in the region owing to a number of project wins in the education and hospitality sectors and a notably strong performance in the consumer electronics segment in which the company saw revenues increase by 52% in 2013.
Mig Cardamone, Sales and Marketing Manager at Sennheiser Middle East believes that the fresh wave of spending in the region presents a huge opportunity for the company.
"There is no doubt that market confidence has returned and investments are now in full swing. It is an exciting time to be a part of this development. Our success has been due to our ability to act quickly and to leverage our strong product portfolio, extensive partner and distributor network and streamlined regional logistic and supply chain capabilities. In 2013, we managed to make inroads into a number of new vertical markets as an increasing number of organisations have begun to explore the possibility of utilising professional audio solutions to gain competitive advantage," he said.
As regional businesses increasingly begin to compete on a global stage, the adoption of conference and translation systems has been a notable trend. Sennheiser was quick to cater to this demand and through its system integrator partners implemented a number of such solutions across the region. The company also maintained its strong penetration in the education market where wireless audio systems are becoming a standard piece of equipment in smart classrooms.
Last year, Sennheiser introduced the Digital 9000 wireless microphone system, its most innovative wireless audio solution. The system has quickly gained popularity as a 'must have' piece of technology, particularly in the Middle East's thriving broadcast industry. According to Cardamone, the region is now matching global benchmarks in audio systems design and deployment. He highlighted the example of a landmark project for a military band's recording studio in Oman where high-end wired microphones from Sennheiser and Neumann, as well as 16-channels of Sennhesier's new Digital 9000 series wireless microphones were installed to create a world-class studio.
Alongside the continued growth in the professional audio business in the region, Sennheiser increased its focus on the consumer electronics market with an expansion of the division's sales team and marketing spend in 2013. The result has been a 52% YOY increase in business that affirms the company's commitment to this segment whilst the audio expert continues to expand on its distribution footprint. Cardamone predicts that the consumer electronics business will continue to grow and contribute in excess of 40% to the company's overall business within the next three years, which is in line with the Group's overall performance.
Looking forward, Sennheiser has clearly defined its strategy for 2014. With new solutions for teleconferencing and mobile digital audio streaming, the company hopes to diversify its offerings and tap into new markets.
"TeamConnect is an all-in-one teleconferencing solution for small meeting rooms that brings professional audio quality and standards into an area of the market that could truly benefits from such advancements," said Cardamone.
"We will also unveil an innovative mobile digital audio streaming device and mobile app that will open up a new range of possibilities for our professional audio business that will have a direct benefit for the consumer."
These solutions will be launched at the upcoming Integrated Systems Europe (ISE) 2014 event in Amsterdam and will be made available in the local market through the company's regional distribution channel.